POV Holder:
?
Next POV:
Aug 25 (Saturday)
POV Used
POV Ceremony
Aug 27 (Monday)
HOH Winner:
Frank
Next HOH:
Aug 30 (Thursday)
Original Nominations:
Dan And Danielle
Current Nominations:
Have Nots
Dan
Last Evicted Houseguest
Boogie and Ashley
Pandora's Box POwer
Ian -> Has a veto power
8am Frank and Jenn are awake and talking. Frank tells Jenn that if she plays in power of veto today she needs to play her heart out because the four can still be intact. Jenn tells him to be cautious of Ian. Frank talks to Jenn about who would go up if one of them comes off of the block. Frank says it would have to be Jenn or Joe. He says that they would have the votes. Jenn says that if Dan leaves they hope Danielle rolls with them too. Jenn says that Ian was real nervous last night. Frank says that he thinks Ian is afraid that if Dan doesn't win the veto today then he will be after Ian to use his power on him. Jenn says that she doesn't think Ian will use it because he wants to stay in the game so he will save the power for himself. Frank asked Jenn if she would vote Danielle out over Britney. She says that it will break her heart. Jenn says that she doesn't want to say yes. Frank hopes the competition isn't a how bad do you want it. Jenn agrees. Jenn tells Frank he is not rolling by himself. Frank thanks her and they hug. They head into the kitchen.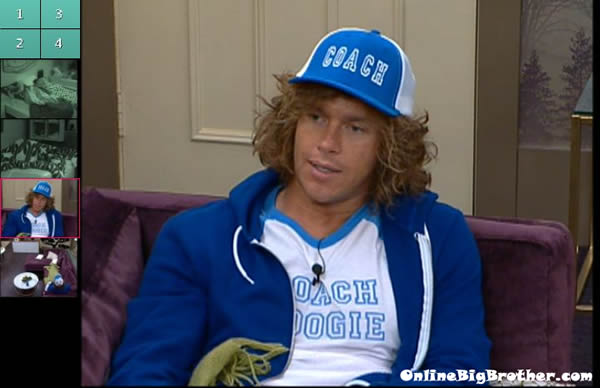 8:25am – 8:50am
Frank is alone in the HOH room talking to himself about Ian back stabbing him and Boogie. He is talking about how the others got to Ian and tricked him into going against him and Boogie. Frank says that it's not fair of Dan to take advantage of a kid who is only 21 years old. Frank says that if Ian would have stuck with them he would have been better off. He says that Ian made a big mistake. Frank says that they warned him not to let them get to him but he let them. Frank says that he hopes to bring Ian back in to working with him. He says that he thinks Ian was manipulated. Frank says that Ian is insecure in this game and feels that Dan took advantage of that. Frank says he is going to have to hustle to make his way to the end. He says that he is not sure if others trust him or are afraid to trust him. Frank says that he is bummed out and has been trying to come across to the other house guest's like that so it seems like he is broken. He says that if they think he is broken, then maybe they can take advantage of the situation and work with him. Big Brother then wakes up the house guests.
Watch what happens, AS it happens: Big Brother 14 Live Feeds!
FREE for 3 Days, then ONLY $14.99 per month!
9am – 9:20am Frank is in the kitchen making breakfast. Jenn and Danielle are in the bathroom putting on make-up.
9:35am Frank and Joe are talking at the kitchen table eating breakfast. Joe tells Frank that Ian said last night he would give away almost all the money in the POV if it was a how bad do you want it. Frank doesn't think Ian would actually give up the money. Frank says you don't need to take all the punishments to win. Frank says that he will not shave his head. Frank talks about Ian and says if you back stab me once, that's fine, I will give you the chance to earn my trust back but if you back stab me again, you will not get my vote in jury and I will make sure you don't get any votes. Joe and Frank talk about how Dan gave Ian some harsh words the other day and then right after Ian one the POV he was sucking up to him. They finish up eating and head up to the HOH room.



9:45am Up in the HOH room, Joe and Frank are talking. Joe and Frank talk about how when Ian gets into some power he is so easily manipulated. Joe says that Jenn is on board with working with Frank, but that he isn't sure about Ian. Frank says that he needs to talk to Ian and explain to him that they won't take him to the end. Frank says if we win the POV today and Ian uses it to take Dan off, then I will put up Britney. Frank says that he isn't worried about Britney because she isn't winning competitions. Frank says that he isn't sure if he can trust Ian but that if things go right on Monday then I can start trusting him again. Joe thinks Ian is smarter than they give him credit for, that he said and did things after the competition yesterday that makes him think he has a plan to get to number one. Joe explains that Ian and Dan both had 50 cents but that Ian realized the veto ball was underneath another one so he pretended to not have any coins left so that Dan would waste his first. Joe says Ian then followed Dan in and Dan realized what Ian was doing. Joe says that Dan said to Ian I will rat you out mother f**ker! Those were his choice of words, but that doesn't seem like the choice of words to use for that situation. Was he talking about the competition or something else in the game that Ian is lying about. Then right after Ian won the veto and Dan was apologizing to him. Frank wonders if Dan was threatening him that he would come tell me something about Ian. Joe says that sounds about right. Joe says that the thing with us is that at least we haven't f**ked each other, we have just been on opposite sides. They talk about how they were consoling him when he was all upset on Thursday and then after I find out that he was just nervous about voting out Mike. Joe says that what he saw in Ian yesterday was not intelligence, but that he would f**k anyone to win this thing. Joe says that he will intensely go after this veto, I have been close.. Joe heads downstairs and sends up Ian to talk to Frank.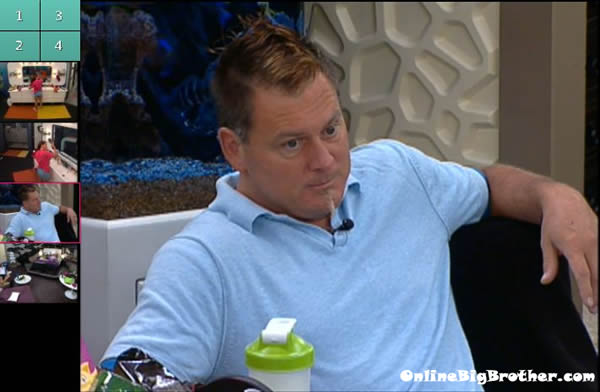 Ian heads up to the HOH room to talk to Frank. Frank asks what was Ian's motivation for winning the veto yesterday? Ian says that he wanted it to keep himself safe. Frank tells Ian that he flubbed it Thursday. They talked you into a bad situation. Frank says that Dan is doing his best to spread the target off him. Ian says that he messed up and freaked out on Thursday. He says that he had 16 seconds to make a decision. Ian says that he wants Frank in the house and won't be voting him out for dang long time, till final 4 or 3. Frank says that he would take Ian to the final two and the only other person he would take is Jenn because she hasn't screwed me. Frank says that he is able to mend bridges with others just like I didn't put up Shane when he
10:15am – 10:25am Frank asks Ian what Dan meant the other day when he told you he would rat you out. Ian says that he doesn't know what that was about, I don't remember that. Frank says that he heard about it from a few people and just wanted to ask him about it. Ian says that he doesn't really know what that was about and then says it was about Ian protecting Dan when Frank was trying to get him out. Frank says but you didn't really protect him, we did. Britney comes up and joins them. Frank gets called to the diary room. Frank leaves. Ian says that the quack pack is in trouble. Ian explains what he said to Frank. Ian then asks if their (Ian & Britney) final two deal is good. Britney says that she is taking him 100%. Britney and Ian know that it was Joe that is running around trying to stir things up. They talk about who might go up if Dan wins the veto today and takes himself off. Ian says that he wants to find out how the veto can be used, like if he can give the veto to Britney on the grey couch if she goes up.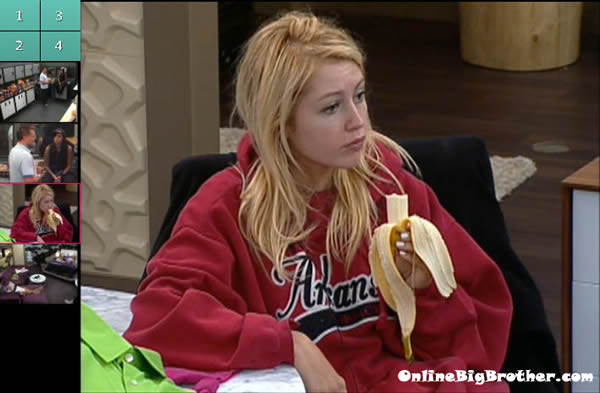 10:25am Big Brother switches the live feeds to TRIVIA to pick the power of veto players..
Share it YO!!
Tweet