POV Holder:
?
Next POV:
Aug 25 (Saturday)
POV Used
POV Ceremony
Aug 27 (Monday)
HOH Winner:
Frank
Next HOH:
Aug 30 (Thursday)
Original Nominations:
Dan And Danielle
Current Nominations:
Have Nots
Dan
Last Evicted Houseguest
Boogie and Ashley
Pandora's Box POwer
Ian -> Has a veto power
1:10pm Britney and Dan are in the have-not room talking. Britney tells Dan about how Ian told her that he is tired of Joe being on the fence and that he needs to make a decision as to which side he is on. Ian comes in and says that he thought of one thing, Danielle is throwing it today right?! Dan says yes. Ian says she has too, if she wins it and pulls herself down, that is part of this deal, you understand? Dan says that it's hard to tell Danielle to throw it because it is her life on the line. Ian says no funny business right?! Ian leaves. Dan asks Britney so you don't mind if I take prizes? Britney says no. Britney explains how it works to Dan. Dan and Britney talk strategy for the comp.

1:20pm – 1:35pm Ian goes into the arcade room and talks to Frank. Ian says that Joe just goes up to the HOH and licks the a**h**e of whoever is in power. He has been doing it since reset. Frank says so you want him to pick our side. Ian says I want him to pick a side. Hopefully he will pick our side. I can't deal with this, and hopefully he picks the side that isn't in power next week. Ian says that he is tired of winning sh*t and having to make decision when Joe sits back and does nothing. Ian says that if I win HOH I will put him up and want him out. Frank asks will you put me up again. Ian says I want Joe out, I won't put you up. Frank calls Ian on his logic and says that Britney and Dan haven't won shit either. Frank says that right now Joe isn't a concern to me. Ian says that you and me can't nominate each other for a while. Frank says you need to wash away any doubt between you and I. Ian says the truth is you scare me a little bit. Frank asks who would you put up against Joe. Ian says Jenn. Frank says no Danielle. Frank says did you see how she acted when Shane put her up, she will be salted if you put her up and we need her vote. Ian says that we need to be drinking and thinking. Frank says that when you're drinking you don't want to be making decisions. Ian says that he admits that what he did was wrong. Ian says that if he wins HOH he will not put Frank up. Frank asks so you aren't thinking of using your veto on Dan are you? Ian says no, not now. Frank says as long as you don't use that mother f**ker on Dan on Monday then I know I can trust you. Frank tells Ian that if it gets down to the final 3, I will pick you. Ian gets called to the diary room. They think the POV might be starting because he is the host and is getting called in.
Watch it ALL on FlashBack: Pick the Day, Time and Camera View!

1:45pm – 2:10pm Frank heads up to the HOH and talks to the camera about how he is in a crazy spot right now, having to trust a lot of people that wanted him out just 24 hours ago. Ian comes out of the diary room and Frank asks him if he wants to come up to the HOH to talk since everyone is sleeping. Frank asks no comp yet. Ian says no. Frank says that he really wants Dan to go. Ian says please win the comp today, please so we can send him out. Frank says that he won't shave his head. Ian says really, that is so superficial, you have to shave your hear. Frank says that he thinks we will be in a good position if we get out Dan this week. Ian says yeah unless Danielle gets it. Frank says that he has talked to her and thinks it will be okay even if she wins it. Ian says that Dan's request was that if he goes, just make sure a floater doesn't win. Ian says that what he wants a "Picking of Sides Ceremony" where we are on one side of the couch and they are on the other and we tell Joe to pick a side. Frank says that isn't such a great idea right now, because he might win HOH and then put us up. Frank tells Ian to calm down about telling joe to pick aside, because that will get you put up BUBBA! Frank says that if you held a ceremony like that then there would be a problem for you too. They will start to think you are a little too big for your britches and that maybe you aren't as nice a guy as people thought. Ian says that as far as I can tell if I don't win HOH you will go up, so I need to win. Frank disagrees and says that he has been talking to Shane and Britney and playing the poor pitiful me routine. Ian says that he has been thinking about talking to the shows psychologist for a while now. Ian says I am the one keeping you safe next week and you know that, okay! Ian asks Frank if he knows how the veto ceremony will work. Frank says no. Ian says okay so… Big Brother switches all 4 cams to Dan sleeping in the have not room.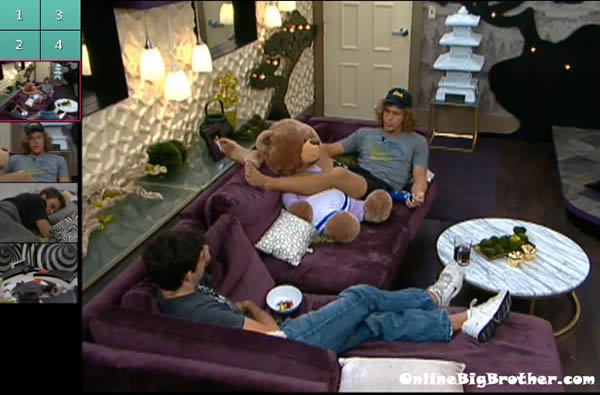 2:20pm – 2:30pm Ian keeps telling Frank to win the veto today. Frank wonders if it will be the rope tying competition. He says that he thinks if it is he will win it. Ian says that if it's the who wants a more he would give up $250,000. He says that $100,000 would make the rest of his life easier. Frank says a $100,000. Ian says well it would make my life easier by helping me get through school. Frank says that he hopes the cheers he heard the other night means that I might have a chance at the $25,000. Ian says yeah me too, they were cheering for me too. Frank says yeah until you put me and Ash up. He says but maybe if they see you working with me now they might. Joe comes up and joins them, soon after Ian gets called to the diary room. They say that might be it.
2:30pm The feeds switch to TRIVIA… THE POWER OF VETO COMPETITION IS STARTING NOW!
3:30pm POV Yo
4:24pm POV Vote Dawg Stop Sh!ting on his dream
5:06pm POV
5:49pm POV

Share it YO!!
Tweet