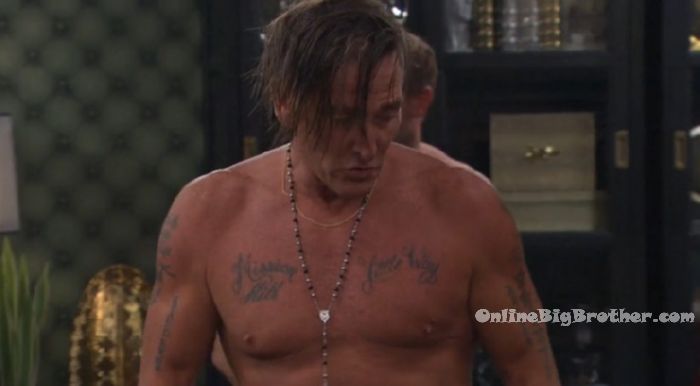 Check out our BB19 Ranking Grid. . rank your houseguests here
5:20pm – 7:26pm Big Brother blocked the live feeds for the Power of Veto ceremony.
Veto players were: Cody, Jessica, Paul, Jason, Kevin, Raven
Host: Christmas
Feed subscription lets you go back and re-watch everything we post here CBS All Access Live Feeds with a FREE 7 DAY trial. 

Power Of Veto WINNER: PAUL
In the bedroom – Elena – good job Kevin! Christmas – Good Job Kevin! Super fun! Was it fun? Kevin – it was .. nothing was funnier than watching Jason yesterday. That was my funnest time I've had here without being with my family. I thought he was choking. It was fun. Jason – it was way easier than I thought it was going to be. Alex asks Jason – did you try or did you throw it? Jason – I tried to be more animated. I didn't really care.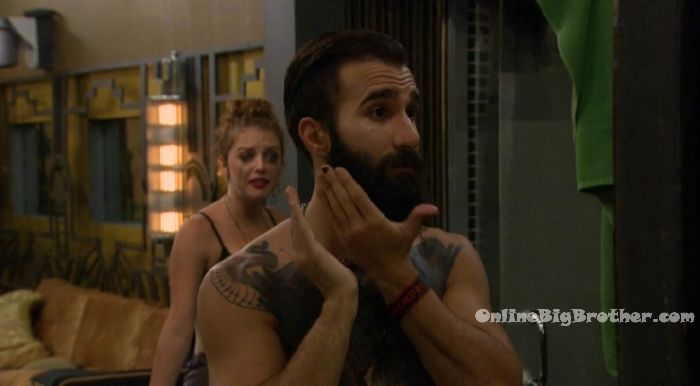 7:32pm In the bathroom – Cody, Jessica and Kevin.
Cody – they put me in the storage room. I ate like 4000 calories in snacks. (Thet all competed in the POV comp individually.) Kevin – you did good. And you didn't even study. You did 15 right? Cody – that's what Jessica said afterwards.. how the hell did you get that?! Jessica – well you had a 25% chance .. there were only 4 answers. Kevin leaves the room. Jessica and Cody laugh at how they slept all night and did well. They head to the bedroom. Jessica – I just want to get through one more eviction… I want it! I want it so bad. That comp was so much fun and the solitude for 3 hours was so much fun. I just wish Julie would be like hey Jessica since you're using your hex there is something you don't know about it. You all so get to be HOH this week. Thanks America! Cody – yeah it wouldn't be that cool.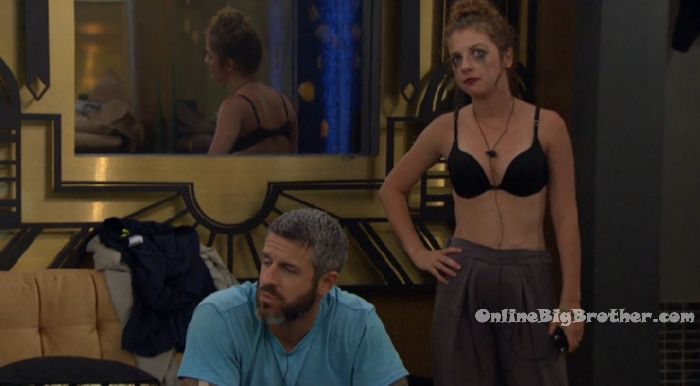 7:35pm HOH room – Matt, Raven and Paul.
Raven – that was so much fun. Do you think he (Cody) practiced? Paul – I don't know what he did. Raven – he got 15! Paul – he got 15, that ain't somebody who just guesses. Matt – that is also someone who is not trying. Raven – no. Me and Kevin tied. Paul – he got one below me and Kevin. Raven – and then you won. So he (Cody would have won if you had not been in it. Paul – yup! Daddy can take care of it. Raven – do you think someone helped him? Paul – no, and there is no way he retained that much information. Matt – maybe someone helped him. Paul – are you sure. There is no way he just guessed. I don't think he was asleep .. maybe he was paying attention. Maybe Elena helped him. We can ask her. Matt – lets not go that route. Paul – but why would they try so hard if they truly truly… I'm about to go into the DR right now and ask them all the questions I need. I genuinely think that Jessica didn't try.. but Cody.. I'm going to sleep so good tonight. Before the veto ceremony I'm going to have one more chat with Jessica … look I've been in conversations for the past few days you're fine but people will not take it lightly if you use it (Hex). I'm going to find out more about the stipulations of the hex.. Matt – I find it weird that nothing happens till live show day… I highly doubt that. Paul puts on his veto and says just to remind them …di*k heads! I'm just waiting for a comment like you're doing all this work for nothing. Sticking to my tommy guns and calling your bluff!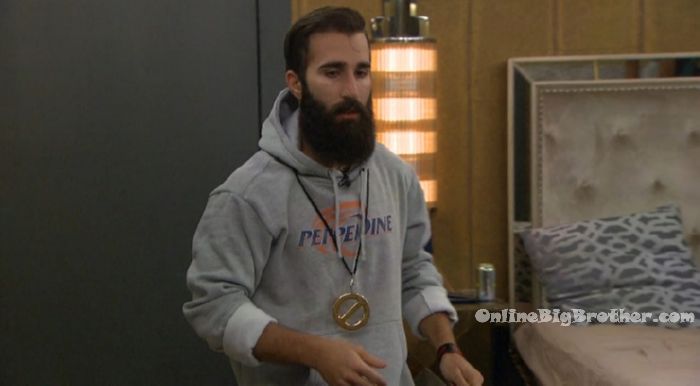 7:55pm Paul comes into the havenot room and fist bumps Elena and Mark. Paul – 15 points (Cody) .. did just as good as Raven and Kevin? Something is not adding up there. Mark – yeah I wonder how he heard it (BB storm watch videos). Paul – there is no way he guessed that. He guessed 15 of them!!? There is no way he guessed 15 of them. Mark – his (Cody) demeanor has changed .. he and Jessica are all good now.
8pm – 8:10pm Bedroom. Christmas, Josh and Paul.
Christmas – don't go aggressive. Facts and then hit her (Jessica) doing her own thing. Paul – I wouldn't be afraid you use that hex. 9 people aren't going to be mad at me. Christmas – empowerment and then also give her the perspective that if she can team up with people. Her biggest thing is that she's exhausted reaching out to people trying to mend the relationship. She can mend it much faster… I told her she is not at the top of the totem pole. Paul – I am going to emphasize the fact that if she does use it she is going to be the totem pole. People are going to be f**k you! Christmas – did you get details on the hex? Paul – I'm still waiting. I've asked all the right questions. I am going to go to her and be like I know what you have and I know it doesn't last that long. Christmas – ask her if they can compete in the HOH. Also if no one goes home then there will be one more open space before jury and that means she will be targeted before Cody. Paul – exactly. If you use it you will not make it to jury. We can get rid of Cody at any point. Christmas – emphasize that she deserves to be here. Paul – no one wants to spend time with Cody in the jury house.
Christmas – she will feel confident that Cody will win HOH. Paul – based on what track record… first HOH?
Christmas – we'll just take shifts (banging pots and pans). Josh – f**k yeah!
Christmas – sitting in the f**king room. Paul – I'll say we will make him miserable to the point where he can't compete. Christmas – Like yesterday was an appetizer. Paul – oh just wait until after the veto (ceremony) I'm going to make him flip. I'm going to make him crack. If you use that Hex, I am going to make him crack. I'm a game player and don't make me start playing!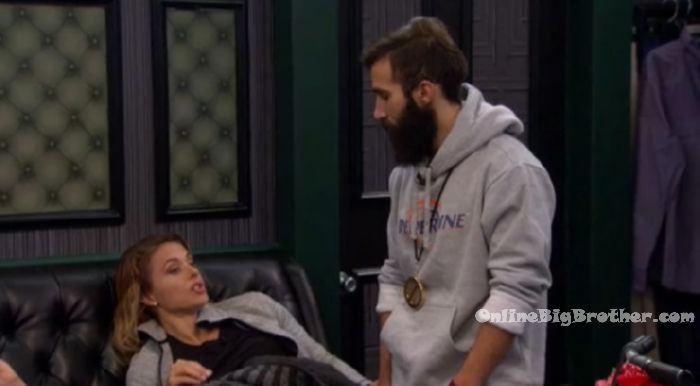 8:20pm Lounge room. Paul, Alex and Christmas.
Christmas – I am guessing be I think she can use it on Thursday. So don't continue to poke. Paul – I'm going to continue to poke Cody. Alex – if we do not win with how many people we have stacked against them… then we don't deserve to be here. Christmas – we have been in the situation before and come up short. And we have people like Elena and Mark that are wild cards. Paul – If she uses it then someone else she is close to will go home and I will make that known. I have counter attacks to make her life miserable. Alex – its a dud week. Christmas – if she doesn't use it this week she is guaranteeing she and Cody don't make jury. If she does use it she is banking on her and Cody making it to Jury. Paul – okay, you win HOH and make it to jury but then what .. the whole house hate you? If she is willing to take that gamble she is stupid.
8:20pm Havenot room. Elena and Mark.
Elena – I hope you feel like you can still trust me. I feel like I can still trust you. Mark – take your space and I wish you the best of luck. Elena – don't wish me the best of luck .. that is so cold. Mark – what, I want you to do well. Elena – just because we're not a showmance doesn't mean we don't have each others backs. If we are not always together it give you the chance to solidify your relationships. Mark – if I won HOH on Thursday would you stay up in the HOH with me? Elena – no, not this time.. but not because I don't want to. Elena – I told you I was bad news. They hug and Mark leaves saying I guess I will see you around.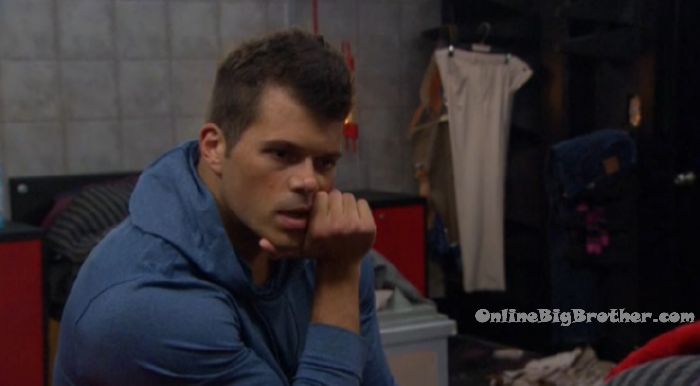 In the storage room – Mark has something in his eyes.. (tears for Elena)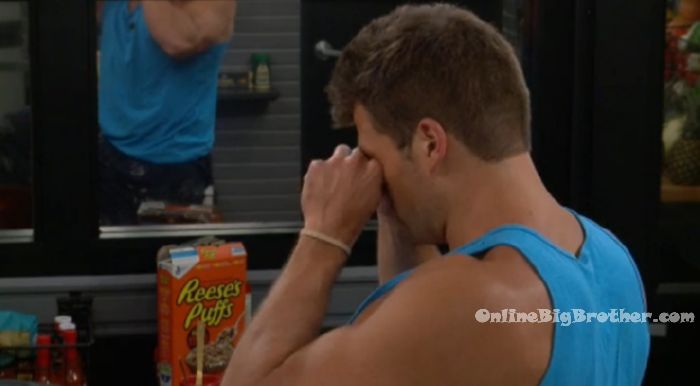 8:33pm – 8:40pm HOH room. Mark and Paul.
Mark – as a fan and as an observer of this game… obviously I need to stop talking to Cody but besides that what do you see for me to get my game back on track.. Paul – separate from Cody. Mark – because Elena doesn't want to have anything to do with me in this house.. I mean personally. She wants space. She thinks I'm a bad look for her. I can't argue. She doesn't like my behaviour with Josh and Cody. Paul – so just lay low. Mark – I know that. I won't spend as much time with Cody… do you think I need to do anything specifically. Paul – lay low. You're safe this week. Fix your game. Mark – fix it how. Paul – separate from Cody. If she uses that Hex she will go home over Cody because he has no social game. I need to make that clear to her. Don't hang out with public enemy one and two. With Elena ease up and offer her something different. Show her that if you're bringing her down ..show her the opposite through actions. Lay low, don't do anything. Let other people do stupid sh*t. I don't want to be this aggressive game player but I have to. If one of them won this veto, someone would have gone home. This wasn't for me, this was to protect people.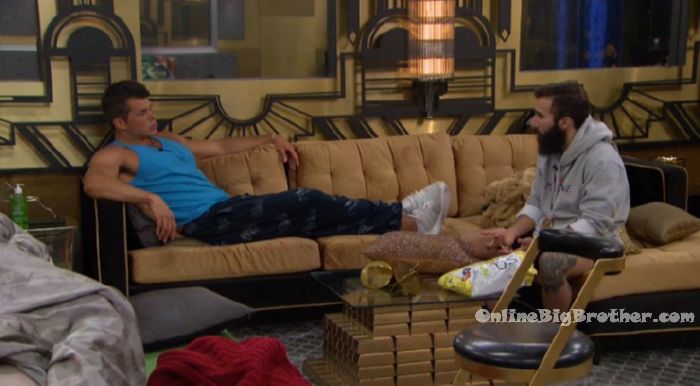 8:50pm Havenot room. Josh, Alex, and Kevin.
Alex is helping them study the dates / events of the house.

See what they can't show you on TV Try the live feeds for FREE!
Links to the ranking system
Rank your house guests here
For those of you that like Statistics here are some expanded reports.