Check out our BB19 Ranking Grid. . rank your houseguests here
9pm Lounge room. Matt, Paul and Alex.
Matt – its frustrating to me .. I'm not complaining but it seems like bad game play is being rewarded here. And that's really frustrating. (LOL that's ironic coming from Matt) Paul – we stay up all night and look what happens. I'm going to enforce it. I am going to make him crack and cause a rise out of him. And I need everyone to stand up for the greater good and be .. make it seem like he is singled out and the only one. He might just convince her to not use it. The veto is going to be hug. And the conversation is coming first to lay the pathway and the veto is lock and load.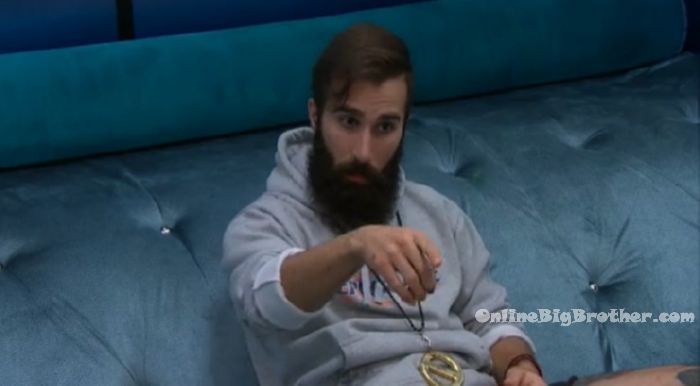 9:05pm HOH room. Kevin and Paul.
Paul – so here is the thing.. you need to stay out of.. I personally stay out of deals like that because its way too early and you'll get your head cut off. Kevin 0 yeah, exactly. Paul – no one knows about this (Kevin & Paul). Kevin – exactly. I didn't tell no one about the 25 (25K). Paul – and I buried that for you. F**king Ramses is out of the game and I buried that for you. Kevin – what are we going to do with Cody? Paul – take him out. If she uses the hex, we take out Jess next week. You win and send Jessica home so she doesn't make it to jury and then Cody goes home right after. Kevin – did you tell her that? Paul – right after when I confirm what her hex is. Kevin – Christmas needs to lay off the meds. Paul – She's (Jessica) has said 6 different things to me. I'm sending his a$$ home this week. Kevin – get some of these people out of here. .. an then you can say the game dictated this move. They're happy to go to jury. Paul – I've been asking them (Production) for two days now and they still haven't gotten back to me (About the hex). I've talked to Cody and I've talked to Jessica and they've both given me different answers. What she said on live tv and what she's been saying to me contradicts each other. Paul – he's a pu$$y. He's not a man. Kevin – he's a fake. (Cody) Paul – no, he's a pu$$y! I hope he self-evicts. That would just make our week easier. If he comes at me, let him so I can make him look like a b***h! And if he does then he goes home and I can laugh. All he needs to do is put his hands on me. And then all I have to do is say "harm" "threat" and if this motherf**Ker comes back in, I will walk out that door no communication ever again. You cannot touch, threaten or harm. He is just a hot headed, small d**k complex, idiot. And part of my strategy is to make him crack. Kevin – she will be better when he is gone. When he was gone, she was blooming. Kevin brings up how Christmas always tries to make Jason feel bad about breaking her foot. It was just as much your fault as it was his! You jumped on his back! Paul – I am going to find out exactly what it (the hex) is and expose it in the veto ceremony. Kevin – so if one of us wins it (HOH) do we put them up again? Paul – yes.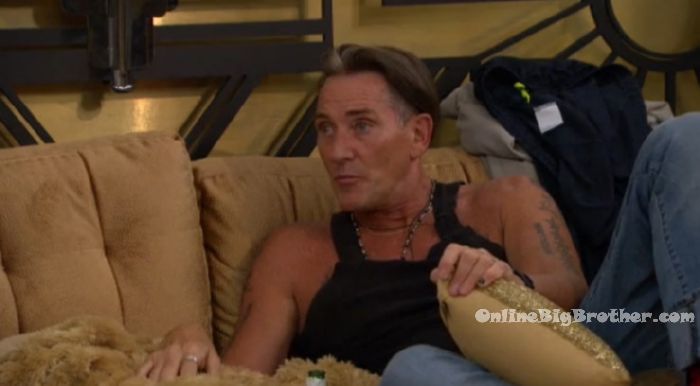 See what they can't show you on TV Try the live feeds for FREE!
9:35pm
Cody – you know what my veto speech is going to be? Nothing. Jessica – same.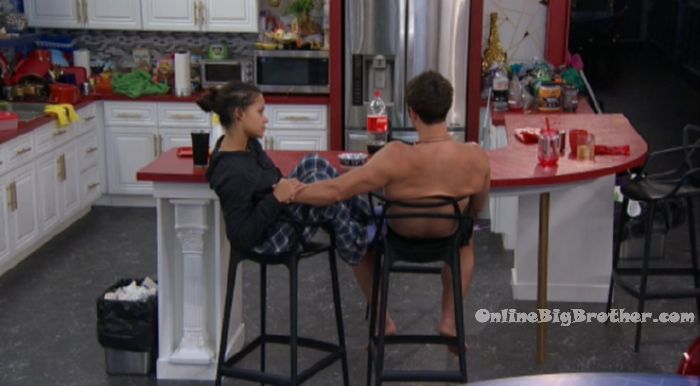 9:50pm HOH room. Paul, Elena, Kevin, Mark and Josh.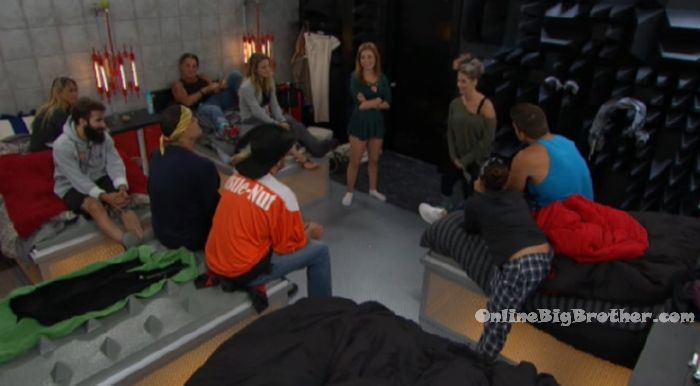 10:15pm – 10:30pm Havenot room – Elena has the key for the havenot temptation. They other house guests are watching to see if she gets off being a havenot or will have 2 weeks as a havenot. She opens the purple box and gets two weeks as a havenot. Elena – Josh are you willing to volunteer as tribute and take my place in here? Josh – yes. Elena – I'm going to be so hot at the end of this two weeks. Slop for 2 weeks, I'm an idiot!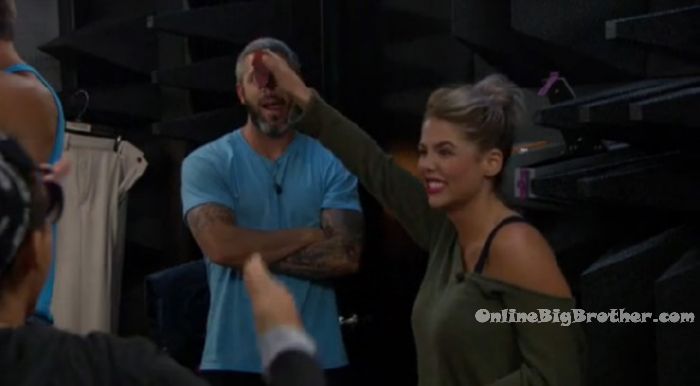 10:55pm HOH room Raven and Matt.
Raven – I think the curse has something to do with votes. Matt – I hope so. Jess and Cody do not seem concerned at all. I don't know what change from last night to night because last night they were a train wreck. Raven – well they were in the bathroom talking and it looked pretty serious. I think Cody is willing to go home. I have no problem if Jessica uses the reset week.. giving her the middle finger. Matt – neither do I but I would rather just not deal with it. Raven – I would rather not too but if she wants to bring it honey bun! Matt – but we still have to win HOH and we have not been spectacular in that regard. In this game I am about minimizing risk. Matt – it is shocking that someone that was in the military cannot control their emotions. I have no problem sending her (Jessica) packing next week. Raven – I think Elena is playing both sides. Matt –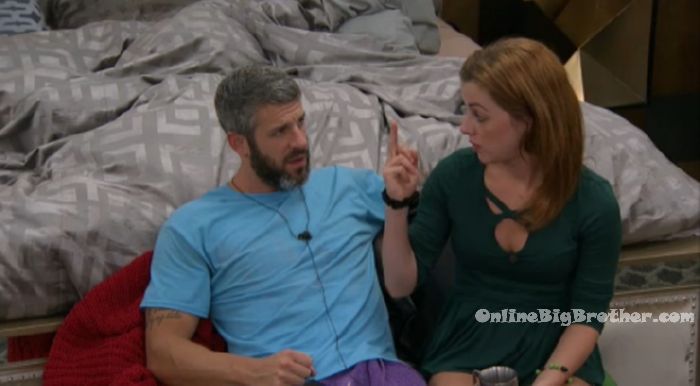 11:05pm Bedroom – The house guests are sitting around talking about random things.
Cody tries to open the other bedroom's door and realizes Vaseline is on the handle. (Alex put the Vaseline on the handle) He wipes it on Josh's bed beside the door. Josh – It wasn't me. If it was me I would say it was me.
Alex's Vaseline prank. Cody wipes it on Josh's bed. @bigbspoilers #BB19 pic.twitter.com/VU17ifZY8T

— Dawg (@DawgsBigBrother) July 30, 2017
11:15pm – 11:30pm Kitchen / Bathroom – Paul, Matt and Raven.
Paul heads to the kitchen and puts Vaseline on the coffee maker handle. So that when Cody goes to make coffee in the morning he'll get it on his hands and then again when he tires to wash it off. Paul – I am going to mental crack this fool like he has never been cracked before. Paul tells Elena – I'm going to tell him I don't know who keeps Vaseline'ing you but why don't you use it and go f**k yourself. He's a f**king a$$hole and no one likes him.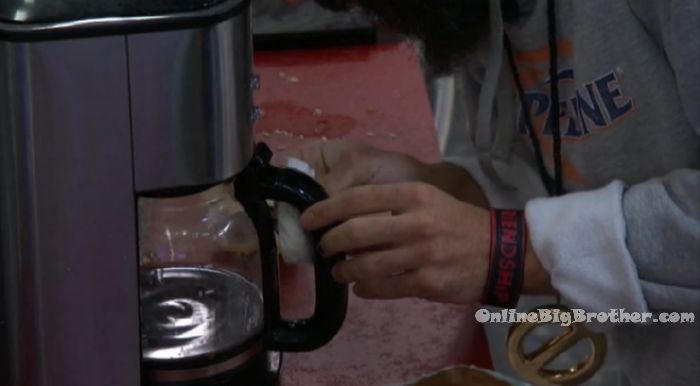 11:38pm Storage room.
Paul and Jason go into the storage room to put the decaf coffee in the caffeinated coffee tin. Paul – stupid f**k.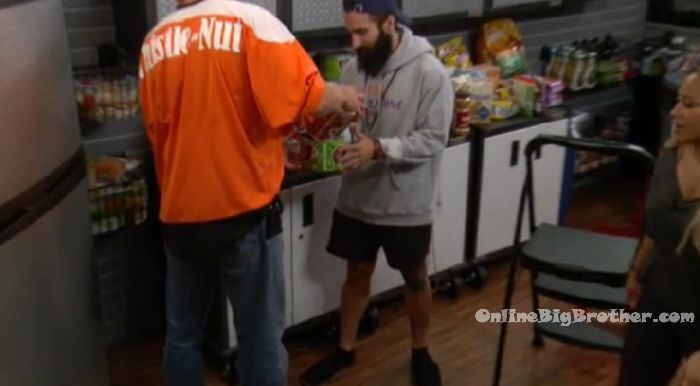 11:45pm Matt, Raven, Cody and Jessica are already in bed sleeping.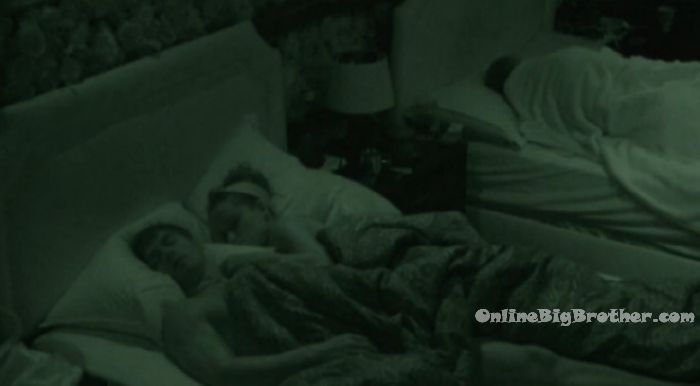 11:50pm – 12am In the kitchen – Elena makes Josh a sandwich. Josh tells Mark – I might need to marry Elena after she makes me this sandwich. Mark – I hear she's single. Josh – is she?! Can I give you a hug after because this sandwich is insane! Josh – I was sad for two days and this makes me happy. This makes me feel like a new man. This is love .. you showed me you love me by feeding me.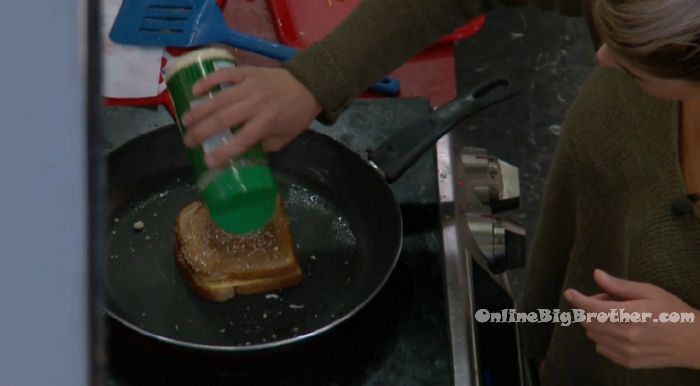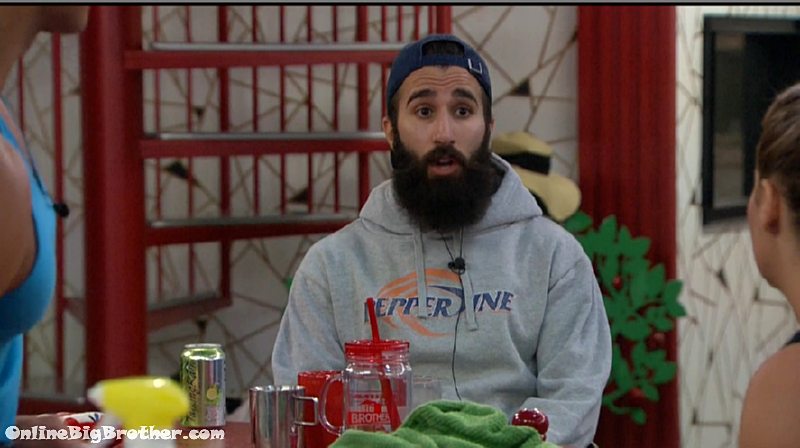 Midnight.. Paul, Elena, Mark
Paul is sharing information that he's learned from the Diary room about the temptation that Jessica has.
Paul – She claims that the temptation keeps her and Cody safe for the next few weeks like she said on Live Eviction day.. that is a lie
Paul – nobody is guaranteed safety for the next 3 weeks ion this game. (other than you week 1-3)
Elena – She said it works for 4 weeks
Paul says he thinks certain people should go to Jury and the ones with the "shitty attitudes" shouldn't go.
Paul – they do not deserve to be in this game any further
Paul says Cody would walk around saying how he doesn't need the game, he doesn't have any sympathy or empathy to other people in the game. Paul adds that Jessica and COdy never participated they don't deserve to be in the game.
Paul – some people quit their jobs to be here
Paul – other people fought thousands to be here
Paul – some people wanted to live their dreams to be here
Paul – so you are going to walk around and be Cocky and disrespect the game then you don't deserve to f*ing be here yourself
Paul says he'll use the veto on Jason.
Paul – I'm going to say take a look around.. there's one person none of us want in this game.
Paul – there's one person .. (Cody)
Xmas wheels by
Paul keeps repeating what the Diary room tells him "nobody is guaranteed safety for the next 3 weeks"
Paul – how can she keep COdy and her safe..
Paul – it's against the rules to lie about a temptation
12:55am Jason and Mark Bathroom
Mark – the game is getting fun know
Mark asks him after Cody who are they getting out. Points out that it use to be Cody, Jess, Christmas, JOsh. He's wondering if that's still the plan.
Jason nodding his head, "F* yeah"
Mark – do you think the majority of people are still on with that
Jason – I haven't asked anybody
Mark – either have I
Jason – I know Alex is
Mark – I fully trust you with everything.. I'm trying to get a better relationship with Alex.. I like her
Jason – it'll happen
josh rolls in to use the toilet..
Mark starts talking about how cut he would get if he was on slop for 5 weeks.
Mark says he wants to get closer to Alex.
Jason about Cody – "I just don't get his bad attitude, his negative vibe"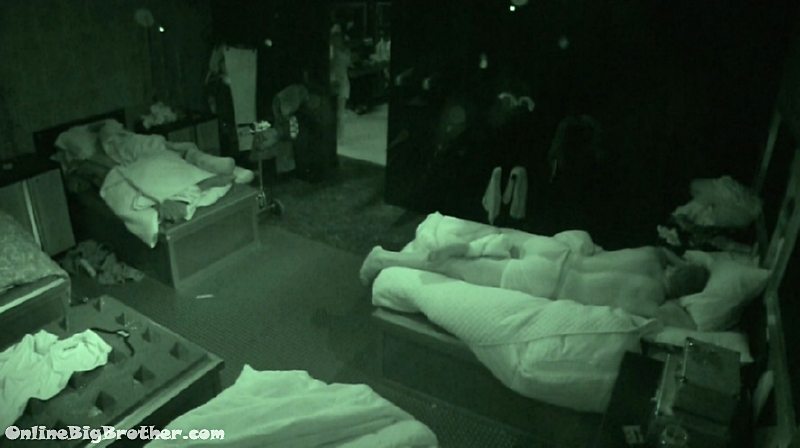 2:00am Elena says they are having issues with the electrical in the studio. Apparently AC is being affected so they allowed to leave the have not door open.
8:35am Cody making Coffee.. not knowing it's decaf (this is a cruel trick)
9:38am everyone back to sleeping.
Links to the ranking system
Rank your house guests here
For those of you that like Statistics here are some expanded reports.