POV Holder:
Chrsitne
Next POV
Aug 2nd
POV Used
NO
POV Ceremony
Aug 4th
HOH Winner 1:
Donny
HOH Winner 2:
Nicole
Battle of the Block Winner
 Caleb/Victoria
Next HOH/ Next BOB
Aug 7/Aug 8
Original Nominations:
Donny's Noms (Victoria & Caleb) Nicole's Noms (Zach & Jocasta)
Final Nominations:
Zach and Jocasta
Have Nots
Frankie, Cody and Hayden
POV Players
Nicole, Christine, Jocasta, ZachAttack, Caleb, Victoria,
Take Advantage of the FREE 2 day Trial to watch all the drama!
1pm In the kitchen – Caleb tells Victoria just 10 more days and then we're off slop. Caleb says I will probably be down to 160 lbs and I haven't weighed that since middle school. Victoria says I can't believe I was going to join the army. Caleb says you wouldn't have made it. Airforce or Navy you could but not the Army, no way. Victoria says that Israeli army.
1:20pm – 1:30pm In the kitchen – Victoria starts crying. Jocasta comforts her. Victoria says I hope they're proud. Jocasta says you're proving a lot to them being here. Victoria says it probably kills them to see me on the block every week. Jocasta says but you've never given up. Victoria says not know how you're being portrayed is the worst. Not knowing if people are judging you or not. Jocasta says as much as they've put you up, you're still here. I've been put up 4 times too. Its good you've been put up but never sat there on a Thursday. Victoria says yeah put me up I will take myself off and make sure I'm not here on Thursday.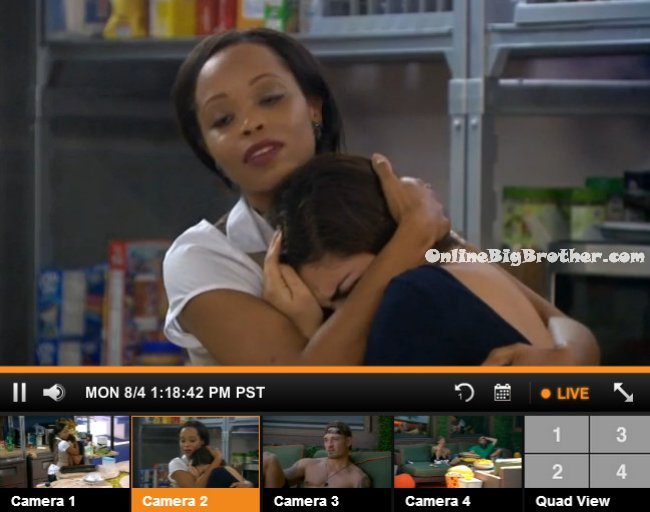 1:25pm – 1:40pm Out in the backyard – Frankie takes a backyard shower. Meanwhile inside – Victoria heads up to the HOH room to nap.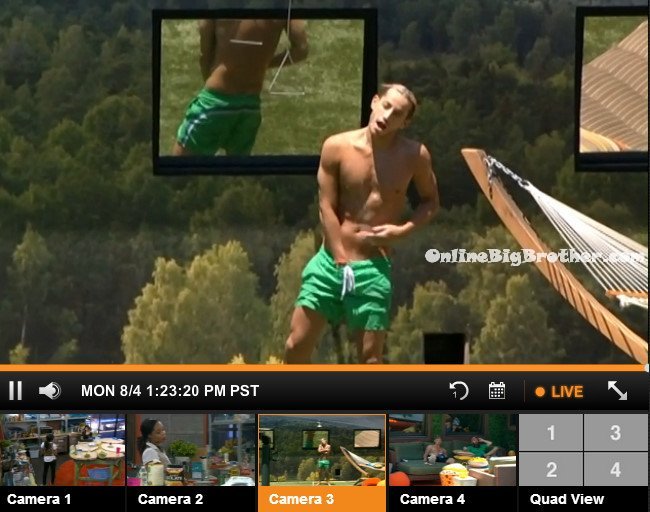 1:45pm In the kitchen Frankie talks about how when he gets out of the house he is going to back to being vegan again. Frankie says that his sister became vegan after watching a documentary called "Forks over Knives" that made her not want to eat meat again. He says that the carcinogens that we consume in meat are actually very high. Frankie says we met with my grandfathers nutritionist and asked about a vegan versus peskatarian diet and she said they are equally beneficial.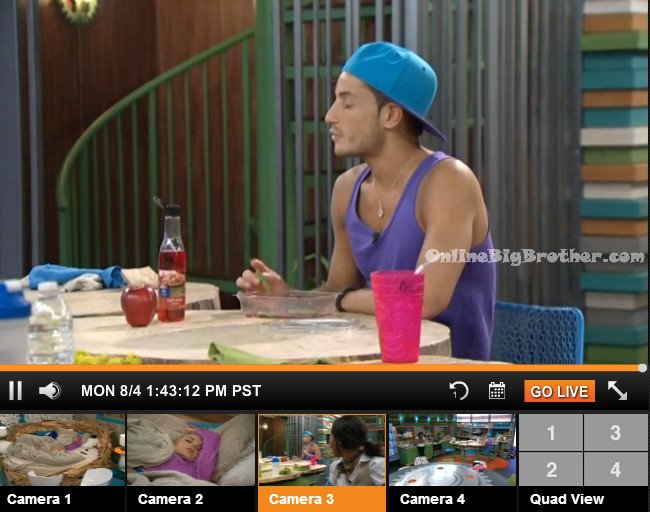 2pm – 3pmJocasta tells the camera these house guests are so boring .. sleeping all day! Jocasta plays with the balls in the pool and then lays out in the sun. Donny is sitting in silence on the backyard couch. Victoria is in the diary room and Nicole is sleeping up in the HOH room. All the house guests are napping. Victoria comes out of the diary room and makes lunch.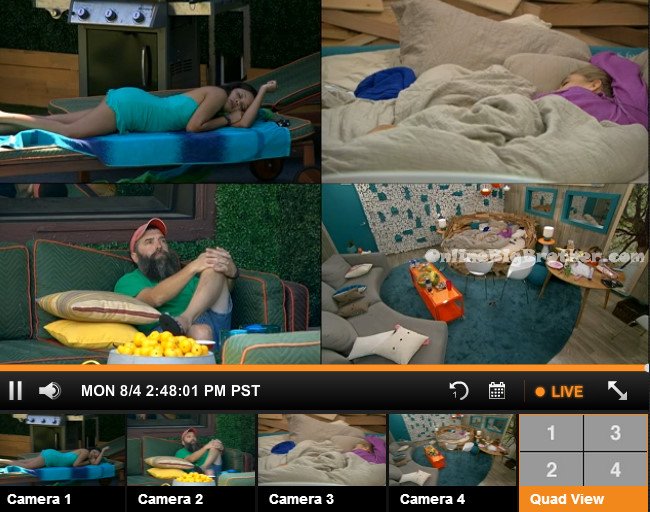 Where the Vote is.. 
Zach going home.. (it's very confusing right now lots of person X playing person Y playing person X etc etc.. At the end of the day… Zach doesn't have the votes right now)
Alliances
Quad Squad = Nicole, Derrick, Hayden and Cody
Zankie = Frankie/Zach
The Detonators = Derrick, Frankie, Zach, Christine, Cody
"The HITMEN" – Cody & Derrick
Trilogy = Nicole, Christine & Hayden
Team America = Donny, Derrick, Frankie
Old timers = Jocasta/Donny
Nicotine = Christine/Nicole
bottomfeeders = Derrick and Nicole
More polls here https://www.onlinebigbrother.com/big-brother-compendium/big-brother-16-polls/