Head of Household Winner – Jackson
Have note are:
Nominations are: Christie & Sis
Power of Veto Players are – Christie, Sis, Jackson, Nick (Christie pulled ), Holly (Sis pulled), Cliff
Power of Veto holder – Jackson
Power of Veto Ceremony – Jackson did not use the power of veto
Grab your live feeds —-> BB21 Live Feeds Subscription Link
Rank your houseguests —-> Big Brother 21 Ranking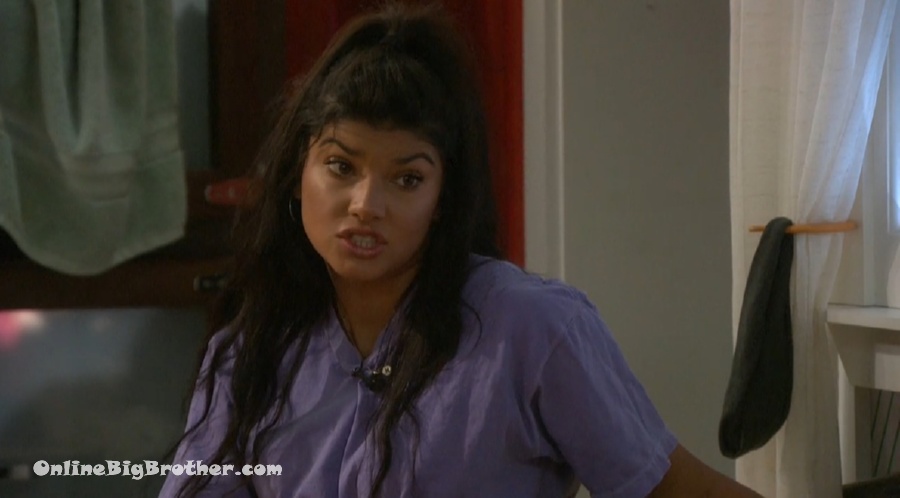 11:55 am Sis sand Christie.
Sis going on about wanting to win the HOH and put Holly/Michie on the block.
Christie calls Nick a snake.
Sis doesn't think she can beat Tommy later on.
Christie – Nick is going to last as long as Nicole is in this game. He's taking Nicole. I mean maybe he'll take you I don't know
Christie – you make one BIG move you're good.. you win ONE HOH everyone wants to make a deal with you
Sis – I can't be here without you, I can't
Christie- Yes you can, don't say that
Sis – I don't talk to Nicole and I don't talk to Jess. I don't want to be around Michie and Holly.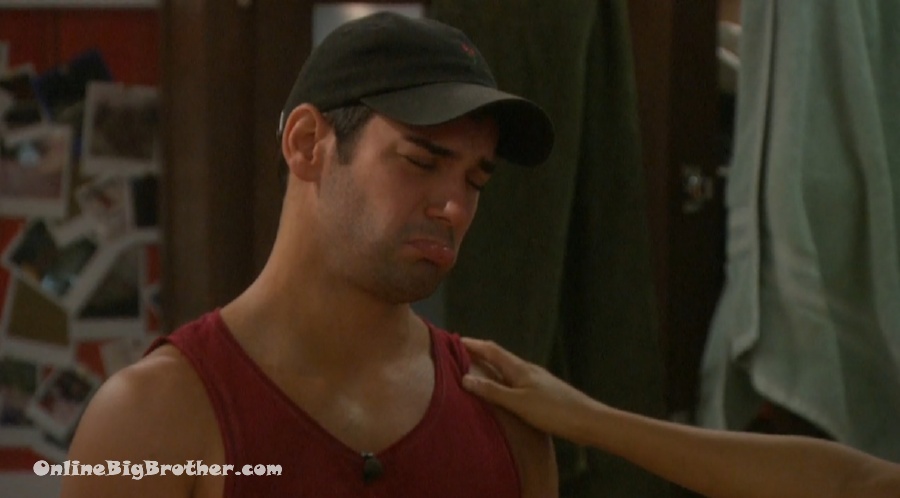 Tommy walks in and gives this face.
Christie – I knew he wasn't going to take it (their deal)
Sis – I hoped
Christie – it was too late
Christie – I see the course of the game and how it's going to happen. I see it. It's just disappointing. I can see what happens.
They start fantasizing about who they would put up
Christie – who would you put up
Tommy – Cliff and Nicole
Christie says Michie, Holly, and Nicole are working together "You don't have to believe me. what the f* do I know"
T – What makes you think that
Christie – Kat saying it to me a couple of times before she walked out the door. Feeling so comfortable to continue to throw HOH's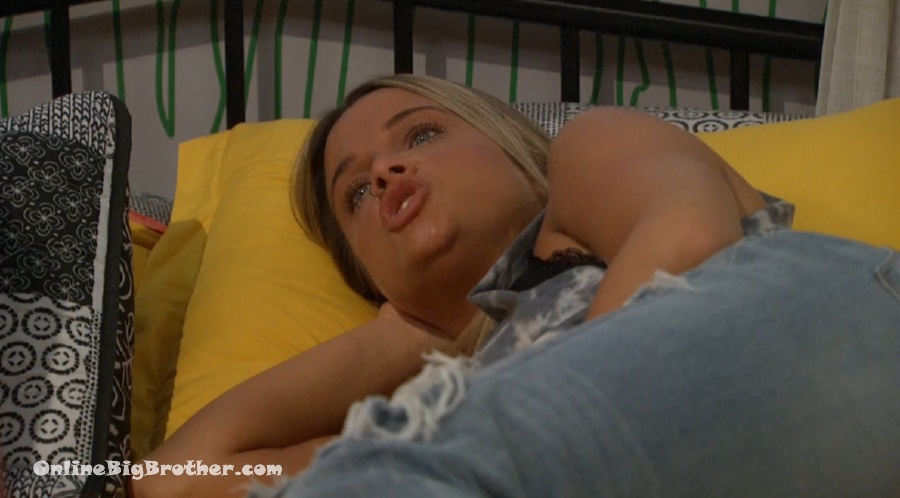 Christie points out that last week Nick was about taking Holly/Michie out now he's not mentioning it
Tommy reminds her everyone tried to make a deal with them this week because they were HOH "it just makes sense"
Christie – I'll be rooting for you guys so hard. Everyday
Sis – I love you
Christie – I love you to
Tommy – Love you
Christie – You guys are good for the next couple weeks the only guys that will take a shot is Cliff
Tommy doesn't agree he thinks the will continue to be targets.
They talk about the deal Christie offered Jackson, Something about getting rid of Nicole, Nick and Jess as some sort of 6 person alliance.
Sis cannot understand why they were didn't take their deal.
Tommy says if they don't win HOH it'll be the two of them then Nicole.
Sis and Christie seem to think Michie/Holly will now win the game.
Sis says she doesn't see Nicole winning HOH, "Cliff wouldn't go after Jackson"
Tommy – I got a feeling it's me vs Cliff this week (this weeks HOH)
Sis – please big brother can it be a double with a jury buyback or something
Tommy – I'm sorry Chris
Christie – it's ok
Sis – it's all that matters you f*ing tried
Sis – I could go crazy and go
Christie – Michie wants me gone. I'm the bigger target. OIt's all good what are you going to do .. I just wish it wasn't you. I would campaign the f* outta this week..
Sis – you still can if you want to campgian please go do taht. IT's a game you only get one shot at it.





Noon Cliff, Holly, and Jackson
Cliff warns them that he was outside chatting with Nicole and Jes came out and made a comment about there being 5 people left in the game that were all once part of a group
Cliff – implying it was the three of us VS all y'all (Jess, Cliff, and Nicole)
Jackson – I've given you my word that handshake I got is all I got. I don't have deals with Tommy, Nick, Sis all I have is deals with you and Nicole and that's me being honest.
Cliff points out the only deal he's made against Michie/Holly was the one to save his own a$$ when he was on the block
They agree the next couple of days will be relaxing.
Jackson – noms are locked, Christie is going unless Sis blows up and puts a HUGE target on her back… and everyone flips"
Cliff and Holly don't think the house will flip to get out Sis "It makes no sense"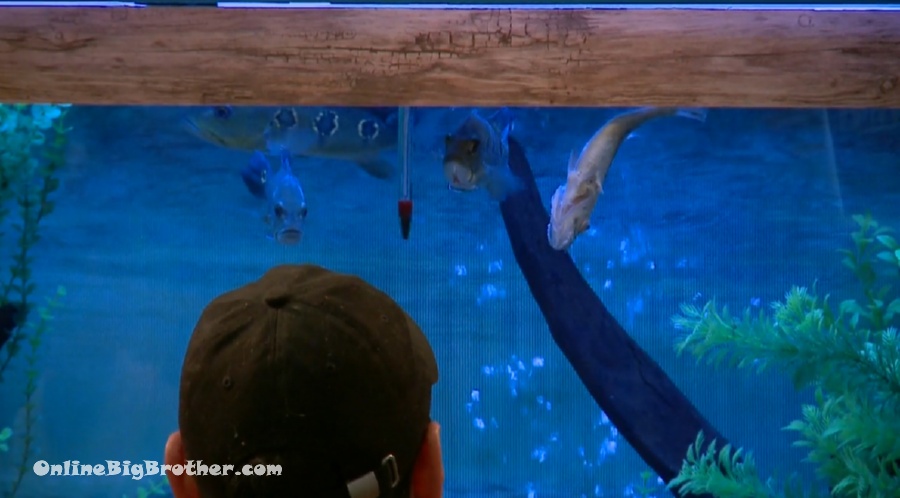 12:21 pm Dead fish
12:24 pm Christie crying and Sis laying in the sun..
Christie – My mind is like not stopping I'm so frustrated..
Christie – everyone feels so safe with Nick. I got you I got you.. he's running this hole game.
Christie – my mind won't stop.. I'm sorry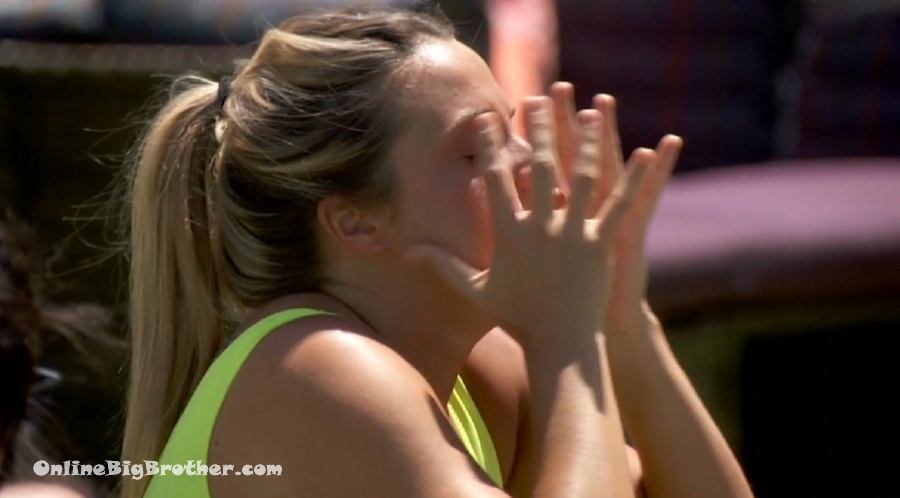 Christie begins to spiral about Nick "It's so annoying" "it's beyond frustrating to me.. I literally cannot look at him I can't stand him"
Sis says she's going to find out if Nick is telling him things.
Christie says the entire hose is protecting Nick she won't find anything out.
1:05 pm Christie, Jess and Nicole (I get the feeling most of the posts today will be Christie meltdowns )
Christie whimpers "I don't know what to say"
Christie – it's frustrating. really really frustrating. I get it I get his perspective. I'm frustrated because I see the path pf this gam and I just.. I feel like everyone is blind.
Christie – I'm just mad. I want to be here I want to change this f*ing game .. I want to make moves I want to do things I just don't want to be protected
Christie – it's just not fair. I feel like everyone is just blind everyone is under a f*ing spell
Christie – I just want to go to sleep until Thursday .. I also don't want to be the depressed and Annoying person that lays in bed
Nicole – you can't help how you feel you have the right to be upset and frustrated.. It shows how badly you want to be here and how driven you are
Christie – nothing is sacred nothing is private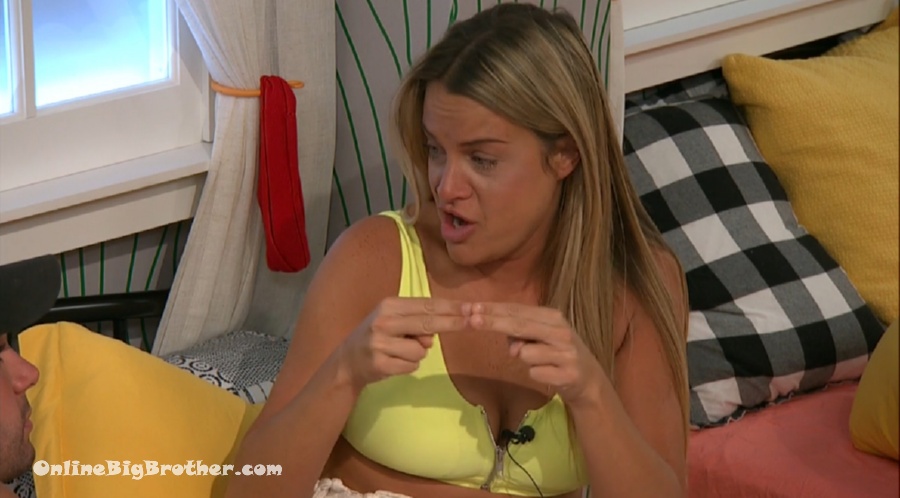 1:30 pm Christie and Tommy
Christie continues to spiral .. goes on about how Miochie and Nick are working together. She brings up key points of her campaigning to Tommy.
Christie – I am a player I am not a floater I want to be here to be everyone's biggest threat.
Christie – I'm putting up Michie and Nick if I stay
Christie – Keep me as a target .. if you want me on your side..
"I'm winning mental comps moving forward. I'm a shield, I'm taking shots"
Christie – Sis is one of the people that is being protected by other people. She's safe no one is coming after her. Keep me to be a target and to fight"
Christie – Me, you, Cliff, Nicole Jess
Christie wants to form a new group.. (only 5 members)
Christie – that's all I got..
Christie – I know I have Jess, you and if get Cliff and Nicole Nick is not protecting them. he is working with Michie and Holly and he will continue to throw things and let people take shots.
Christie – he's (nick) is going to skate by he makes deals every week
Christie – I love SIS but she is protected by a bubble she will pawn until the end of this game
Christie says she's not letting Nick win happen "Cliff's smart we can f*ing turn this around"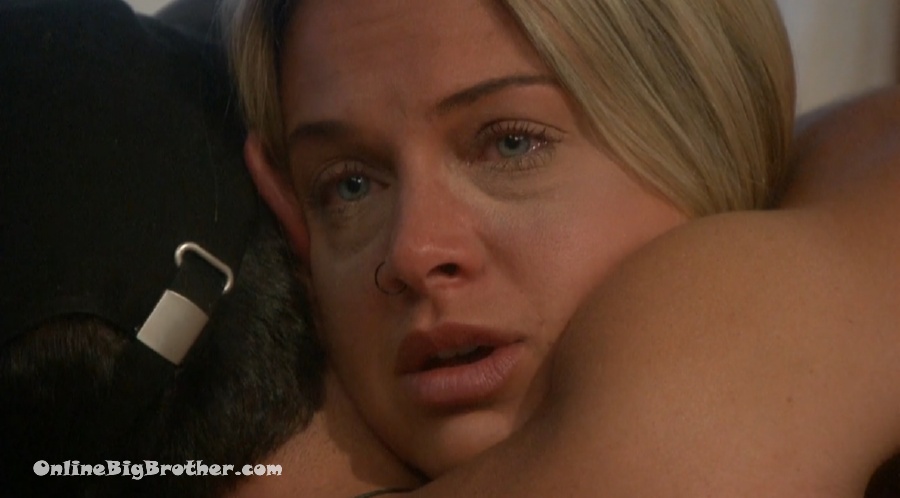 Christie starts to cry
Christie – f* them. He's a snake. he's feeding you the same sh1t he's feeding Nicole and Cliff
Christie says Nick was fake crying
Tommy – you got me.
Christie – I hope so
Tommy – are you kidding me
Christie continues to cry. "I know people are starting to see it" (that you're going mad)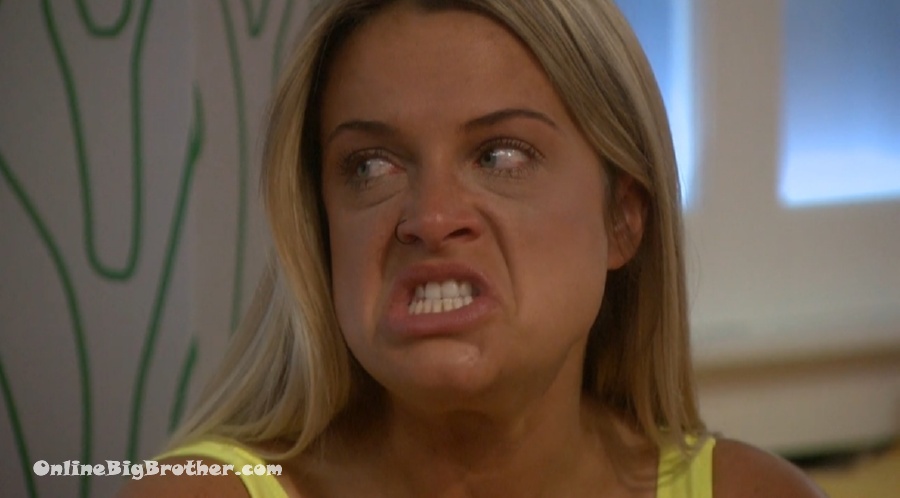 Christie about Nick – He better stay away from me (OMG she's nuts)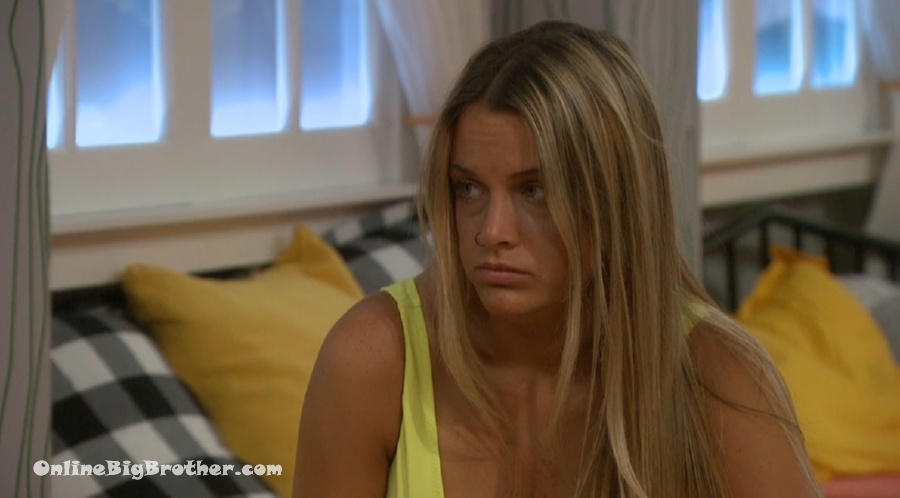 Jess joins them. Tommy leaves.
Christie says she's "thinking, Breathing, being" right now
Christie – I feel so sad and torn. I hate that I'm sitting next to sis. I love her so much
Christie – I have to campaign. I know what has to be done I know what has to be said
Christie says if she doesn't campaign she'll feel like just another person that is "Cushioning her" (Sis)
Christie – going into next week I'm going to be gone. It'll be Sis and Tommy. Cliff and Nicole. Nick is going to throw another HOH and let them take shots. Nick is going to skate by with Michie I CAN'T ALLOW IT.. I CAN'T
Christie – I really want to stay here and fight let me be a target at least I want to win comps and take a stand and make a move.
Christie – I need CLiff and Nicole.. I know I have Tommy
Jess- do you
Christie – yeah, please don't repeat this Jess
Christie goes on about Sis, "no one is going after SIS so keeping her here is allowing her to keep going on and on"
Christie – Holly will scoop her right up. she's cushioned
Christie – I'm valuable to keep here because I will be a number one target. 3 people are coming after me
Christie – I'm taking shots at the people running this game (so funny)
1:52 pm
Christie – I'm going to stay in here for a chunk of the day and relax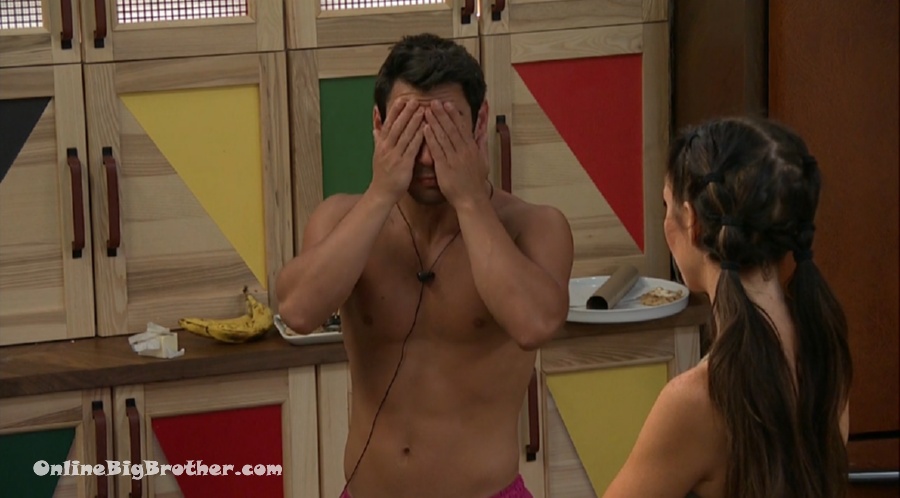 2:20 pm Holly and Tommy
Holly – is she ok?
Tommy – ummm I dunno
Donations
Please consider a donation to help keep the site running. For more details: OBB Members