Head of Household Winner – Jackson
Have note are:
Nominations are: Christie & Sis
Power of Veto Players are – Christie, Sis, Jackson, Nick (Christie pulled ), Holly (Sis pulled), Cliff
Power of Veto holder – Jackson
Power of Veto Ceremony – Jackson did not use the power of veto
Grab your live feeds —-> BB21 Live Feeds Subscription Link
Rank your houseguests —-> Big Brother 21 Ranking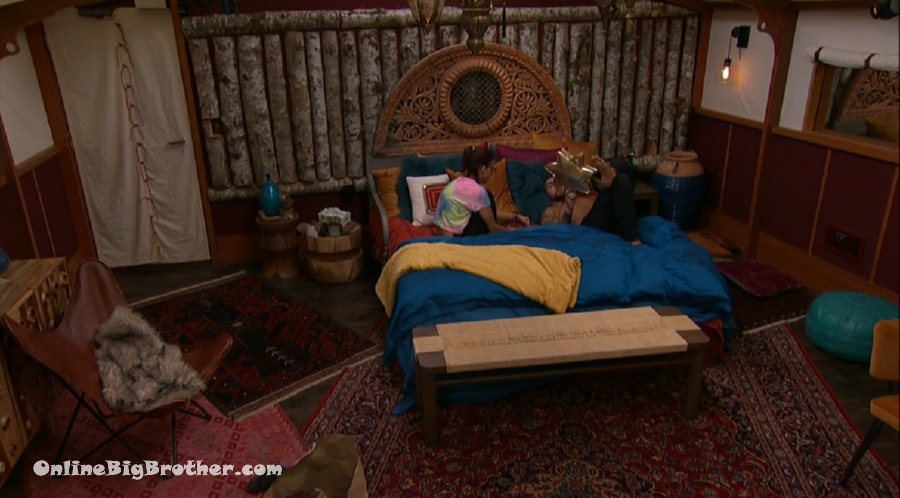 3:02 pm Nick and Nicole
They are talking about voting Christie out.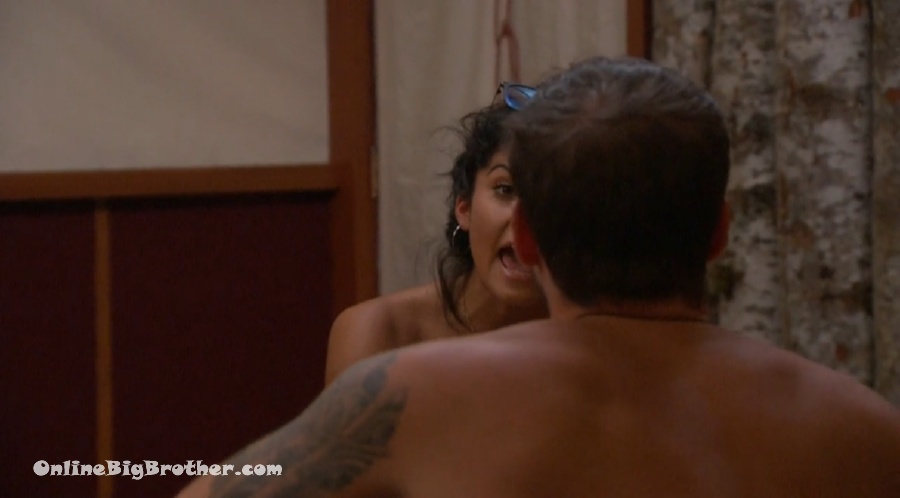 3:03 pm Sis and Nick
Sis – what is your issue, what is your problem
Nick – something is going on with you guys, Christie was b1tching about me outside
Sis – to who
Nick – to you
Sis – saying what
Nick – I know she's saying something
Sis – how do you know that
nick – I'm not stupid .. why are you lying about it Sis. I'm sick of people not trusting me.
Sis – are you feeding things to Nicole telling her I'm coming after her
Nick – no
Sis – you never told Sam to tell her
Nick – we're going back 4 weeks
Sis – Yeah
Nick – I knew that you were going after her.. yeah like 4 weeks ago
Sis – why would you tell her that when we're good. I trusted you Nick and you told her. Why would you
Nick – I don't know
Sis – did you make a deal with Michie this week?
Nick – no swear to god. I made a deal with him before the HOH
Sis – and that's why you threw it
Nick – I did not throw it.
Sis – you just said you made a deal with him before the HOH
Nick – Tommy did too. I did not throw that competition I swear to god. I thought they were going to put me up
Sis – that's what Holly said
Nick – SIS I did not throw the f*ing competition
Sis – then why are you not on the bock
Nick – two days before the HOH I went down to talk to Holly. I said Holly I'm going to be straight with you do I have to win this competition she said I'm good with you.
Nick – I went to Michie and he said I'm good with you I'm not going after Christie. I said ok. then the whole blow-up happened
Nick goes on to explain after the blow-up Michie and HOlly were pissed at him. he was worried thinking he was the target now so he fought hard for the HOH. Halfway through the competition he gassed and knew he couldn't win it. When he went to talk to Jackson he found out that they were going to stick with their deal.
Sis now accuses him backtracking. Now he's not putting up Jess and Holly if he wins HOH.
Nick – I don't have a deal with Holly right now. I want to get Jess out and whatever pawn I have to put up next to them will go next to them. If that has to be Holly that has to be Holly. If it has to be Cliff it has to be Cliff.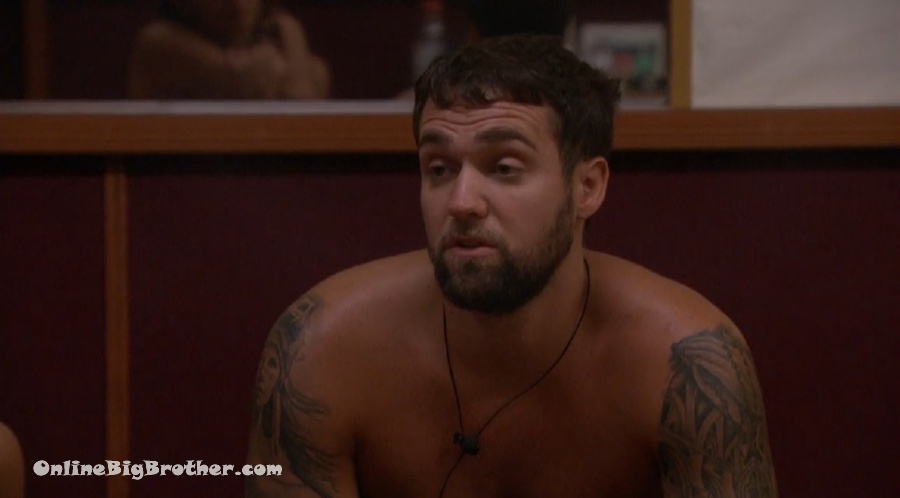 Nick – I'm so close to start winning vetos and show you guys where I stand
Sis – I never doubt you wanted to win and take me off
Nick – what would me purpose be of taking Nicole and Cliff over you guys. Granted Nicole never put me up
Nick – If we got to four and you guys put her out then put her out.
Nick – I promise I want to go to three with you guys (Tommy, Sis)
Nick – I already told Cliff last night if you put up Sis and Tommy I'm going to take one off.
Sis says she's nervous about Nick
Nick – I get nervous about you and Tommy all the time.
Sis – me and Tommy have nothing. Me and Tommy have your back 100%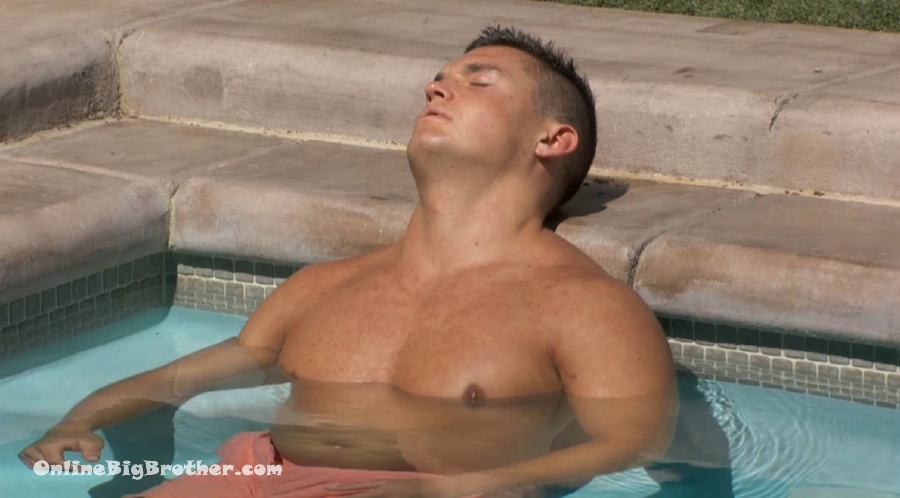 3:12 pm Jackson resting while Christie and Jess have a conversation.
Jess – Gillette made the worlds biggest shower.. for use. it was an event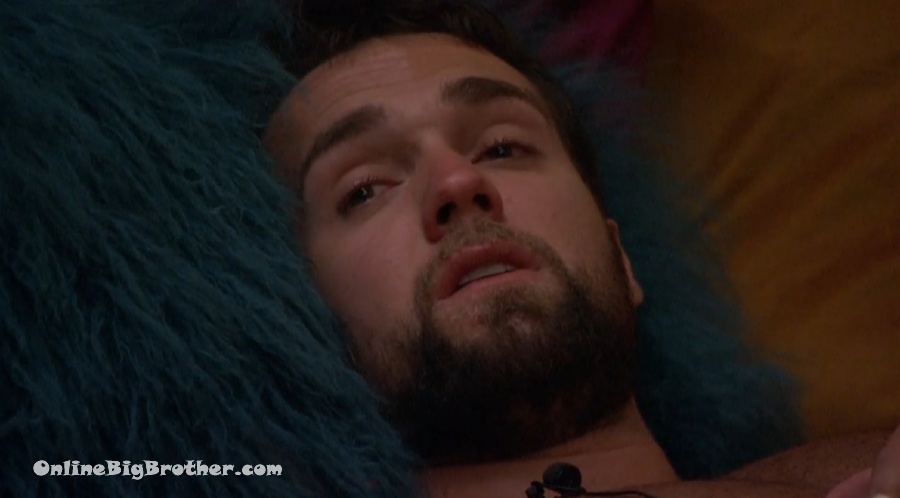 3:39 pm Nick and Sis
Sis says if she and Tommy don't win they're going up and if Jess wins Nick is going up.
SIs – what if she f*ing puts one of us up because she thinks that…
Nick – I've never been the puppet master I've never told an HOH who to put up.
Nick – I didn't throw that HOH comp I went hard as sh1t. I want to prove my loyalty to you guys so bad I can't because I haven't been able to win. It sucks.
Nick – I'm to the point now I have to put up my friends regardless.
Nick tears up "I want you and Tommy in this game so bad you have no idea all I want to do is get to three with you guys"
Nick – I don't care if I don't win I don't care if you take Tommy or Tommy takes you. I don't I just want to get to three with you guys
Nick says it would be better for him to go final 3 with Cliff and Nicole. "But I don't want that"
Nick – I don't want to beat Nicole because that would be boring. Cliff will beat me in the end.
Sis – I won't question you anymore (She'll be questioning him tonight)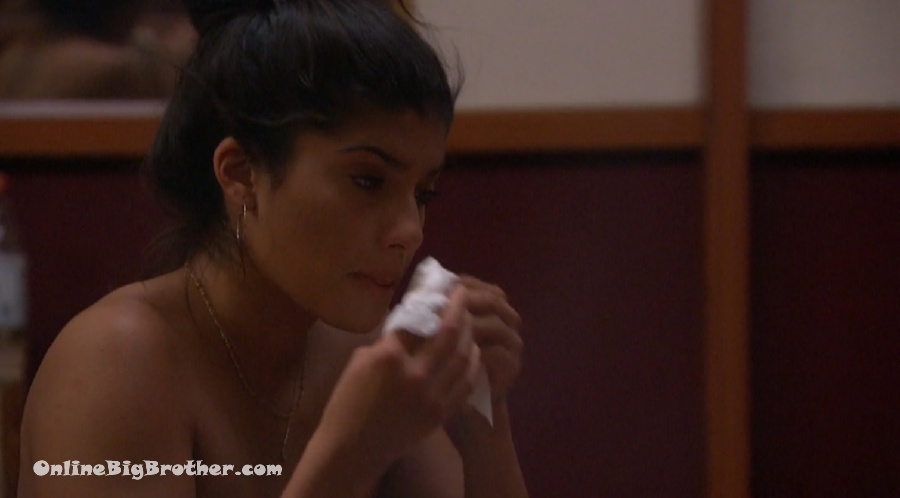 3:47 pm Sis and Nick
Sis crying.
Sis – I'm scared now, I only have you and Tommy left. it sucks everyone that I'm so loyal to is leaving.
Sis – I love Tommy..
Nick – but you're scared with him and Holly
Sis – yeah
Nick – he's really good with them
Sis – he's really starting to play for himself which makes sense because everyone has to
Sis – it sucks
Nick – you feel alone
Sis – yeah. I know I have you it just sucks if someone comes after you then I really am alone.
Nick says Jess is going up to Holly and telling her things that Sis and CHrsitie have said about her
Sis says she hasn't said anything
Nick – I know I'm just saying what hse (holly) told me
Nick says he's in a good spot but he never did anything to be there "I never lied"
Nick – I've literally just been myself and people like me. I don't want that held against me. People just enjoy being around me (Who are these people you speak of?)

4:00 pm Sis and Christie
Sis brings up parts of her conversation with Nick. Says she believes Nick's story about not throwing the HOH.
Christie – it doesn't even matter he's making deals to throw comps
Christie – I'm blowing up his game just so you know. It'll be really awkward for everyone. really awkward.
Christie – I have nothing to lose because I'm going home.. I'm blowing up his game right in front of everyone
Christie – on Taco Tuesday at the dinner table
Sis – ohh sh1t
Christie – who did he say he'll put up
Sis – he said Jess and Cliff
Christie – yeah right
Sis – I don't know what will happen.. I'm just done
Christie – you're going to be fine in this game. You're good as gold and there's no shot you are not getting rewarded for that
Sis starts to cry "it's so hard"
Christie – I'm going to put him (Nick) right on the spot. I promise you
Christie – I hope someone initiates a gratitude ceremony. I'm going to be grateful .. Nick who exactly are you loyal to Sis/Tommy or Cliff and Nicole I'm just curious
Christie – he's (Nick) pathetic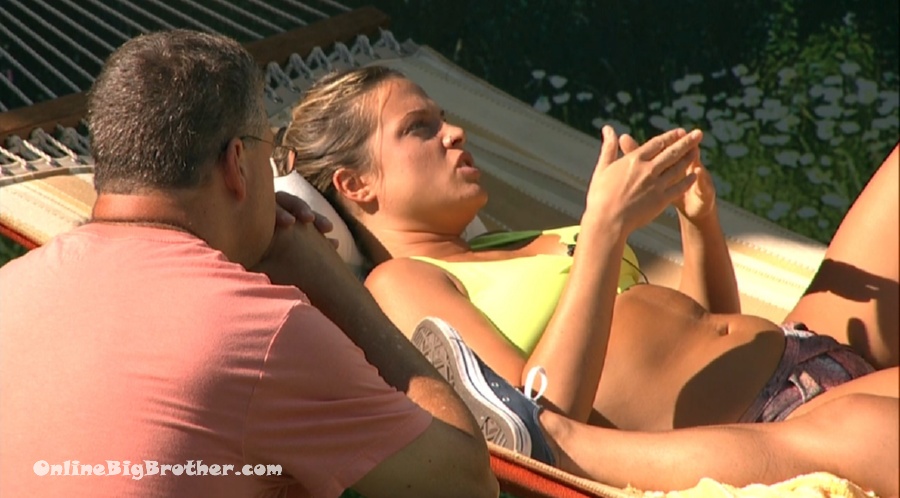 4:30 pm Christie, Tommy and Cliff
Christie saying if she goes she wants to make sure Cliff and Tommy aren't enemies.
Christie – take a stance for what I see and maybe unite people that wouldn't normally unite.
She starts insinuating that there are "people" that want the groups to fight each other.
Sis joins them.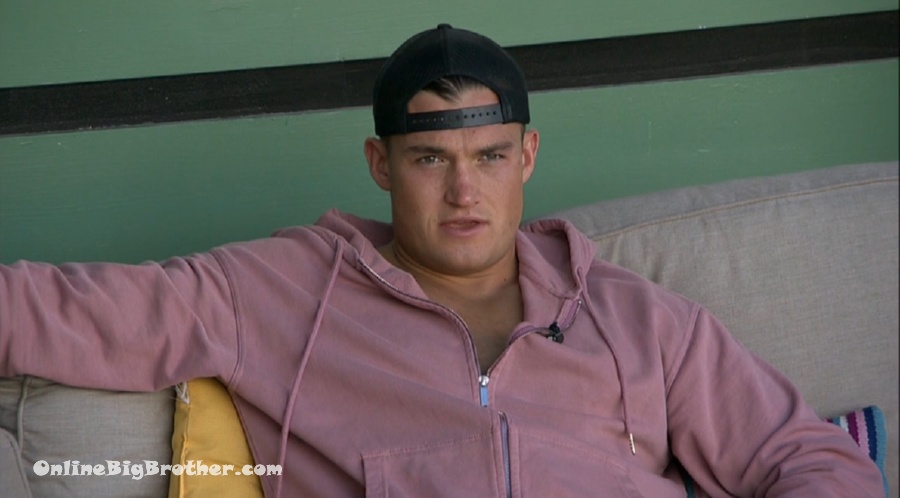 4:41 pm Jackson and Nicole
Jackson talking about Christie, Sis were dragging his name in the HOH last week. Brings up them saying 6 vs 2 they never win comps etc etc..
Jackson – they only show up when they want me to do something for them (Christie/Sis)
Jackson bring sup tomorrow of the next day the four of them have a discussion (Cliff, Nicole, Michie, Holly)
Jackson wants to avoid a blowup Wednesday Night, "I've always thought you were an angel I respect Cliff. I want to work with y'all "
Jackson says Cliff and Nicole gave him respect when he had nothing to offer Christie and Sis only give him respect when they are wanting something from him
Nick joins them.
Jackson says the deal offered to him was no good. Helps him for a couple of weeks "then what"
Jackson goes on about how he's told everyone in the house and on the show that he's targeting Christie. If he doesn't complete this he'll look like a sellout.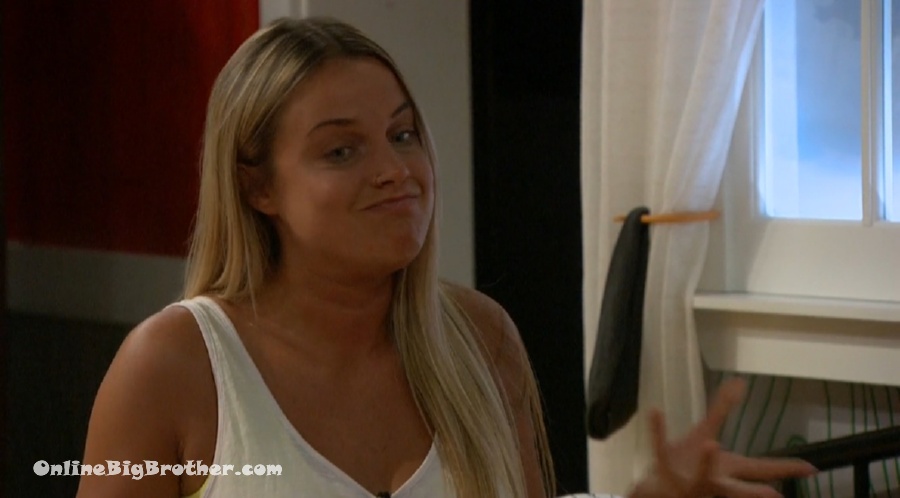 5:43 pm Christie and Nick
Christie – I'm not mad
They go over him making a deal with Holly and Jackson "to throw a comp and allow people to take shots at each other'
Christie – I was loyal to a set of people. I played loyally
Christie says it's just game.
Christie – I'm going to leave this game suckingly early
Christie – I'm obsessed with you I love you
They cover a lot of ground going over the Jack vote.
Christie accusing Nick of playing the middle of in the house.
Christie – it's frustrating I am loyal
says his goal is to have Tommy/Sis and Cliff/Nicole to take shots at each other
Christie says there are people in this game that are loyal and she hopes those people link up.
Christie – I have nothing to lose I'm going to be vocal
Christie calls him a puppeteer
Nick – when I got out of gr8tful I had to realign.
Christie – I do not believe you were trying to win that HOH.
Nick – if you had all these concerns why didn't you bring them up before
Christie – I did.. what's the other option? calling a house meeting and airing it all out. I've done that. I've done that twice and now I'm going home.
Christie – you're playing Big Brother you'll probably win good for you
Christie – I don't have any issue with you
Nick says she just doesn't want sis and Tommy f*ed over
Christie – I Don't want either side to get f*ed over. )Cliff/Nicole, Sis/Tommy)
Christie accuses him of constructing a huge plan to make Michie and Holly the house targets.
Nick says he has Tommy and Sis' back, "I'll take them off every time"
Christie – I'm not really mad at you
Christie – It's frustration, I want to make sure the people that I care about and the people that I do think are playing a really CLEAN good game aren't being dupped going forward. My game is over but there's people in here I'm really rooting for.
Nick – you feel like I should be up there
Christie – I think it should have been me and you.. it's frustrating
Nick agrees with her. He was very surprised. He brings up Christie and Sis trying to see Michie would put Jess up beside her.
6:23 pm they're still going
Nick – I'm trying to be super transparent and honest with everyone
Christie says she wanted an explantation of things.
Nick – As a person, I respect you so much and I love you so much and then as a gamer I respect and Love you and I feel like you deserve that explanation. Whether you agree with what I'm doing or not that's fine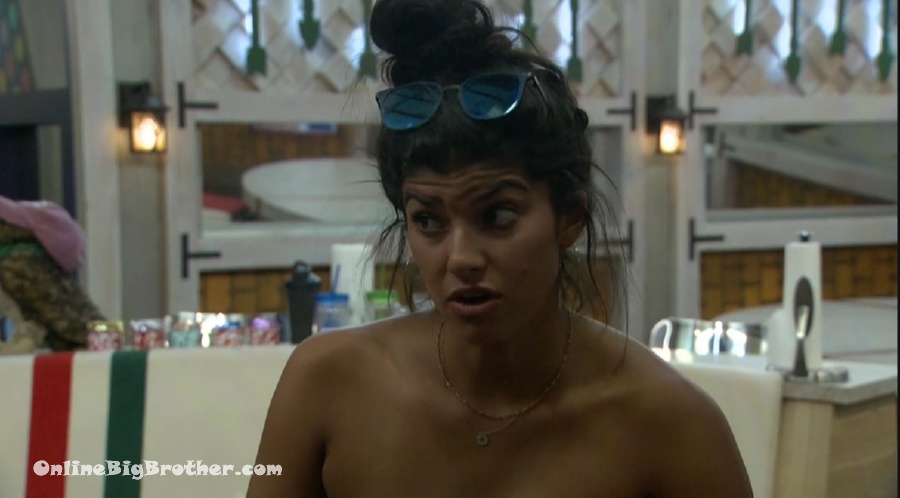 6:22 pm Sis and Tommy
Sis tells him about her conversation with Nicole where she finds out that Nick isn't trying to pit the two of them against each other.
Sis – I think it's Jess in Christie's ear telling her all this stuff and none of it's true. I believe him
Tommy – I do too
Sis about Nick "I think he's really looking out for us"
T – he's in a tough spot
Tommy – going into this week I want to make a deal with Cliff, Nicole, and Jess that we're all going after Michie.
Sis – Jess made a deal with Michie and Holly. If he didn't' put her up this week she won't go after them next week. She just told Christie
Tommy – What about Nicole
Sis – I don't know about them you will need to ask Nick that.
Sis – If I win I'm putting them up then (Jackson/Holly)
T – we're good with Michie and Holly
Sis – I'm going to pretend we're good. I f*ing hope I win because I'm putting their a$$es up
T – hopefully people throw it to one of us because one of us will take the shot.
Sis says Jessica is gunning for Nick she doesn't want Jess to win the HOH
Sis – I don't thin kCliff will come after us he wants Jess out, Nick wants Jess out
Sis – maybe he'll put one of us up as a pawn. I'm not sure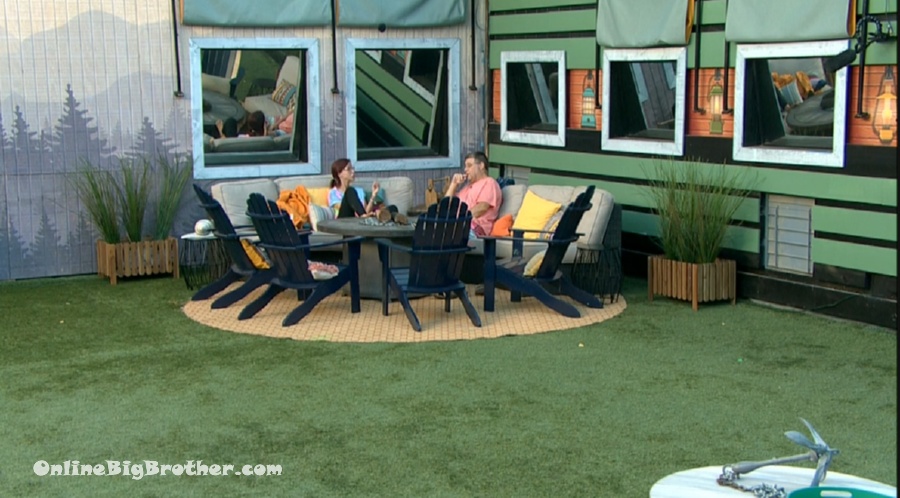 6:35 pm Nicole and Cliff
They want to try and pull Nick closer. If Christie blows up his game they'll grab him
Nicole – I respect Nick's game so much just like I respect your game. the three of our games resemble each others so fricken much (ZOMG)
Cliff – I feel for Nick. He put me up he put you up but that was a long time ago
Nicole says that Christie is calling Nick a snake and a puppetmaster "If that's the case then you are and I am. I don't see it that way it's surviving"
Nicole says she's worried about Jess. Originally when Kat was around she wanted Jess to final 4 but now she's not sure.
Nicole – constantly looks like she's going to explode and that loose cannon(ness) is scaring me (LOL)
Cliff – Michie, and Holly feel like they got us
They talk about having a meeting with Jackson and Holly.
Cliff – I told him I'm all for it
Nicole – I do respect Michie and Holly so much and I have moments where I go… it's a feeling they will stay true to their word when they say it
Cliff – everyone is trying to use people as a tool and we are definite tools
Nicole – ohh yeah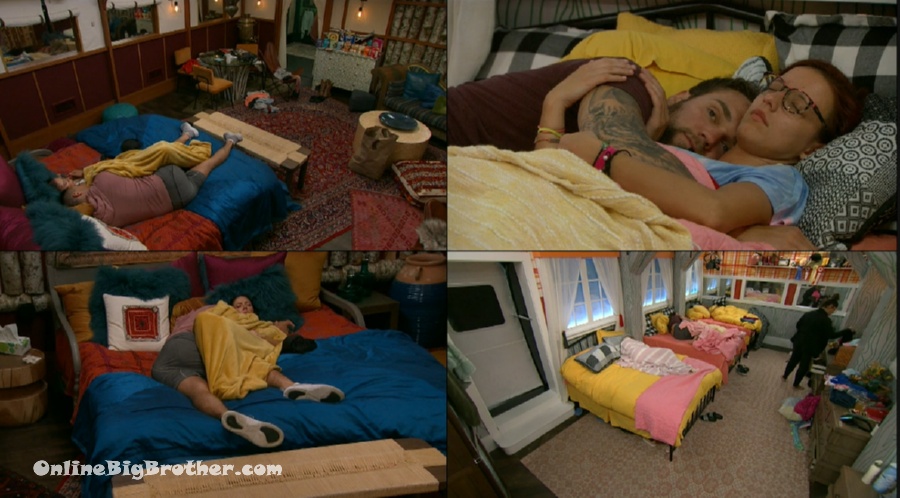 7:15 pm
7:30 pm Cliff telling Sis, Jackson, and Jess random bits about his family. There is someone named "Ima Hogg"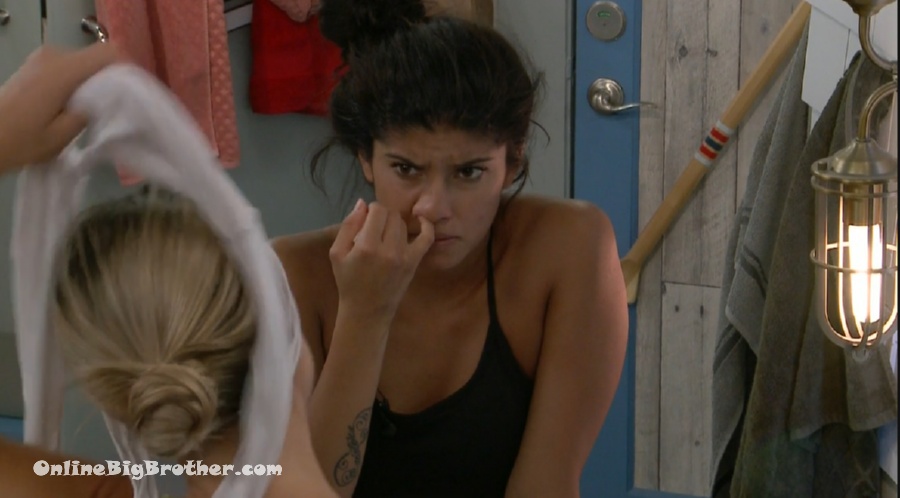 7:36 pm Christie and Sis
Sis – you can campaign you can flip the votes if I go home I go him it's not a big deal
Christie says she loves this game so much and she feels it's disrespectful by not campaigning.
Christie gives her a quick version of her speech. "I'm going to win things and take shots"
Sis says she's never agreed to any deals she was only part of the 6.
Sis – I never agreed to anything he always said he had his back.
Sis goes on about Nick making her uncomfortable by saying they have a 3 with Tommy.
Christie says Nick is all talk. "they're literally just words.."
Sis says she's going to go crazy in the house without Christie "You never know there might be something.. battle back a f*ing button"

They hug it out