| | | | |
| --- | --- | --- | --- |
| POV: | Brett | Next POV: | Aug 18th |
| POV Used | YES | POV Ceremony | Aug 20th |
| HOH: | FES | Next HOH: | Aug 23th |
| Noms: | Brett Kaycee & Scottie | Have Nots | |
Big Brother Spoilers Brett used the power of veto on himself. Fes nominates Kaycee in his place.
9:47am houseguests waking up
10:09am JC and Fes
Fes – it's going to be smooth right
JC – yeah ..
Fes – you always freak out before the vote..
JC – everythign's going to be okay
Fes – you don't want to keep Scottie
Jc – no, What the f* why would I keep Scottie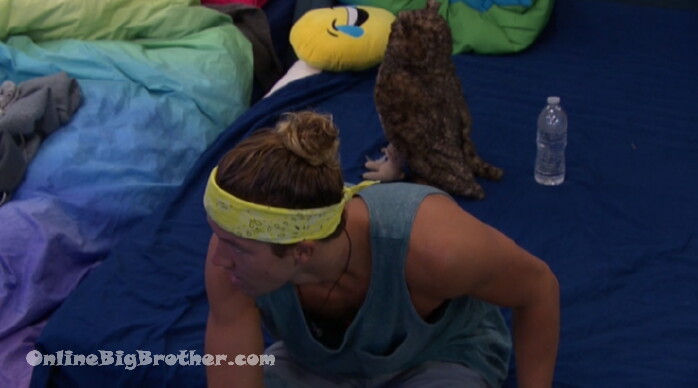 10:38am Scottie and Tyler
Scottie says Sam has been playing them she's the one goin gup.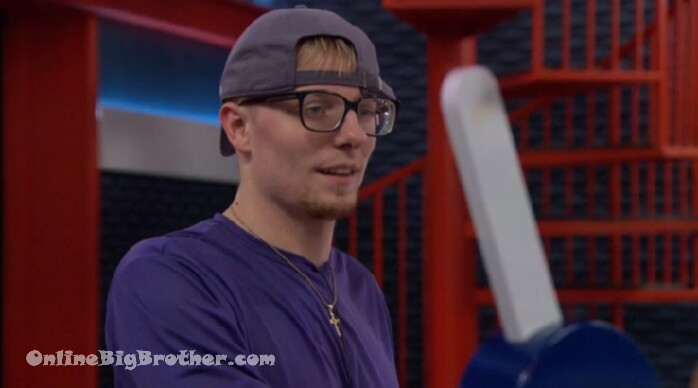 11:46am Feeds are back..
Hugs all around.
Scottie – I'm a-OK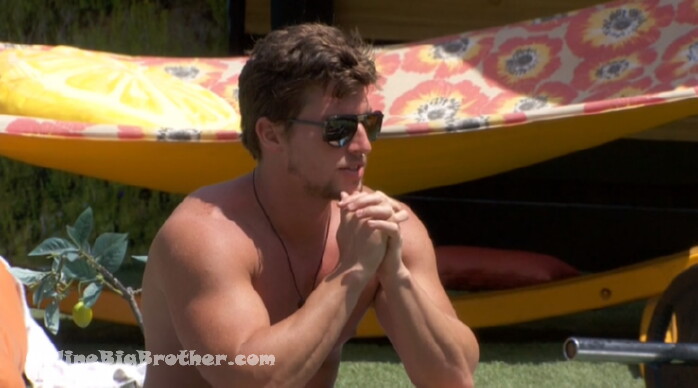 11:54am Angela and Brett
Angela – I thought you were going to say more to fes
Brett – I wasn't allowed to
Angeal a- really? It's probably a good thing
Brett – I wasn't really given the opportunity
Brett says he knew Fes was going to put up him or Tyler so he 'forced' Fes to put him up with SCottie so he could win the veto and Fes ..
Brett mentions he was egging Scottie on to pitch Haleigh as a replacement
Angela says only Scottie and SAm were doing that
Brett – yeah go ahead and do that.. that's a good idea.. again his only votes. his only Guaranteed 2 votes..
Brett says Sam and SCottie approached him a couple nights ago and they roped him into the conversation about backdooring haleigh.. They also asked Brett to use the veto on SCottie. BRett adds that SCottie told Fes that Brett was in on the plot about taking Haleigh up
BRett – I didn't think they were that dumb.
Angela says Sam was trying to get her to pitch Halegih to Fes..
Brett – no..
Angela -no absolutely not what do you think i'm dumb
Tyler comes in..
Tyler – just be happy you are not on the block.
Tyler says SCottie is going this week it'll be a unanimous vote.
Brett – it's going to be the first unanimous vote
Tyler warns them that SCottie isnt't going to take this laying down he'll have some angle
Tyler and BRett are going to make Scottie think he's go their votes just so he leaves them alone.
12:20pm chit chat Brett is talking about how much JC is squatting.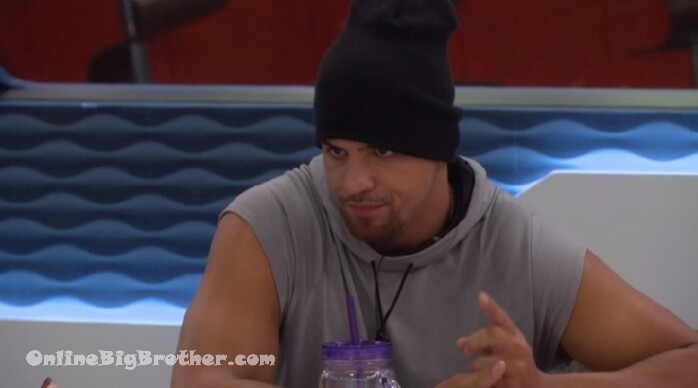 12:31pm JC and FEs
FEs – I need you to make sure votes are locked..
JC says the only 2 votes he could possible get is Haleigh or Sam.
FEs says SCottie went to Haleihg after he threw her under the bus saying that he knew he was going so he wanted to sever their link before leaving to help her game.
Fes says Haleigh believes him
Fes – we just have to watch Haleigh that she's throw him a vote and something happens..
Fes – if these people keep ihim in the game they are f*ing stupid.. I don't see 4 people wanting him in the game
JC – Tyler and Angela want to keep KAycee.. I want tot keep Kaycee.. you have three votes and break the tie
Fes says haleigh knows if she goes against him with this vote she doesn't have him in the game anymore.
They start laughing at Rockstar's game.. Fes brgins up whtn Rockstar and Bayleigh were on the block together and they were all in the geometry room and Rockstar said
Fes – WE have three Bayleigh we just need one more..
They laugh
12:40pm
Sam hugs Fes tells her she's done playing the game. "thanks for not putting me up like you said you would"
A real easy way to support the site if you are an amazon shopper is to make your purchases through our link. You pay the exact same thing but we get a small % commission. It doesn't cost you anything and helps us out.
Amazon Canada
Amazon USA