| | | | |
| --- | --- | --- | --- |
| POV: | Brett | Next POV: | Aug 18th |
| POV Used | ? | POV Ceremony | Aug 20th |
| HOH: | FES | Next HOH: | Aug 23th |
| Noms: | Brett & Scottie | Have Nots | |
A real easy way to support the site if you are an amazon shopper is to make your purchases through our link. You pay the exact same thing but we get a small % commission. It doesn't cost you anything and helps us out.
Amazon Canada
Amazon USA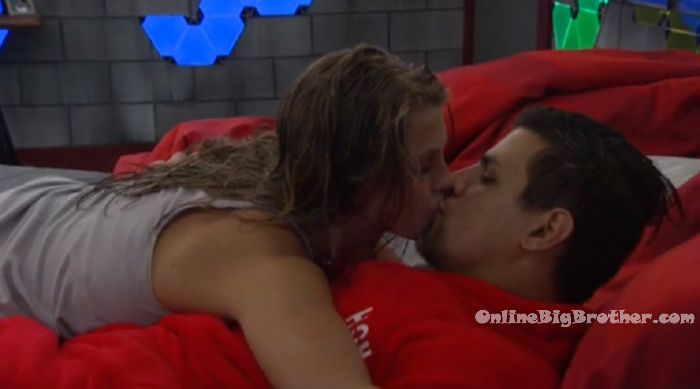 9pm HOH room. Haleigh and Fes. Haleigh – I want something sweet. Fes – I've got something sweet for you. (Cue photo above) Fes – don't say anything about the Sam thing. Haleigh – what do you mean? Fes – that Sam came up to me. Did you tell him (Scottie) already? Haleigh – no. He said Sam was pitching the same thing. Fes – to who? Me? Haleigh – to you. Fes – what did he say the reason? Haleigh – Sam was doing it because she genuinely wants me to go up. But he (Scottie) is doing it because he knows you will never put me up but wants everyone to think that we're fighting. Fes – and you believe that? Haleigh – it doesn't matter. Fes – I am asking if you believe that? Haleigh – I want to.. but it doesn't matter. Fes – why? Haleigh – because he's going to be on the block no matter what and he is going home no matter what so it doesn't matter. He said he is a sinking ship and doesn't want me to be associated with him when he leaves. Fes – so he called you Kaitlyn 2.0 tonight? Haleigh – yes.
9:30pm Backyard. Kaycee and Angela playing pool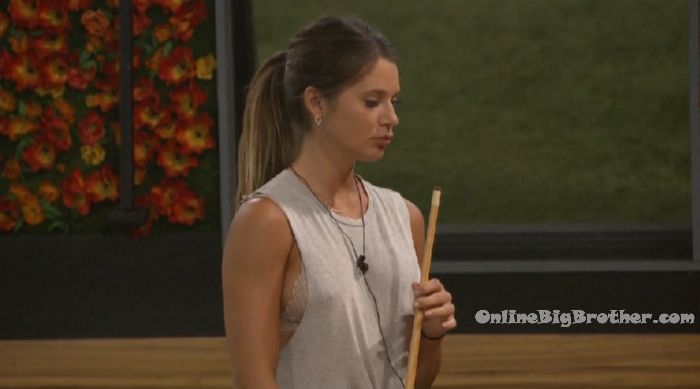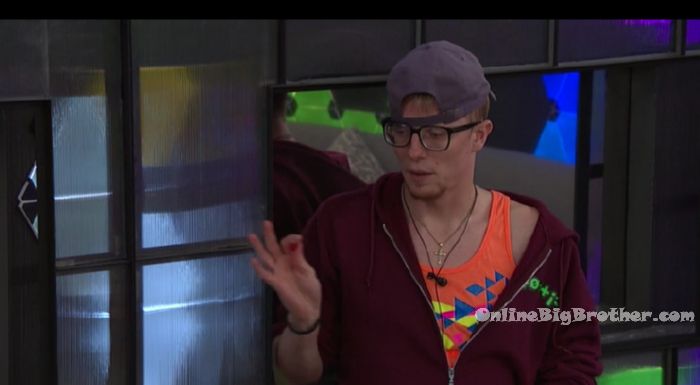 FLASHBACK and watch everything you missed: Live Feed 7 day FREE Trial!

9:35pm HOH room. Fes and Scottie. Scottie – did Sam have her talk with you yet? Fes – yes. Scottie – okay, if you put Haleigh on the block I will kick your f**king a$$! Fes smiles. Scottie – Sam thinks that she has me f**king played right now. Sam wants Haleigh gone. I do not want that. In my talk with Sam last night she tried once again to convince me that Haleigh is playing me.. her and Brett. Obviously I am f**king pissed about. I know I am going home no matter what… so my plan was to kind of play into what they were doing .. make Haleigh my enemy so that she could break away from me scott free. I told Haleigh this plan. She basically f**king smacked me. She hated it. So if you put Haleigh up I will be f**king pissed and kick your f**king a$$. I would love it if Sam was on the block because I think she is the one playing everybody and I don't think any of us could beat her in a jury vote. Fes – that is the chance you have.. if I put Sam on the block she might go. Scottie – yes. Fes – which I have thought about that and she might go. Scottie – she claims to not be playing this game but she has been playing this game from the gate. Fes – I know. Scottie – She is the one that played Kaitlyn. She has made a couple deals with me. When I was HOH and she wanted to be used as a pawn. I now know its because she wanted to use her power. In the first week when I was going to evict her because I wanted Steve to stay she was like if I managed to stay some how just know you have me in your corner. So each week I tell her what my vote is going to be right before. After the talk last night with her and Brett, I realized she is a f**king demon.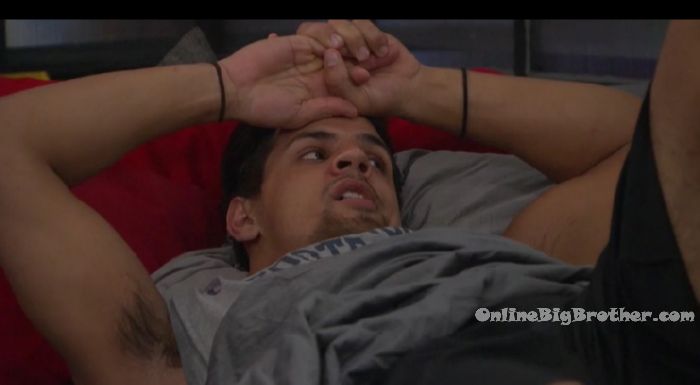 Fes – I thought about putting her up too .. she says she isn't playing the game but she is. Scottie – she is playing hard. Fes – and that is your chance of staying. Scottie – I think I could convince Tyler to get on my side and if I have Tyler, I could maybe get Angela too. I definitely can't get Brett. Fes – Haleigh would vote for you to stay. Scottie – and then maybe get JC too. Fes – I would need to think about. Sam is freaking me out. Scottie – she mad me pinky promise when I was HOH too to not put her up. They think I am going to give a big speech against Haleigh tomorrow. That's not going to happen. I will either say I have nothing to say or I will pop off on Sam. Fes – Haleigh has always trusted you. Scottie – yeah. I know that. That's why I wanted to make me leaving as easy as possible. Scottie – Sam is in a good mood now because they think they won me over but they've just pissed me off. I am getting really f**king sick of these head games. I have knots inside of me because Haleigh cried when I told her all this. Fes – so put up Sam. If I do that can I trust that you, me and Haleigh get on the same page. Scottie – this has lit a fire under me to get on the same page. Fes – it would be hard but it would be a toss up. Scottie – which are better odds than I have against anyone else. Sam got recruited .. you don't get recruited for nothing. Scottie – if we get Sam out, then I am going for Brett. I want to finish the job I started. Fes – and you were definitely the vote for Rockstar. Scottie – yes. Fes – this f**King game!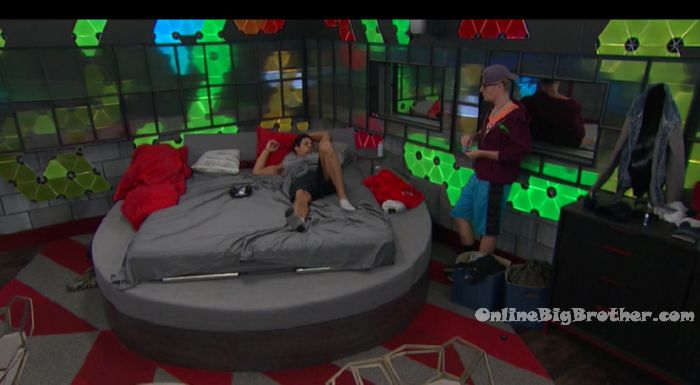 Fes _ don't see why people are saying you're playing Haleigh. Scottie – I literally keep f**king up which is why I don't understand why Haleigh is so close to me. Fes – if you were to win HOH who would you have put up? JC and Angela? Scottie – no I wouldn't have put up Angela. I would have put up Brett. Fes – and JC? Scottie – Sam. She is so happy today because she thinks your talk with her went well. Fes – She thinks I am going to put Haleigh up? Scottie – they think its a possibility. Fes – those are the two people you have a chance against. Sam and Haleigh. Scottie – and if you put Haleigh up, I will f**king end you.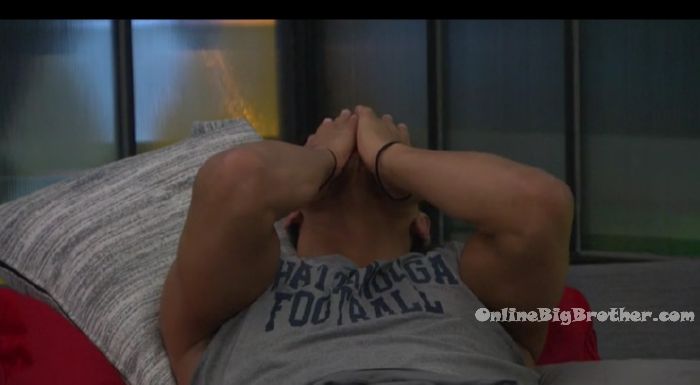 10:35pm POP TV gives them all ice cream sandwiches. Havenots can eat them too.
10:43pm HOH room. Kaycee and Fes.
Fes – there are four votes to keep you and the only person to keep Scottie is Sam and she is going to be the target next week.
Fes – Scottie wanted me to put Haleigh up and now he is telling me if I put her up he will kick my a$$. Kaycee – okay him doing that he is trying to mind f**k everyone. Kaycee – I am taking one for the team. Put me up. Fes – okay. They hug and Kaycee leaves.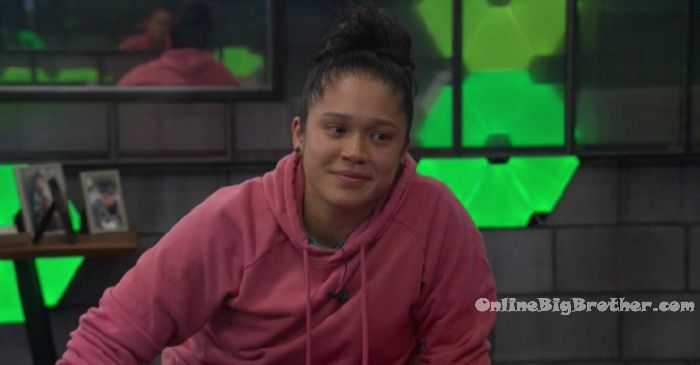 11:28pm Hot Tub. Fes and Brett. Fes – he still swears that he is the vote. Brett – why would he not. If he said I lied why would you keep him. Fes – its the lying I don't like. Brett – its like you said maybe 10 of the things weren't him but at least 5 of them were. And I am not going out like an idiot because he is saying he is going to do this and that.. and then next week I go up on the block. Brett – yeah. Fes – and he gets in Haleigh head with this emotional sh*t crying in front of her and then she feels bad for him. Brett – at the end of the everyone in here are all friends so it does make it difficult. Fes – I don't get why he is telling me put Haleigh up and then telling me put Haleigh up and I will kill you (LOL he said kick your a$$ not kill you). Brett – is that not a flag of his character? And what he's been doing? Fes – I had an hour conversation with the dude and he had me wondering if I should put someone else up. Brett – you have to do what's best for you game.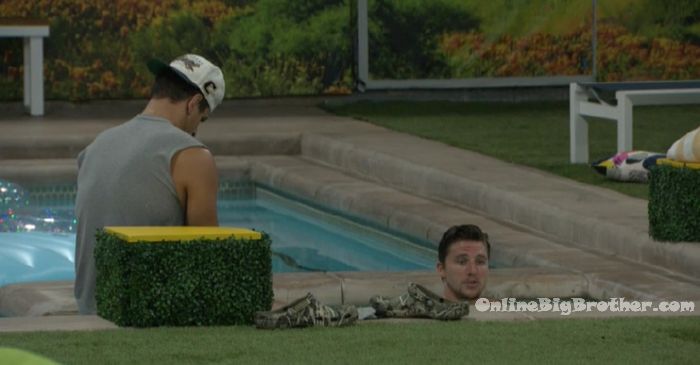 11:53pm Kaycee and Angela sleeping..
12:05am – 12:33am Hot Tub. Fess and Brett. They talk about the veto comp. Brett says that when Fes came out he was gassed and he thought for sure Fes had found his veto. You were the only person that could have found mine. I knew you were going for brute force. Tyler would have been tired after lifting two mattresses. Fes says he thought about putting his veto between where the climbing wall meets the couch. Brett – I was going to put mine in literally inside the garbage but I didn't know if that was ruining it. Brett – Sam asked why I wouldn't use the veto on Scottie. I said why don't I use it on myself and you offer to go up? The conversation turns to talking about Kaitlyn and her eviction / her losing he chance to get back into the house.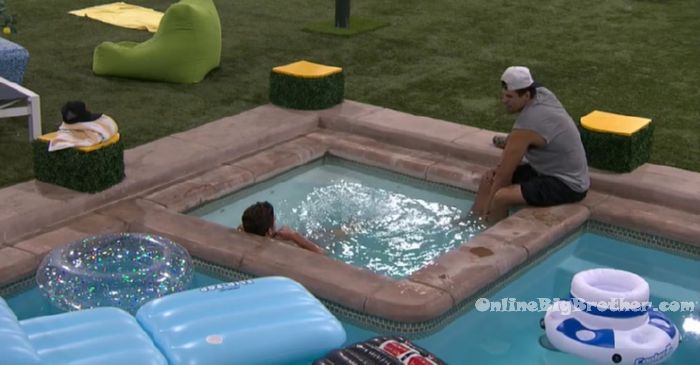 1:15am HOH room. Fes and Haleigh. Haleigh – he said if you put up Haleigh I am kicking your a$$, how do you respond to that? Fes – I was just laughing and confused. I was like what do you want me to do. He said put up Sam. He is literally going all over the place. Do you not see that is a red flag? Haleigh – I think he was just trying to help my game and then he saw that I was sad. Fes – him pitching to put you up is helping your game? Haleigh – he knew you weren't going to put me up. Fes – calling you Kaitlyn 2.0 .. what is that? Haleigh – he didn't want people to think we were friends. Fes – oh my god Haliegh!? So you want me to keep him? Haleigh – it doesn't matter what I want. Fes – Why doesn't it matter what you want? Haleigh – because it doesn't Fessie. Fes – Haleigh talk to me. Haleigh – about what? He says he would never jeopardize my game. I am just sad about the whole situation. Fes – I just don't understand why he would pitch that to me? I understand why to everyone else. Haleiggh – because then you would would know that we're not good and I would be mad at him.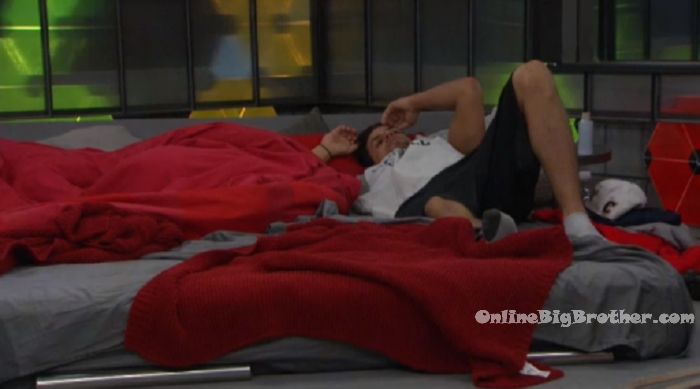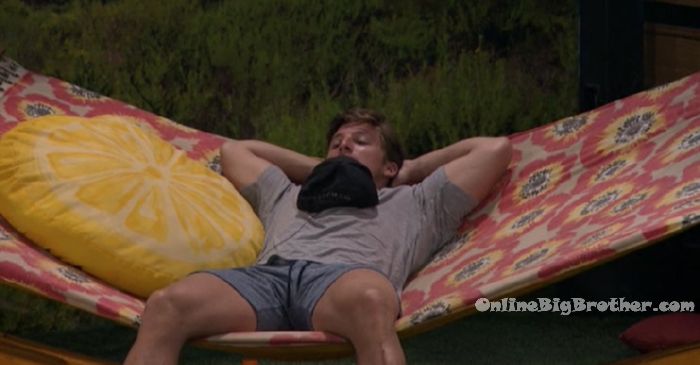 3:05am All the house guests are sleeping..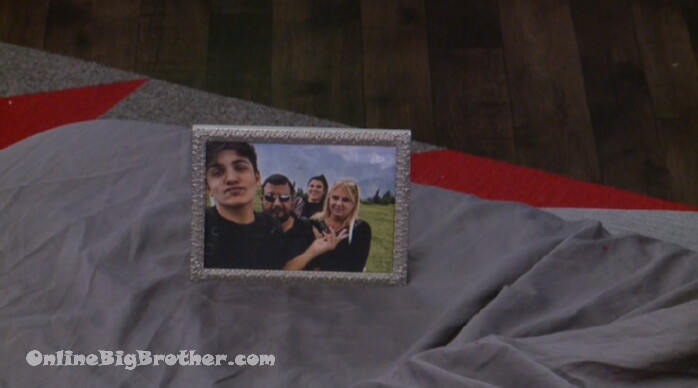 7:42am ZZZZZZ
If you're enjoying our updates please consider making a donation. All donations go directly to pay the considerable costs associated with running this site. Any amount is greatly appreciated.
Rank the houseguests!
Easiest way to Rank the house guests use link below