POV Holder:
Victoria
Next POV
July 19th
POV Used
Yes
POV Ceremony
July 26th
HOH Winner 1:
Frankie
HOH Winner 2:
 Cody
Battle of the Block Winner
Jocasta/Amber
Next HOH/ Next BOB
July 24/July 25
Original Nominations:
Brittany/Victoria(Cody) Jocasta/Amber (Frankie)
Final Nominations:
Brittany & Donny
Have Nots
?
POV Players
Cody, Brittany, Victoria, Caleb, Nicole, Zach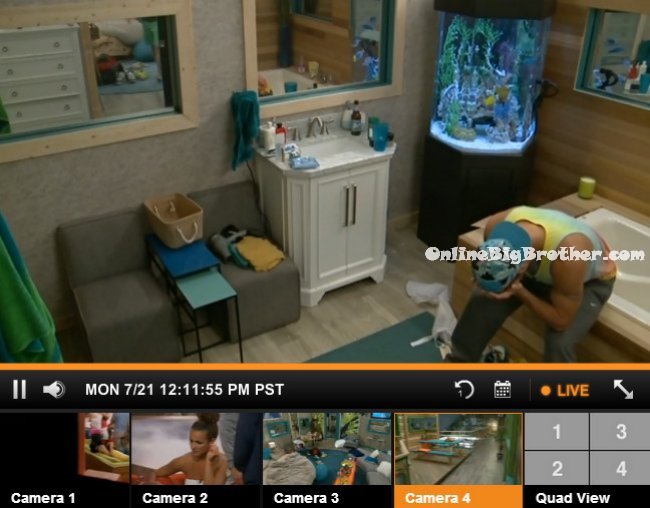 TEST out the Big Brother 16 Live Feeds for FREE with the 2 Day Trial!
11:20am – 12:15pm Big Brother blocks the live feeds for the Power of Veto Ceremony to take place. When the live feeds return we learn that Cody didn't do what we thought he said he was going to do minutes before the ceremony. Up until the ceremony Cody decided on who to nominate this through the course of the morning from having his diary room sessions, looking at the photo of his brother and speaking with Brittany and Donny. Cody realized that the best decision and only decision was to nominate Caleb as the replacement nominee. HOWEVER during the feeds being blocked he nominated DONNY instead of Caleb. Cody wanted to nominate Caleb after "he d**ked him in the POV by taking the 5 grand over the veto which resulted in Victoria winning it and putting Cody in the position to nominate a replacement. After Cody announced his decision to nominate Caleb to some of the house guests Frankie went scrambling to Derrick to try and get him to change Cody's mind. Derrick told Cody he doesn't think its a good idea but would stick by his decision and wasn't going to try and convince him otherwise.
Power of Veto Ceremony results:
Victoria used the veto to remove herself from the block
Cody then nominated DONNY as the replacement nominee.
Up in the HOH room – Cody is in the bathroom with his head in his hands. Zach says dude that sucks! Do you want to be alone? Cody gets up and throws his hat at the wall. Cody is breathing really heavy. Cody goes down stairs and hugs Donny and says I am sorry. I'm so sorry. Cody heads outside and tells them that he just couldn't put up Caleb. I am such a pu$$y! Cody says that Caleb can't find out about this! Cody says If he puts me up next week FRANKIE I'm going to kick you in the nuts! Cody says I feel like everyone is going to look at me like a f**king pu$$y. Derrick says is this a fist fight or what?! You can't look at it like that. Cody says putting Caleb up would have been like a punch in the mouth. This better not come back to f**k me. Frankie says if it happened I was going to hop up and drag Caleb into the storage room and calm him down and tell him its a ruse and tell him not to go beast mode cowboy.
In the living room – Donny is visibly upset about going up on the block. He tells Hayden how Cody said his brother would look at him as the p-word!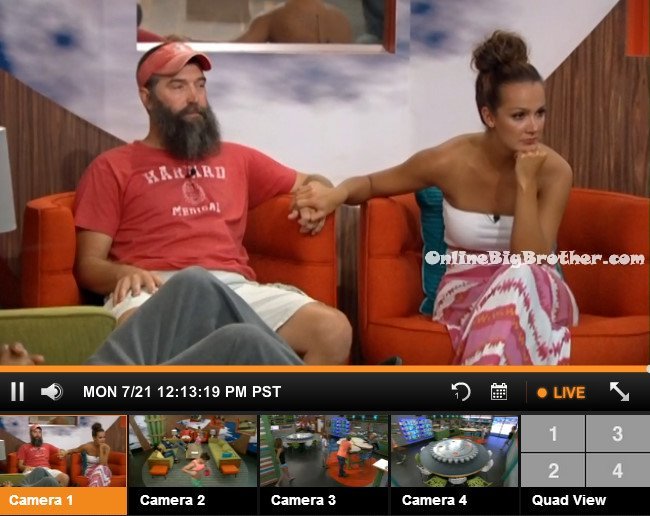 In the kitchen – Caleb says to Donny you are the last person I though would be up there. Donny says I expected it. Caleb says from what I've heard people want Brittany gone.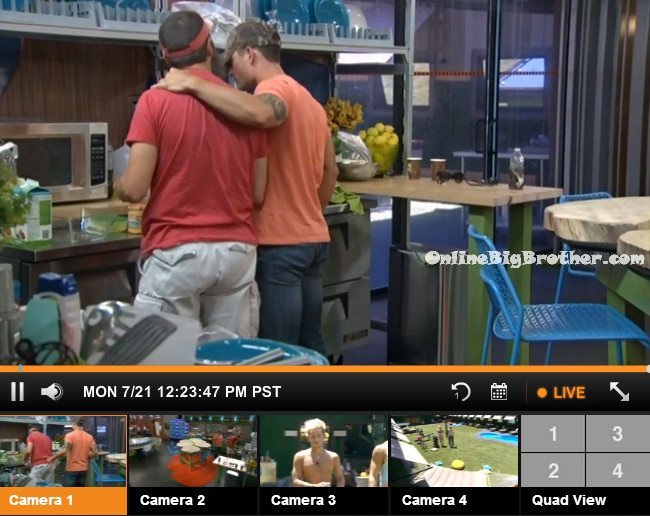 In the hammock – Frankie talks to Cody and tells him that his brother will think you just made the most courageous move. You don't slay the dragon by walking up to it with an army .. you slay the dragon by putting poison in its drink. This was a great move.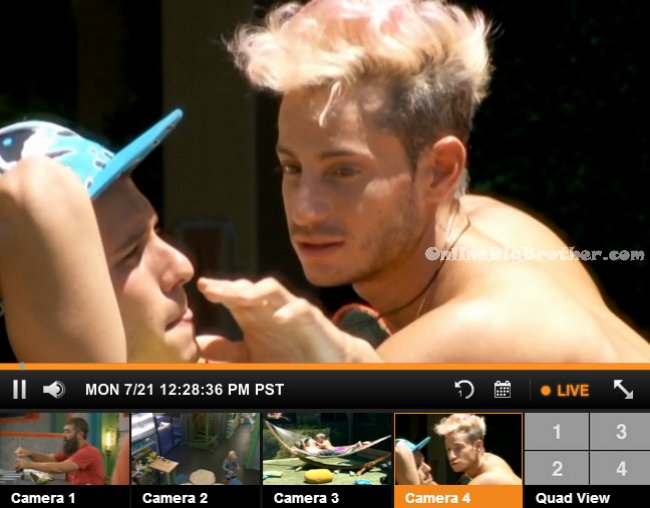 12:30pm – 12:45pm In the hive room – Derrick asks Donny if Cody told him that he wasn't putting you up. Donny says yes. Derrick says it doesn't make any sense. Derrick says you have my vote. I like Brittany but you have my vote. Donny says I think his rational is that everyone likes me and no one will vote me out. Derrick says you have my vote, you have my word as a man. Donny says no one is going to nominate him (Caleb). Derrick says that's not true. Derrick says I am going to tell Brittany I don't know where my head is at but I am telling you I am voting for you to stay. Donny says I am going to keep my mouth shut this week because its bit me in the butt before. Donny says I know Brittany is going to do whatever she needs to now and the only person she can talk crap about is me. Donny says I will ride it to Thursday and if I walk out that door.. Derrick says there is no way Frankie votes you out because of monetary reasons (Team America Missions). Derrick says you're good! You're the man you got this!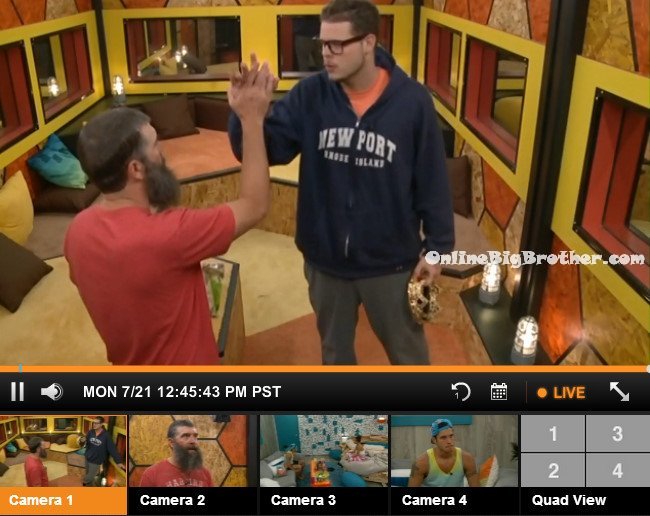 12:35pm – 1pm Brittany heads up to the HOH room and tells Cody that Devin filled Donny's head with how everything is already mapped out. When I came up here I was telling you that the bullsh*t needs to be removed. I feel like Nicole has taken Devin spot. I feel like there are people that don't deserve to be here. I am not stupid. You have a huge heart and so does Derrick. You are stuck between your heart and the game. Brittany says we're acting on impulse again … dumb derision! Just kidding. I know what happened down there killed you. I think it all needs to be mapped out a bit more. Hayden.. Do you really know where Hayden is at? It sucks for me .. I walked in the door and everyone was already working together. Jocasta do you think I want to work with a weak player?! All I am saying is that I will be like a freaking hot head if I walk out! Like literally no one else would have been down there kicking balls like I did! I don't know maybe I need to start telling white lies. Brittany is getting heated. She starts talking about how she doesn't even understand why he put her on the block to begin with. Brittany tells Cody that he has girls on his hips and there is always someone around him. Its hard to talk to you. Brittany says I think its sh*tty how it all played out? If I go out, I go out. Cody asks what was the point of all this? Brittany asks what do you mean by that .. why do you take everything I say as a low blow. I don't hate you. If I stay maybe we can hit the reset button. Cody says I don't want you to go. I'm not going to tell people to vote you out. I don't want Donny to go either. Brittany says I don't even want to campaign. I just feel so bad after Donny helped me yesterday. Donny is just playing fair. I think that you did put me up with Victoria because you wanted wanted her to go home. That's why I'm not mad at you at all. Brittany tells Cody I think you made the safest decision if that makes you feel better. Cody says it doesn't!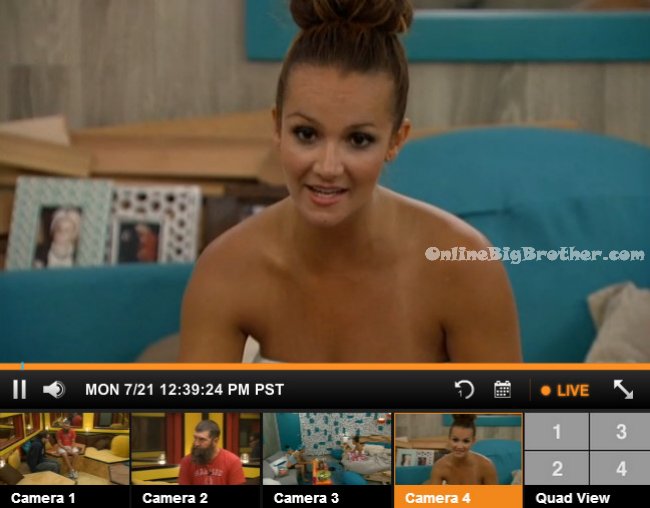 12:50pm – 1pm In the living – Amber asks do you think everything is going to stay the same? Derrick says Cody was really broken up about putting Donny up. I can't even imagine what Brittany is talking to Cody about …he doesn't even have any power any more. Derrick wonders if this week will be a double eviction.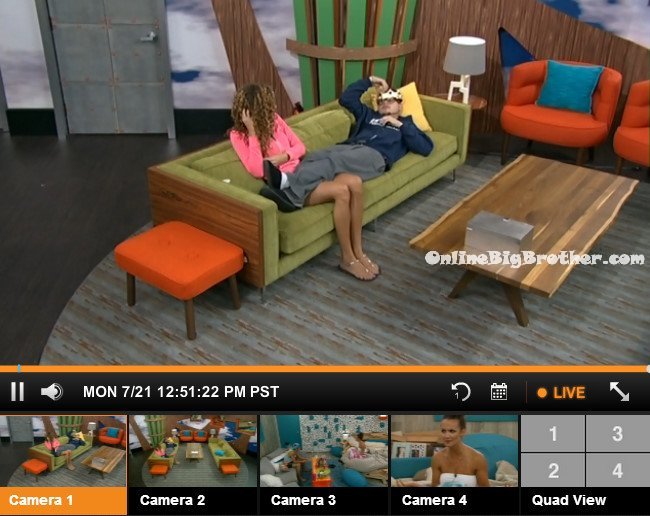 1pm – 1:15pm Caleb and Frankie are laying out suntanning. Caleb is pissed at Zach for talking sh*t about Amber and wanting her out. Caleb says Amber isn't going home until after jury. Zach needs to stop talking crap about Amber. Just because she talks to the Brittany and Jocasta all the time doesn't mean she's talking game. She's probably talking about her period! Do you want her to talk to you about that stuff? No. We're in the same alliance and I don't like it. Caleb tells Frankie we need to win HOH this week. Caleb says that he would like to put up Victoria and one of the guys and have the guy throw it. Frankie says well then it would be better to put up Jocasta and her because they are the weakest people in the house. Frankie says that he feels like Hayden would volunteer. Caleb says I don't know .. at this point in the game if you volunteer you could go home. Frankie says Hayden is strong enough to take himself off whereas there are other people that don't want to be here. Brittany is going to run around come Thursday telling everyone everything. We just have to remain strong.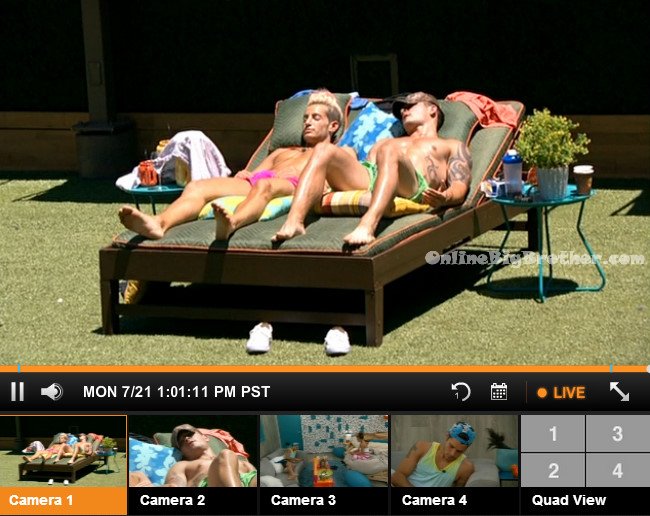 Alliances (Some Of these are dead)
Zankie = Frankie/Zach
Bomb squad = Caleb, Amber, Frankie, Derrick, Cody, Christine, Zach, Hayden
Team America = Donny, Derrick, Frankie
Nicotine = Christine/Nicole
Not a showmance= Hayden/Nicole
Los Tres Amigos = Derrick, Cody, Zach
The bottom Feeders = Derrick/Nicole
We hate Devin = Christine and Zach
Outsiders = Brittany, Victoria, Jocasta, Donny
Old timers = Jocasta/Donny
Stalker = Caleb/Amber
Quad Kings = Derrick, Zach, Cody and Hayden (still being built)
Trilogy = Nicole, Christine & Hayden
The Detonators = Derrick, Frankie, Zach, Christine, Cody
Final 2 Deal "The HITMEN" – Cody & Derrick
[polldaddy poll=8198814]