POV Holder:
Victoria
Next POV
July 19th
POV Used
Yes
POV Ceremony
July 26th
HOH Winner 1:
Frankie
HOH Winner 2:
 Cody
Battle of the Block Winner
Jocasta/Amber
Next HOH/ Next BOB
July 24/July 25
Original Nominations:
Brittany/Victoria(Cody) Jocasta/Amber (Frankie)
Final Nominations:
Brittany & Donny
Have Nots
?
POV Players
Cody, Brittany, Victoria, Caleb, Nicole, Zach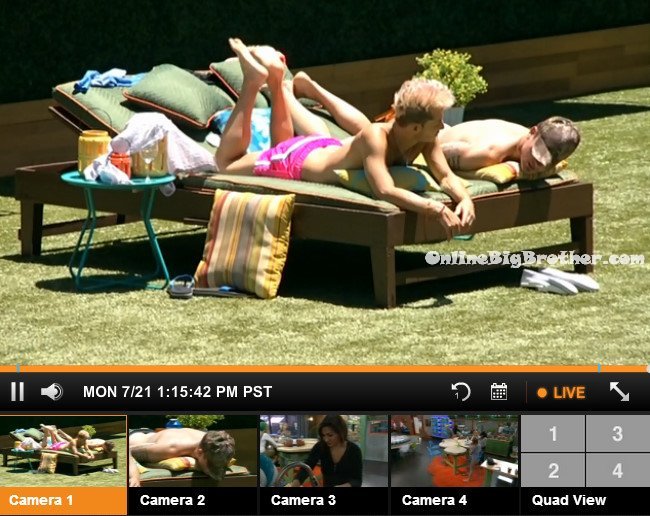 TEST out the Big Brother 16 Live Feeds for FREE with the 2 Day Trial!
1:15pm Donny tells Frankie and Caleb I need to come up with a good speech like Devin. Frankie says I would just do your whistle and sit back down. You're going to stay with flying colours. Donny says I hope so. Caleb says well Cody's duties are done. Frankie says up. Brittany is up there talking to Cody, I don't even know what she is talking to him about. Even if she tries to flip the script on Donny no one will fall for it. Caleb says its probably more personal. Frankie and Caleb start talking about 9/11 and how messed up that was. Frankie says it was crazy how well organized all that was. Caleb says I know that was enough to get me turned up. Frankie talks about how he lives right in the centre of down town New York just 3 minutes walk from central park.
In fire room – Derrick is talking to Hayden. Derrick says we were crushing on you hard last night. Literally when you went into the fire room Victoria jumped up and ran in after you. Hayden says we don't even touch each other. Derrick says oh yeah I know not with your hands (But with elbows). Hayden laughs and says yeah no.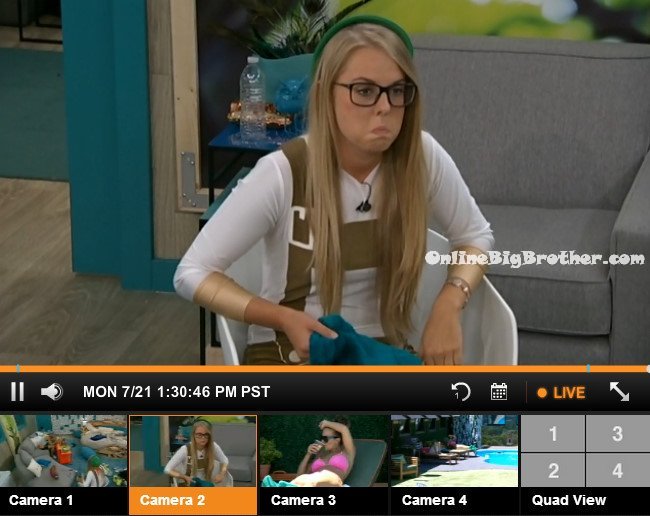 1:30pm – 1:55pm Nicole heads up to the HOH room. Nicole says I don't know if that's what you want to do but thank you. I know that Brittany threw my name out to you and I don't even know why she is doing that. I dont know what I did to her game wise. The only thing was the bed situation but I don't know why that would be a reason to nominate me. Nicole says putting Caleb up wouldn't have been a good game move for you. Cody says especially because I didn't talk to him before hand. Nicole says I really didn't expect that especially from what you said right before but just know you shouldn't regret that because its better for you this way. I just know that if you had done it, Christine and I would have been in a bad spot. Cody says that was the thing if I had done it, it would have put a lot of people in a bad spot and I didn't want to do that. I was just thinking about how much of a d**k he (Caleb) was by taking the money over the veto. Cody says Brittany doesn't understand that you taking the veto was the smartest move because if someone is still there that's on the block they can take the veto and then you're in threat of being nominated. Nicole says I am willing to back door him (Caleb) or whatever is the plan. Nicole says America probably thinks Caleb is an idiot for not taking the veto. Cody says America probably thinks I'm an idiot for not putting him up. I'm not going to give into the paranoia of him hating me because Amber likes me. Cody says next week if Caleb doesn't win HOH I am going to go to him and be like last week you didn't have my back so.. then we can go at it. Christine joins them. Nicole says the good thing is everyone hates him (Caleb) so everyone is going to want to get him out. Cody says the people I want to protect are you Christine, Derrick, You (Nicole) and Hayden. Cody says that really sucked and I wanted more than anything to tell Caleb to sit the f**k down. If Caleb comes after me it would only be for personal reasons, there is no game reason why he would come after me. Nicole says if its endurance I am not dropping for nothing. My will power is going to be so strong. I would never strike up a deal with Caleb ever, ever! Christine agrees. Yeah and then backdoor that crap. Cody says you're cold hearted! I love it! Victoria comes up to the HOH room. Cody jokes and says thanks a lot Victoria you just had to use it! Cody says it looked like you were sh*tting bricks up there.
See what they can't show you on TV! -Try the Big Brother 16 live feeds for FREE!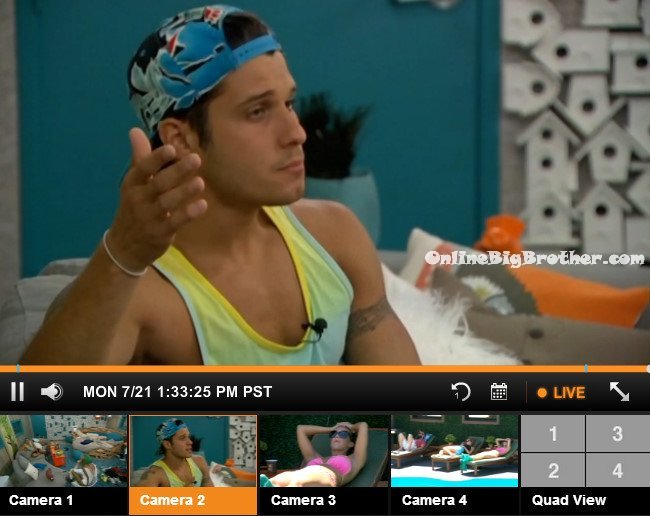 1:55pm – 2:10pm Amber comes up to the HOH room and says oh sh*t all the girls up here with my man! The continue to talk about the POV competition. Cody tells Amber if I don't see in the DR's that you said about my body DAMN!!!!!! Then we're done! Amber laughs. Amber talk about how she said her type was like Devin. Christine jokes so you only date guys that skip leg day. They all laugh. Christine and Nicole leave. Amber asks Cody how he's feeling. Cody says pretty sh*tty. Cody says that he talked to Donny and says that he told him his only two choices to go up were Donny and Hayden. Cody says I almost got the feeling he caught drift that I was going to put him up. Cody says I honestly trusted Brittany and thought she really tried hard for that veto and then after it was like she didn't want to play the game any more. Cody says I don't like how this week played out but at least everyone in our alliance is safe for another week. It just sucks that I had to get more blood on my hands. Cody says I just kept everyone in our alliance safe so I hope next week everyone returns the favor. Amber says yeah only Frankie and Devin did that. Cody says it is starting to get late in the game, like who knows when Jury is going to be. Amber says I hope when the time comes the guys don't turn their back on me. Cody says I am not turning my back on you or Christine. Amber says I am just worried about Zach because he says a lot of things that are disrespectful to girls. Cody says I have said something to him a number of times to stop doing that. Amber says once we get to jury I am really going to need to distance myself from Caleb because he is going to be the first person people target. Cody says I feel like he is going to target me. Amber says no he's not. I don't think you have anything to worry about. I am trying to distance myself from him because I am not here for whatever he's here for. Cody laughs. Jocasta joins them.
2:15pm – 2:30pm Victoria is laying with Derrick she tells him that he is her next target. Victoria jokes and says you're my next target. Derrick asks did you think he was going to put up Donny? Victoria says no. But I thought he would put up someone that would make sure Brittany goes home. Derrick says its going to be tough for Brittany because now she has to convince everyone to keep her over Donny. Victoria says I just wish Caleb was on the block rather than Brittany. Everyone wants him out. Victoria brings up how Caleb chose the money over the veto. Derrick says there has only been one twist so far.. one is coming soon. We're already a third of the way through. Victoria says yeah especially since Julie said this season is twist after twisted twist.

2:30pm Jocasta is talking to Cody in the HOH room. Tell me what your game is on day 32? Cody says just to keep myself safe from week to week. I was hoping this week would be easier than it is. I am just thankful for each week that I have still here in the house. Amber joins them again. Amber tells Cody that he is the biggest flirt. He flirts with the momma's, the single ladies and the married women. Cody says its just my out going personality. Derrick joins them. Cody asks what do you think about my personality. Derrick says you're a d**k. Amber asks Derrick what do you think personality wise what is Cody in the house. Derrick says best looking? Amber asks for another answer? Derrick says a big heart! Amber says okay one more try! Cody jokingly gets annoyed that Amber doesn't admit he has a big heart. Derrick says I think people flirt with him. Derrick asks Amber what his superlative is .. Amber says biggest heart and prettiest eyes. They talk about the veto ceremony and Jocasta says if it helped you then it was a good decision.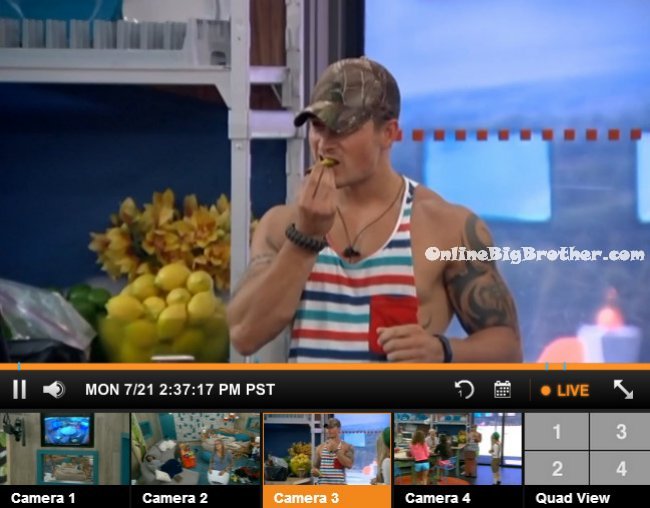 2:40pm In the kitchen – Amber said if he eats a pickle they could go on a date. Caleb eats a pickle for Amber. (He is disgusted by pickles and has said before that even pickles on his burger he wouldn't touch it to take it off.) Amber keeps telling him not to do it. Caleb says its disgusting. He starts to throw up. After he finishes it they ask if Amber is really going to go on a date with him. Amber says I guess so. Caleb says you own me 3 dates now. Caleb tells Amber the only way she can get out of going out on a date with him is for her to eat a whole banana. Amber says that is not happening.
Christine goes up to watch on the spy tv because she doesn't want to watch him throw up. Christine says that he said he would go on a date with him if he does it. Cody says I was there when a similar conversation happened and it wasn't Amber saying she would go on a date with him, it was someone else who asked if she would if he ate one. Jocasta says this is why I am glad I am married so I don't have to deal with stuff like this.
Caleb comes up to the HOH room and talks about eating the pickle for a date with Amber. He says that he's going to pick her up with a horse drawn carriage. That's how we do it in Nashville. Caleb says I am going to make that last 4 nights and 5 days … I'll take her on a cruise. Jocasta asks why do you hate pickles so much. Caleb says that his brothers would hold him down and hold pickle juice over his head. I can't even stand the smell of them. I will never eat another pickle. Cody says that he is the same with mayo. He hates mayo.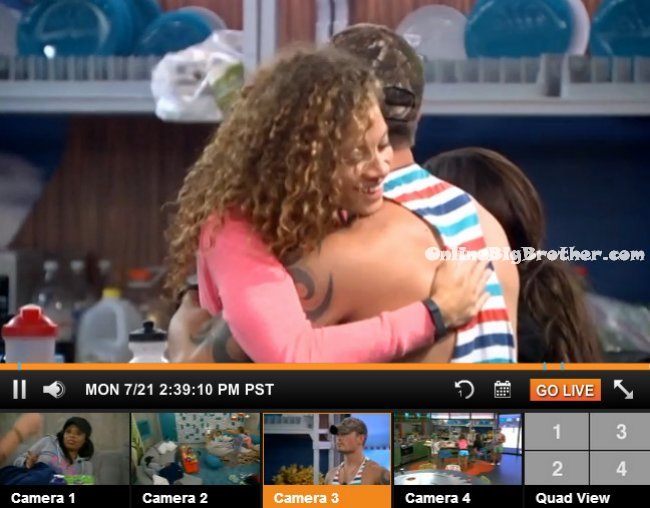 2:50pm Out in the backyard – Donny asks Brittany in the picking for veto players you picked Caleb.. and he screwed you. Brittany says yeah but I would never think that he would save me over getting money. I had one person I could choose. If I picked you people would think that we are working together. I wanted to pick Derrick but when I asked who would volunteer he put his head down.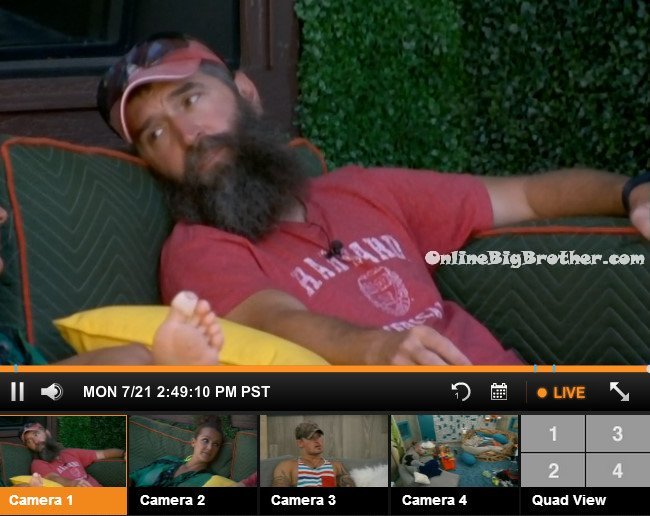 2:55pm In the kitchen – Amber and Nicole put whipping cream on a wooden spoon to put on Zach's hand as he sleeps. They grab a feather to tickle him with so that he'll smack his face with the whipping cream. When they go into the fire room Zach looks up and so they hide beside the bed. Hayden then blows their cover and tells Zach that the girls are trying to scare him. Nicole says thanks Hayden. They put the whipping cream spoon and feather on the floor and leave. In the kitchen Amber and Nicole talk about crawling back into the room and having Victoria hold the door so it doesn't shut. Amber and Nicole joke about putting pickle juice in Calebs drink or putting a pickle in his hand while he's sleeping.
3pm – 3:15pm When they enter the fire room again they make too much noise and Nicole says okay Hayden can we just show you what we were going to do? Nicole smears the whipping cream on Hayden's hand. Amber then grabs his hand and smears it in his hair. The girls run out of the room. Hayden says I hate that B***T! I am going to murder that B***T! Zach sarcastically says oh my god that was so funny. As the girls leave the say now they're going to get us so bad. Christine tells them she's not sleeping any where near them. Christine show them her spider bite on her foot and they all tell her to go to the diary room right away to get that looked at because it doesn't look good.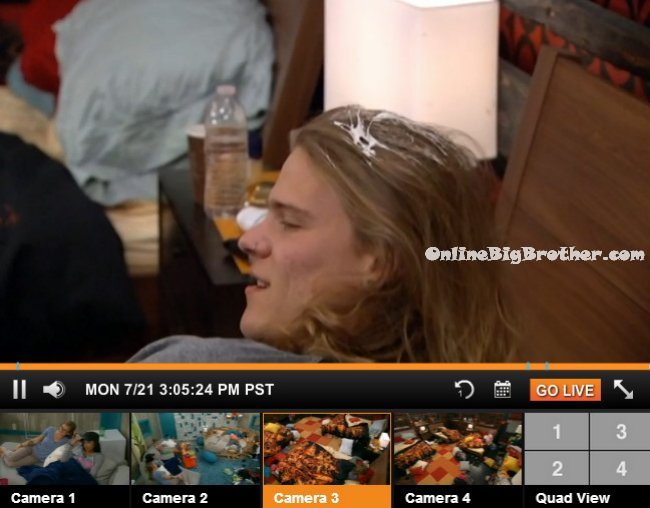 Alliances (Some Of these are dead)
Zankie = Frankie/Zach
Bomb squad = Caleb, Amber, Frankie, Derrick, Cody, Christine, Zach, Hayden
Team America = Donny, Derrick, Frankie
Nicotine = Christine/Nicole
Not a showmance= Hayden/Nicole
Los Tres Amigos = Derrick, Cody, Zach
The bottom Feeders = Derrick/Nicole
We hate Devin = Christine and Zach
Outsiders = Brittany, Victoria, Jocasta, Donny
Old timers = Jocasta/Donny
Stalker = Caleb/Amber
Quad Kings = Derrick, Zach, Cody and Hayden (still being built)
Trilogy = Nicole, Christine & Hayden
The Detonators = Derrick, Frankie, Zach, Christine, Cody
Final 2 Deal "The HITMEN" – Cody & Derrick
[polldaddy poll=8198814]