POV Holder:
Hayden
Next POV
Aug 2nd
POV Used
YES
POV Ceremony
July 28th
HOH Winner 1:
Frankie
HOH Winner 2:
 Zach
Battle of the Block Winner
 Nicole/Christine
Next HOH/ Next BOB
July 31/Aug 1
Original Nominations:
ZACH's Noms (Christine & Nicole) Frankie's Noms (JOcasta & Victoria)
Final Nominations:
Amber & Jocasta
Have Nots
Nicole, Caleb, Christine, Derrick
POV Players
Frankie, Victoria, Jocasta, Donny, Hayden & Christine
Take Advantage of the FREE 2 day Trial to watch all the drama!
In the fire room – Frankie says I love how Amber is hunkered down with Christine and Nicole right now … They HATE HER! THEY HATE HER! Victoria says I can't stand her. Frankie goes up to the HOH room and says that Amber is starting up the girls alliance again with Christine and Nicole. Zach says let me go down there and blow it up!! Frankie says no. Zach says put me in a cage and throw away the key because that is the only way you can restrain me. Cody and Hayden head down to the hive room. Hayden says if I won HOH I would actually backdoor Zach. He is putting a bigger target on us. He said he was actually thinking of putting me up. Its crazy that I wouldn't even backdoor Caleb.. and he is a bigger target but he isn't coming after us. Victoria joins them. She tells them what Amber was saying to them outside about how the girls need to stick together. Zach gets called to the diary room. Cody says I hope they laugh at him in there. Hayden says they probably love him because he brings the drama and makes good tv.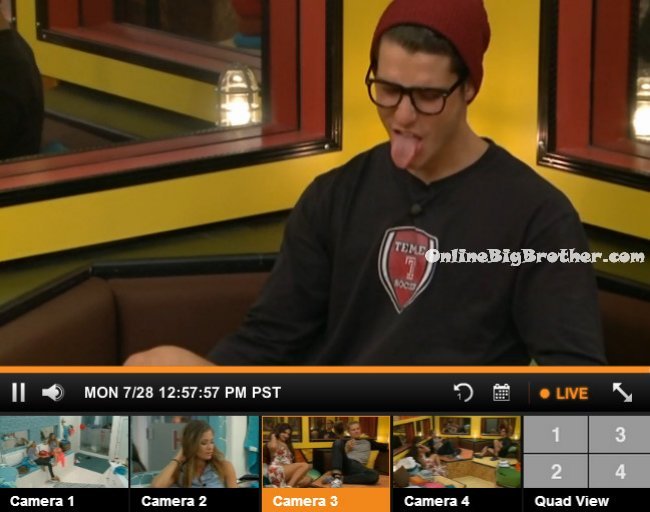 In the bathroom – Amber is talking to Christine and Jocasta about how she isn't going to bring her sob stories into the game because she wants to make it without people feeling bad for her. It just sucks sitting next to Jocasta. Amber says Jocasta .. I was the only girl left for them to put up that they hadn't already. Amber heads to the kitchen as Zach walks by laughing. Derrick tells her not to respond to him because that's what he wants.

1:05pm Amber asks to talk to Cody.
They head to the earth room. Amber asks do you know what's happening? Cody says no I don't know. I think it was a plan to push on to Caleb. For me though you aren't going anywhere. Amber says I know I have your vote, Christine, Derricks… Cody says and maybe Christine can get Nicole's and we can get Hayden's vote for you. Cody says I think it was an elaborate plan for you to talk to Caleb. Amber says if I go this week.. Cody says you're not going. This whole situation is stupid and eye opening. I talked to Frankie and said it doesn't look good. If it gets out that Frankie did it for Caleb ..that's just weird. Amber says Frankie followed me after because he felt bad .. and he doesn't even have a vote this week. I can't believe that Victoria is staying once again. I now know how Brittany felt. He is probably going to talk everyone into voting me out. Cody says he can try but you have me and Derrick. Amber says if this is all about me not wanting a relationship … then I can't wait to get out to tell my story as to the reasons why I don't want anything. I did not want to come in here telling a sob story. Amber says I'm not going to talk to Zach for the rest of the game. Cody says the best thing is to not feed into him. Cody says if Zach says anything to me I am going to go off on him. Amber says Caleb could have at least worn clothes. All the attention on him wearing a onzie.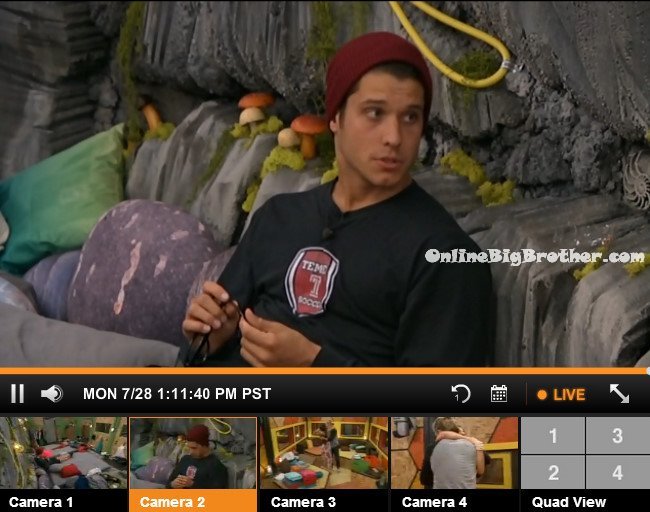 1:15pm UP in the HOH room – Caleb tells Frankie that Amber has yet to come up and apologize to me for the things she said. Frankie says and Zach made it very clear. That was his best speech ever. Frankie leaves. Zach joins Caleb. Caleb tells him so I guess Amber flat out told Christine and Nicole that all the guys are working together and they need to stick together. Zach says oh, okay!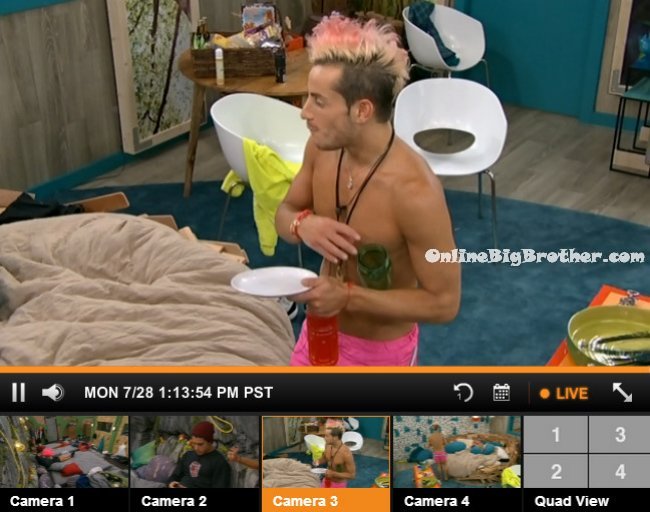 1:25pm Amber questions Hayden if he knew she was going up. Hayden says no. Amber asks so you thought it was better to take Victoria off over Jocasta? Hayden says she picked me to play and so I felt like I needed to use it on her otherwise it would have looked bad on me. Amber says that she has had his back and when we brought you in .. I told the guys to trust you. Hayden says I was brought in as a replacement.. its not really anything.. She asks him if he knows how he is voting. Hayden says I don't know yet. Amber says well people like Cody, Christine and Derrick tell me they're voting to keep me. Hayden says right now I can't say who I am voting for. A lot can change in the next few days.. right now I feel a lot more trust with Jocasta at the moment. I didn't take her off knowing you were going up. Amber says it was obvious as Donny was the only other person who could go up. Cody says I didn't even think of the situation. Amber asks where has all the dirty work I've done gotten me?! I've helped keep you off the block. I am done playing everyone else's game! Hayden says see that is the kind of stuff that helps me decide. Amber says I wasn't going to go around telling people everything I've done for them and tell the sob stories about my life because I don't want that to be the reason why I'm here. Hayden says I am sorry you are up there. And I am sorry that me using it caused you to be up there. I just felt like it was best for my game. Amber hugs Hayden and she lease the room.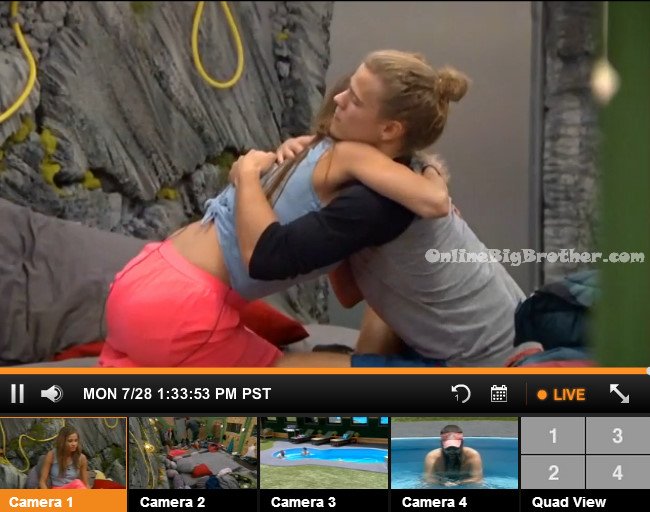 1:35pm In the havenot room – Hayden laughs with Cody about how he just told Amber that she doesn't have my vote. Frankie joins them. Cody says Amber thinks she has my vote. Frankie says so its like another Brittany situation. Frankie tells them how Victoria told him that Amber tried to restart the girls alliance and she said that all the guys are working together. Frankie says great thank you! You've just told me everything I need to know. Frankie leaves. Cody and Hayden continue to laugh about Ambers talk with Hayden.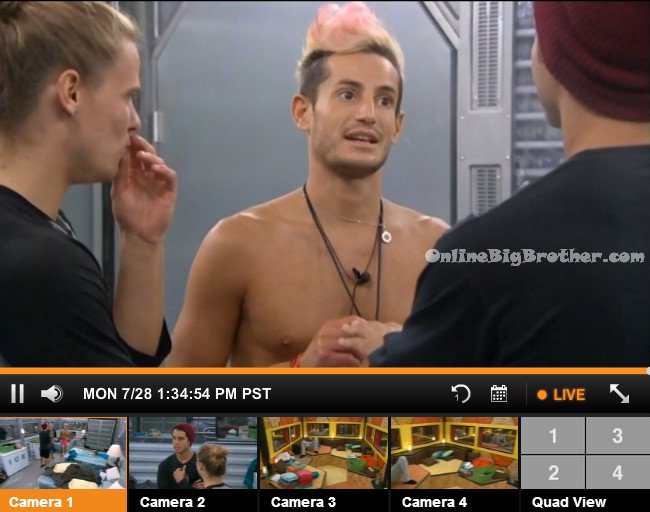 1:40pm – 1:50pm In the hive room – Amber talks to Derrick about her being nominated. Derrick says I had no idea this was going to happen. It bothers me that if we're in an alliance and there is this much not being told to each other. Derrick says he thinks it has to do with Caleb wanting to talk to you. Amber says in my whole life I have never had to deal with someone like this. Derrick says as a fan watching Zach's speeches during the meetings is great everyone in a while but its getting old now. Amber says that Zach is telling me not to talk to Caleb. I don't want to look like an idiot if I try to talk to him again. Amber says I just don't want to pack. Derrick says yeah I wouldn't go to crazy packing, I think you're staying. Derrick says Caleb isn't going to vote you out if you go talk to him. Amber says I don't want to talk to him right now. I am too heated. This is so childish and I don't even have that much to say to him. I already tried to talk to him and he didn't want to talk so I don't want to look like an idiot if I try again. Derrick agrees it won't go well if you try to talk to him now. Derrick says he will try and find out what people are saying and get back to her.
Take Advantage of the FREE 2 day Trial to watch all the drama!
1:55pm Amber asks Frankie why did you guys put me up? Frankie says you need to go talk to Caleb about it. Amber says I want to know before I talk to him. Why did you put me up? Frankie says it's because of what Caleb told me this morning. Amber asks what for personal reasons?! Frankie says no he said you're untrustworthy. Amber says this is stupid. Why didn't you just come talk to me? Frankie says because he literally told me this morning. Frankie says he said if you put her on the block I have a plan to keep her safe. Amber says it just doesn't make sense. Frankie says you have to talk to Caleb. I don't know how many times I have to tell you. Amber says that we're supposed to be in an alliance and even Hayden and Cody didn't know about it and they're pissed. Frankie asks did Hayden say he did it because of Caleb? Amber says no, Hayden was actually honest with me.
2pm In the hive room – Caleb reads a bible verse to Derrick about trust that he wants to read to Amber. Derrick tells him he should read that to Amber. Caleb says I will that's what I've got the bible with me. Derrick tells Caleb about how right after Amber ran to Christine and Nicole and told them the guys are working together. Caleb says right there that is what I am talking about. If that is her first thought to run to the enemy then she needs to go home. What good would that do running and telling information. Derrick says it gets her no where. Caleb says it gets her sent home. Derrick says we made a pact to make it to jury but she just broke that so she can go home. Caleb says well we broke it too. Amber opens the door and asks to talk to Derrick. She closes the door. Derrick tells Caleb that chaps your a$$ I know it. Caleb says I am sitting right here!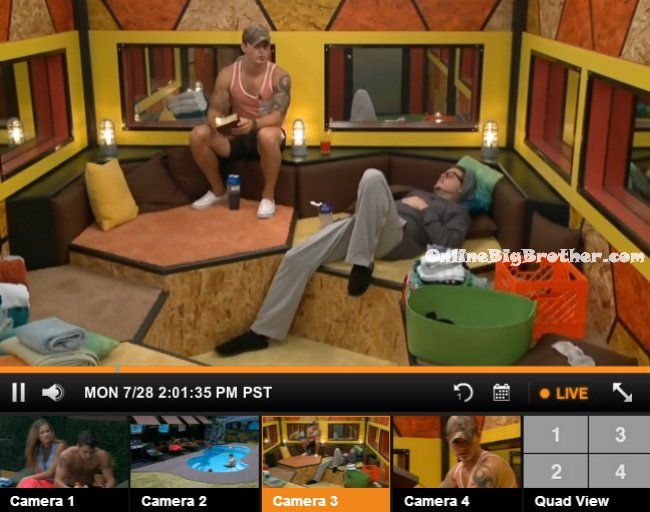 2:08pm – 2:20pm In the bathroom –
Amber talks to Derrick. She asks if the bee hive room is free? Derrick says Caleb is reading the bible in there. Amber says yeah now he's reading it. Derrick tells Amber to go talk to Caleb. Amber goes into the hive room and asks do you have something to say? Caleb says no do you?! Amber says Zach told me to not talk to you two days ago. Amber asks was it Zach's plan to put me up? Caleb says no I did. Amber says so it was personal? Caleb says I want to read you this bible verse. Amber says no, I will leave then if you want to argue. Amber asks why am I up and not Zach? Caleb says you are up because of you saying you don't trust anyone in the house. Don't think everyone else in this alliance feels the same way because they do. Amber says I don't believe that. You tell me that you trust me more than anyone else. Amber says this is a game. Amber says I have been 100% loyal to all of ya'll. Caleb says you were put up to see if you were with us and if you could be trusted. So we said lets put her on the block and find out exactly where she is with all of us. If you were to blow us up then you were going to go home. Supposedly you went up to Nicole right after and blew us up to her. Amber says I haven't even talked to Nicole. I want to pull Nicole in here and ask her about it. Amber says all of this has been one big slap in the face to me. Caleb asks what about me?! Amber says you made a promise to me that you couldn't even keep. Caleb says the problem is you have been hanging out with Christine, Victoria, Nicole instead of our alliance. Amber says you guys can assume what you want. I can't wait until you get out of the house and see everything I have done because this is a slap in my face. Caleb says what about me? Amber says thanks a lot Caleb and walks out of the room.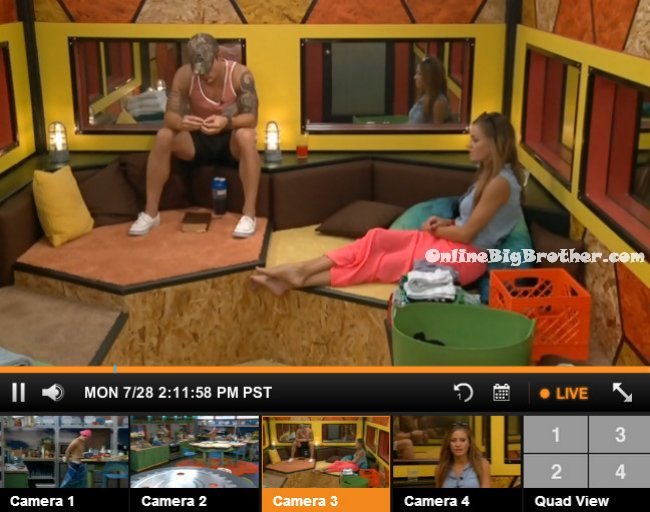 2:25pm In hive room – Caleb talks to Nicole in the have room. He asks her what Zach said to her the other day. Nicole says just that there was an alliance that I wasn't a part of it. Caleb asks did Amber come up to you and say anything to you? Nicole says no, only that she was upset about going up. Caleb says I just have two people saying two different things to me and I am trying to figure out who is lying to me.. but now I know. Nicole says I am just being honest. I hope that helps. Caleb says thank you and they leave the room. Caleb goes to the back door and stairs out into the backyard. Derrick comes inside and is scared by Caleb standing there. Caleb says it was Zach who said something. Derrick says no. Frankie told me. Caleb says Frankie wants Amber out. Caleb wants to call out Frankie. Derrick says wait for me to go out for a 5 minutes. Amber comes in and Caleb asks to talk to her. He says that Frankie is the instigator. Caleb explains that he talked to Nicole and believes what she said. Amber says see you this is what I've been telling you. Caleb says my thought of putting you on the block was not to send you home. No one else wants you to go home either. Amber says I want to say something to Frankie. Caleb says I am about to talk to Frankie and Zach. This was to see if we could trust you. Caleb says they told me if I want you to stay they would vote for you to stay and if I wanted you gone they would vote you out. Caleb says they all knew about it. I brought it up but they all agreed to it. I don't care what Cody says to you. He knew about it. They all knew about it. Amber asks even Christine? Caleb says no. Amber says okay. I haven't even gotten to beat you in an endurance yet .. I dont want to go home. Caleb says and you never will. I am not going to lie to you so of this was personal. Caleb brings up how Zach said you didn't want to go on the date with me. Amber says I never said that. I hope you confront them. Caleb says I will. I'm going to. Amber says Frankie is scared of you. Caleb says he should be, he should be because I am about to confront him. Amber asks did Hayden know? Caleb pauses and says dont know I think he did.
Big Brother 16 Live Feed FREE TRIAL – Use the FLASHBACK feature to watch everything you've missed!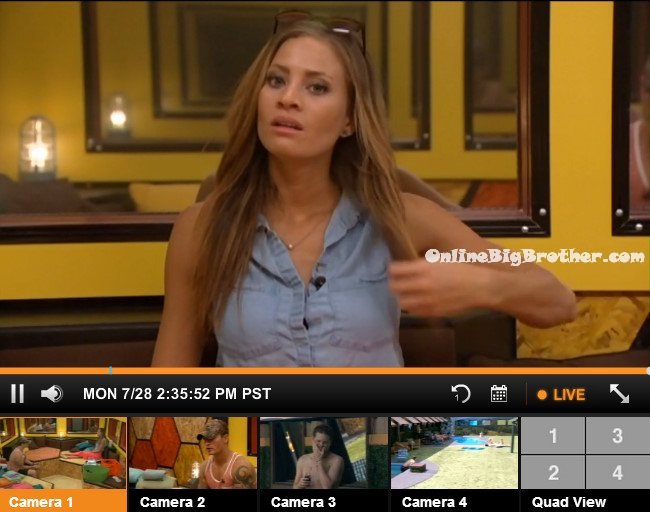 Out in the hot tub – Derrick tells Cody, Hayden and Frankie about Caleb. He says Caleb is up to something in there. He's talking to Amber in the bee hive room. The comment on how its all because of f**king Zach.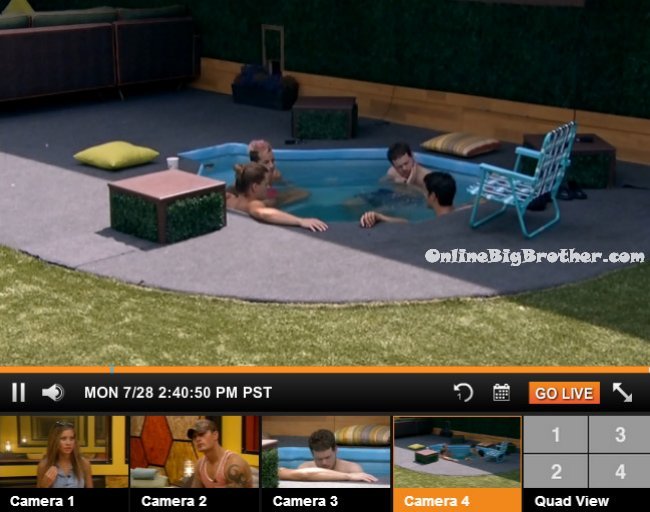 2:55pm In the fire room – Nicole is talking to Frankie and Christine. Nicole say the way that Caleb pulled me into the room really made me uncomfortable and the words he was using didnt even make sense. Nicole tells Frankie that if she needs to lie about something Amber did or didn't say she will. She just needs to know what to say. Frankie tells her what to say. Nicole says I will talk to Caleb again and tell him that Amber told me the guys are working together

3pm – 3:15pm
Frankie goes into the fire room and Caleb tells him he needs to talk to him. Caleb stands up and starts confronting Frankie. Frankie asks Amber to leave the room. Frankie asks have you lost your mind?! Caleb says that Nicole said that Amber didn't go to her to blow up the alliance. Caleb says that it was Zach. Frankie asks what is the point of all of this?! You asked me to put all of this up. Frankie says so you just threw me under the bus to Amber and I don't appreciate it. Frankie says go ask Nicole to come in here. Caleb goes to get Nicole. Nicole says I am tired of being pulled around. Caleb asks did Amber pull you outside and ask you to form an all girls alliance. Nicole says she said that the girls need to stick together to go after the guys. Frankie asks Nicole didn't she say anything about his date with her. Nicole says she went on it but that she didn't want to. She said she doesn't like you like that. It wasn't anything positive. Nicole leaves. Frankie and Caleb continue to talk. Caleb says that he is being pulled in every direction. Frankie says I don't know why I keep getting thrown under then bus. Caleb its because of Zach why do people trust him. Frankie says we don't trust Zach! I don't! I put her up because you wanted me to. She lied to you about the date. She doesn't like you like you love her! I am sorry I didn't stop it earlier. Frankie says everyone in the house is going for Zach so its good for you if Zach is perceived as this monster. I told you to go get Amber immediately after so that this wouldn't happen but you didn't. She blew the alliance up. She just drew the line in the sand. Caleb says if Amber goes this week then Zach goes. Frankie says you don't have to make him a target ..everyone wants him gone already. You don't need to tell people that, they already know. You have to go out there and give the guys a kiss and tell them you love them. They're scared you're going to go work with Amber to try and take them down. Caleb says that ain't going to happen.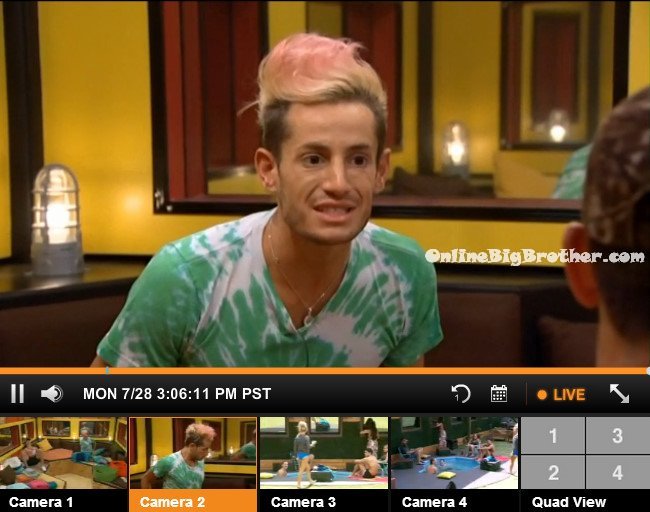 Alliances
Zankie = Frankie/Zach
The Detonators = Derrick, Frankie, Zach, Christine, Cody
Final 2 Deal "The HITMEN" – Cody & Derrick
Trilogy = Nicole, Christine & Hayden
Team America = Donny, Derrick, Frankie
Old timers = Jocasta/Donny
Nicotine = Christine/Nicole
(Defunct or unknown status)
Bomb squad = Caleb, Amber, Frankie, Derrick, Cody, Christine, Zach, Hayden
Not a showmance= Hayden/Nicole
Los Tres Amigos = Derrick, Cody, Zach
The bottom Feeders = Derrick/Nicole
We hate Devin = Christine and Zach
Outsiders = Brittany, Victoria, Jocasta, Donny
Stalker = Caleb/Amber
Quad Kings = Derrick, Zach, Cody and Hayden (still being built)
One way to support this site that doesn't cost you anything extra is making your Amazon purchases through the links below Amazon.com OnlineBigBrother Link
For Canada use link Amazon Canada OnlineBigBrother
More polls here https://www.onlinebigbrother.com/big-brother-compendium/big-brother-16-polls/
[polldaddy poll=8207784]