POV Holder:
?
POV Competition
July 23rd
POV Used
?
POV Ceremony
July 25th
HOH
James
Next HOH
July 28th
Original Nominations:
Frank AND Bridgette
After POV Nominations:
? AND ?
Have Nots
?
CBS All Access: Live feeds are only $5.99 per month – Try it FREE for 1 WEEK!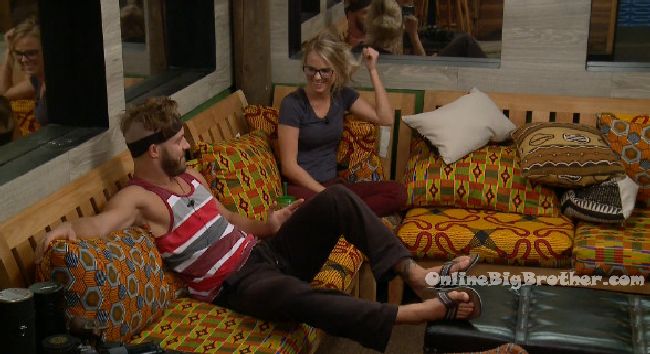 Power Of Veto Players: James, Frank, Bridgette, DaVonne, Michelle, Nicole
POV Host: Natalie
2:20pm – 2:35pm The live feeds return – Paulie tells Nicole that she (Z) is really really attractive. She goes to bed in these sexy a$$ little outfits. … I'm like I'm going to get myself in trouble. If if goes for 0 – 100.. then it goes from being a family show to not being a family show. Nicole says that she feels like he (Corey) has my best interest at heart. Paulie says we all do. Nicole and Vic talk. She tells Vic at least its nice you don't have to worry about even going up. Vic agrees.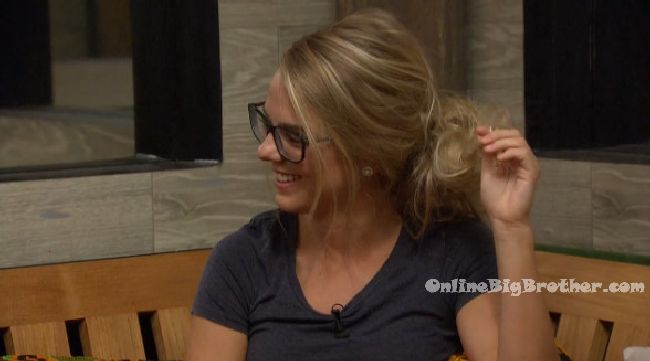 In the bedroom. Da, Michelle and Paul are talking.
Paul tells Michelle and Da that if she wins it he thinks he can convince her not to use it. Paul says that Frank was good in competitions years ago (insinuating he isn't any more). Bridgette had pulled DaVonne's name in the power of veto player pick. Paul leaves. Da says if one of us win it he (Frank) is going to try, try, try. Da says going from 16th place to making to jury is amazing. At least I know I'm not going home with nothing. Michelle says I would really like to get a win under my belt today. DaVonne says if its something easy like the counting .. you've got it. If its the dice one …Bridgette has it hands down.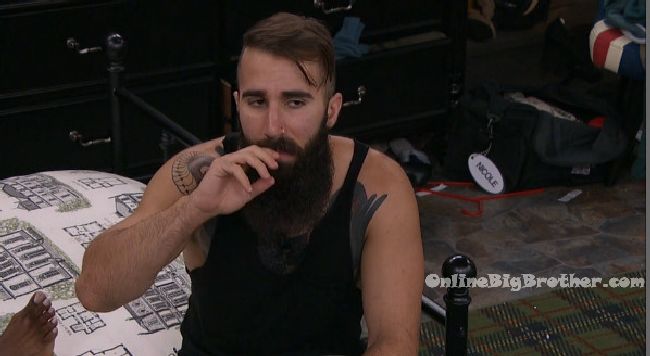 2:35pm Safari room – Nicole, Corey, Paul and James. James says worst case scenario.. Frank or Bridgette win Veto .. and one comes off .. we going to draw straws to find out who to put up. I preferable don't want to put someone who's already been up on the block too. Corey has, Paul has. Nicole says I'm winning it so it won't matter. If I put someone like Da up .. Paul says then you're doing what he (Frank) wants. Victor joins them.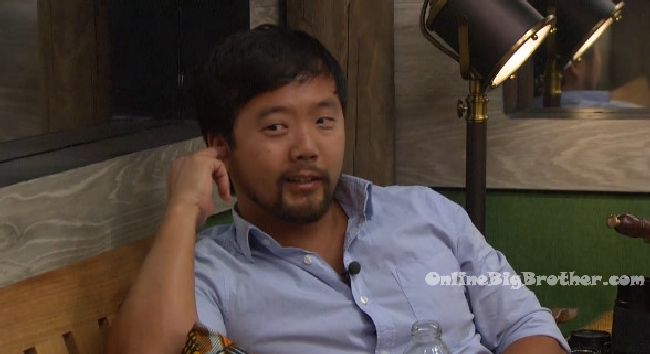 Another shot at one of the clues..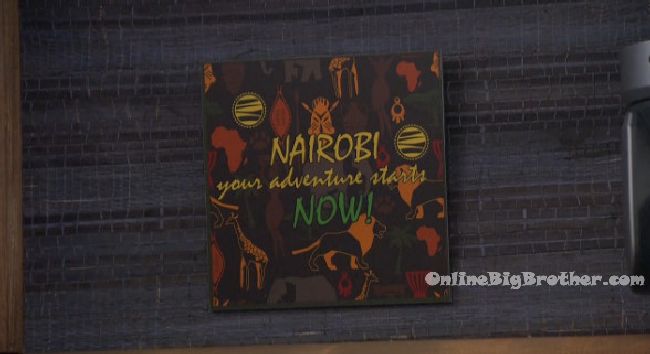 3pm Nicole asks James if he was meaning she might go up if Bridgette of Frank win? Because I haven't been up. James says no. James says if Bridgette or Frank come down .. I would probably put up Paul. I was just saying it because they have to know if they win it someone else is going up. Nicole says I am going to try and win it. I am very thankful for what you did this week and I don't want you to have to do anything else. Nicole leaves and Frank joins James.

Nicole tells Z how Paulie thinks she is hot and sexy. Just kiss already. Nicole asks you guys are just feely? Z says yes! Nicole says people probably think we we're doing is way worse.. he is just rubbing my leg. Z says there was a lot of touching and I was like Z is a bad girl. This has to stop. Nicole says that Corey was saying we're good friends and obviously after this I hope we can stay good friends after this. But them he was like if anyone was in here that he liked he said he wouldn't do anything so .. just the fact that he is doing something is good. He is just in like denial. He said I want to kiss you so bad. Nicole says if that ever did happen .. a very very slim chance .. then you are coming to the wedding.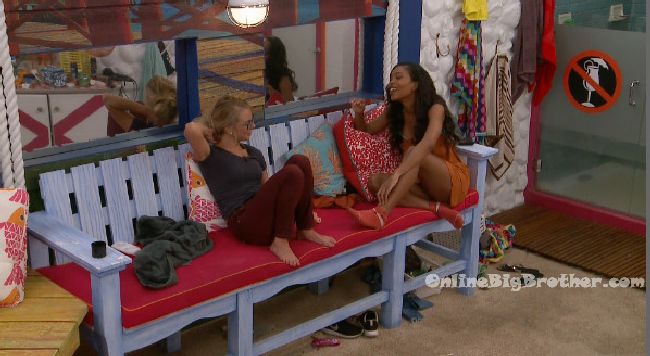 3:25pm – 3:35pm Paulie tells James they (Frank & Bridgette) are definitely not coming after us. Paulie says that Z was coming after him hard last night. I'm trying to not do it because of the cameras but we were about to make a p*rno. James asks Corey does in the morning with morning wood? Corey says he waits for a minute. Victor says he went to bed with a ragging B*ner.
3:50pm HOH room – James, Corey, Victor, Paul and Paulie. They talk about being ready for the POV to start. Paul asks James if I say sh*t will it mess you up? James says no. Paulie says Frank will say shut the F**K UP!
3:40pm – 4:10pm Frank says one of us isn't going home and hopefully both of us. If one of use stays and wins HOH.. Bridgette says I'm going to f**k sh*t up. Frank says I would probably put up James and Da. If James puts up someone else that everyone would go after then we don't need to go after him. Frank counts and says we have 6 votes. Paul, Corey, Victor Paulie, Natalie, and maybe even Nicole. Bridgette says one of us has to come off though. Frank says If its both of us up there .. it will be me going home. I don't know why people hate you. Bridgette says because I'm f**king awesome. Frank says all I can think about is your picture popping up there and I'm furious about it. I can understand mine. Frank says if one of us wins it gives us ground to stand on. We're going up on the block every damn week. Bridgette says we just have to keep wining the veto. At that point you're playing for America's Favourite… being the veto queen. Frank says yeah, right! I honestly think that thing with Da and Nicole could help .. Da is just going to keep running her mouth. That's how I'm going to pitch it to Nicole.. you wanted her (Da) out and now you should want her out even more. Frank says us returners aren't on stipends. Ya'll are on weekly stipends, we're not. We make it to jury … MORE! Frank says I almost hate the rest of them more .. maybe just put up James and Nicole. Maybe there will be a Pandora's box and a second veto.