POV Holder:
?
POV Competition
July 23rd
POV Used
?
POV Ceremony
July 25th
HOH
James
Next HOH
July 28th
Original Nominations:
Frank AND Bridgette
After POV Nominations:
? AND ?
Have Nots
Nicole, Zakiyah, Michelle
CBS All Access: Live feeds are only $5.99 per month – Try it FREE for 1 WEEK!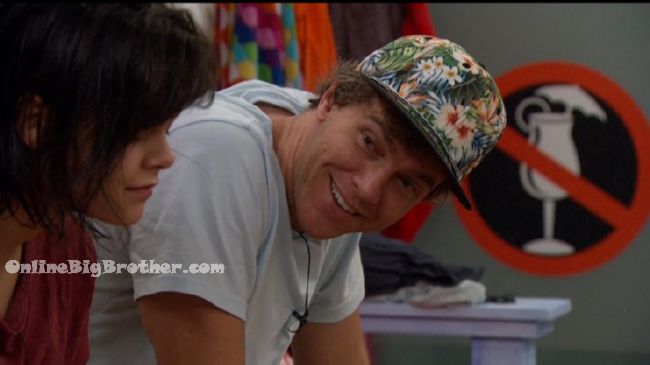 10:57am Bathroom Natalie, Bridgette, Frank
Frank asks Natalie if she would use the veto if she won.
Natalie says yes.
Frank saying Paulie will play for Frank and Bridgette is best pick someone she can beat or that will use it on her. Suggests Natalie because she'll use it on you and Michelle because she won't win.
Frank says his only option other than Paulie would be Michelle or Zakiyah two of the weaker competitors.
Frank wants them to have a chance they need that POV win, "There's more heat on me.." he tells her she'll stay if they Nominations stay the same.
Bridgette says she doesn't want to be stuck in this game "With these a$$holes"
Natalie tells them they can do it they can win the Veto. Suggests there is a Jury buyback. Frank doesn't see they're being another buyback.
Bridgette wonders if the guys were being real to them in the safari room where they said if the POV is played they will flip the house. Brigette doesn't think they have the b@lls to pull that off. Frank points out they would need James' blessing first.
Natalie – I want to be honest with you I was not part of the choosing..
Frank – I'm not made at James I'm annoyed by all the drama comments.. He said all the drama is because of me.. He didn't have to say that sh1t that shit is on TV.. I don't want James out I want a lot of other people out
Natalie – Everyone is a liar I'm realizing that
Frank asks Natalie to look after Bridgette after he leaves.
Bridgette asks if theres something they could "Pull out of their asses"
Natalie suggests Bridgette talk to Michelle and Zakiyah and try to hash things out.
Bridgette says she tried but Michelle said about her quote "Everytime she walks into a room I want to vomit "
Frank confirms Michelle said that.
Bridgette – they wanted to nominate me on my birthday
Natalie points out how Victor is integrating back in.
Frank – trust me, Vic is next on the chopping block.. They're keeping him cool until they can get the rest of us out..
Frank says everyone was trying to be cool with him last week but once they can get him out they will try.
Bridgette doesn't want to pick Michelle says she will sabotage her.
Frank says the two people that will use the veto are Natalie and Maybe Corey if he doesn't want to pick MIchelle, Zakiyah she should pick one of those two. Natalie being first.
Frank says he thought the best chance for them both was Bridgette coming off the block but this morning Frank was told by Paulie he's the target.
Frank says Bridgette still would have a good chance of making after Frank leaves. Warns that those girls will still come after her.
Bridgette – I can beat them
Natalie says this game is all luck
Frank says Bridgette is on the block because of Catty girls that don't like her because she has a positive personality.
Bridgette says paulie was going to tape her ankle up before the last HOH competition because she had sprained it a few weeks back. The "Girls" got bad at Paulie for helping her. Adds that Corey mentioned to her that they get mad at him for talking to her. (Michelle and Zakiyah are the girls)
Bridgette – just wait until they f***g turn on you nat. .. I didn't ask for this

11:20am Natalie and Bridgette
Natalie – Get yourself off the block.. Play as hard as you can get yourself off..
Natalie is still trying to figure out why Michelle hates Bridgette so much. ASks "Did you say something… do something"
Bridgette – it's 100% personal..
Bridgette – Da'Vonne came up with Cabbage patch kid and comparing me to other seasons..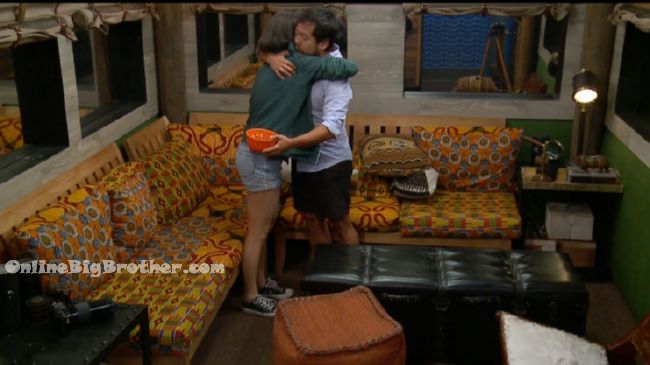 11:31am Safari Room Bridgette and JAmes
James says He knows he promised her he wouldn't put her yup. Blames it on being tired and having a lot of people in his ear.
James – A lot of people wanted you and Frank on the block.
James says he's not against putting a second target up if Bridgette/Frank come down.
James says he doesn't feel bad for putting Frank up.
James – I told him I want to work with Frank but his name is all over the house.
James – Natalie didn't want me to put you up
James – she had your back.. I'm sorry I understand if you put me up
James – you are a well oiled beast machine..
(The HOH was endurance Bridgette and Frank were the last 2 standing)
James says if it's Bridgette and Frank left on the block Frank is leaving, "He knows I would rather you stay in the game I don't think he'll ever get the heat off him.. "
Jame s- I hope you stay in the game.. If I can help it I will help
Bridgette – I just have to win the Veto I guess.
Bridgette – I'm going to pick Nat
James – fine I want you to pick Nat..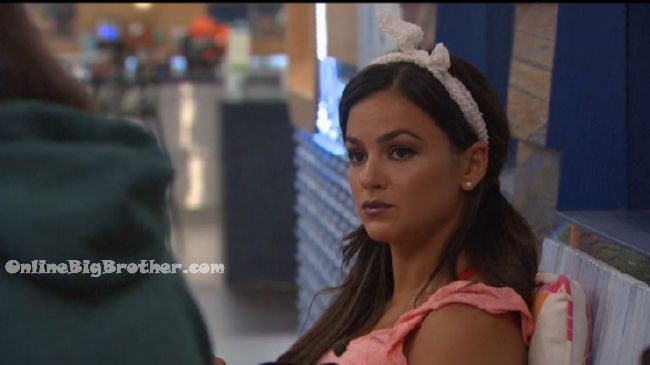 12:22pm – 1Everyone but Bridgette and Natalie sleeping..
Bridgette going on about the what the mean girls did to her.. Again brings up Corey and PAulie getting in shit for talking to her. Natalie gets fired up sayss he'll talk to whoever she wants.
Natalie says she knows what it's like to have nothing in life she's experienced more than most people in the house will in a life time, "I don't talk sh1t about people.. I don't do petty sh1t"
Bridgette – I trust you and I trust Frank you're all I have.. and I trusted Bronte.. they have been playing us for 2 weeks..
Bridgette says Zakiyah, Da and Michelle are the big bullies.
Bridgette starts uploading all the stuff learnt from Tiffany last week. Fatal 5, 8 pack, things the girls said about them etc etc..
Natalie
Bridgette regrets putting her hand down during the HOH comp. (From what I piece together HOH was endurance with Bridgette and James the final 2. James promised to not put her up so Bridgette dropped out.)
Natalie – I should have told him to fall.. If you fall i'll give you a kiss.
Bridgette – I feel like i'm being played by everyone
Natalie – I feel like disposable income .. I wish James would have fallen.
Bridgette – I really trusted James.
Natalie – I know I told him that… I was like She really trusted you.
Bridgette says Da'Voenn told everyone Frank called her a sl*t and a whore says it was all bullshit
Natalie – but she was crying
Bridgette explains she's trying to get all the girls against Frank putting the largest target she can on his back.
Zakiyah rolls in