POV Holder:
Kenny
Next POV
?
POV Used
?
POV Ceremony
April 7
HOH Winner:
Heather
Next HOH:
Apr 10
Original Nominations:
Kenny & Allison
Current Nominations:
?
Have Nots
Sarah (didn't use slop pass), Kenny, Rachelle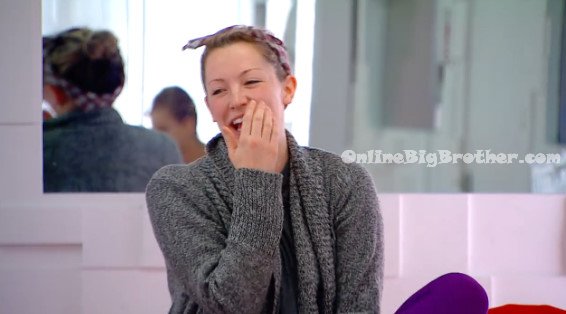 9:30am Big Brother wakes up the house guests. Big Brother asks Arlie to put his costume back on from last night and come to the diary room. Arlie says that the ninja took his hat, so I don't know if that matters or not. Arlie heads into the bedroom where Jon and Allison are and tells Allison you still have to hangout with them this week so we should be nice. He tells her also spend as much time with the Gremlins too. Jon says and then next week we can say suck it, suck it! Allison laughs. Up in the HOH room – Jon asks Neda who goes to someone you are working with and says I want this person out! Neda says that Rachelle did it too when she was talking to Heather she asked what about Neda going up. Jon says I want to BLOW THIS SH*T UP! Not long after Big Brother asks all of the house guests in the competition to out their costumes back on for diary room sessions. Their costumes from last night are Gold Mining outfits with overalls, a shirt and hats. The house guests realize that the slop bucks had been left out and are now bad. They're worried they won't get any more. Kenny eats some of the slop any ways because he's starving. After Kenny is almost finished his old slop, Allison tells comes out of the diary room and tells them if the clean out the slop buckets they will get more slop.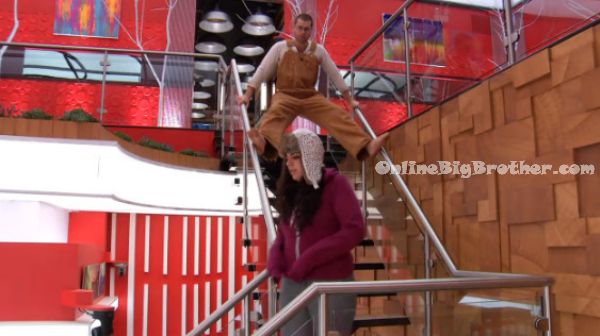 10:30am Allison tells Heather that she will continue to be nice and get information from the other side but that her loyalty will shift to their side. Heather says thank you, I appreciate that. The gremlins (Sabrina and Rachelle) head out to the hot tub room. Sarah, Adel and Allison join them. Jon joins them soon after and they tell him he looks really good in his POV costume. They talk about how fast Kenny blew up that spelling competition. Sarah says that she thought for sure Heather had won the competition. Jon says he knew Heather didn't win because she spelt wishful wrong.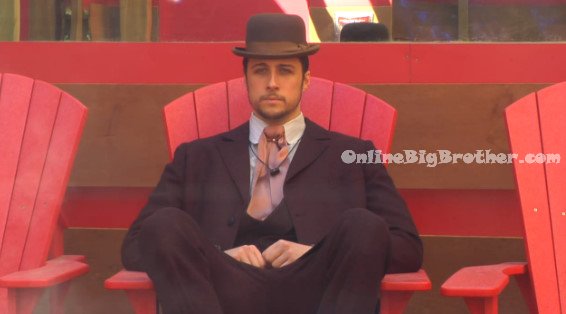 10:35amm- 10:45am In the living room – Sarah says that when she came in to the house she said she would go after the couples .. and we are a couple as much as we can be. Sarah says they want to break us up. Sarah says that she thinks her getting so excited last night when he won the POV has f**ked her now. She thinks she will be going home and says that it's okay. I will still be cheering for you from home. At the end of their talk Sarah kisses Kenny.
10:50am – 11:20am In the bathroom – Sarah says that she doesn't trust the Plan B side because their actions speak louder than their words. Arlie says oh I know. Sarah says that from the things Neda was saying .. she thinks Arlie is at the bottom of the totem pole. Sarah says if by some chance I don't go on the block and don't go home then at least I have options. Arlie says that Kenny is a beast! Sarah asks Arlie if I do go up are you going to go with the other side and vote me out or are you going to tell the others that you 100% trust me. How are you going to play that out? Arlie says I would need at least a half a day to figure it out. Sarah says I don't know what to do .. I f**ked up and I don't know what to do. I don't know how to fix it. And the fact that Kenny is so blatently going for Jon. Arlie tells Sarah that Jon has A LOT of pull. Sarah says I know this side seems harder to beat and I know you've had more conversations with this side. I feel this side doesn't trust us. Arlie asks which side? Sarah says Plan B. Jon joins them. Sarah asks him what he is thinking who will go up. Sarah says I know its between me, Sab, and Rachelle.. but that Heather already told me it was just between me and Sabrina. Sarah tells JOn that she feels like Kenny and him are her children and she hates that they are at odds. Jon says I hate that you're associated with Kenny ..because I hate Kenny.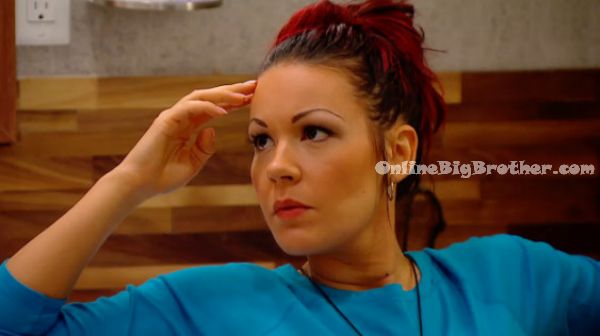 11:25am – 11:35am Sarah talks to Allison in the bathroom about how she knows she is going up. Sarah says f**king 2 days ago Jon was trying to kiss me! I know he was trying to suck me in with his charm.. Sarah asks Allison – If I go up and go home will you promise me that you won't flip to the other side and be there for Kenny. Allison hugs Sarah. Sarah says I am honestly more scared about him not having someone than me going home. Allison says she will be there for him. Sarah heads downstairs. She talks to Heather in the living room. Heather asks her why she didn't use her slop pass. Can't you use it now? Sarah says no she can't use it now this week since she already said she wasn't going to use it. Sarah says that she is like a hoarder and doesn't like to let things go. She says its also like a little club. She says she honestly forgot how hard it was to be on slop.
11:50am Arlie, Sarah, Jon, Kenny, Adel, Neda, Sabrina and Rachelle are all out in the hot tub room talking about the slop. They comment on how this batch of slop isn't that bad. Arlie talks about wanting to put dish soap or bubble bath in the hot tub and turn the jets on to make suds everywhere. The conversation turns to talking about rappers.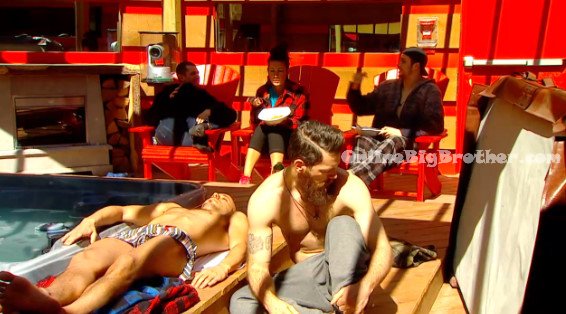 Stay connected and interact with other Big Brother Fans on our Facebook page.
And Follow: @BigBspoilers and @Dawgsbigbrother on Twitter for the most up to date spoilers.
If you're enjoying the live feed updates this season, please consider donating. Simon and I work 24/7 all season long to keep you updated on everything that happens inside the BBCAN house. Any amount is greatly appreciated! Your donations go directly to paying the server and bandwidth fees required to run this site.