POV Holder:
Kenny
Next POV
?
POV Used
?
POV Ceremony
April 7
HOH Winner:
Heather
Next HOH:
Apr 10
Original Nominations:
Kenny & Allison
Current Nominations:
?
Have Nots
Sarah (didn't use slop pass), Kenny, Rachelle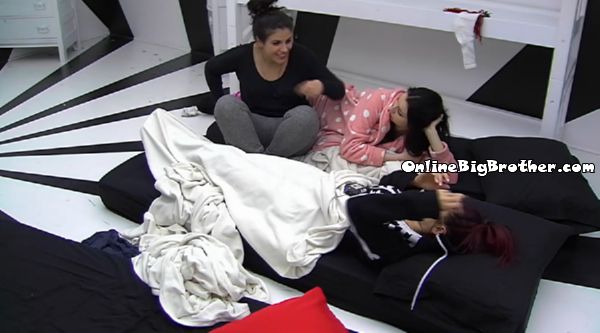 2:00AM Have nots Gremlins Kenny and Sarah
Talking about how stupid the other side is… (Well more than that.. ;) )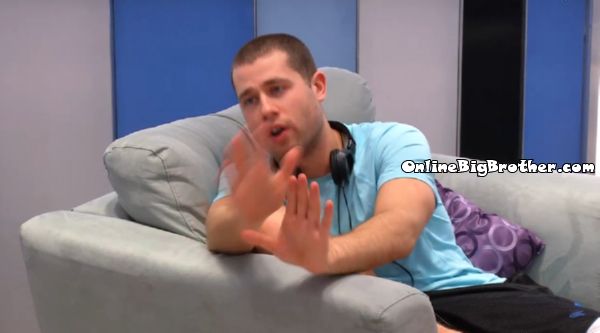 2:00AM Arlie and Heather
Arlie says he's gone to talk to Allison trying to bring her in one the down low.
Arlie says he's going to expose himself soon because the other side is over. Arlie says he's close to momzi but lately he's realized that she is way too close to Kenny and there is nowhere for him.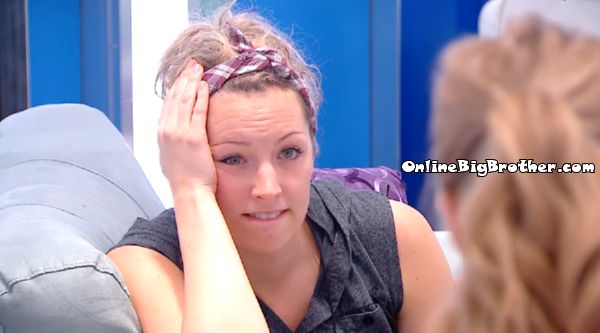 2:03AM HOH Heather and Allison
Heather tells her that the person she is putting up as the replacement is the target and they are going home 110%
Allison says it's tough to walk around the house and pretend to be "Bummed as f***"
Allison says she will 100% work with Heather and Arlie, "OH MY GOD this is blowing my mind.. my brain is racing.. I don't know what your plan is moving forward. "
heather asks her to trust her..
Allison says Andrew is not going to believe this.
Heather – "So tomorrow Sarah is going up"
Allison – "You know what Andrew said before he left the house.. stick with Alrie he'll take care of you"
Heather is happy, Allison says she will still be hanging out with the girls so they don't get suspicious.Allison says she was pretty close to throwing Sabrina under the bus. Heather wanted to make a big move and change the balance of power in the house she doesn't think Sabrina holds much influence because all her lieing is known.
Allison says kenny and Sabrina do not get along so by getting rid of Sarah breaks up a strong pair.
Allison – "I love you.. I knew it was a good idea to come in here and be nice to you" Allison tells her when she cam into the house the gremlins would say a lot of mean things about her. Allison claims to not have listened and didn't conform to the rest of the girls. Heather says Allison has to protect herself if she's going to hang out with the gremlins. Heather has heard things that they have said about Allison behind her back and it;s not nice. Heather won't repeated it.
Heather says Sabrina is a sinking ship..
Allison mentions that the side of the house she is with (In air quotes) ha been lieing to her for some time. She adds that everyone is cracking Sabrina and Rachelle were ready to turn on Sarah. Heather mentions Rachelle coming up to her after the POV and saying she's the deciding vote this week and she still holds power in the house.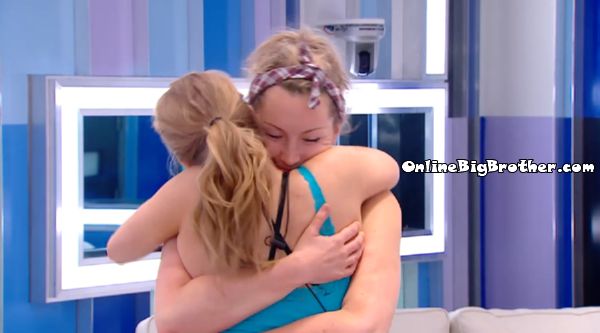 2:20AM Arlie, Jon, Heather and Neda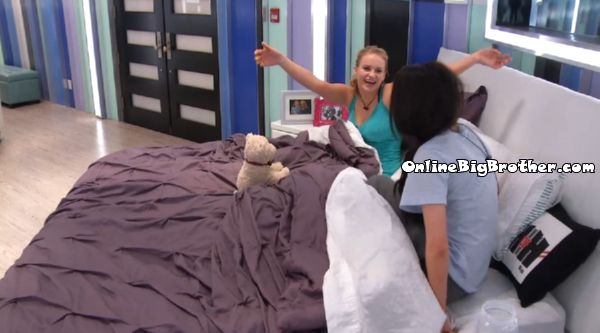 2:31AM HOH Neda and Heather
neda says she kinda knows what is going on from the bits and pieces from the boys. Neda thinks when Sarah goes Kenny will be pissed and come after JOn and her.
Heather says they are still 100% with their core alliance everyone else is just their for numbers. Heather thinks it's sucks because she likes Allison.
Heather says it's pretty ridiculous that the other side wanted her to put up Jon.
They have a laugh about Sabrina walking around all day "Am I getting backdoored … Am I getting backordered" Neda – "She thinks she's a mastermind.. why would you waste time on her". They both agree Sabrina really has no influence anymore.
Heather says that Sarah was the one spreading lies about Jon, It was Sarah that spread the rumor Jon said Allison was going to be like Liza and try to hook up with all the guys.
Neda thinks they should all sit Allison down and fill her in on all the Bullsh1t Sabrian would say about Allison. Neda brings up how Sabrina was saying that Allison was cheating on her boyfriend.
Heather- I Hate her so much
Neda – I never knew Sarah was such a liar.
They start ranting about Andrew and what a douche bag he was.. Heather mentions how Kenny all of a sudden wanted to "Work" with her now that she won the HOH, Heather says it's obvious he really doesn't want to work with her.
Neda says they have to continue acting really stupid around the boys. NEda wants to go to the end with Heather.
Neda – 'We're so close Heather.. we just have to keep winning.. "

(Video coming.. It's long)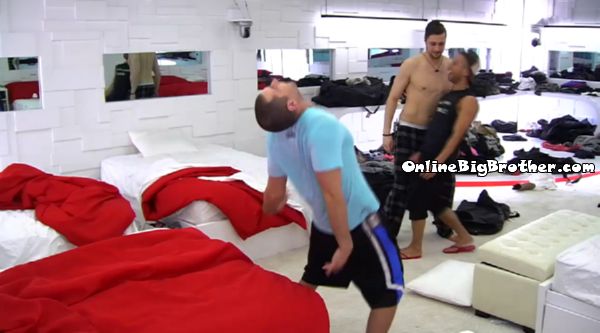 2:34pm Arlie, Jon and Adel celebrating
Jon says Sabrina is going to be the most entertaining person to watch outside the house, she goes to all the conversations spreading stories and combining them into new conversations.
Arlie tells them he's going to be in secret next week just incase Kenny wins HOH he'll put up Adel and JON. If POV is played Arlie won't go up and they will still have the numbers to save the other guy.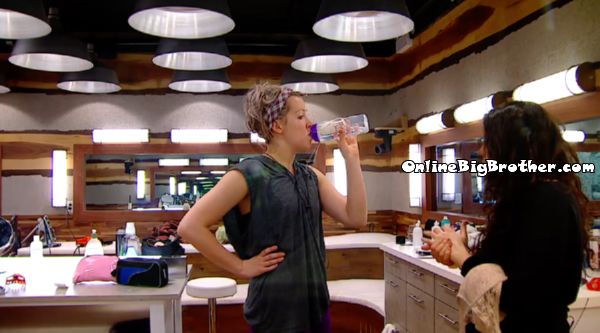 2:56am Allison and Sabrina Bathroom
Sabrina says when she's with Allison she doesn't feel like she's in the game she feel chill. Allison says she feels the same way. Allison wonders who will be going up. Sabrina thinks they can still convince heather to put up Jon. Sabrain – "Tell her if she still wants to make a big move she can take out Jon.. but don't name names" Sabrina wonders if Sarah is going up. Allison doesn't think so says if heather had that planned she would have put Sarah up at first. Sabrina mentions how if Heather was breaking up couples she would try and break up Sabrain and Rachelle. Sabrina again wants Allison to pitch putting JOn up to Heather but not tell Heather it was Sabrina's idea.
(Allison doesn't give Sabrian any hints that she's working with Heather.)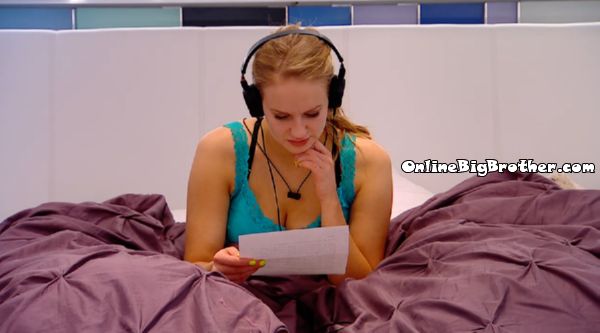 3:19AM Heather reads her letter one more time before bed
[polldaddy poll=7935497]