POV Holder:
Corey
POV Competition
Sept 3rd
POV Used
?
POV Ceremony
Sept 5th
HOH
Victor
Next HOH
Sept 8th
Original Nominations:
James AND Nat
After POV Nominations:
? AND ?
Have Nots
None
Watch the next week of the feeds for FREE – 1 week Trial!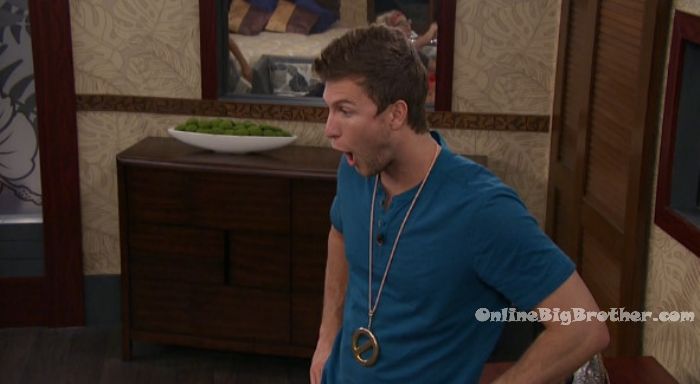 Power Of Veto Winner: Corey

9:15pm The live feeds return to all the house guests in the HOH room. It was a timed veto where they had to each compete individually. They talk about how Corey did the comp in 6 minutes. Corey says that was hard. Vic says dude gets to go to Atlanta! Behind the scenes! Paul says oh yeah right! Nicole tells Corey that she's very proud of him. I didn't think you were going to get it. I like when I'm surprised, like that. Corey asks are you serious? James asks why did it take so long. Nicole says Natalie had technical difficulties. Natalie and James leave. Paul, Vic, Corey and Nicole celebrate winning another comp. Corey says they know I'm not using it. Nicole would go up. Paul laughs that Nicole would go home. Paul asks what the longest time was? Corey says 30 minutes. The have pizza boxes with "Mac Is Back" (MacGyver) on them.

London bedroom – Nat tells James I'm surprised I got second place. James says see you're good at these comps. James says that he is going to tell Corey and Nicole to vote him out. Nat tells James to not campaign against himself. James says if I had won it I would it I would have used it on you. Nat says If I had won it I would have used it on you. James says it was nice knowing you. Nat says you're going to get blindsided, I'm going home.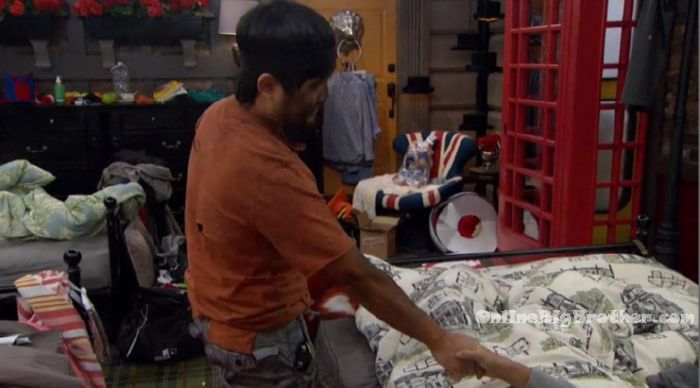 9:40pm Paul, Vic, Nicole and Corey are talking about the competition. Vic tells Corey you get to go behind the scenes. That's what you get for giving 5 G's. Corey says to Nicole is that not what I said when you give something you get something back.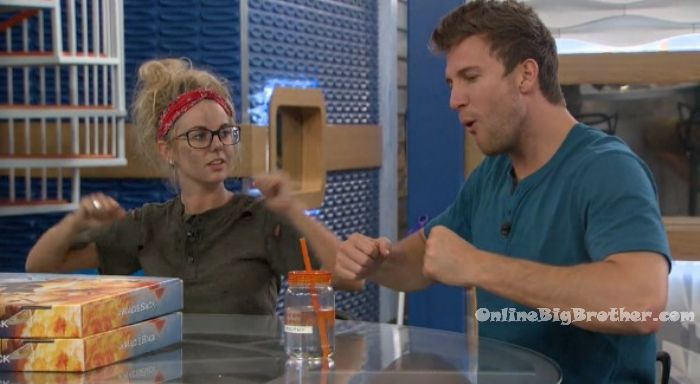 10:05pm – 10:35pm HOH room – Vic says okay lets discuss this. Paul says I don't know both of them suck. I want both of them gone right now. VIc says I want James gone. Paul says at the end of the day we want them both gone so it doesn't matter. Vic says but I want to make the right decision. Paul asks what are they better at? Nicole says James is good at endurance. They say Nat is too. Vic says James is smarter. Nicole disagrees. Vic says BB storm watch. James studied less and he did better. Paul says no she threw it. She wanted us to go home. They both threw it. Nicole says I'll do whatever but Meech told me that Nat is a lot smarter than she thinks. Why would you brag about how dumb you are. She almost one the egg one, the black box and almost won the endurance. I will do whatever. She told me she won't do good in the days comp. Paul says of course she says that. She wants you to underestimate her. Nicole says which ever one stays we just need to bring home 2 wins that week. Vic says to be honest I would rather face Natalie. Paul asks what comp has James given you a run for your money. Vic says yeah in retrospect James hasn't given me a run for my money. Corey joins them and says lets just not tell them. Vic says lets go and pull the trigger on Natalie. Paul says James is NOT intelligent. Paul says I think we make it seem like James is going then blindside, blindside…and James isn't good in the HOH comp.
10:45pm – 11:30pm HOH room – Corey, Vic, Nicole and Paul talk about what to say in Nat's goodbye message. Vic says I guess the best player got the worst player out .. so I guess I wasted this HOH. Paul says that's a good one. Make sure you take of that armpit hair. I hope the only think that deflates is your ego. Crowned king as a d*ck head if I say that comment. Corey laughs. VIc says I feel like I do get to sh*t on her because she sh*t on me. You're disrespectful to all men. Paul says that would be amazing. Sh*t on her. Vic says she did try and make it right. Paul says she tried to make it right so she could turn around and f**k you dry. Vic says you just want me to hit her with a baseball bat and I'm not going to. Paul says I do. I do. There are nails in my baseball bat. I feed off this stuff. Nat it looks like you're street smart but just not big brother house smart.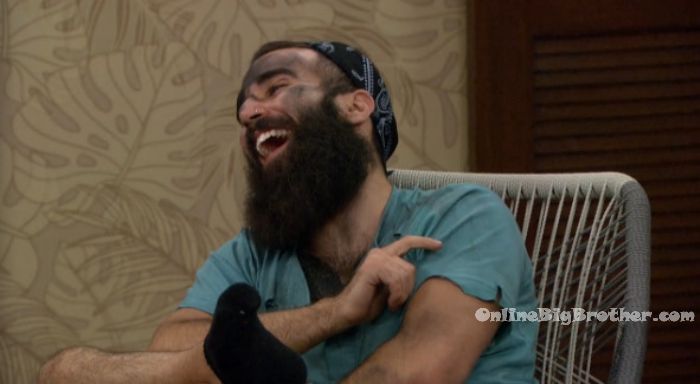 11:35pm Bedroom – Corey tells Nicole I am 1000% voting out Natalie. I don't care what Vic says.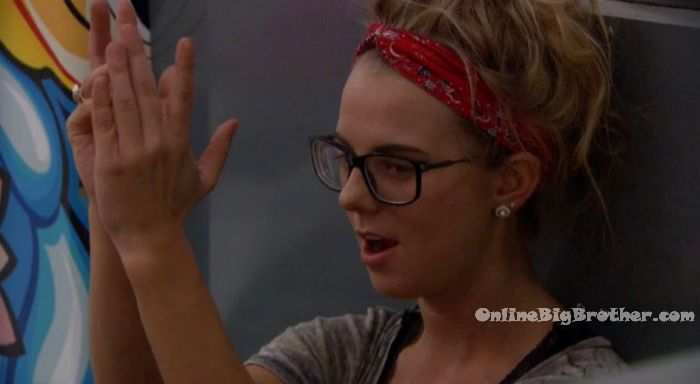 12am Kitchen – Vic and James in the kitchen talking about how you can make a birdhouse with two of the macgyver pizza boxed.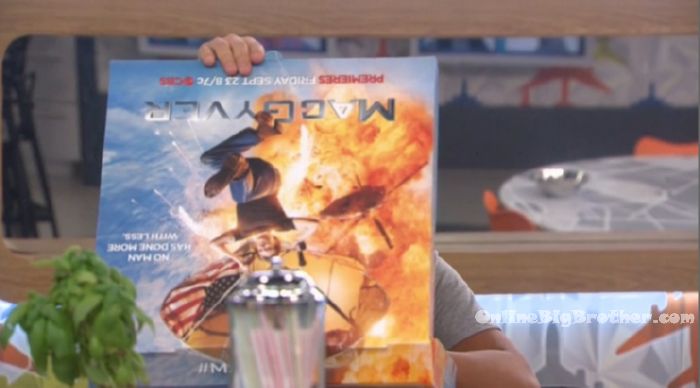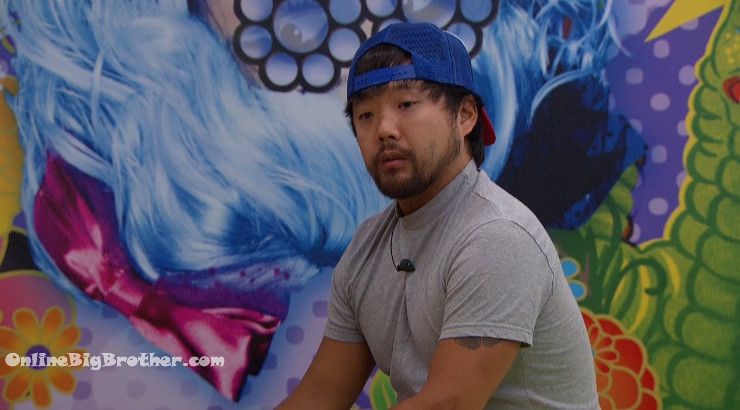 12:28am James and Corey Tokyo room
Corey – what are you up to
James – bull shitting..
James says Vic and PAul are in bed.
Corey – how's Nat doing
James – she's good
James – I told her hang out talk to people.. She said she wants to spend time..
Corey – totally cool..
Corey – what else you thinking of brah.. We haven't talked in awhile..
Jam es- whatever happens that opens this week.. I'm not really sweating it not a big deal for me..
Jam es- I love the game but I'm not going to the be the one that twists arms.
Corey – just let it play out man..
James- play out..
Corey – yeah just let it play out..
James – dude I think i'm going home man i'm the target
Corey – we'll see..
James- don't do that
Corey – what am I doing..
James- I'm already checking out.. You better not be doing crazy shit.
Corey – i'm doing nothing sticking to my guns
JAmes wants to get voted over Natalie
Corey – dude you better stop right now
Jam es says it's his fault she's up he voted Victor out
Corey says there was no way they would have known Victor coming back. Corey says Jame sis not responsible for Natalie going up.
James- I feel responsible
Corey – you shouldn't my brother one bit..
Jame s- I try to play this game pretty good with good intentions..
Corey -I know.. I've been on the same page as you..
Nicole comes back .. they start to chit chat about the season.
1:30am James, Nicole and James. chit chat about the season
Nicole – the showmances have made it far..
James- Paul and Victor are kinda a showmance..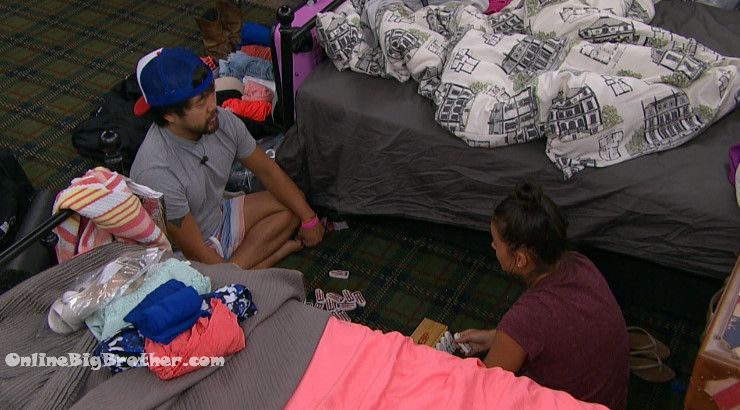 1:54am James and Natalie London Room
James- do you think Corey and Nicole will try to flip the votes on Victor..
Natalie – Yeah
James- thats a bold move cause Victor can't play there's literally nothing they can do it's 3 against 1..
Natalie – James I don't care.. I'm ready to go home..
Natalie – it would be a smart move cause you would be working with just them..
James- if you go to Jury and leave me here..
Natalie – Nicole and Corey are goign to vote to keep me here..
James- Victor wants me gone
Natalie – Corey and Nicole want you to stay
James- they are goign against Victor
Natalie – Victor's not playing if they keep you and you win you'll put Paul and Victor up is what they are thinking..
Natalie – Nicole would prefer to have you in this game over me.. I might be the target this week.. that's why they said I hope you pull yourself down.
James- they said I'm the target.. I think they are going to blindside Victor.
Natalie – you are the one that made me trust them but if you work with them it's your game but I won't talk to you.. they're the reason I'm going home and you are going to work with them.
Natalie actually tells him if he works with Nicoel and corey she won't speak to him again
Natalie – Corey and Nicole know if I stay they are goign on the block..
James wants to work with Nicole and Corey says they want him out.
Natalie – Corey and Nicole backstabbed us.. do whatever you want. They are going to use you to get to the top now they have 3 on their side..
James- if one of us leave we're in the middle of 2 sides..
Natalie tells him if he wins HOH he should put 1 from each side up, "Roulette.. player roulette"
Natalie says Corey and Nicole know she will work with Victor and Paul over them. Adds that they all know she apologized to Victor and Paul, "i know Paul was going to tell them"
Natalie – just let me know if you know that you are stating.. so IO can prepare for a great speech
James- they are not goign to tell me. IF this is a blindside they
Natalie – Nicole and Corey have played everyone out and you want to work with them..
James says he would never says he would stop talking to her based on a game move.
Natalie says if Corey and Nicole betray Victor and he keeps Victor safe Victor and Paul will start trusting JAmes.
Natalie says she takes it back about not taking to James, She will just not respect the game move James makes if it means teaming up with Nicole and Corey . Natalie says she trusted Victor and paul and they trusted her. She believed JAmes to work with Nicole and Corey and they got screwed over because of James' advice she's going home.
JAmes- that was really mean what you said .. well that was really mean..
Natalie – I'm sorry ..
JAmes- I will never say that to you
Natalie – I'm sorry I said it..