POV Holder:
Corey
POV Competition
Sept 3rd
POV Used
?
POV Ceremony
Sept 5th
HOH
Victor
Next HOH
Sept 8th
Original Nominations:
James AND Nat
After POV Nominations:
? AND ?
Have Nots
None
Watch the next week of the feeds for FREE – 1 week Trial!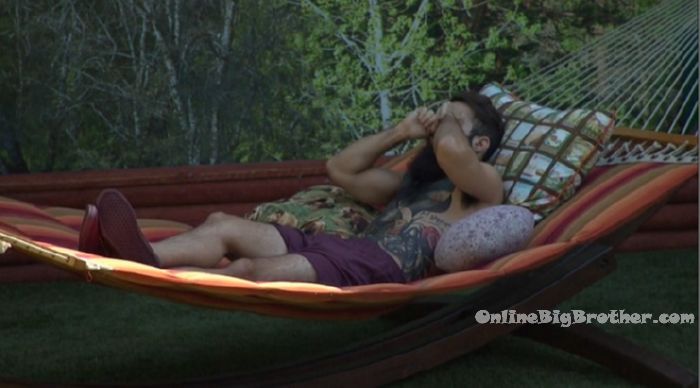 10:50am Big Brother wakes up the house guests. Paul and Vic head out to the backyard. They lower the awnings. Paul says that girl man! F**K THAT GIRL! Vic says I know! That demeener. Sh*tty attitude. Paul says James is under the impression that he is going and has a good attitude about it. Her .. she thinks she is staying and she's being a c**t. Super co*ky! So we keep him under the impression that he is leaving ..send her a$$ home. Everyone sh*ts their pants. Vic says the jury will be like what?! You had the chance to send James home and you sent Nat home?! Paul says I'm really going to let her know in her goodbye what kind of person she is..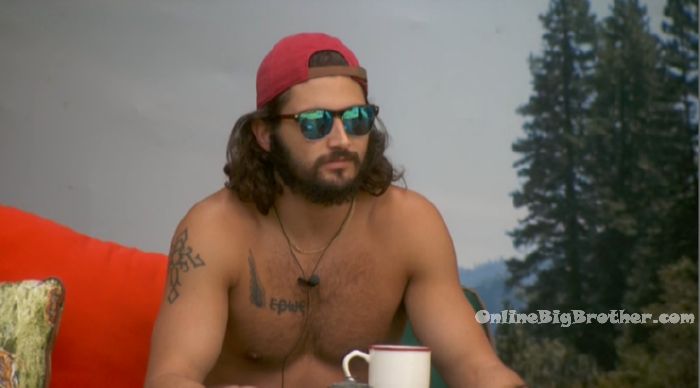 11:50am Backyard – Vic and Paul are talking. Nat joins them. Nat says I'm here to campaign. I want you guys to vote me out. I want James to stay. If I had won the veto I was going to use it on James. He's helped me out in the game a lot. Paul says Fools on drugs! Nat says you know what it is, he's my best friend in the house. I'm going to ask Corey too. I feel like my game is done. If he goes I would be alone and be going out next, so I would rather hang out in the jury out. Vic says I've made it clear James is my target. Nat says get me out first. I know James is your target. Vic says I would have to think about it. Paul says I respect it but why wouldn't you give it a shot. Nat says If I stayed I would fight. I'm a fighter. I would not give up. Nat says think about it. I'm prepared to stay and I'm prepared to go. What are you thoughts. Vic says I wasn't expecting to have this conversation. Paul says this isn't Romeo and Juliet. You're not dying. Paul asks are you going to go balls to the wall? Nat asks what does that mean? Paul says go hard. Nat says yeah if I stayed. Nat goes inside. Vic says to Paul … get the f**k out of here. Paul says reverse psychology. As if its her decision to go. If she does go home America will be like what a heroic move. Vic says America do not buy into this. Paul says she says it sucks being on the block against your best friend. Vic says yeah I have NO idea what that feels like. Paul says she must think we are f**king morons.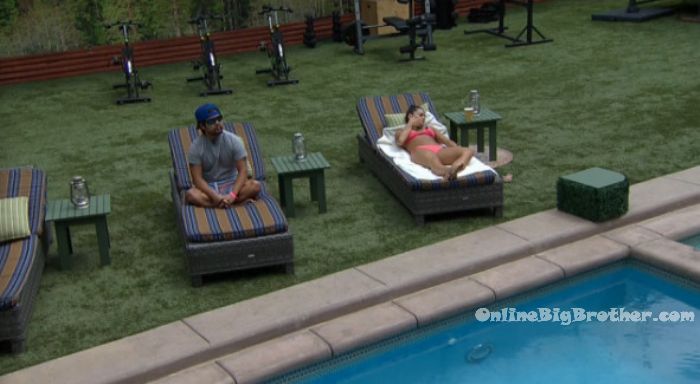 12pm Nat comes out into the backyard to suntan. James tells Nat that he didn't meant to make her upset. You woke up in a good mood. Nat says yeah and now I'm in a bad mood. Nat says you said it pisses me off. And now I'm in a bad mood. Everything I do is wrong. James says I just don't understand the little things. Like when people like each other. It doesn't even cross my mind. Nat says you know I don't like affection on TV. James says I literally just placed my hand on your knee. Nat says at 3am?! When I'm sleeping! James says you had your leg on me. Nat says I was sleeping. I can't even defend myself. I'm not doing this any more. James says and then last night you said you would never talk to me again. Nat says James lets just be friends. James says that's not the first time you've said that to me. Nat says okay, I'm sorry! Dude I campaigned to keep you. I'm going. You'll never have to see me again. James sits there in silence and then gets up and says thanks for campaigning. James heads inside.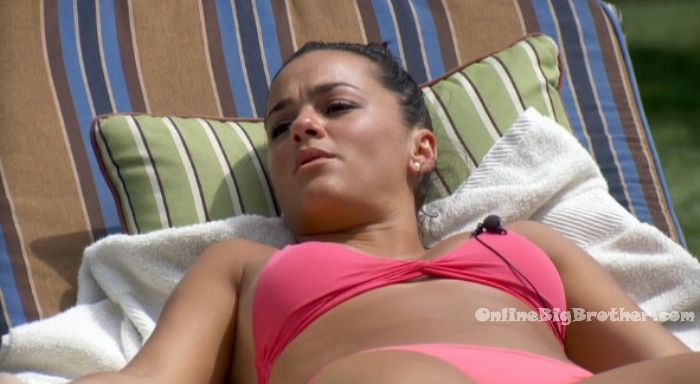 1:15pm – 1:40pm London Bedroom – Nat goes inside and asks James if they are really going to fight their last week. James says no. Nat says I just want to have a happy week. I woke up in a really good mood. I didn't know I wiped your hand off of me. Can we just have a really good day. I really like you. Nat says my emotions go crazy in this house. I'm never going to stop talking to you. I apologize for saying that last night. I don't want to have a bad week with you. James says I don't want to either. I've been trying to hold us together for a long time and you literally slapped me in the face. Nat explains how she doesn't like affection on tv. Especially after how Paulie and Z had s*x in here .. I don't want to be looked at like that. Nat says I would be happy either way. James says same. Nat says I don't want it to look like I'm promiscuous. James says I wish I could ease your mind. We'll probably be hashtagged as the old couples. Sleeping in different beds.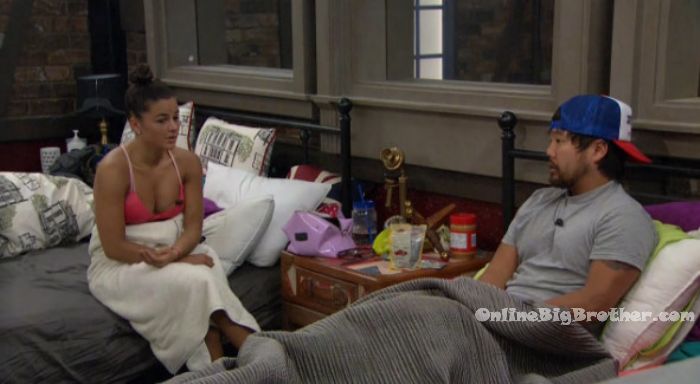 Watch the last month of the feeds for ONLY $5.99! Try it FREE for 1 week!
1:35pm – 1:50pm Paul tells Vic that she (Nat) is a bigger threat than people think she is. She needs to go. Vic says I'm down with that. They agree to not tell them who is going. Corey joins them. Paul says she said she wants to go home over him. Corey says he told me he wanted her to stay over him. Paul says she kept asking where our heads were at and we were like no. Corey says says he was saying he wanted to go home over her. Corey says it makes me mad that they're both doing that. Vic says before the veto she was saying she is in this situation because of him. And now she's saying she would have used the veto on him?! Corey says we might need to sh*t on him in our goodbyes. Paul says Oh I'm already doing it. They talk about who they will make James think he is done so that he clocks out and doesn't study… so he won't be prepared for the HOH. Nicole joins them. Vic tells her that they got a fresh batch of bullsh*t this morning. He then tells Nicole about their conversation with Nat. She was the one that put us on the block together and then she tells us it sucks to be on the block with her best friend!?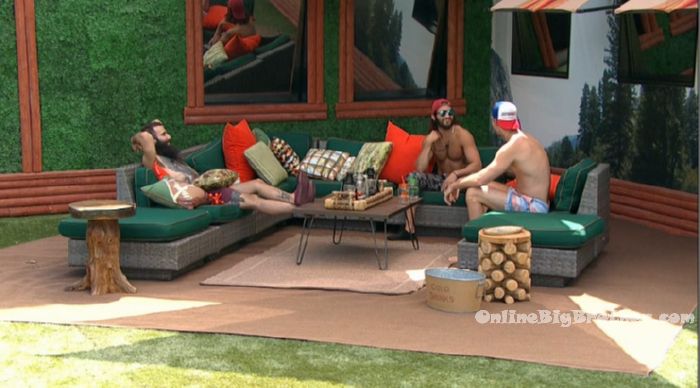 2:10pm James and Nat head outside to suntan. Nat says if I stay, I would work with Paul and Vic and if you stay you would work with Corey or Nicole. James says I could work with Paul and Vic. Nat says if Nicole or Corey win HOH you would have to work with them. You have to work with whoever is in power. Pretend they didn't betray us. Meanwhile – Vic, Nicole and Corey are making lunch. Nat says just let me know if you know. James says its better for their game to not tell us.
[polldaddy poll=9511194]
[polldaddy poll=9512103]
Show your support by making a donation.
Donations support this site more than anything. If you dig our spoilers please find a way to support us.