Head of Household Winner – Cliff
Have note are: Tommy, Christie, Jackson, Kat
Nominations are: Jack and Jackson
Power of Veto Players are – Cliff, Jack, Jackson, Sis, Sam, Kat
Powers in the game
Jack – Chaos
After chips have been drawn for a Veto player draw, Jack could force a re-draw for the players. This power could only be used once and is able to be used until there are six players left in the game.
Christie – Panic
At any of the next four Power of Veto Ceremonies, Christie can turn the Golden Power of Veto into the Diamond Power of Veto and allow the current veto holder pull someone off the nomination block, but instead of the Head of Household naming the replacement nominee, the veto holder names the replacement.
Grab your live feeds —-> BB21 Live Feeds Subscription Link
Rank your houseguests —-> Big Brother 21 Ranking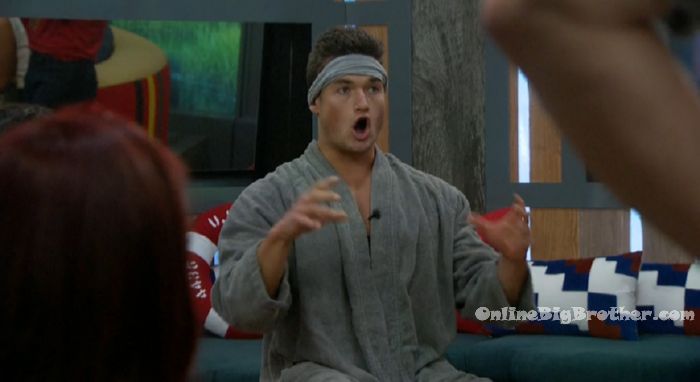 Power Of Veto Players: Cliff, Jack, Jackson, Sis, Sam, Kat
Power of Veto WINNER: Jackson
12:50pm – 4:18pm Big Brother blocked the feeds for the Power of veto competition.
The house guests are all in the living room talking about the power of veto competition. Jackson – every second counts as 30 seconds. If you take all three buttons off every second is 1 minute. And you have to take all three off because you have to turn and push this button that's in the water. You have to swim through the water. So every second is a full minute. Jackson explains how he completed the comp in the fastest time. I probably did everything I had to do in a minute real time. I'm playing chess not checkers!!! Lets GO!! Old boy did what I had to do!!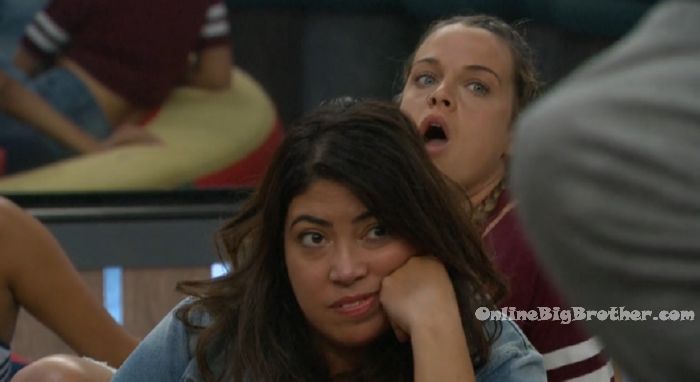 In the kitchen. Jack – Way to go dude! Way to crush that! I came in dead last, not sure if you knew that. Great work though. Jack – don't rely on nobody. Jackson – made my bed, got to lay in it. I would do it all over again. I ain't talking to nobody! Jack – yeah you don't have to. You're off the block. Jack – I just have to be cool because I need votes. Jackson – no you don't Bella's going up. Girls got to go! You ain't going no where! That's how you play chess not checkers!

4:30pm – 4:45pm Bedroom. Jackson and Kat. Jackson – she's (Bella) going up! If Christie gives her power, I am putting Bella up on the block and I'm going to tell her this is a long time coming. I don't trust you as far as I can throw you. I came into this week wanting to get HOH. I screwed up in the HOH and didn't win it. I am putting you up on the block like I said I would and I'm going to watch you walk out the front door. I am ready to kick start this horse. Lets play big brother! Kat – I hope you know that I was gunning to take you off. Jackson – high risk, high reward. I volunteered because I knew I could take myself off.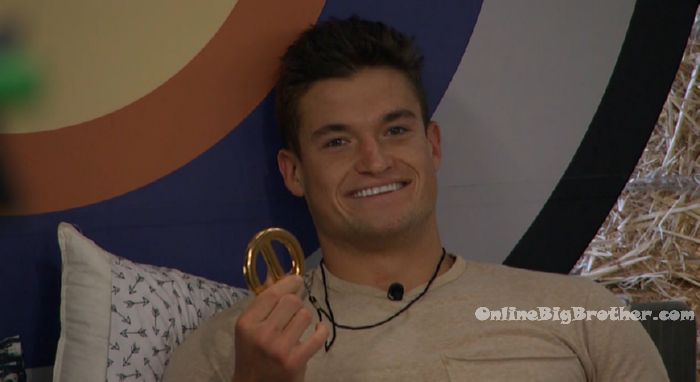 4:50pm Bedroom. Bella talks to Jackson. Bella – congratulations. Jackson – I did what I had to do. Jackson then explains what they competition was like.
Storage room. Christie and Tommy. Christie – It is forcing me to pick a side. I have to talk to Cliff and see if I left it alone who he would put up. I know they're all celebrating thinking I am going to use it. Would any of them use it on me? I don't want Jack to go home. I really don't want him to go home. Tommy – but you have to do what's best for your game. Christie – but would any of them use their saving grace in the game on me? Tommy – I feel like the position you're in you have to look at the pros and cons and its not going to be does this directly help me.. Christie – do I trust them to protect me the next few weeks in this game? Do I trust that they're all going to have my back forever now? What if I put her (Bella) up and she doesn't go home? (If she used her power it would be Jackson (veto holder) who would nominate the replacement) I just want to be alone. Tommy – do you want me to leave you alone too? Christie – no I want you there.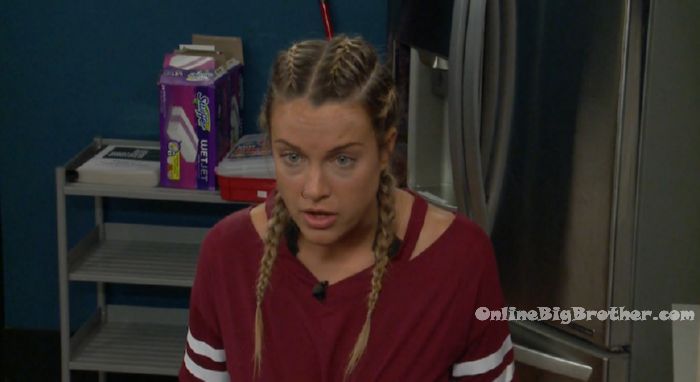 Boat room. Jack and Sis. Sis – this is good. Jack – yeah, as long as it was him or I. Sis – is Christie going to use her power? Jack – yes. If not she kind of sucks but I get it if she doesn't. Sis – she better. Jack – I think she will because she needs to guarantee that someone other than the six don't go up. If she doesn't use it she could go up. Sis – very true. He f**king did it fast!!! I don't know how he did it so fast. Kat joins them.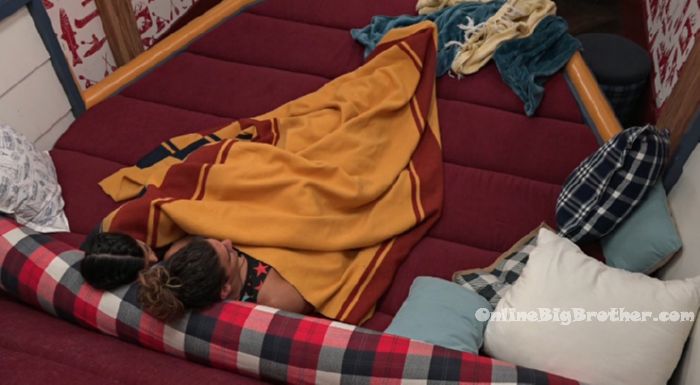 5:17pm Camp Comeback. Tommy, Christie, Kat and Jess. Christie – If I don't use it, who's going up? Tommy – it will be either me or Sis. Jess – I don't think that it would be you at all. Christie – I made it clear to Cliff that by not putting us up it shows some faith that his real target was Jack and that we are so liked that no one would vote us out. And if I don't use it, its going to be Tommy. Christie – and that to me is not right. If I do use it… like I want Bella gone. And to me it isn't even a matter of saving my boys because down the line I don't plan on going to final 6 with them. I will not win. If I go to final 6 with them, I will be the 6th person out. I know that. I am not going to final 6 with couples. My dream team would be us 4 .. maybe a Cliff, maybe a Nicole.. or if the boys are gone maybe a Sis. What it looks like to the house is that I am using it to save them.. I'm not.. I am using it to get a threat out. I'm scared that its going to look like I'm saving the boys and then have the house come after me.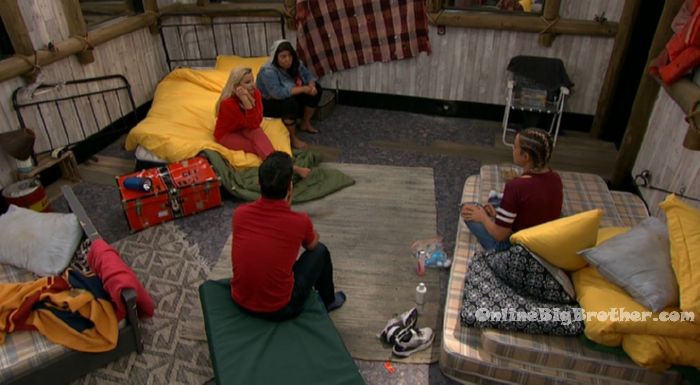 5:30pm Jackson and Jack. Jackson – I made a deal with you to go to final two and I'm going to do everything I can to stick to it. I don't care who I have to vote out. If Holly has to go, I'll vote her out. If Sis has to go, I'll vote her out. If Christie has to go .. you might not like it but I shook your hand and I'm sticking to it. I'm not letting Cliff, Nick or Bella stand in our way. Jack – I'm right there with you. We have the possibility of bring Christie and Tommy to a final 5ish with a spare leg out there flying out. Everyone else goes and we duke it out. Jackson – after this point every comp matters. We're going out there for survival. Cliff took a shot at the two biggest physical competitors in the game… and he done goofed! Jack – there's blood in the water. Jackson – he poked the bear .. you and me are the bear.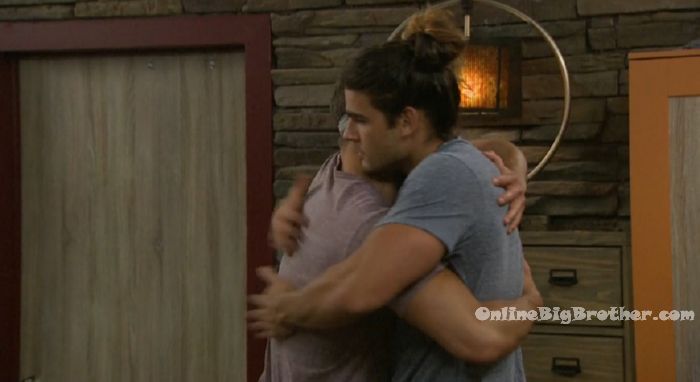 5:30pm – 5:40pm Camp Comeback room. Christie crying – if I use the power and she (Bella) still stays.. I am f**ked and I don't have that power to save me any more. Our two strong couples, would they use it on me? I am so torn like I want my people to stay. Things could go wrong. Bella could fight and convince people that we are strong .. and then Jack is gone anyway and Bella is here coming after me. Its a tough situation. No one asked Jackson to volunteer. He did that so he could win it and then hold it against me. And I love Jack ..but this is my game too .. I just don't know what to do. Kat – you just have to do what's best for your game. Christie – I don't want her (Bella) here.. evil can't win in my world. I don't expect him (Cliff) to put her up because he wants Jack gone. Jack joins them and the conversation ends. Christie – I came here to escape because I feel like everyone is looking at me. I feel like the weight of the world is on me.
Christie – I have to talk to Cliff and I am dreading it. Jackson – you don't have to. Christie – Yes, I do. I have to see what his plan is and if he supports mine. And is the whole house going to hate me. If I am going to use my power, put someone up and if that person stays then I am f**ked. Not only does my enemy stay and I don't have a power. There is a lot riding on this. Jackson – but at the end of the day the blood is on my hands. Christie – there's not blood on your hands.. yes there is but giving my defense up to a specific person to change what the HOH wanted and B put someone up that might not go home. We only have guaranteed 5 votes. Jackson – who I put up is on my shoulders. At the end of the day you're not picking who goes up. Whether its Bella, or Kat, or Jess or anyone going up… I am still giving away something that I won in this game to protect one side and someone from another side is going up. Am I f**king myself!? Jackson – lets give you your space. Christie – I want to know what Cliff wants and if he supports getting Bella out. Jack gets up and leaves. Christie – I just have to make sure that if I do this … Bella doesn't stay.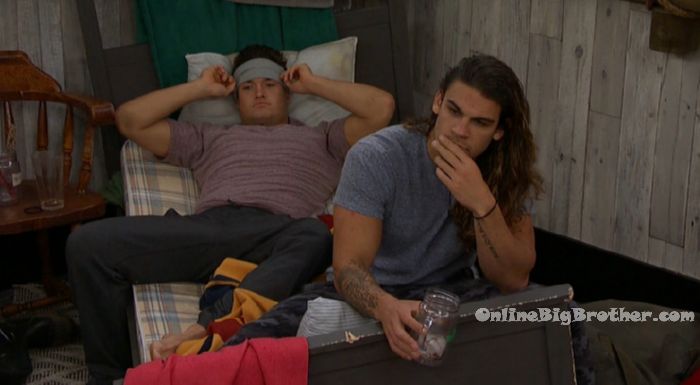 HOH room. Cliff, Bella and Sam. Sam – if Christie is telling me that she is working with me and Cliff .. and keeps saying she isn't going to use her diamond then she is obviously trust worth. But if she pulls out when we're about to have the meeting .. then that clearly shows the side and then that is over because then I will feel betrayed too. Cliff – if she doesn't use it I will probably put it up on Tommy. If she does, then it is out of my hands. I assume its you (Bella) or Nick. And then we need to depend on Nicole and Jess. Bella -if they put me up.. then I am going home. Sam – if they put you up, I think I would vote out Nick because he has looser lips than you do. Sam- if Christie uses the power that changes everything.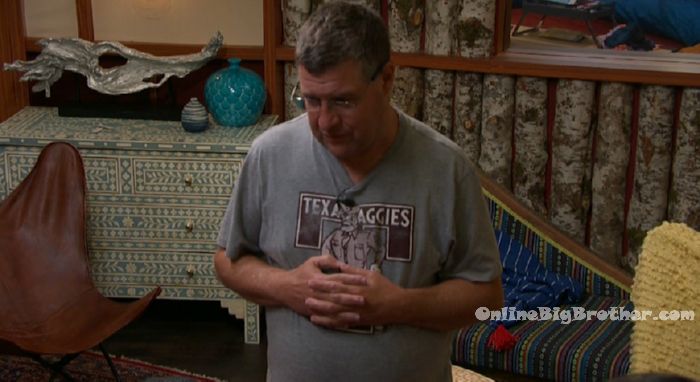 Become an OBB Member:
If you are one of the generous people that donate to help keep the updates coming, we're giving out a bit more this year. Check out this page for more details: OBB Members