Head of Household Winner – Cliff
Have note are: Tommy, Christie, Jackson, Kat
Nominations are: Jack and Jackson
Power of Veto Players are – Cliff, Jack, Jackson, Sis, Sam, Kat
Powers in the game
Jack – Chaos
After chips have been drawn for a Veto player draw, Jack could force a re-draw for the players. This power could only be used once and is able to be used until there are six players left in the game.
Christie – Panic
At any of the next four Power of Veto Ceremonies, Christie can turn the Golden Power of Veto into the Diamond Power of Veto and allow the current veto holder pull someone off the nomination block, but instead of the Head of Household naming the replacement nominee, the veto holder names the replacement.
Grab your live feeds —-> BB21 Live Feeds Subscription Link
Rank your houseguests —-> Big Brother 21 Ranking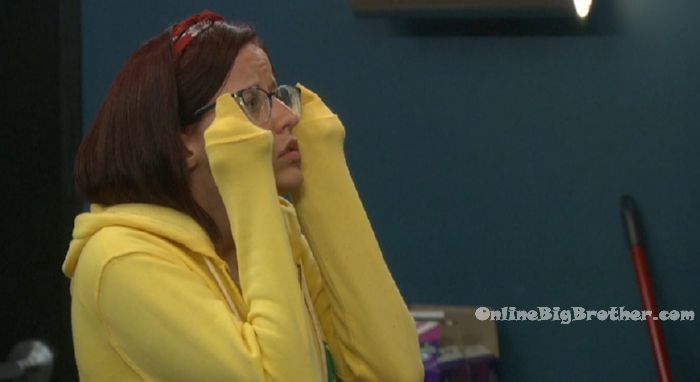 6:06pm Storage room. Christie and Nicole. Christie – everyone has their eye's on me and they're putting pressure on me. I'm so scared. Nicole – I didn't do any kind of math. And I have just been told by both sides that I am the deciding vote. So now I am flipping my sh*t! Christie – that you're the deciding vote? Nicole – where is Christie at? Where is your head at? Christie – so basically how I feel is that I won this power and it should be used for me. The thought of even using it at all is terrifying. Either A) I use it.. and the five people I voted with last week ..are happy and safe .. and the six stay here and we can move forward in this. Long term in this game, I am not going to a final 6 with them. I would be an idiot to go to the final 6 with two couples. Nicole – can I be honest with you.. I respect and love that you saved me and I am eternally grateful but I am number 7 or lower on the totem pole. So right now its game versus personal and right now ..personally I owe you.. and thank you. But game-wise don't take it personal but .. I don't know. Christie – I get it. I would be a f**king fool to go to a final 6 with them. My dream final 6 would be me, Tommy, Jess, Kat, ..potentially you and Cliff. Christie – I don't want to go to 6 with them. I don't even want to go to 8 with them. I think that Nick and Bella need to go. I think that Jackson needs to go. I think that Holly needs to go. I think that Sam needs to go. I want to go with people that are solid, make good decisions and aren't mean and aren't here to f**k people over I want Bella gone! I want her out! I want to use my power and get her out but if I do that it becomes a numbers game and then it looks like I'm protecting the 6. If it was just Michie up there I would have no problem not using it. Nicole – if you don't use it.. who would go up? Christie – I think Tommy would go up. Christie starts crying again. Christie – I need to talk to Cliff. Nicole – Cliff respects you and Tommy.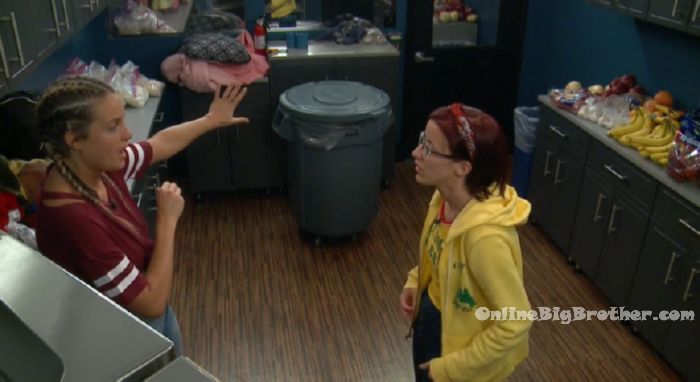 Christie tells Cliff that she wants to talk to him. Cliff we can talk but I am not pushing for anything. You have to play your game.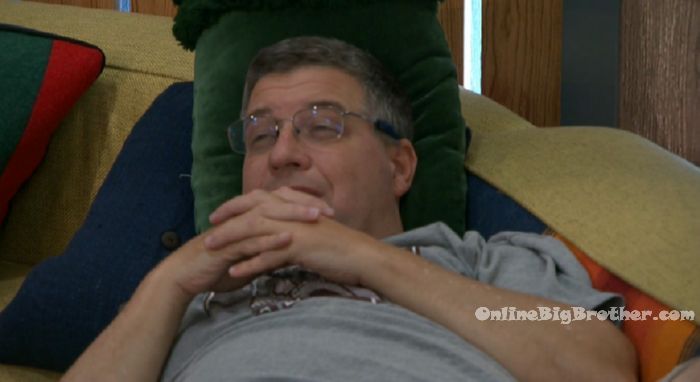 6:30pm Bedroom. Christie, Jack, Kat and Sis. Christie – I went upstairs because I wanted to be alone and I feel like Sam is following me everywhere. My only thing is that I need to be sure that the votes are there. Jack – I know. Christie – everyone knows that you're my ride or die. Christie starts crying. Everyone knows that.. I don't even hide that but you're the strongest person in this game. We are know in the house as the 6! Kat – AHHh.. 7! Jack – god damn I love you. Ah.. 7! Kat – I'm f**king with you. Christie – regardless if the most evil person is in this house we are still the 6 and that terrifies everyone. I need to make sure that if I'm using this power that my best friend stays and evil goes. Because if it doesn't work out that way I am f**ked! And then next week I go up and I don't have a power. Cliff even dislikes her (Bella). Everyone dislikes her. Nicole just came up to me shaking saying that she owes her entire game to us. She feels indebted to us. But we are the six and that makes her 7. And I thought she was a solid vote. So I need to talk to Cliff. I need to make sure that he fully shifts and supports this. Christie crying. Kat and Sis leave. Christie – I am not saying I am less loyal to Jackson but if you had won the veto this wouldn't even be an issue. I wouldn't care almost as much about him going. Sorry Kat! Kat – oh no. Tommy joins them. Christie – how do we convince Nicole that she isn't the 7th? Jack – we get all 6, Nicole and Kat in here.. Christie – you all had to get into f**king showmances! You couldn't f**king keep your d!cks in your pants! And you had to get into showmances and that's why we're in this position. Sorry but its true! Everyone says Christie you're going to be out 6th. They don't know that we have a final 3.. obviously I'm not going to tell them that.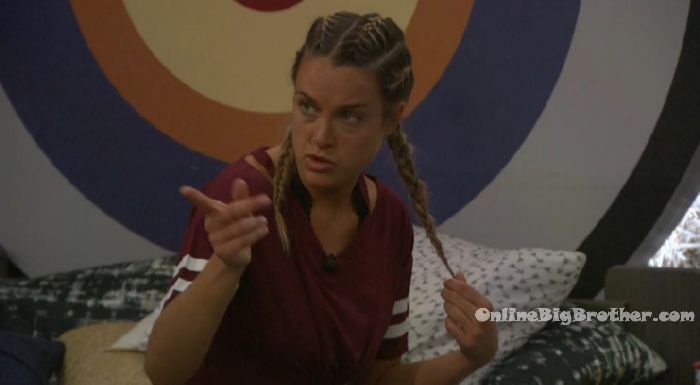 Jack and Tommy tell Christie that Kat is on board with them. Christie – Bella dropped my name yesterday .. she is coming for me. If Kat is on board, I will go in the DR tomorrow and activate my power. Christie – if I use this power .. will I be protected for the next two weeks. Jack – if you and I are on the block and I win veto .. I am taking you off. Christie – I wouldn't expect you to do that. Jack – that's what you're doing for me. Christie – it is .. okay I would expect you to do that. Jack – we gave Cliff 3 opportunities to not put up the six.. its better that he doesn't know you're using it.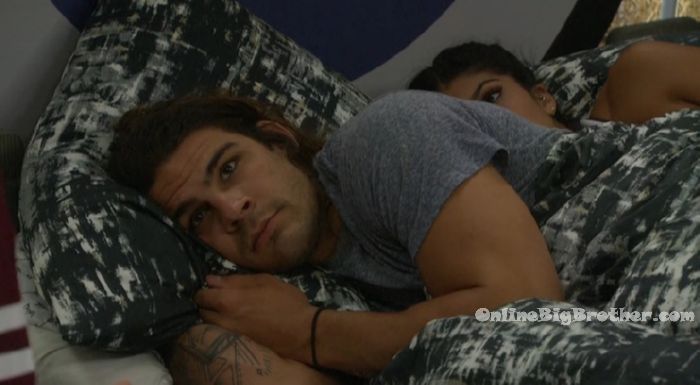 6:45pm Bathroom. Bella is crying. Nick is comforting her. Nick – if one of us goes up.. the other one buries them the next week. Bella – I don't really care about the game. Bella crying. Nick – its okay. I know it sucks and that's why I love you so much. Bella – it just sucks. Nick – I know it sucks. Let it out. Bella – crying is stupid.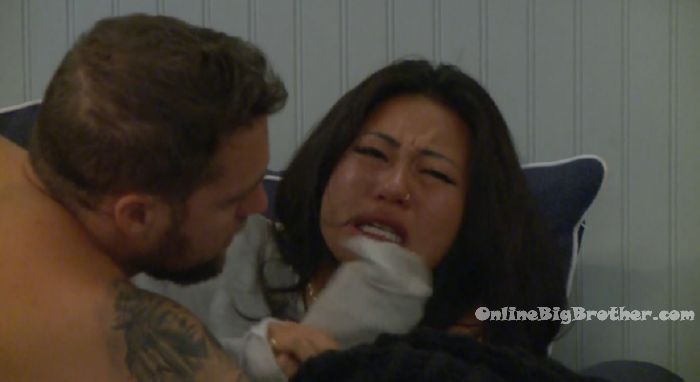 7:08pm – 7:30pm HOH room. Christie and Cliff.
Christie – I just wanted to talk to you because I feel like I have so many eyes on my and so many people expecting me to use my power. I'm the one that told people about it so I am not complaining. The only reason I told people about it was because I thought Nick was going to backdoor me last week. She explains why she thought Nick was going to put her up. He was being really sketching with me that morning. Christie – to be honest I love Sam. Sam is someones opinion I value. I think he is a good game player and I love Sam. I adore him. And Nick too without Bella in this game, he is fantastic too. I think that Bella is the corruptive one. I feel like he even knows that. Now its just numbers. Cliff – Bella told me before and said if you're will to with us we can keep you safe but you have to be willing to go up on the block several times as a pawn. I've got the power to get you to jury. Christie – because Bella constructed .. when we started this game Bella was part of an 8 with her being the leader of it. And who is she to tell you will be the power pawn. Cliff – from that point I never trusted her. Christie – I will not .. hand on the bible not go to a final 6 with couples. I am not an idiot. Cliff – I am glad you said that because I want one of you to win this thing. Christie – if I had a dream team it would be me, Tommy, you, Jess, Nicole.. IF I use my power .. the power is mine, I won it and I don't want to waste it. By me getting her out it is not to protect the boys as much as it is to get out an enemy. I fear that the people I value .. the Kats, the Nicole's, the Jess, the you.. will think that I am using it to protect the boys. I don't want her to get to jury. Cliff – if there was ever a bitter jury .. she is it. Christie – she would be the ring leader of it. Michie is pushing me to use it. And I fear if I don't Michie, Sis and Holly would be mad at me. Cliff – I have nothing to lose at this point.. obviously it was a big gut punch when it was four against me. I know Nick isn't protecting my game. As much as I .. Its not like I dislike him.. Bella is just a cancer. She's a lot like Kemi. I don't trust her. As much as I don't like working with them.. I was like they might be my route for right now. I feel you and Tommy are so trustworthy. Cliff talks about putting Jack and Jackson up and how they're a force. Christie – I would love to continue from this point on with Tommy, Jess, You, Nicole, Kat and Nick once Bella is gone. Cliff – a lot of people came in wanting me to turn on Nick and Bella. I didn't want to do it but I have a connection with Nick and didn't want to betray that with getting rid of Bella. Cliff – if there is a path that helps your game.. I am not stuck on anything. Its your game, its your power. Christie – I have until 11am Monday morning to activate it if I want to use it. If I do use it it is not to protect these boys.. it is to get out someone who is against me. And going forward you aren't my target. From what Jack and Jackson tell me you're not their target either, they are after Nick and Bella and probably Sam. You will never be put up by me. Cliff – if the power is not used .. you and Tommy will not be put up. If you had a preference between Holly or Sis .. I would listen to where you would like to direct where it goes. I swear to god you and Tommy will not be a replacement nominee. I don't have allegiances with Bella. Christie – going forward I do want the guys split up and the girls split up. Cliff – if you use the power and Bella goes .. I cheer it on.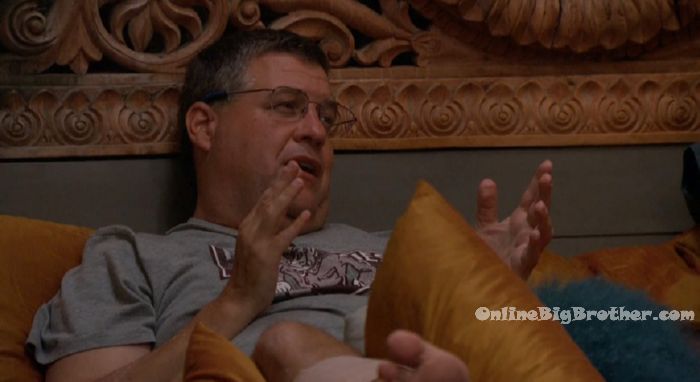 8:05pm – 8:15pm Bedroom. Jack and Jackson. Jack tells Jackson – in order to get Christie to use her power .. I pitched this idea ..we get Kat and Nicole in a room with me, you, Christie and Tommy. We say we were an 8.. people are concerned about the 6. Nicole is worried about the 6 and being at the bottom of the totem pole. Sam is going to walk in here. Just after that Sam and Holly walk in the room and the conversation ends. Sam and Holly leave. Jack continues to tell Jackson what he thinks they should pitch to Kat and Nicole to join them. We pitch that Bella, Nick, Sam and Cliff are the next targets. Jackson – FYI if I win HOH next week I am putting Cliff on the block. Jack – but you approve? With the 8? Jackson – absolutely. Jackson – okay, I will get Holly and Sis but they are with f**k face right now. Jackson – I love it. Jack – and we move forward with the 8. I think Kat is f**king dope! She's been much cooler and proven herself as a competition beast. Holly joins them and Jack tells her the plan about the 8. Holly questions if Nick should go before Bella. Jackson and Jack both say Bella needs to go first. Jack – Bella sucks .. get the f**k out of this house.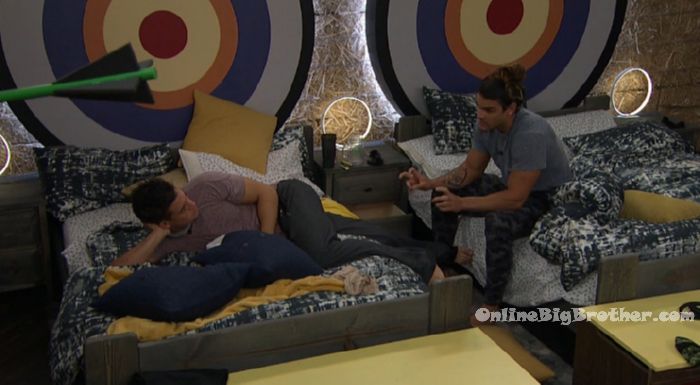 Become an OBB Member:
If you are one of the generous people that donate to help keep the updates coming, we're giving out a bit more this year. Check out this page for more details: OBB Members