POV Holder:
Steve
POV Competition
Aug 8th
POV Used
?
POV Ceremony
Aug 10th
HOH
Becky
Next HOH
Aug 13th
Original Nominations:
Shelli and Steve
After POV Nominations:
? and ?
Have Nots
Meg, James and Jackie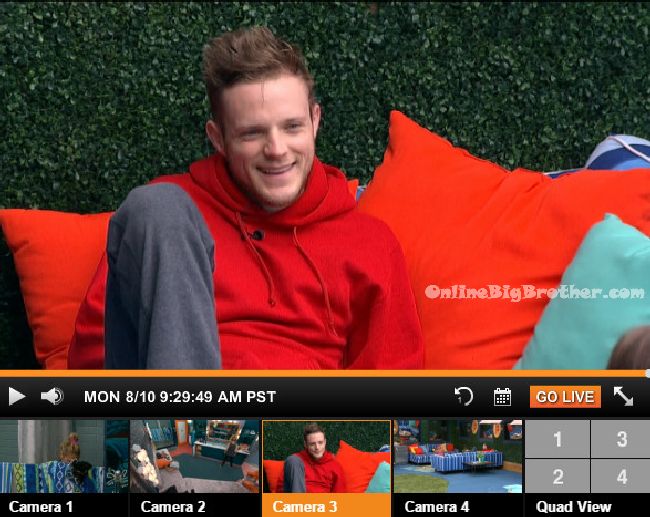 AFTER the veto meeting there are going to be fireworks: Watch the next week for FREE with the 7 day Trial!

9:15am Big Brother wakes up the house guests. Johnny says we'll just let this blow up and then see where everyone lies. Steve agrees. Becky comes out and Steve goes inside. Becky tells Johnny that Steve knows. I told him last night. Becky says Vanessa whole heartedly believes that I'm putting you on the block. She came to me after the veto and said that I wouldn't put you up because you were my person. I said Vanessa, don't worry. Three glasses of wine deep. Don't worry, you're always so paranoid. I said I don't feel like I'm putting Johnny Mac at risk. You only need 4 votes this week and I control Steve. That's not a vote I even have to ask for. I was like so without a doubt I have his vote. And she was like oh?! So guess who she started spending a lot of time with … STEVE! Johnny says she made my bed for me. Becky says I'm going to tell Austin. Becky asks Johnny to go ask Austin to come talk to me. They head inside.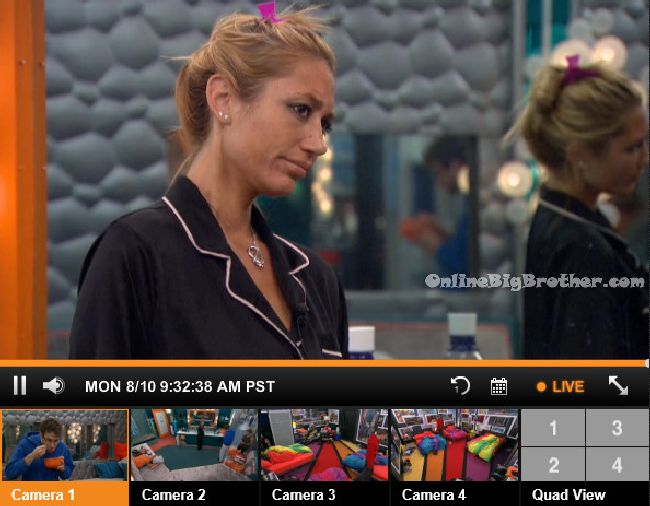 In the bathroom –
Steve comments that the veto meeting will be in 45 minutss. Vanessa says to Steve you stay up all night and you have no idea what's going on today? Steve says no. Vanessa asks are you sure? Steve says he doesn't know.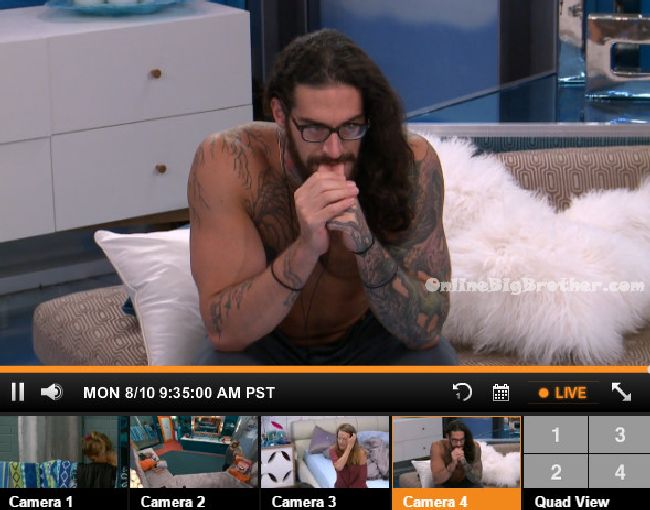 Watch the NEXT WEEK of the Live Feeds for FREE! It's going to be INSANE: 1 Week Trial
9:35am – 10am Austin comes up to the HOH room. Becky says just to tell you real fast I am putting up Vanessa. Austin asks oh you are? Becky starts telling Austin the reasons why. I caught her last week playing all sides of the house. She's really a chameleon. I have this theory she is trying to play all sides and isn't with anyone in the game. When she realized it was a cardio HOH comp she pulled me into a room and said you need to make sure everyone in your group follows this plan. She was panicking. Then she freaks out when I win. Telling me I need to make sure I follow the plan. She said she would raise hell in the jury house. Austin says I've seen that too and its worried me. Becky says she keeps telling me not to tell Shelli.. telling me that I owe here. I don't owe you sh*t. You put me on the block. Big brother blocks the feeds. Becky says I know that she might come back into the game. The first 4 people into jury might come back. This blood is on my hands. Austin says so you don't want Shelli out, Vanessa is the plan? Becky says it has been the plan. I see Shelli as someone that is trustworthy to have in the house. Becky asks are you upset at me? Austin says no, no no… I just want to make sure going into Double Eviction .. you still want to work with us. Becky says absolutely. Austin says so are you afraid of Vanessa blowing up your game? Becky says yes. Do you realize we feel we owe her? Both times she was HOH we were her target. You were her backdoor target and I was on the block. And we feel we owe here .. do you know how f**ked up that is. Becky says we don't need your votes. You can do what you want. Do what's best for you game. She might be coming back into the game. Do whats best for you and the twins. Austin says I'm going to keep it a secret and it doesn't change our double eviction status. What's the point of me coming up here going nuts. You have the votes and have a lot of points that I've been thinking about. Austin asks does Shelli know this is going down? Becky says no (Lie). Austin says after we will have to come up and pretend to demand answers. Becky says I'm going to keep my mouth shut. I don't care what she says. James, Meg and Jackie have their reasons why they don't like her. She is going to blow up my game but I don't care. I will take full responsibility of not wanting her here. I hope she doesn't blow up anyone else's game. Becky heads to the diary room. Austin says to himself… SH*T! What do I do!? I'm always put in these situations.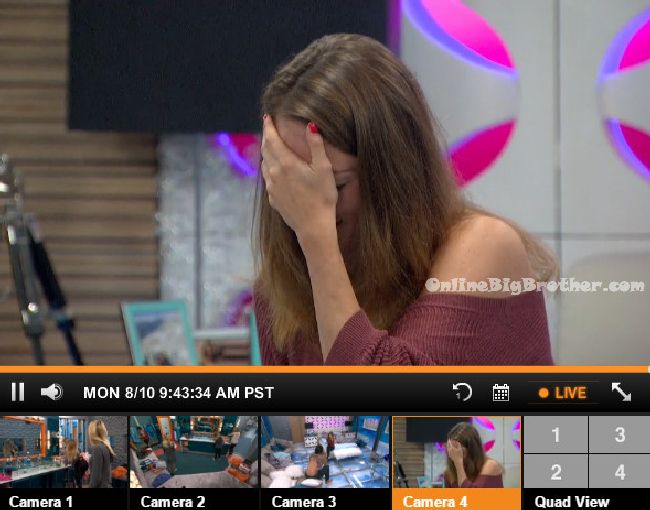 10am – 10:20am Austin tells Meg that Becky told me what's going on. I'm going to pretend I don't know anything. I know Vanessa is going to come hard at us. Meg says she is going to come hard at all of us. Johnny Mac has so many issues with her too so thats 4 votes (James, Meg, Jackie, Johnny Mac + Becky as the tie breaker). Austin says I want to help as much as I can, she tried to backdoor me. Meg says I think Shelli is going to be shocked too. The thing is I don't know where Vanessa would stand if she won double eviction. She is going to be coming after James like a crazy person. I think that whole meeting was the tipping point for her. Austin says that was bizarre that she (Vanessa) was hosting it. James joins them and Austin says I am just going to act surprised. James says that Steve just told me that she hit up him asking him if he knows anything. James says its the buddy system right now. Austin says I don't want to get cornered. James says If you get cornered you're f**Ked! Austin leaves. James says everything is going to plan. All we need to do is win. In the kitchen Austin tells Liz .. things are about to happen but not with us.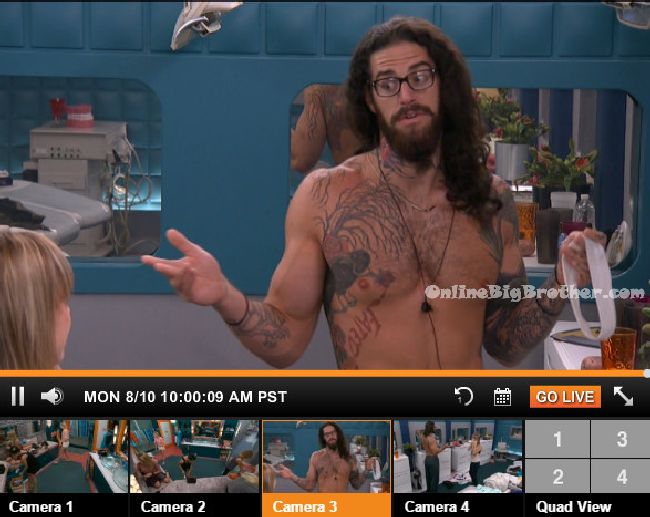 Austin tells Liz that Vanessa is going home. Liz says no she's not. Austin says yes. She is going up and Becky doesn't even what or need our votes. Johnny Mac is going to vote her out. She have the four votes.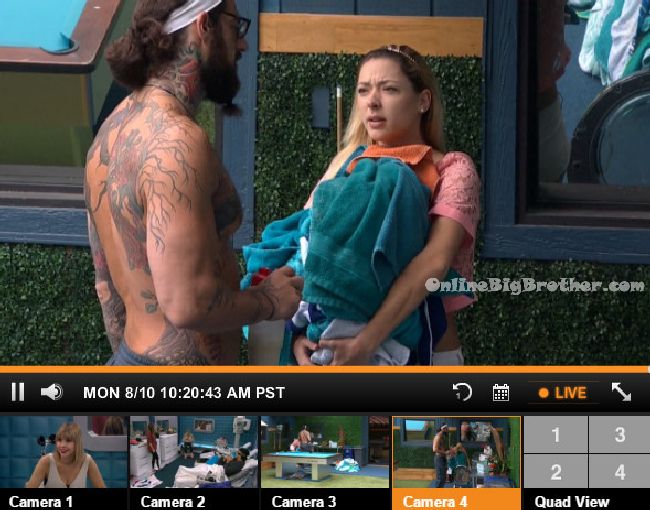 10:20am Big Brother blocks the feeds for the veto meeting.
[polldaddy poll=9015303]