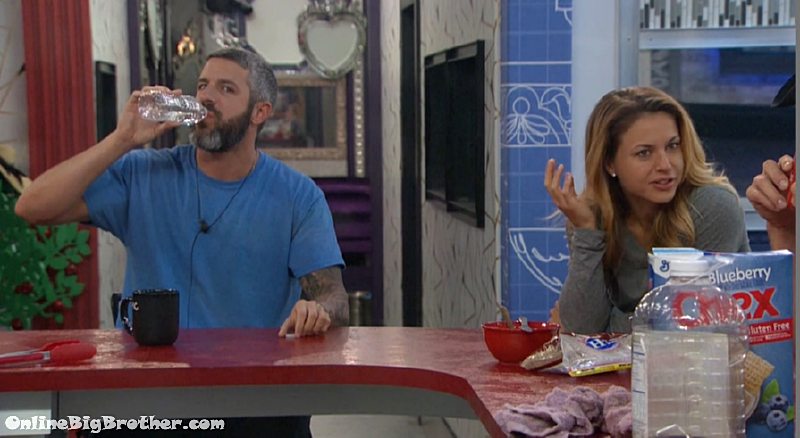 10:00am Xmas, Jason and Matt
Matt complains that the coffee maker is crap.
They're joking around..
Xmas – It's really like lord of the flies in here..
Matt – it's Elena's Birthday
Xmas – awwww Happy Birthday Elena.. I know we voted you out but we still wish you to have a wonderful birthday..
Xmas – just make that clear because other people we don't want to have a wonderful time..
Jason – like dumb a$$ (Cody)
Xmas – I hope they give you a cake.. no not a cake.. Ice Cream.. all your favorite Ice cream..
Matt wonders if there's an eviction on Sunday to balance the number out.
ZXmas – they're building something massive out there..
Matt says Cody is the worst player in the history of the game..
Xmas thinks Cody is a sociopath and a compulsive liar.
jason – and just a mean man not a nice man.
Jason – the kinda guy that hangs out in a group thinking he's the smartest, best looking and toughest. he doesn't talk abnd inject himself in every conversation..
Jason – zero social skills
Matt – you can't not care about people .. that's really shitty..
Matt goes on about how Cody has no class.
Matt says they've spent half the season trying to get Cody and Jessica out of the game.
Xmas – Jess thinks we did a poor job, we did an excellent job.
Matt – "His name might not be Cody"
Jason – Julie chen called him Cody
Matt – Lied about his age.. lied about his time in the military
Xmas going on about lying says she didn't lie about being an Athlete.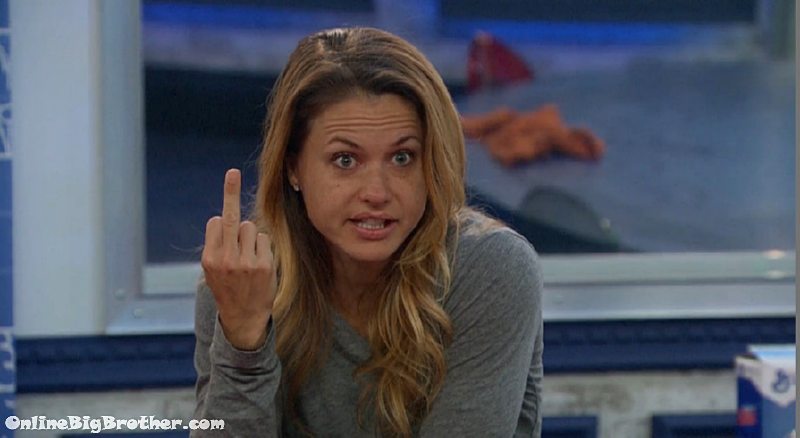 Xmas has a "Bone" for Cody
(FYI… for those taht care.. Jason is starting to use Josh's saying in a exaggerated tone "WHAT THE F*" mannerisms. So Josh is setting them this year. )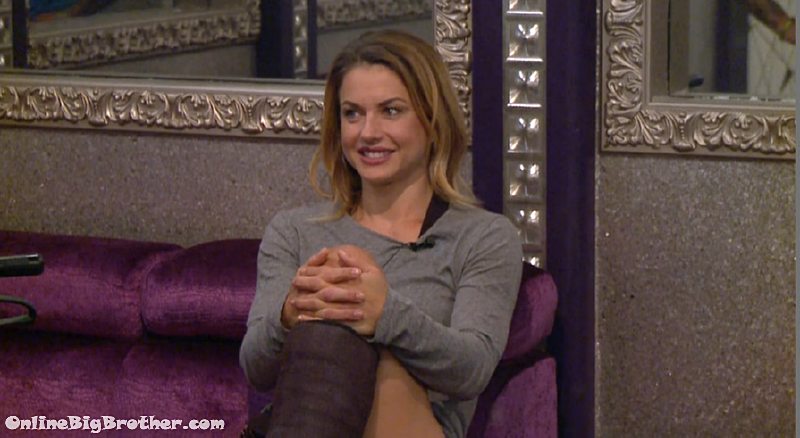 11:04am Xmas and Raven talking about seeing Derrick.
Xmas – it was Kinda cool.. a real person, cool.
Matt joins them.. Xmas laughs says it's nice to see matt with a change of Shirts.
Raven in her accent "he has other clothes i've seen them"
Xmas wants a fashion show..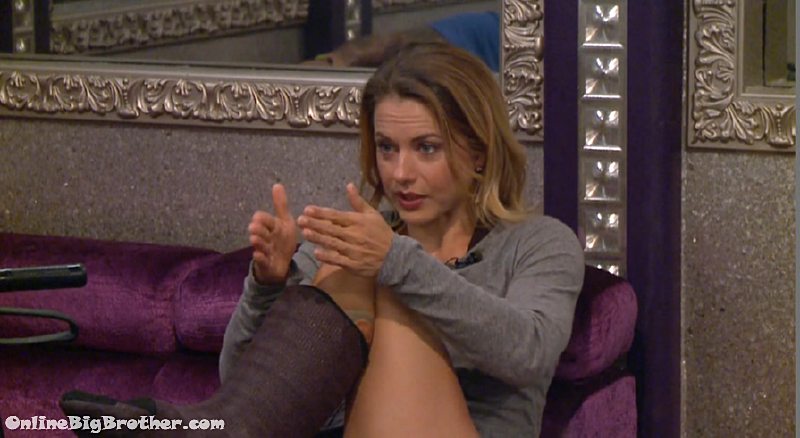 Xmas mentions How Jason was waiting to get the HOH Letter because he wanted to find out if his wife Holly was pregnant.
Xmas – it was so beautiful… what I can be a b1tch with a heart.. (Holley is Pregnant)
Xmas says she really wants "that family unit.. you work through it and you fight it out.. no more of this fairweather marriage f*ing sh1t.. "
Xmas – people are like you're 35 and not married.. for a long time I never found anyone that was worthy.. and when I found someone worthy the family situation wouldn't work..
Xmas – I know exactly what I want..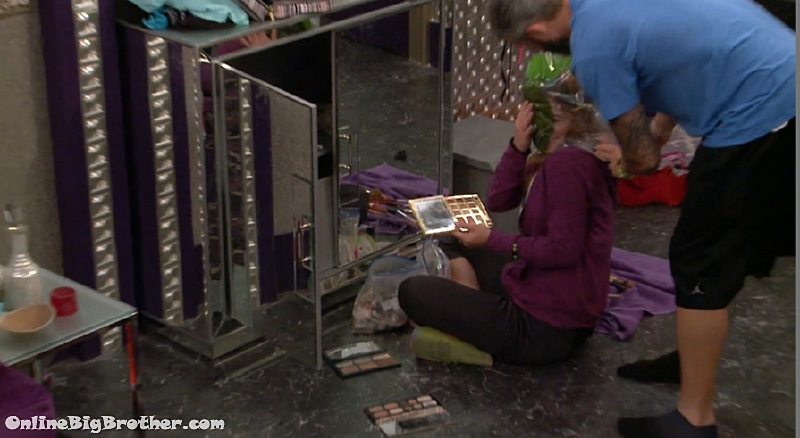 Matt tries to speed things up..
Why wait for Tomorrow #BB19 @DawgsBigBrother pic.twitter.com/2s0Y3SlEO5

— OnlineBigBrother.com (@bigbspoilers) August 19, 2017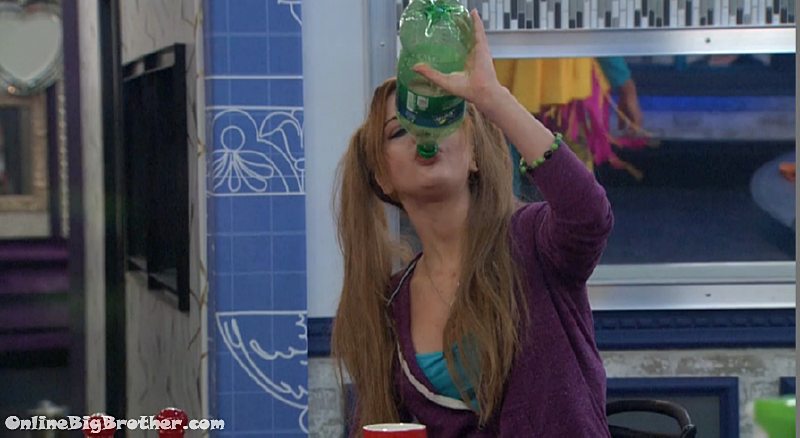 11:58am Raven has Breakfest.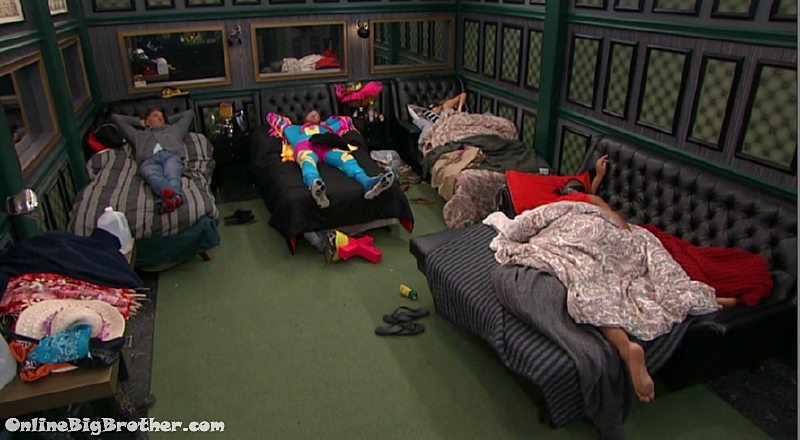 Noon… Alex, Kevin, Jason and Josh..
Josh is going on about the Rat they saw last night. Jason doesn't believe it.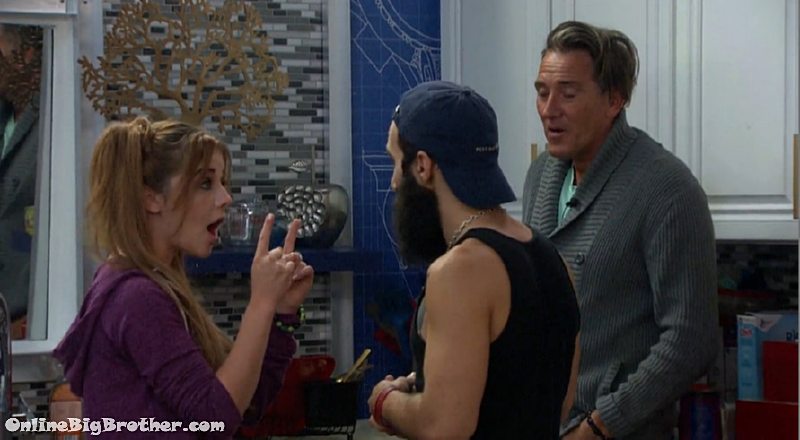 12:17pm
Kevin Mice means there's no rats.. rats means there's no mice..
Raven – his tail is like this long
Paul – rats are gross..
Paul swears to have seen a giant rat.
(Some houseguests think there's a rat in the house. Some don't)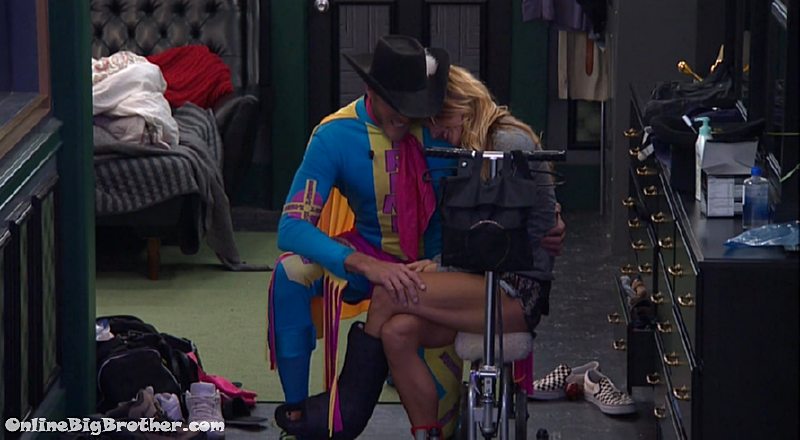 Xmas thinks there's a rat, says she say one on the TV screen.
Jason doesn't believe it says if there is one "it's mechanical"
(Q: How can you tell a guy is married in the Big brother 19 house? A: Xmas is either hanging off them or they're hanging off her)
People are going crazy about this rat. Josh shows us where is came out.
Xmas – 4 people have seen the rat
Jason still doesn't believe it was real.
Jason says they're getting paid to convince the house there's a rat.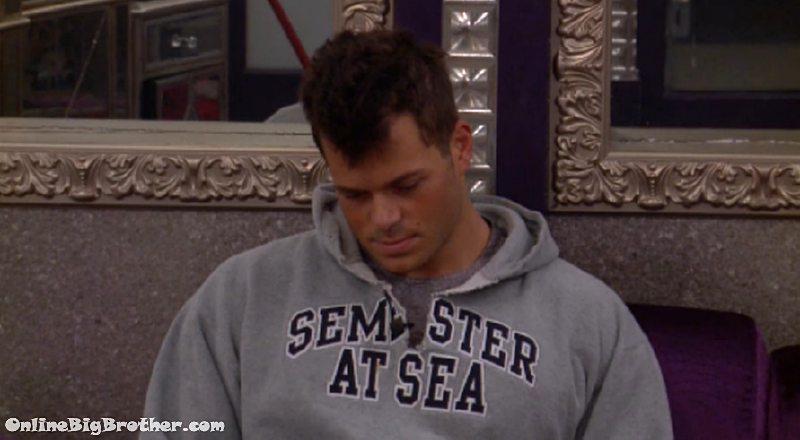 12:59pm POV players picked..
Christmas, Jason, Matt, Raven, Mark, Paul
Jason says the save a friend allows him to be safe from going on the block. (Paul has the Save a friend he got it from Mark. I don't know anything more than this)
1:06pm POwer whispering.. If Mark wins the Veto they're saying Matt will be the target.
Paul starts complaining about Kevin saying he's acting weird.. Paul goers on about how he's going to get under Kevin's skin.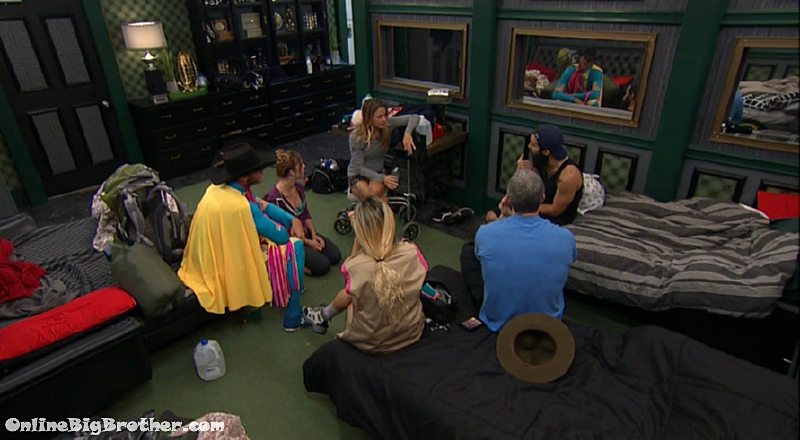 1:13pm Kevin and Christmas talking about Kevin…
1:22pm Alex, Paul and Christmas Alex says that Kevin knows Derrick in real life
Alex now saying that Kevin is a undercover cop that is why he knows Derrick.
Xmas says that is why he was close to Cody because they shared dangerous jobs,
Paul says if Kevin was a real gangster they would have killed Kevin's whole family for the things he said.. "Bury money in cash.. "
Now Paul claims to have criminal elements ion his family and they would never talk about it like Kevin does
Xmas leves. Paul says that Kevin is about to explode..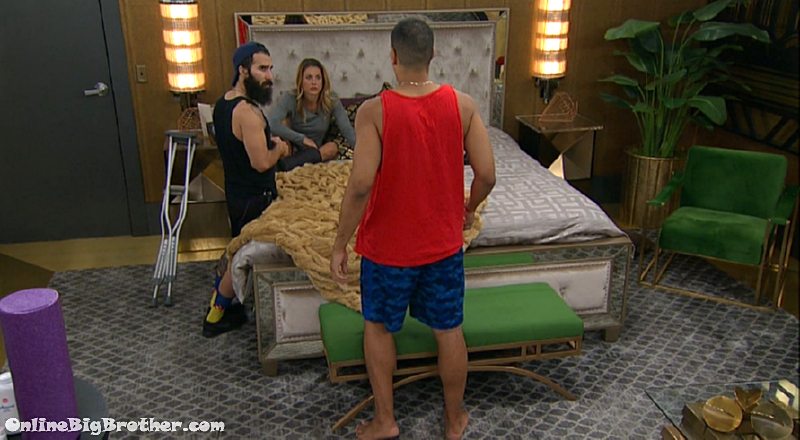 1:35pm HOH Josh Xmas and Paul
Josh – Kevin is tripping b@lls
Josh – I come up stars and he goes, what is everybody talking about there's no one up here.. I'm like what do you mean Kevin, He's like yeah it's still the plan to get mark out
Josh – I was like Yeah Mark is going and then he goes, What if Mark wins we're going after matt
Xmas – tell Kevin.. If Kevin starts asking you that tell him to shut his f*ing mouth
Josh – I know…
Paul – tell him he's going up and he;'s going home
xmas – at this point he is going home
Josh – then he said.. you come from a big family right with big family values and loyalties I do to so just remember who was with you since day one
Paul – Oh my god
Xmas oph my .
Paul – that fool f*ing weird..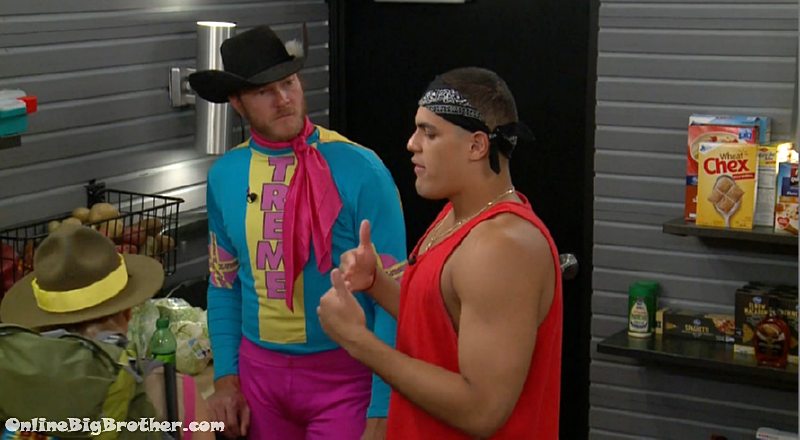 1:38pm Josh, Alex and Jason
Josh – Kevin is tripping Balls …
After Josh tells them the same thing as he told Xmas and Paul.. Josh leaves..
Jason talking to Alex about how weird it was that Xmas picked Raven to play in the Veto and not Alex. He's worried something is up and that they'll try to take a shot at them. Jason thinks it's become obvious to the house that him, Alex and Paul are close so they are going to want to "Clip" (goddamn I hate that word) one of them. Alex tells him he's being paranoid. They're good to final three with Josh and Christmas as long as her, Jason and Paul keep winning HOPH. They'll "Clip" (:( ) Josh and Christmas at that point and roll to final 3 with Paul.
If you plan on buying anything from Amazon. Use this link Amazon home
Doesn't cost you anything and we get a small cut.
Links to the ranking system
Rank your house guests here
For those of you that like Statistics here are some expanded reports.