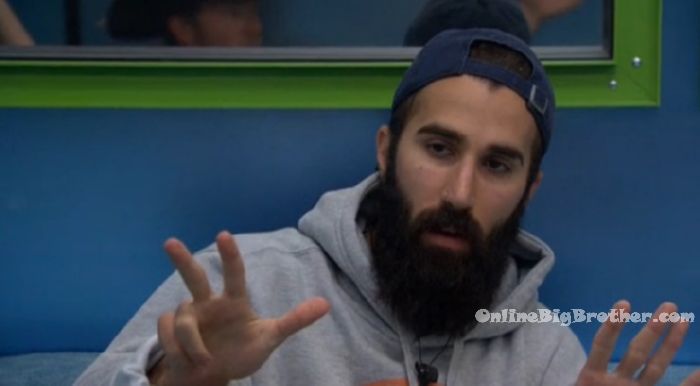 Check out our BB19 Ranking Grid. . rank your houseguests here
10:55am Big Brother wakes up the house guests. Paul, Jason and Kevin in the lounge room.

Paul – who do you trust indefinitely? Who would never vote you out? Kevin – me. Paul – that's one. Who else? Jason – Alex. Paul – that's two. Who else? Blob? Kevin – yup. Paul – three. Who else? Jason – you don't get a vote. Paul – What about Matt and Raven? Jason – I don't know man. Kevin – Christmas right? Jason – no. Paul – I don't know about Christmas. Think about this… so Jessica's temptation is that she can either save a nominee or if she is on it, it can obsolete the thing. Or something like that. So if I pull her off, she is safe right. But if I pull her off with someone she is friends with. Jason – who is she friends with? Paul – Elena. Then Cody and Elena are still up there. So now she has to use it on one person. Since she is already safe, she only has a plus one to save. Kevin – so Elena would go home. Paul – that would make Elena go, who are you going to use it on me or Cody? Jason – okay so we still don't know what this f**king thing does. Paul – I know that she is saying to a certain extent is accurate. That if its her and someone on the block she can use the safety on her and… Jason – and the next person. Paul – That's what she claims. She's not allowed to lie so she can keep herself and one person safe but if she is already safe that means she can only keep one person safe. So if we put Elena up there, its you, Elena and Cody. Who's left to vote? Jessica, you (Kevin), Alex, Christmas, Josh, Matt, Raven and Mark. I think Mark would vote to get Cody out because Cody is bad for his game. Kevin – no, everyone will vote to get Cody out if his still up there. Paul – if she uses it on Cody, Mark immediately hates them. You (Jason) would not go home in that situation. Lets count it out (if Paul used the veto and took off Jessica and put up Elena and then Jess used the hex to save Cody. It would leave Jason, Elena and Cody still on the block.) Jessica and Christmas would vote you (Jason) out. Matt and Raven will do exactly what I tell them. Kevin – they run scared. They'll listen to what he says. Christmas would listen to me. If she didn't, I would be shocked. It would be a wasted summer. Paul – in that case, lets say she does use it on Cody and Elena goes home everybody is looking at them being like you really are two dumb f**king pricks. And if we were on the fence about Elena anyway … she is play both sides. Jason – I don't care what you do but it sounds crazy. Paul – its crazy but it might work and we might get Cody out. Paul – Elena is probably the closest person to Jessica aside from Cody. Lets get Matt and Raven in here.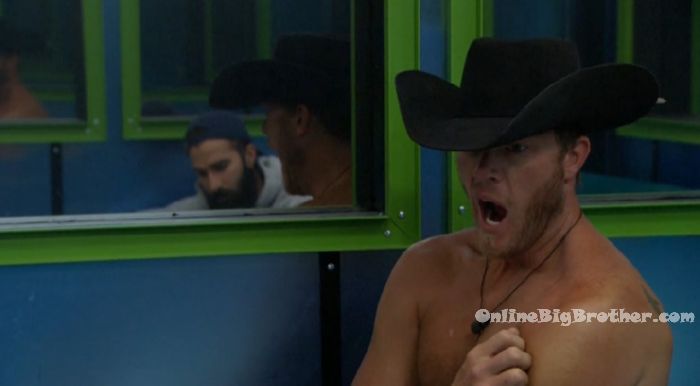 See what they can't show you on TV Try the live feeds for FREE!
11:04am Paul goes to get Matt and tells him his idea. Matt – its a good idea but I don't think you will have the opportunity to do that. Paul – yes I am, I have the veto. And I can make the speech right there. Either you send Elena home who has been working hard in the is game or you send Cody home who has been trashing your game. Matt – did you talk to the DR? Paul – all that I know is that no one is safe for consecutive weeks and that no one can lie about their temptation. Its her plus one. If she does it, its a dud week. Paul – you would never vote Jason out? Matt – under no circumstances. Paul – if she uses it on Cody then Mark will HATE them for getting Elena voted out. I don't want to let Elena know so that she is mad and up Jess's ear saying if you don't use that hex on me… F**K YOU! But I need your word that Jason doesn't go home under any circumstances? Matt – Under no circumstance. I want to go to the finals with him. Matt – so our worst case scenario is we just vote Elena out? Paul – that's it. Jason joins them. Paul – when I talk to Jessica I could ask do you want to make any deals before veto ceremony?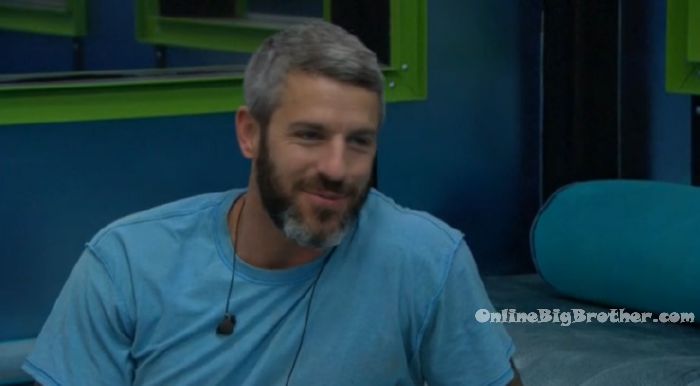 11:12am HOH room. Paul and Jessica.
Paul – so let me make a few points to you right off the get go. I've been having conversations with people for the last few days. I can tell you for a fact that no one sees you as a target. No one dislikes you Jessica. I've had conversations with people that said you're more fun without Cody around. You put your finger up people's butts. She is just a different person. No one dislikes you. I know you have a few girls that you are close with. You also have me. You are not my target. Cody is. You're collateral because of how much Cody care about you. Now lets talk about your hex. If you're on the block you have one other person you can save? Jessica – no I can save everyone on the block. Paul – you could pull everyone off the block? Jessica – yes. Paul – at once? Jessica – yes. Paul – can you explain it? Jessica – anyone that is on the block when I use it.. its… no one goes home that week. No one will go home. Jason included. And again, Big Brother doesn't allow me to say that I have powers that I don't have. SO it is 100% factual. Paul – so if you're on the block and you use it everyone comes off the block. No one goes home, we go outside and compete in the HOH. Paul – So we are 2 people away from jury. Nine people go to jury. People feel a certain way about someone that they don't want in jury. People just don't feel comfortable around him. The aggressiveness, people just don't feel comfortable around him. So my question to you, if you use this hex and its a dud week you prevent 9 people from going to jury. If you don't use it you're securing yourself a spot in jury and you still have that power to use, whenever, however you would like. So I have the veto and the HOH… is there anything you need to discuss. You can go ahead and use the hex, I'm not afraid. Jessica – so nine people go to jury and people don't want me to use the hex because this is the last chance before jury. No one in this house keeps me safe other than Cody and I don't care what anyone says. If people in the house want to evict Cody they're going to have to do it on their own because I am not going to have a hand in evicting the only person that has kept me safe. When I was on the block with Josh, I did not want to go to jury with him. I thought he was disgusting and disrespectful and people disregarded what I said and kept me out of the loop. People in this house has lied to me and let down… everyone .. including Cody. I want to go to jury with Cody and if there is a chance that I can make that happen I am going to do it. Paul – point taken. Cody has done irreparable damage in this house. No one will ever work with him. Paul – you are the person that is keeping him safe. He is not keeping you safe. He is dragging you down. You might not make it to jury. Jessica – okay bring it on, I have a great life. I didn't come here to sit on the sidelines. I came in here wanting to play a big game. The grand prize is just a bonus.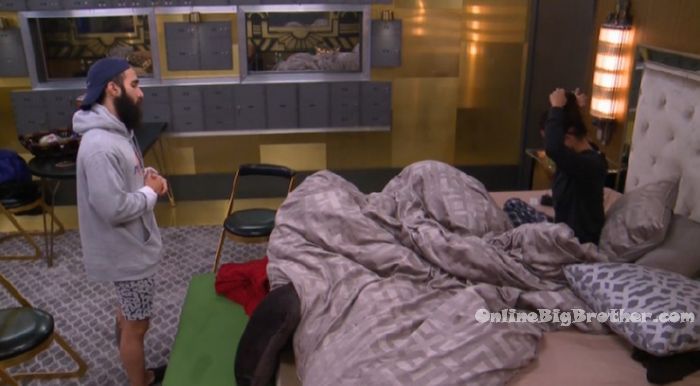 11:20am HOH room. Paul and Jessica.
Paul – there are conversations that Cody has had that were not necessarily to keep you safe. Jessica – you're going to have to explain. Paul – I am not interested in doing that because if you relay that to Cody and Cody tries to get in my face I will call people who the conversation was and out him in that moment. So if you want that done then I will out him and have that conversation with you. Do you want that conversation? Jessica – I mean yeah I want to know. Paul – okay in the first few weeks of this game Cody told Matt the only reason.. Jessica – Cody already told me. Paul – okay that he wanted to keep Alex and Jason in this house to take you and Raven out. Jessica – oh I didn't know that. Paul – the only reason he wanted to keep Alex and Jason in this house was to take a shot at both you and Raven. And he could do that to further himself in the game. Do you want to bring Matt and Cody up here? And he could say that was in the first few days and then I fell in love with you… but I'm sure you could say you had that connection from the get go. If every single person doesn't want Cody in here .. and my other issue with Cody is that he doesn't really care about this game. You actually care about the game. Cody doesn't give a f**k about being here or the game. He doesn't socialize. He has no interest in doing anything with anyone. He has been a detriment peoples game or your game. There was not one week Cody wasn't the target. The only week he wasn't was when he was out and that week Dom was the target, not you. You got the first landslide vote. Other than being there for you emotionally what has Cody done for you. He will be there for you on the outside. No one wants to play with them or socialize with him. If you keep Cody in I can tell you that no one will trust you. You are definitely wrong if you think Cody is the one protecting you. You are the one protecting you. My agenda is to send Cody home and it is the whole houses agenda to send him home.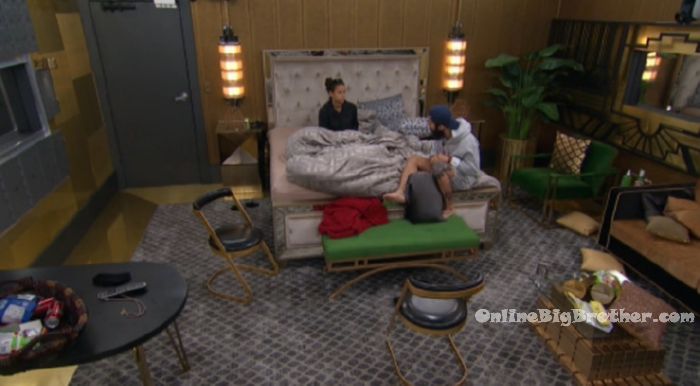 Paul – tell me what you want? Tell me and I will make it happen. Jessica – I don't want to go on the block for at least 2 weeks because I do not want to use the hex. Paul – is that when it gets exhausted? Jessica – its labeled by evictions and I think its that way because there is a double eviction in our future. So two evictions I don't want to go on the block, not even as a pawn and I want whoever wins HOH to take out Alex. Thats what I want. Paul – Okay I can promise you the first one. The second one it depends on who wins HOH. For example, if Jason wins HOH. Jessica – no, I wouldn't expect that. Paul – okay, its very easy to do the first one. Very simple if you put Jessica on the block she uses the hex. Jessica – yeah I can do the first thing myself so yeah I want the second thing more. Paul – I can try and help you but it will depend on who wins HOH. Jessica – then you talk to whoever you need to talk to and get back to me.



Paul – so if you win HOH. Jessica – then I would take her out but I cannot do it by myself .. people have made that very clear. Paul – what I can tell you is that not many people value Alex. Two weeks of you not being touched I can make that happen. The second thing I cannot guarantee. Jessica – it just depends on how bad people want Cody out of the house.. okay because I want Alex out of the house that bad. Paul – in this moment I can not guarantee that. Jessica – okay then go talk to people.. if there is a doubt then I will use the hex. And have Cody to go after Alex. Paul – why throw your personal game away just to keep Cody in here 1 week longer? You have a chance to make the entire house happy. Jessica – I am tired of trying to make the house happy. The house has never made me happy. There are a bunch of leaches in this house that keep sucking my blood. Jessica – the only people I would not expect to agree to taking out Alex are Kevin, Jason and Josh. Paul – so if I get everyone else in a room to say that. If I make that happen you are giving me your word? Jessica – if you make that happen then I will consider it. Paul – I can't f**king stick my neck out there, rally troops and then put a target on my back if that's not going to happen. If I am going to do this, then you need to give me your word. Jessica – then I need to talk to Cody. Paul – wait because I am telling you if you do that Matt is going to get involved, I'm going to get involved and Cody is going to crack! Jessica – oh jesus. Paul – I would suggest that you talk to Matt to get double confirm that I am not making this up.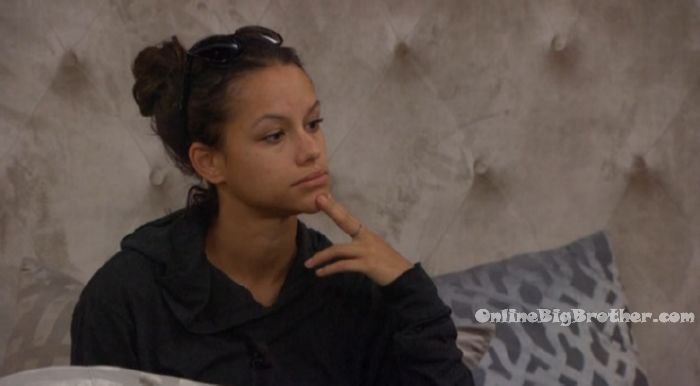 11:37am Lounge room – Matt and Jessica.
Jessica pulls Matt into the room and says what do I need to know about what Cody said to you? Matt – what he said to me? Jessica – yes in the beginning of the game. Matt – I don't really want to go there to be honest with you. Why are we discussing this? Jessica – because its something I need to know. Matt – its not something that is relevant at this point though. There were things that were said in the first week that are completely irrelevant now. Jessica – why is it not relevant now. Matt – because its five weeks later and things have changes. Jessica – if you don't want to tell me then you don't have to. If its not important any more then.. Matt – I don't think its important any more. Jessica – okay. They leave the room.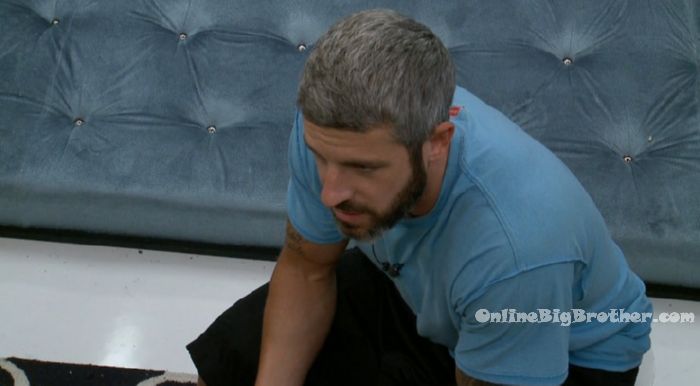 11:40am Lounge room. Matt and Paul.
Paul – you told her? Matt – no. Paul – why? Dude you have to! I had her pinned. She is going to not use the hex. What did you say!? Matt – I didn't know what was going on she brought me in here and said what do you need to tell me about what Cody told you in the first week? I was like I don't know if you want me to tell you that. It's not that relevant right now. She was like if its something I need to know then tell me and if not then don't. I said its not relevant right now. Paul – that answer is almost better because I told her .. she said she was going to go talk to Cody about it and I said just so you know if you tell Cody, then Matt and me are going to be involved and he is going to blow up. The only way she would not use the hex is if she is safe for two weeks. She doesn't even want to use the hex. All we have to say is we won't put you on the block and she needs people to say that they will get Alex out of the game. And she said the three people she doesn't expect to do it are Josh, Kevin and Jason. All we have to do is me, Raven, You, Christmas, Mark and Elena and say yeah if one of us win HOH. All you have to do is convince her in the moment and then Cody goes home. You don't have to uphold sh*t! She is that stupid. If she is in a room with people that agree .. the only people that have to be left out of the real agreement are Mark and Elena. If she uses the hex all the nominees come off. Matt – I need Cody out of this game. Paul – you already needed him out. Matt – yeah but even more now. Paul – we need Cody to blow up now. All we need to do is lie to the girl.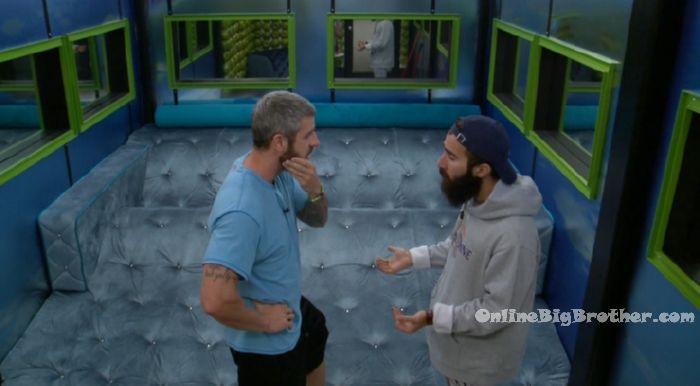 Links to the ranking system
Rank your house guests here
For those of you that like Statistics here are some expanded reports.