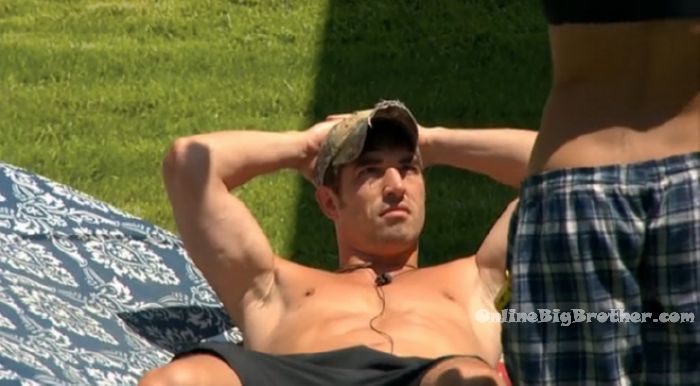 Check out our BB19 Ranking Grid. . rank your houseguests here
11:55am Backyard. Cody and Jessica.
Jessica – is my mom going to love you or hate you? Cody – I don't know, I don't know your mom. Why do you ask? Jessica – I just wish I could know. Cody – she is probably going to hate me. Jessica – why? Cody – I don't know. I am just joking. Why do you ask that, what are these people telling you? Jessica – I really gained so much more respect for Matt today in a very genuine way. I have to give him a hug later. If we have a conversation later I need you to agree you are not going to run off and cause a ruckus in the house. Cody – okay, I agree. Jessica – is there anything else that you said to Matt in the beginning of the game that I should know about? Let me start off with the reason why I respect Matt so much more is because when I just confronted him he refused to say because its 5 weeks later and it doesn't matter. He refused to even give me the information himself. Was your original allegiance to Jason and Alex so that they would be the ones to take out Raven and I? Cody – never!! Not a f**king.. Jessica I swear on everything that I have never had an alliance with them to take you out or anything. I have never said that. Jessica – you have never said the sentence we should leave Jason and Alex in the game so that they could take out Raven and Jessica? Cody – Never. Not at all! Jessica, I can't.. Jessica – because of this whole me being jealous of Alex, you didn't have that conversation?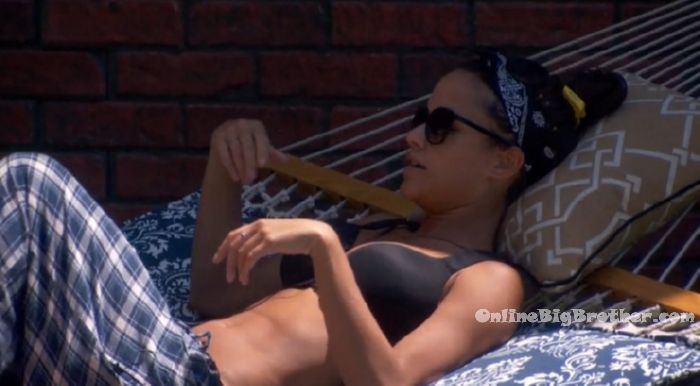 Cody – Absolutely not. And now they're taking it to that level. Jessica – certain people, not all. Cody – Jessica, I have held this position from the start that you Raven and Alex I never… And then they broke their loyalty to me and now its me and you. But you're questioning me now. Jessica – I have thoroughly disliked.. I can understand why you would want to be in hero mode and want to protect Raven. I can understand that. The Alex thing I could never get behind. Cody – Jessica, you either trust me or you don't. You can believe me or you can believe them. You'll know everything after the show what was said. EVERYTHING! Jessica – so that is why I am wondering if my mother loves you or hates you. She is either going to see that guy that has been by my side fighting for me the entire time or she is going to see conversations like that happen and she is going to feel awful. Cody – not at all. Jessica – so then why leave Jason and Alex in the game? Cody – I wanted to flip the house on Paul. Paul was my only target since the beginning. That's all I wanted, all I wanted. Jessica – you didn't need Jason and Alex to do that. I hedged my bet with them after I saw Alex compete in the HOH and everyone wanted to take Alex out. I wanted to take Paul out so what I did before was I pulled Alex in and said here's the deal, if I put up a juicier target next to Jillian. I want the couples safe and Dom saved. That is the only reason why I kept them. Jessica – I will admit that I had a conversation with Elena on this hammock about Mark but never once did I say how are we going to take them out.



Cody – you're going to believe what you're going to believe. Props to Matt for being a good person. Cody – if you don't believe me then you will never believe me ever! Jessica – I'm not saying I don't believe you.. I don't know what I'm saying. I do remember you saying to me that you had a conversation with Matt about how are we going to take these babes out. Cody – yeah, towards the end. Like way towards the end. It was like yeah we'll string the babes along .. that was like a first day f**king conversation and then everyone started getting with each other. And if they're trying to twist that into something like that .. its not like f**king that at all. It was me, Matt and Mark with Dom. It wasn't even an alliance .. we were like yeah lets string the babes along. We even talked about that. Cody – if you feel like you're going to look like an idiot. They're going to pull you off the block and test you. Jessica – they're not using the veto regardless of what happens. That wouldn't make sense, he would have to nominate a third person. Cody – all I have in this game is my loyalty and you to question that is blowing my mind right now. What the f**k did I do anything for in this game then. Jessica – I am not questioning your loyalty now.. its in the beginning of the game. Cody – the only deal I made with Jason and Alex was to keep all of you safe. Jessica – Matt never confirmed that you said that. Paul is the one saying you said that. Why is your face twitching .. anger?! I need to ask something in the DR… they said I can use the hex any time during the live show.. Big Brother switches the feeds.

See what they can't show you on TV Try the live feeds for FREE!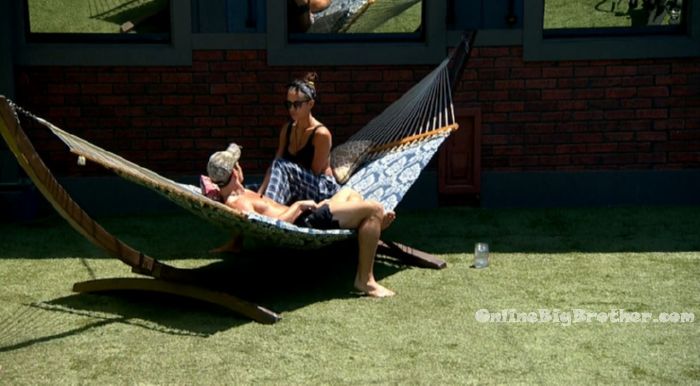 12pm Bedroom – Paul, Christmas, Alex, Raven and Matt.
Paul tells them the plan to lie to Jessica that they will not nominate her for two weeks and take Alex out if they win HOH. Paul says they will keep Mark and Elena out of the loop. Just convince her enough that we do not like you. Christmas – we need to get into an argument. Paul then goes to tell Elena and Mark that Jessica said she won't use the hex and we can send Cody out only if she is in a room with people and they agree if they win HOH … we have to take Alex out. Mark – does Cody know about this? Paul – no, but she is outside talking to him. I also told her about how Cody wanted to keep Alex and Jason in the game to take a shot at her. And Matt confirmed with her and he was like I don't think you want to know. Mark – she (Alex) is stirring the pot so I am on board. Paul – express to her all these points and how she is bad for your game. Mark – I need to be back in the numbers again anyways.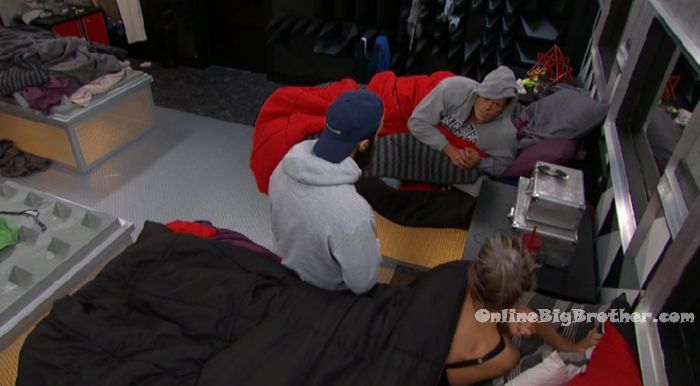 12:10pm HOH room. Paul and Alex.
Paul – pretty much I talked to her and bullied her in a corner. She said all nominees off if she uses the hex. Paul then tells Alex the conversation with Jessica about her wanting 2 weeks safety and wanting Alex out. Alex – why?!
12:13pm Backyard. Paul and Jessica.
Paul – I can guarantee what you want. Half of them already have a stick with her. Jason, Kevin and Josh have absolutely no idea. I can pull you in a room. Matt and Raven were like that was pretty much our next target. Mark and Elena are on board. Christmas. They're very excited that you're even considering this. There's the Jessica we know. I can put you in a room with all these people. Jessica – okay give me a minute.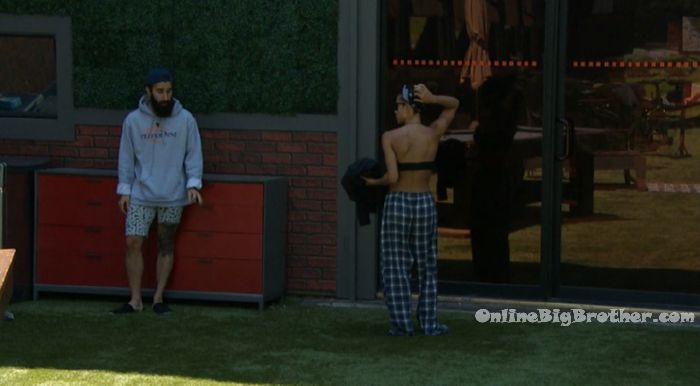 12:15pm Havenot room. Mark and Jessica.
Jessica – what are you thinking, be honest with me? Mark – you know how much I love you and Cody. I said from day 1 that I will do everything in my power to protect you and Cody but now I can't keep that promise. Paul joins them. Paul – you need to let me know before the veto because if I leave Jason up there people will start asking questions. Jessica – you could pull him off regardless. Mark – on the flip side… Jessica – Cody leaving the house takes the target off of you. Mark – me being realistic .. I can't speak for Elena ..I am fighting for everything now. Elena wants nothing to do with me. Especially if it comes down to a vote. Mark – I love your plan with her (Alex). She is stirring sh*t with me and Josh. And you and Cody. In a perfect world, we start racking up some competitions. Jessica – I don't even know if Cody wants to stay in the house any more after what I just told him. Mark – between me and you .. we're guys and in week f**king 1. Jessica – that's what Matt said. Mark – do not use that comment against him in here or the real world. That was week f**king 1. That is crazy. Do you really think he would think that now? If we keep Cody and we don't win HOH, you're the number 1 target after him. Jessica – I have to do some serious thinking. Mark – if you do this I will keep you safe for the rest of this game. Jessica – thanks Mark. Mark – we're guys and we're talking to other guys. They hug and Jessica leaves the room.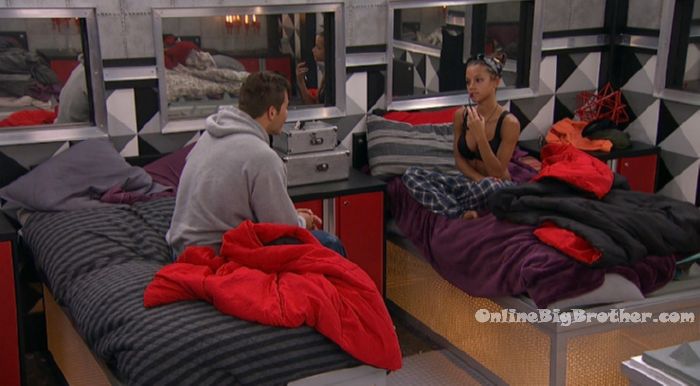 12:25pm – 12:35pm Bedroom. Cody and Jessica.
Jessica goes to talk to Cody. Cody doesn't want to talk. Jessica – babe!? Cody – no, there's no babe. You can find someone else to distrust with this sh*t!. Jessica – can you stop! You're really going to let them win like this? Cody – I really don't care what happens at this point. Jessica – stop stop stop. Don't do this, don't act like this. Can we please not do this. Cody – you lost me out there. I don't need anyone questioning my loyalty especially the people closest to me. Never question my f**king loyalty! NEVER! That's all I got! Jessica – can you please stop. You're overreacting. Cody – I don't care that you think I'm overreacting. I don't care what your standards are. Jessica – stop, stop it! Will you please calm down. Don't let them win like this. Cody – don't do that. You clearly don't know me. You don't understand me. Jessica – stop it. You're severely overreacting. Cody – I'm going to work out. Jessica – then go.. do whatever the f**k you want. Cody – I will. Cody leaves the room. Jessica – F**king CHILD! God I didn't sign up to be a f**king babysitter.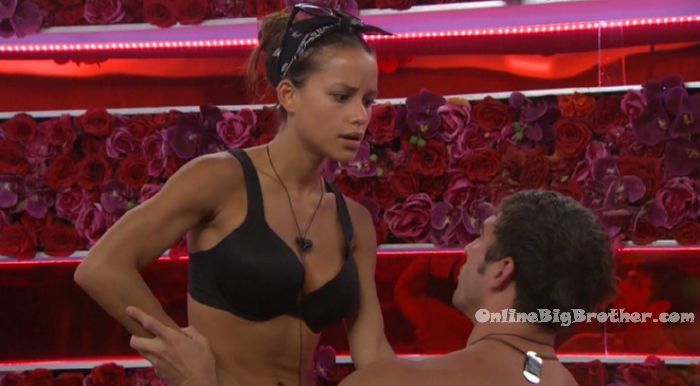 Matt pranks Raven.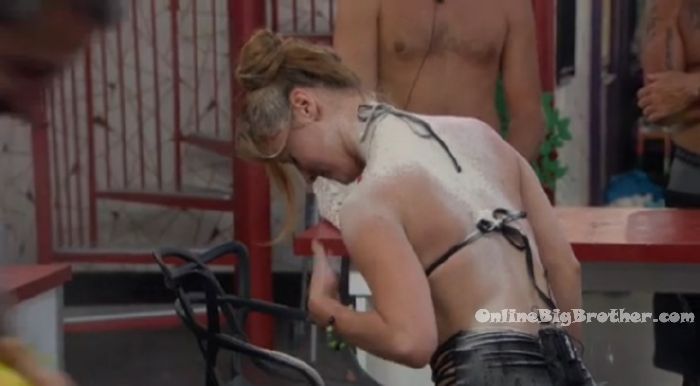 1pm Kitchen – Paul and Christmas.
Paul – I haven't gotten an apology. Christmas – yeah because you're probably his number 1 target. Paul – I'm his number 1 target. Christmas – I said probably his number 1 target. Paul – I know but I don't think he is in a position to have me as his number 1 target. But he can keep getting mad about it. Its funny. Christmas – he's a hot head. Paul – no small man complex. aggro.. he has no room in this house. Christmas – arrogant. Paul – cocky, rude.. Christmas – entitled. Paul – at least Mark is man enough to apologize after he makes a mistake. I don't think Cody is man enough.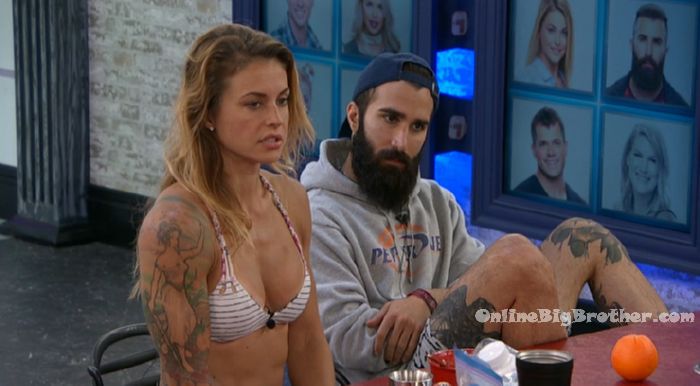 2:05pm HOH room. Paul and Jessica.
Jessica – is everyone on board? Paul – not everyone .. not Josh, Jason, Alex and Kevin have no idea. I touched base with people and felt them out. First I said me and Jessica had a talk .. didn't tell them everything but I said her stipulations are we keep her safe for two weeks because she would prefer to not use the hex. So not even touch the block. And if we win HOH, we put Alex up and vote her out. When I talked to Elena, she said I like Alex but she is a strong player and if she's got to go, she's got to go. Mark said Cody is not good for my game. And Alex has been the one stirring the pot so I do not mind getting on board with that as week. Matt and Raven were also on board. And then there was Christmas was like sure, yeah. Jessica – if you see an opportunity to get everyone in a room. Paul – I can make that happen .. well it has to be a point where they're all outside tanning or .. Jason can't know. After the conversation, it has to be squashed. Eight people can't keep conjugating. So I am willing to make it happen. You are not the issue. The only time you have been the issue is because of Cody. When you don't use this and you get people to jury .. this is a big week. I would rather work with you than against you. Cody doesn't even want to be here. He cares about you but not the game. I think everyone would rather continue playing without him here. You are the stronger player not Cody. I am not your enemy. I promise you I am not. I am one person but the collective people want him out.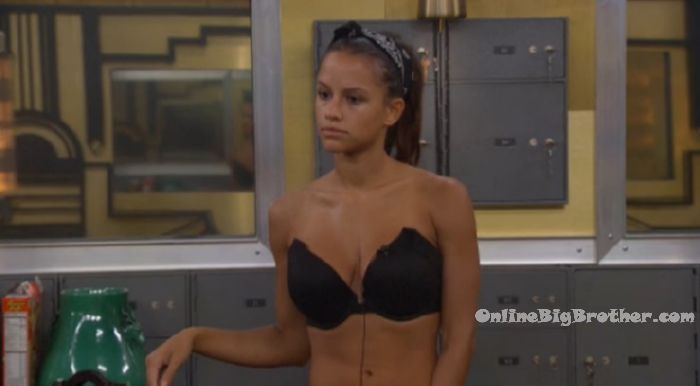 I can get the people up here. Jessica – yeah, I would like that. Paul – for things not to look suspicious would it be okay for me to pull Jason off with the veto. Jessica – no that's fair. I asked something in the DR about it (hex) and it involves the veto. So when they get back to me can we talk about it (taking Jason off or not). Paul – yes, when they get back to you, then get back to me. I think after this week you will thank me because you will go further in the game than with Cody. He is anchoring your down. As a game strategy talk you are the one keeping him safe not him keeping you safe. America will not look at you as a b***h for doing that. You already made a connection with Cody and that's not going anywhere. Jessica – Ehhh. (LOL) Paul – its not like this is the hunger games and he's dead. Jessica – make it happen. She leaves the HOH room. Paul – I can't f**king believe it!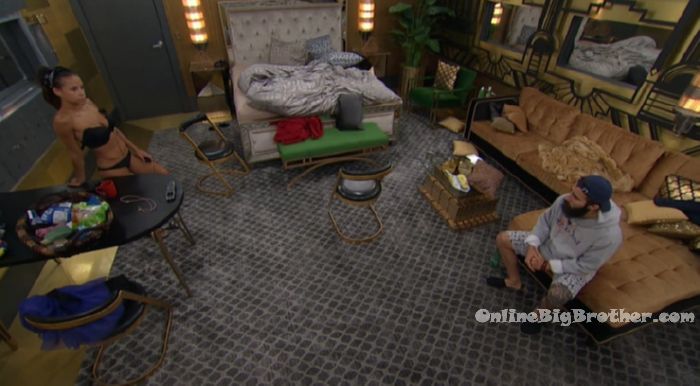 Links to the ranking system
Rank your house guests here
For those of you that like Statistics here are some expanded reports.