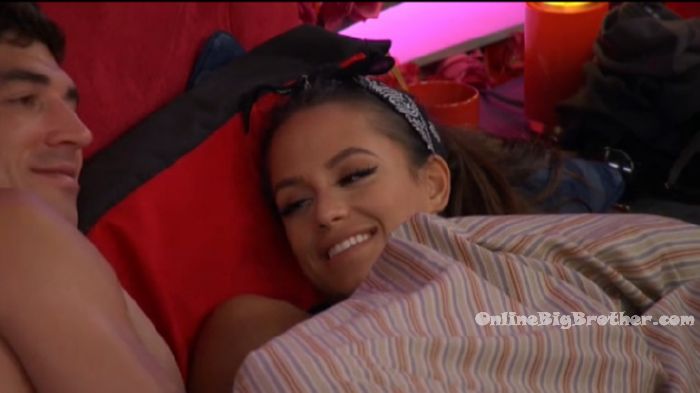 Check out our BB19 Ranking Grid. . rank your houseguests here

9pm Bedroom. Jessica and Cody.
Jessica – I have to say something.. if this veto competition has a temptation with cash in it, I'm probably going to go for the cash. Cody – absolutely. Hell yeah! If there is anything I've learned in this game is that you have to take what you can get, when you can get it. Jessica – MMMmmmHHHmmm. Cody – what if we both have the chance at a Vacation and cash? Do I take the veto to secure my safety so that you don't have to sit here while the vote me out. Or do we take the vaca? Jessica – I think we should just go for the prizes and f**k the veto.. let the chips fall where they may. Cody – agreed. Jessica – at least if one of us is going for the prize.. then we should both go for the prizes because only one of us is going home. So if we get two f**king prizes out of it then I'll be happy. Momma needs a vacation. Cody – hashtag baby rumors. Jessica – I really wonder if I was pregnant if Julie would announce it to you. You don't know, its an unprecedented event. She could be like during the eviction process be like well this is a first… Cody you should know that you're a father. Cody – yeah that wouldn't happen. That's so ridiculous. Jessica – I mean if I was pregnant and evicted out of the house.. I feel like they would tell you. You would know before you came out of the house. Cody – I would kick the door down. Jessica – I would kick you back in. Cody – because we would need the money. Jessica – yeah, we got to buy diapers. Cody looks at the camera and says – she's not pregnant. Jessica – hashtag is she?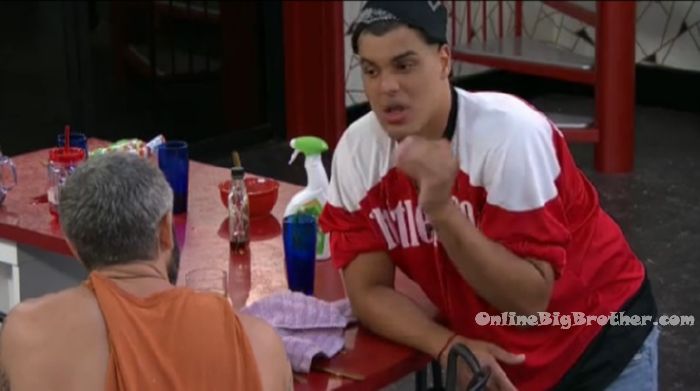 9:10pm Kitchen. Josh and Matt.
Josh – Elena lost it .. she looked like a defense attorney because the house voted to evict me .. she didn't know it was the best for your game not to get me out. You (Elena) were mad close with them (Cody & Jess) and campaigning to get me out. She did say that she could tell that you lied to her. Matt – I did. I'm going to tell Elena she's good but I'm going to f**k with Mark.
9:40pm Bedroom – Paul, Kevin, Jason, Alex, Mark, Josh, Elena and Christmas.

See what they can't show you on TV Try the live feeds for FREE!
10:17pm Josh comes out of the diary room – Who wants to see my HOH room? Everyone heads up to the HOH room to see his HOH room. Jessica and Cody head back downstairs after visiting.

10:50pm – 11:35pm Matt, Raven, Kevin, Alex, Paul, Jason and Josh. Kevin – I am so f**king happy you won. It changes the disposition. Paul – Mark havenot 100%! Josh – oh yeah. Did you hear he asked me? Am I going to go up as a havenot? And I said I really don't know. Josh asks Matt if he will be a havenot so that he can collect some intel. Paul – I was going to do it but they ain't going to say sh!t in front of me. Matt – we need to draw Elena as far away from it as possible because we want her working for us next week. Josh – I was going to pull her up here and be like I did feel some sort away about your vote but just know you're safe this week. Paul – this is why the point I am making – Jessica goes before Cody because Elena is more tied to Jessica than she is to Cody. She wants nothing to do with Cody. Mark is the only idiot that goes back to Cody. Lets keep it ambiguous. Best case, lets win the safety tomorrow. Paul – we let it get to Jessica that we're voting Cody out through a reliable source… then we vote out Jessica. Blindside and send Jessica home. Josh – Cody will f**king lose it. Matt – I still don't really trust Elena but I think we should be really nice to Mark. As long as one of them doesn't win tomorrow, one of them is going home.

12:10am – 12:50am Elena, Josh and Paul.
Josh – that was my only worry about you. I think everyone knows my objective is to get Cody out. Elena – as long as you understand why I voted the way I voted and that it was difficult for me. It was nothing against you. My vote lied with the house and ironically voted that way because I was lied to. Paul – Maybe we should tell her that we didn't tell her because we didn't want anyone to get emotional So I think that if we had told her talk she would have absolutely voted with you. Josh – I look at you separate from him. The only concern I had about you was the vote. Elena you and I are good and if you have any concerns we can talk about it. Elena leaves.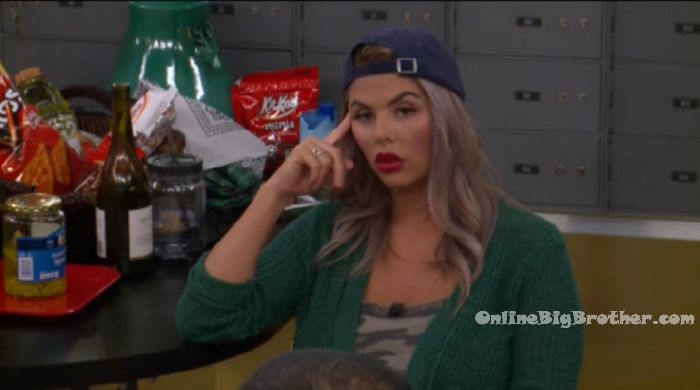 1:05am HOH room. Christmas and Paul.
Paul – did they give you a date? (For when her veto player replacement temptation expires.) Christmas – I get to trade. Paul – right, but for how long? Christmas – I'll have to double check, I don't think it had an expiration. Let me know your plan. Paul – we put up Jessica and a pawn. Then when veto comes if Cody gets pulled .. a strong pawn .. if Cody gets pulled then you swap. He doesn't play, Jessica is alone with it being 5 vs 1. Christmas – I don't understand why wouldn't we put both of them up. Paul – if we put both of them up the its 4 vs 2. I think it would be better to just put Jessica and Alex up there because Jessica hates Alex. And Alex can turn around and say F**K you b***H you're not winning the veto. Then in the off chance Cody gets picked to play in the veto the you can go wait!! (Use her replacement player veto temptation. Christmas – it might be too early for me to use it. I'll find out the details. Paul – if we put up Jessica and Alex it will further confuse them (Jess & Cody) and make them think that we're trying backdoor Cody.
1am – 1:40am Havenot room. Elena and Mark bible time.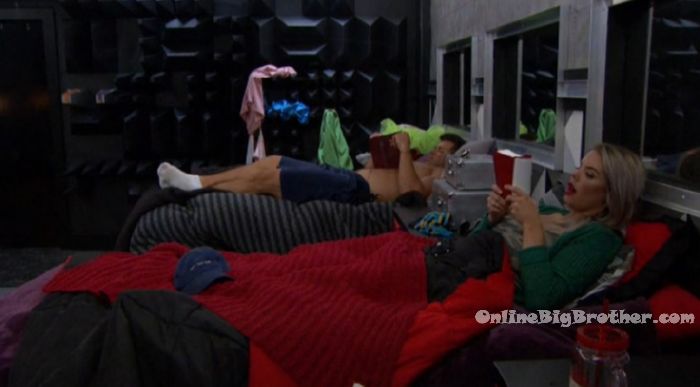 Josh tells Alex – I want Jess and Cody as my targets and I want Elena and Mark as backup.
2am Josh gets ready for bed.
2:05am – 2:15am Havenot room – Alex, Christmas, Mark and Elena.
Mark – I am pigging out tomorrow night. If I am f**king in here (Havenot) I am picking the key (Havenot temptation). I am going to because I can't do it again. Alex – Mark if you get two weeks, you're going to die! Mark – that would be 5 f**king weeks (As a havenot). Alex – that's like half the game. Mark – lets just set a record. Christmas – you'll be shredded as f**K! Mark – I don't know what I would do. I've never been on any diet like this before. Christmas starts talking about crossfit.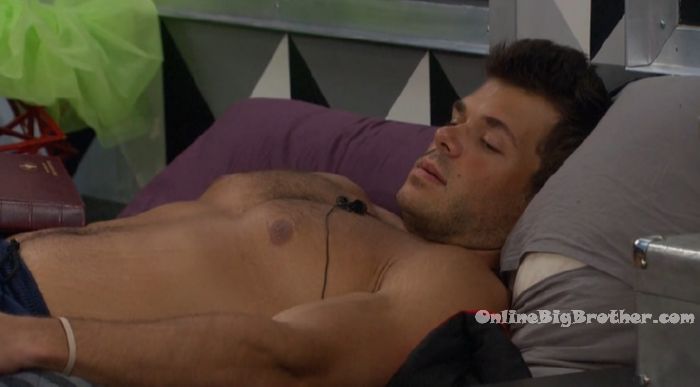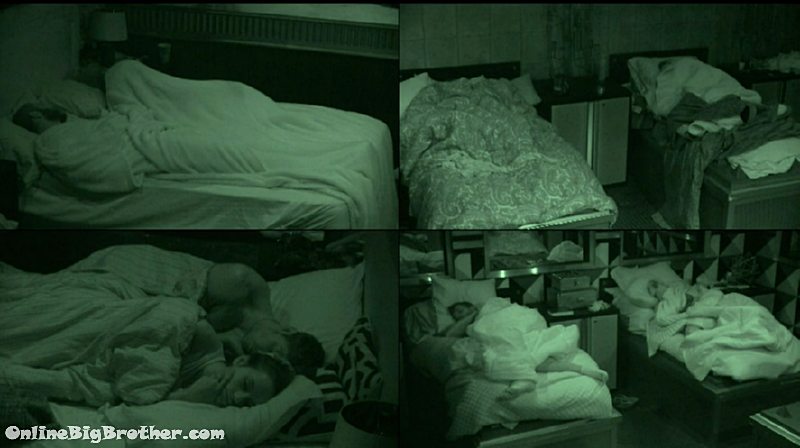 6:06am Everyone sleeping..
Links to the ranking system
Rank your house guests here
For those of you that like Statistics here are some expanded reports.