Jason did not use the Power of Veto the nominations stay the same.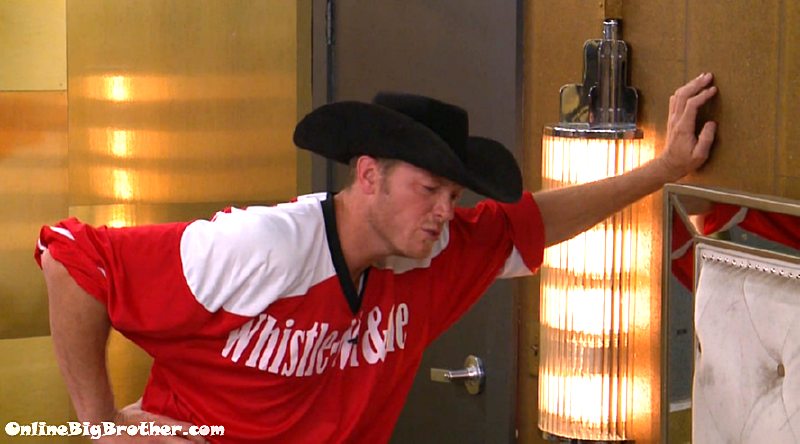 Feed subscription lets you go back and re-watch everything we post here CBS All Access Live Feeds with a FREE 7 DAY trial.
\
9:30am Jason and Alex HOH
Jason says Kevin was stiring the pot last night.
Jason says Kevin use to be 100% pushing for the veto to be used and then all of a sudden last night Kevin was telling him not to. When Jason asked him to explain the reason for the flip Kevin didn't have an answer.
Jason mentions how Kevin asked him last night if he was in Jury would he have sex with Christmas.
Jason – I was like NO are you being real right now..
Alex – he's freaking me out dude..
Jason – Christmas is a catfish..
Alex – she needs to get out
Jason – she likes to get people to damn near cry.. she likes to have heart 2 hearts then inject game
Alex – I don't cry I don't give a sh1t
Alex says she's starting to trust Matt and Raven more and Jessica less.
Alex says Kevin use to be loyal to them but now she's feeling that Kevin is closer to Paul.
Jason – I think Paul is the one.. going around saying.. I think they are going to use the veto.
Jason says he only told 3 people but everyone knew.
Alex says he told Jessica too that was his mistake.



Alex – should we use it and surprise everyone
Alex – Josh is driving me nuts
Jason- Why.. That kid is dumb. Leave him alone
Jason tells her not to worry about Josh worry about people like Paul.
Alex – Kevin's a snake dude..
Alex says they can get him out now but later on they won't be able to because the only people left in the game will be a small number hand picked by Paul. (then get Paul out OMFG)
Jason – everyone thinks Paul will be there (in the end)
Alex – he's the veteran DUH
Jason – that is a reason he should be gone
Alex – we can't get him out till next week..
Alex says Elena/Mark can flip their vote.
Jason – he gave me his word.. If Mark flips I'll put him on the block the following week.
Jason – I think we're finer lets stay solid and not use it..
Alex – you better tell Paul
Jason – I'm not telling him f*ing sh1t what does he have to do with anything.. iS HE OUR PARENT. (Jason is the best)
Jason says Paul is probably telling them that they should use it but telling the rest of the house he's trying to get them not to use it.
Jason – so he looks like the Hero and I'm looking like a loonie bat toon
Alex – Christmas I want her f*ing out
Jason – I think Mark and Elena will be on board with that
Jason- I don't think you should trust Paul with 100% certainty all the time
Alex – I don't..the safe guard I have is he can't lie in front of America (you're not as smart as I thought 🙁 )
Jason – Yes he fucking can
Alex – If he breaks that friendship promise, If you remember the friendship bracelets was the whole reason he came back this season . it would totally destroy his fan base
Jason – No it wouldn't cause they are already fans
Jason explains Paul will just tell his fans he did it for some game reason.
Jason – I like that Paul as a person but I don't like that son of a b1tch in this game.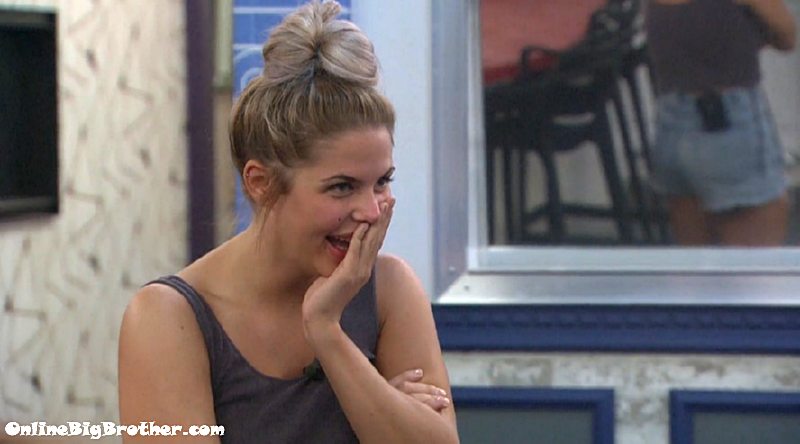 12:17pm Feeds come back
Sounds like Dom called Elena out..
Paul's Snake outfit..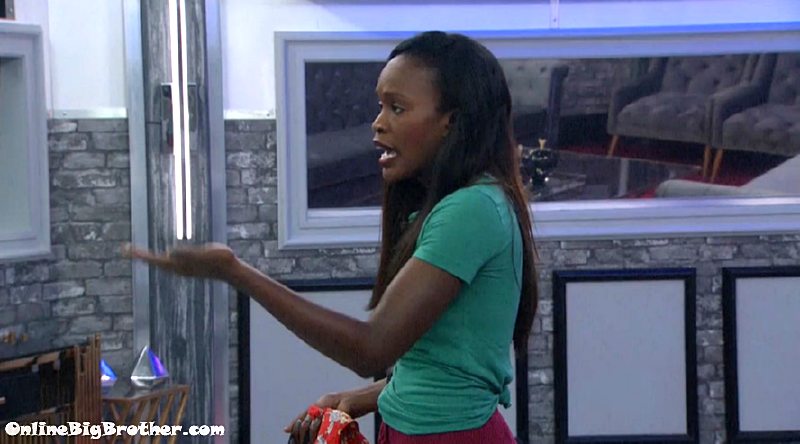 12:23pm Dominique tells Christmas that they did it to her they are going to do it to Christmas..
They start arguing in the Kitchen.
Dom goes back into her bedroom asks god for help because she's going to go Ham on them.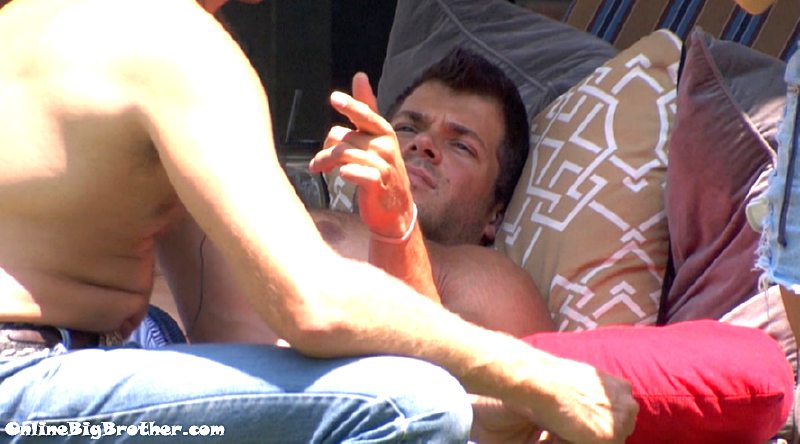 12:20pm Jason and Mark
Mark – me, you, Paul, Alex and Elena
Mark says he doesn't know what Paul thinks Of Matt and Raven but they don't do much
Mark – they only support the majority of the house I don't like that
Jason – they're like a josh without the unpredictability..
Jason says josh can't remember one minute to the next but Matt and Raven do
Elena joins them says that Dom came after her.
Elena boasts that if this was the real world Dom would have ran away crying..
Elena says that DOm is telling people that the lord told her she did these things that she factually knows was incorrect.
Mark – Dom is going home but the votes won't be what you expect..
Mark says he might put Kevin up if he wins HOH.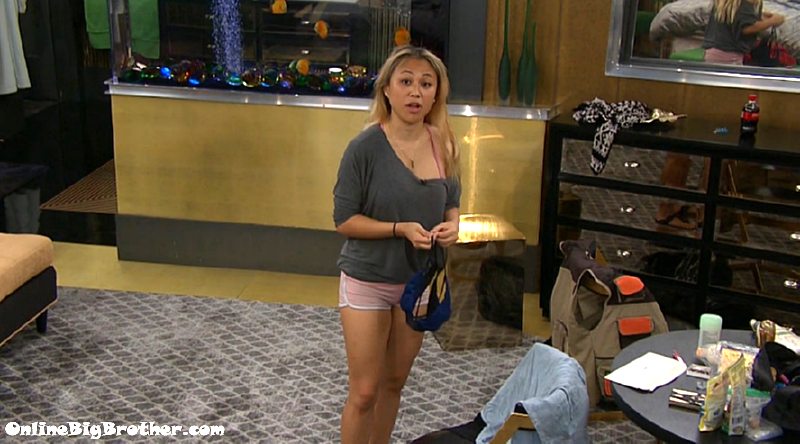 12:33am HOH Alex to the camera
Alex – I don't keep Promises with Liars
Alex – I know you know I know You're lying
Alex – Kevy kevy kevy.. You shouldn't have tried to play me
Alex – Now I'm going to have to play you
Alex says she can tell Kevin voted out Ramses last week.
Alex – not yet Kevin but I'm going to send you home because you're a liar, promise on rosaries no.. you're very specific not to
Alex – lying to my face about Jillian, I know now… there will be retribution I will send you home directly or indirectly I'm sending you home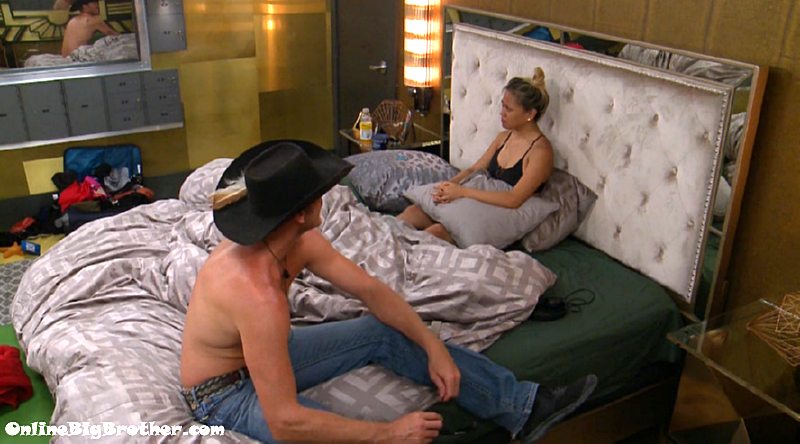 12:38pm Alex and Jason
Alex says Kevin was promising a final 2 and wanted to promise on her rosary
Alex – he needs to go
Jason – But He's so much fun though
Alex – he's playing you
Jason – I know..
Jason – Kevin needs to cool down.. he asked me if I would hump Christmas..
Jason mentions that Mark and Elena are talking about putting Kevin up.
Josh comes in..
If you plan on buying anything from Amazon. Use this link Amazon home
Doesn't cost you anything and we get a small cut.
Links to the ranking system
Rank your house guests here
For those of you that like Statistics here are some expanded reports.