Quick Big Brother Spoilers
Head of Household: Daniel
Nominees: Michael Taylor & Terrance
POV Players: Daniel, Michael, Terrance, Indy, Ameerah and Turner. Kyle is hosting
POV Winner: Michael
Veto Ceremony: Veto used. Taylor nominated
Evicted:
Havenots: Joe, Michael, Monte and Kyle
Michael used the Power of Veto on himself. Daniel nominated Taylor in his place.
Lock your ranks in before midnight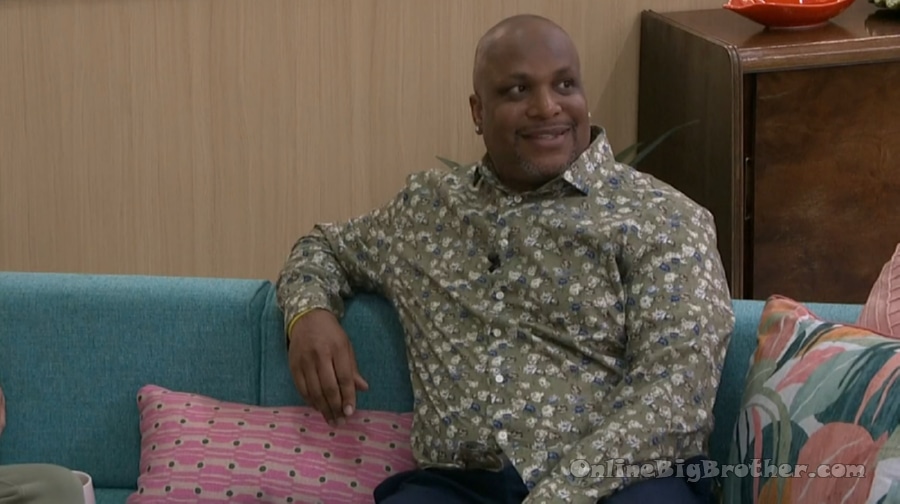 11:08 am Daniel and Terrance
Daniel – just so you know because I love and respect you. I do want you to stay and I do want us looking out for each other. My biggest concern as a person outside of this game. You guys know me and I know strategically and gamewise it make sense but Since Michael won and I have to put someone up.
Daniel – Before that little blow up. Before I was pissed and all that stuff.. Before throwing Paloma under the bus whose not at risk at all from my position.
Daniel – Umm.. Everyone was on board with sending this other person home (Taylor) YO no vibing.. not vibing.
Daniel – I told everyone I prefer you to stay everyone has their own vote do your thing.
Daniel – then the blow up happened. Throwing someone under the bus that I enjoy being around. Who I wouldn't mind if she was here for a few more.. a couple weeks.. Paloma Sweet Zero threat.
Terrance – for real
They joke about what Paloman's HOH would be like.
Daniel – imagine hearing her speeches they wouldn't have enough Gigabytes.
Daniel – we know the reason right.. but I am aware how it looks on the outside. After sleeping on it and talking to Monte a lot. He helped me a lot and it was him who came to me about the infr0omation.
Daniel – my worry and fear going into this is first week a white guy puts up two black people. I know how shitty that looks. you guys know me
Daniel – It is game you know what I mean
Terrance – the narrative is not to me personally it's like.. It doesn't look that way to us. It looks like you (Taylor) have very poor game play and colour had nothing to do with it. I had very poor gameplay that's it and that's all.
Terrance – She (Taylor) put herself in that predicament. To me it's not colour it's poor ass gameplay.
Terrance – some people had left some clothes and sunglasses outside. We knew the backyard was going to close so I was like YO maybe people just forgot. People walk away we should collect them so the gate doesn't close.
Terrance – she (Taylor) was like NO leave their stuff.
Terrance – I was like.. me and Nicole. Nicole was washing. We were like are you f***ing serious
Terrance explains they didn't want peoples shoes and glasses left outside during lockdown because production goes through to prep for competition it could go missing.
Terrance tells him if he wins HOH Daniel has nothing to worry about. Adds he's comfortable with Ameerah or Nicole winning.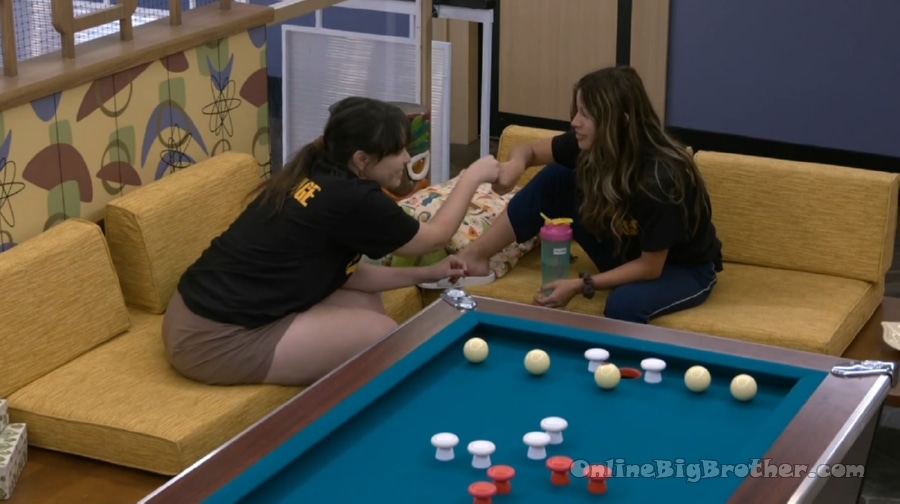 11:40 am Paloma and Brittany
Paloma says if she's looking at their games Both Terrance and Taylor are "Bottom barrel" players so far.
Paloma – if you are just looking at STATS that's what it is.
Brittany – Who are the people in the house that we like the most. That is my strategy before we go to Jury I only want people in here that I feel like I am close with.
Paloma going on about how this isn't "typical Big Brother" because everyone is getting along.
Brittany – if you have a chance to talk to Monte get his read on that and let me know what he thinks.
Brittany – Michael.. Literally we were talking and asking who do we want to bring into this and I was like Paloma and Monte. Paloma and Monte. They are the strongest those are the ones I like the most. It just makes sense.
Brittany – I'm not saying a final four thing we can wait until we get to jury. We can date before we get married.
Paloma – you're a freaking savage.. You're a freaking Savage.
Paloma says Pinky promises are outdated they now Fist bump
They fist bump.
Brittany – this doesn't negate our Girl thing I just want to emphasis. It's on top of it. It's a nest egg alliance.
Paloma – you're thinking like 6 moves ahead.. it's who's the best chess player.. it's basically whos thinking 20 moves ahead at this point. At this point we are already thinking about Noms Taylor's not even out of this house and we're already thinking of next week. When has that every happened in Big Brother when they think of next week? It doesn't happen (Happens all the time)
Brittny – how can you and I get far?
Paloma – listen to me there' s chessboard in there I want to use it.
Paloma says she has a good relationship with MOnte and Michael wand will talk to them tonight about this deal.
Paloma – "I feel like a pull pork sandwich getting pulled by everyone"
Paloma – this backstage thing is a blessing it allows me to be friends with everyone and create these strong relationships
Paloma – can you believe I think I have the strongest relationship with each person
Brittany – why do you think I am talking to you beside someone else?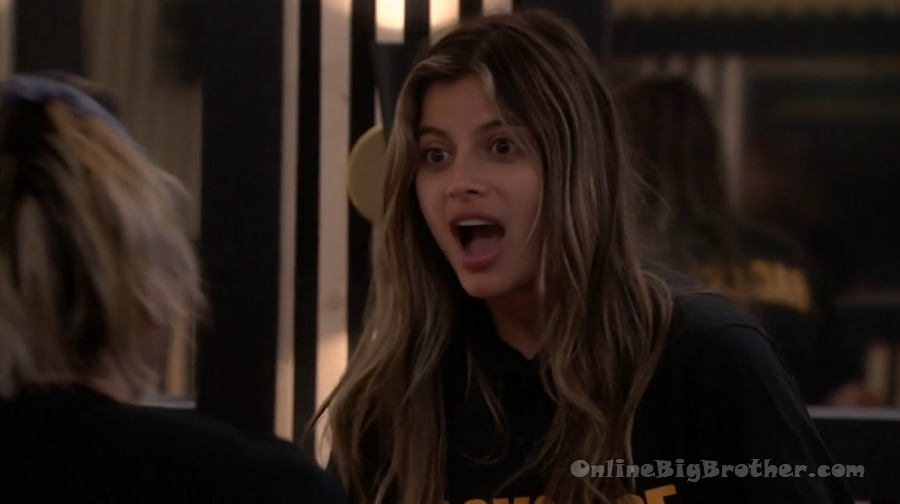 11:51 am Paloma and Daniel
Paloma going on about how everyone wants to talk to her "You know why? this (backstage shirt) has allowed me to be HOMMIES with everyone at the same time I'm like YO I need to breathe"
Paloma – have you seen how much I'm talking it's honestly not because I want to f***ing talk it's because people are stimulating my brain and I have to respond
Paloma – this is basic stimulation science
Paloma starts talking about how everyone in the house feels like family now.
Paloma – I want to go to bed at 10. We need them (Production) be like YOU GUYS NEED TO GO TO BED. we need to start being reprimanded by the voices above. I'm telling you it's turning in a frat house.
Paloma now starts talking about reading through the rule book in the storage room. Going into detail about the chapter filled with legal stuff. "We're savages right now we're all like monkeys.. I believe that it's chaotic"
Daniel laughs
Paloma – IT's chaotic.. can I have a snake or something I haven't had time to eat. You know what I had for dinner last night? I had a piece of cheese with Mayonnaise. I love Mayo but I'm sick of this.
Paloma – we broke reality TV.. They want us to be vengeful and be like OH MY GOD F** that BEEOTCH
Paloma points out how friendly they have all been to each other, "With Taylor they (Fans) are probably like OHH SOME JUICE they're probably like ohh my god everybody hates Taylor."
Paloma – Do we Hat Taylor? no we still love her because she's a Raw human being at the end of this
Daniel – she's doing great to Vibing
Paloma – She's vibing. Her social game sucks but beside that she's still a nice person it just took longer.
Daniel – we'll see how she react to it. (Being nominated)
Daniel laughs because Paloma cannot stop talking.
Daniel – I want you to win HOH cause I'm going to die.
Paloma – imagine if I win HOH all you guys will be sleeping up here that's my worst nightmare.
Paloma – I'm not HOH right now and everyone is bugging me. imagine if I am HOH. I'm throwing that shit next week
Daniel – I may be wrong but I think you walked into this room saying you don't want to talk game.
Paloma – I'm realizing we're all the same person and Terrance was like about the structure of the wall and how to break it down… I'm like what the f** that's how I think
Paloma goes on about all these similarities between the houseguests.
Paloma – I'm going to turn an atheist into a believer right now with all the coincidental shit that is happening right now. The Dove, the tattoo arm thing the cardinal.. The Tea bag I got a message yesterday..
Feeds cut..

11:59 am
Veto Ceremony starts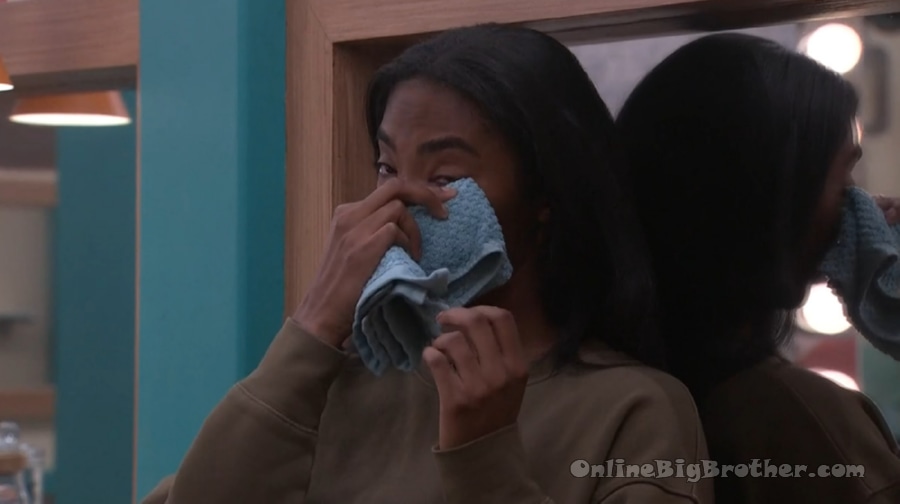 1:26 pm Feeds return Michael used the veto Taylor nominated in is place.
Girl's Girls (Paloma, Jasmine, Alyssa, Ameerah, Indy, Brittany)
Motley Crew (POOCH, Turner, Daniel)
The Oasis (POOCH, Turner, Daniel, Kyle, Monte, Joe)
MAMBA (Paloma, ALyssa, Ameerah, Monte, Kyle, Michael)
Burner (Turner, Brittany)
TOOCH (Turner and Pooch)
PSL (Paloma, ALyssa)
Rouge Rats (Nicole, Daniel)
Smurfs (Jasmine, Paloma, Kyle, Monte)