Quick Big Brother Spoilers
Head of Household: Daniel
Nominees: Michael & Terrance
POV Players: Daniel, Michael, Terrance, Indy, Ameerah and Turner. Kyle is hosting
POV Winner: Michael
Veto Ceremony:
Evicted:
Havenots: Joe, Michael, Monte and Kyle
Lock your ranks in before midnight
8:57 am
Daniel, Nicole and Kyle
Chit chatting about how sore their throats are from all the talking.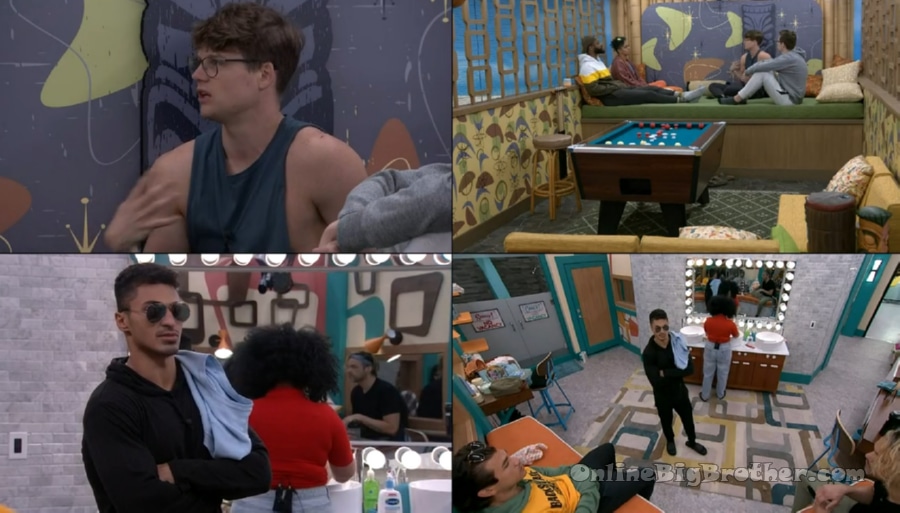 9:27 am Chit chat throughout the house. Kyle shares a story about being a Mormon and having an elder rejected him from doing the 2 year missionary. On the other camera Ameerah shared a story about being nicknamed "Fudge Packer" by "Some guy" in middle school. It wasn't until much later that she found out about what it means by watching Office Space.

9:32 am Daniel and POOCH
Daniel – Michael brought it to me, what if worse case scenario. What if Backstage
Pooch lists of his three ideas what the backstage could be.
POOCH – they send one of the people home .. which is absurd.
Daniel – that would be insane if there's two people going home
Pooch – Competition.. A quick one to be the third nominee
POOCH – they make me or you pick the third nominee.
Pooch – that's why I'm really not worried what else could it be beside those three that you think?
Pooch – Say I pick a nominee to take down.. I take down Terrance ..
Daniel – The only other option I want you to be prepared for. Do what you have to do but we are working together.
Daniel – Michael brought this up.. Michael is pretty f**ing smart. He builds escape rooms.. and he's a super van.
Daniel – He was like what if.. One of the three backstage people.. the three girls. In the event the veto is a forced replacement by your choice of the three.
Pooch – which is easy.. Brittany
Daniel – that's what I wanted to hear.
Daniel – the positive for me is I don't have to put anybody else up.
Daniel – if it's Brittany or Terrance who do you think goes home or who would you want?
POOCH – I think Terrance might go
Daniel – Exactly I think we could use Terrance more
Pooch – I'm good with Terrance…
Daniel – the problem with Brittany she's been very open with me.
Pooch – yes same
Pooch if he won HOH he would put up Indy and Brittany. "If someone won the veto that's not Indy because Indy would be the target.. We keep nominations the same… Worst case Brittany wins and we have to put up somebody to make sure that Indy will go home"
Daniel – it will have to be someone so sweet like Alyssa or Paloma
POOCH – For sure
Daniel – I think Indy would go home.. she's such a wild card
POOCH – she's talked game with nobody
POOCH goes on about how tight their 6 person alliance (The Oasis) is.
Terrance joins them. They fill him in on some of their Backstage speculation. Tell him that they want to keep him in the house Taylor is the target even if there's a third nominee. The entire house wants Taylor gone so he's safe.
Terrance – I'll still do campaigning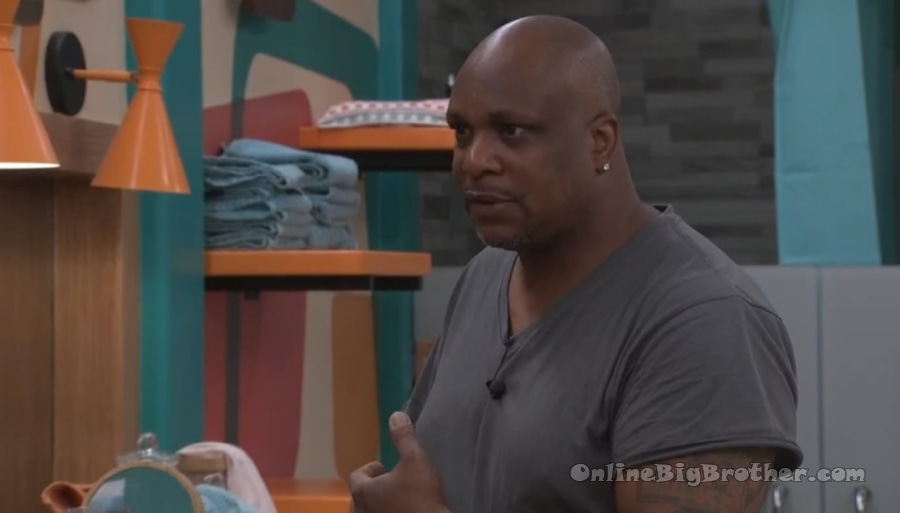 9:56 am Terrance and Ameerah
Ameerah says Taylor came to her asking how she was feeling about the nomination ceremony.
Ameerah – I said I don't know because.. like I can be put up there's not many of us that can. Like 4 people are out that's crazy. big deal
Terrance – HUGE
Ameerah – she was like I think I'm going to be put up.
Ameerah – she was like you don't think they will put up two black people right?
Ameerah – I'm like I don't know ..
Terrance – Like you just said the crop of people we got to choose from is very small.
Ameerah – it is what it is
Terrance – He's got a certain selection he's gotta pick from and he's got people that have been rocking with him and talking to him. YOU got to respect his game play to.
Ameerah – It's like she doesn't have any leverage.. I don't think anybody is riding with her. It's an easy out.
Terrance – Ain't nobody going to fight ain't nobody going to feel a way
Ameerah- its not hurting anyone's game. Nobody is going to go after Daniel
Ameerah – I think people could try to put Daniel up because he was the first HOH. I wouldn't vote for him to go out
Terrance – I wouldn't either. I couldn't because of the energy he gave me. During this whole situation.. (LOL)
Terrance – to me he's totally protected. If anybody felt a way just like he did for me I will campaign against situation cause I just respect that. You know what i'm saying?
Terrance – He didn't have to lend his voice to saying I would prefer Terrance to stay .. you know what I'm saying No matter what.. you know what I'm saying. Keep that energy. He cool for me.
Terrance – he's a number for me
Ameerah – same I feel that he's a number
Ameerah – this next HOH I'm scared about
JAsmine joins them.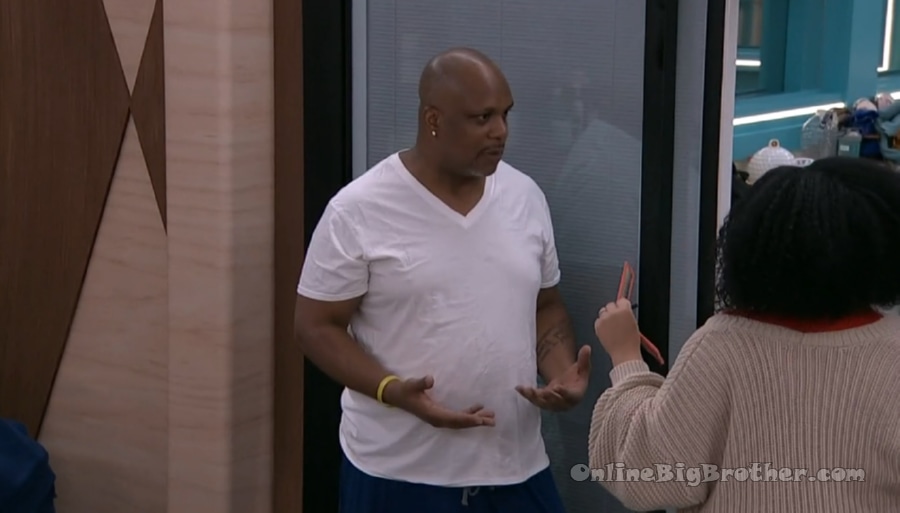 10:16 am Terrance and Jasmine
Terrance saying if he wins HOH he needs her help with who to put up Says he can't put Daniel up.
Jasmine says if he puts up Michael he wouldn't have blood on his hands "You have to get a threat out"
Terrance – we got to make that HIT though and I'll need the whole house to make that HIT
Jasmine – do you feel close with the other guys?
Terrance – I feel close to those guys. I got Turner and I got Kyle.. I don't know about Joe.. We're cool.
Jasmine – would you GUN for any girls?
Terrance – would I put up any girls? we would need to talk about that but I wouldn't put up someone you are close to I wouldn't put them up.
10:33 am
Taylor and Alyssa
Taylor says she doesn't think Daniel knows who the replacement will be. "He's just so stressed by it he doesn't even know"
Taylor – he probably has some names in mind. All people have right now is he social game because it's been so early. If you haven't been playing the social game and you go up you're shooting yourself in the foot. You should have been playing the social game from day one no matter what happened
Alyssa – 100%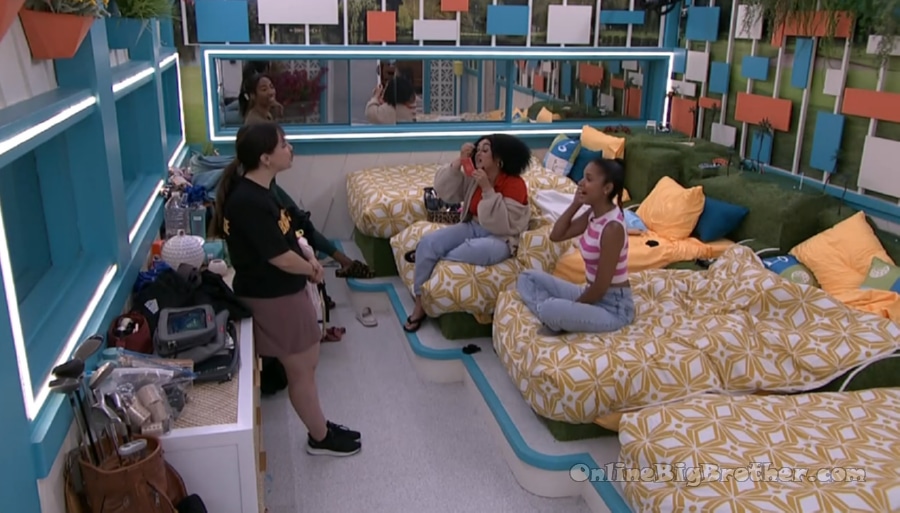 10:43 am Ameerah, Brittany, JAsmine, Taylor
Friendly Chit chat about Big Brother 23 and 16
Girl's Girls (Paloma, Jasmine, Alyssa, Ameerah, Indy, Brittany)
Motley Crew (POOCH, Turner, Daniel)
The Oasis (POOCH, Turner, Daniel, Kyle, Monte, Joe)
MAMBA (Paloma, ALyssa, Ameerah, Monte, Kyle, Michael)
Burner (Turner, Brittany)
TOOCH (Turner and Pooch)
PSL (Paloma, ALyssa)
Rouge Rats (Nicole, Daniel)
Smurfs (Jasmine, Paloma, Kyle, Monte)