Big Brother Spoilers – Christie won the HOH, Nominated Cliff and Kathryn. Veto players were: Christie, Kathryn Cliff, Sam, Jack, Nicole. POV Host was Tommy. Sam wins the Power of Veto, it was called Food fight. Sam used the Veto on Cliff and Christie nominated Ovi as the replacement. Ovi has a power he can secretly force the Head of Household to select two new Noms after one of the first 6 nomination ceremonies. We've just had 1 nomination ceremony. The "house" is planning on evicting Ovi tomorrow. 
House Guest alternate names:
Analyse AKA Sis
Jackson AKA Michie AKA mickey (Jackson Michie)
Isabella AKA Bella
Grab your live feeds —-> BB21 Live Feeds Subscription Link
Rank your houseguests —-> Big Brother 21 Ranking
11:26pm Bedroom. Cliff and Ovi. Cliff – part of your path should be Kat seeing you talk to people and acting happy. She getting paranoid and Jackson is getting frustrated with her continually asking am I good, am I good, am I good. And I think one of the ways for this to happen would be if she kept getting so paranoid that Jackson finally .. the damn breaks. And Jackson says screw it, I'm tired of messing with it. Ovi – so she could still blow up. Cliff – or talk about the power you got .. let her wonder. I'm feeling like that might be your path.
11:32pm Bedroom. Ovi, Jack and Jackson. Ovi – I know you're in a hard position but you know I'm good for your game. And you're (Jack) in a hard position, you have to do damage control by you showing support to me, makes you a target. Kat doesn't help y'all's game. She's a floater. You need shields. So I am going to tell you one thing and I ask that you keep it in this room. Can I trust y'all for that? Jack – yup! Ovi – I can be y'all's shield. I won the nightmare power. And that power means for the next 6 weeks if are.. if at any time during the next 6 weeks if two people are put on the block. I can decide to have them come off the block so that they're safe that week. If you keep me safe this week. If you bring in Sis (Analyse), if you bring in Holly. I have Tommy, Cliff and Nicole. That's seven. Next week if someone tries to put you guys up, I will use my power to take you guys down so that you will have safety that week. And then the HOH will have no other choice than to choose someone randomly. And if that means that I have to be randomly picked, I will take that. But I can guarantee you that power and if they don't put you up, I can use if for next week whenever they try to put you up. And then they will come after me. You guys are guaranteed safety next week. Jack – that's big! Jackson – that's f**king huge! Ovi – and that power is only powerful if its a secret. I couldn't tell you, unless we needed it. I couldn't use it because I was back doored into this. And no one thinks I have the power because I would have used it by now. You are the only two people that know about it. Once people know about it, it loses its power. If there is someway you can convince Sis and you can convince Holly… I can keep you safe. I have up to 6 weeks. That power is in your back pocket because I'm in your back pocket.
Ovi –
this is an advantage guys. Jack – obi one kenobi. Ovi – and if I leave, the power goes with me. Jack – I'm sh*tting my pants. Ovi- and I wanted you guys to have a night to think about it. Jackson – sh*t just got interesting! Jack – you sand bagging son of b***H. Jack – Cliff doesn't know about it. Ovi – no. You can go into the diary room and ask if its real. Jackson – shake his hand. Jack shakes Ovi's hand. Ovi leaves so that they can talk.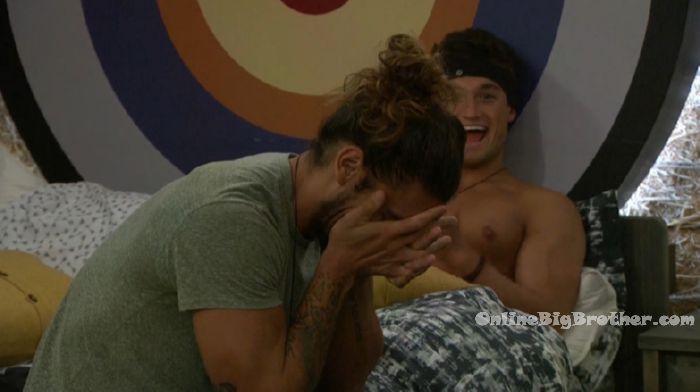 12am Jack and Jackson. Jack – how do we convince our squad to keep him without letting them know he has the power? Jack – Sis might flip. Jackson – Cliff already told me. Kat is freaking out even more. He said he is going to vote with the majority he says. Jack – you lose Gr8ful if you do this. Make it 6. You have to tell Bella and Holly. And Bella and Nick are out at that point. And the problem is he is only guaranteeing to use his power for you or I and not Christie, Not Sis, not Holly. And how do you convince them to make that move? The only way you can convince them.. the only way we can do this without getting blood shed .. because Nick and Bella are going to be coming.. is by telling Christie, Sis, Holly that he will throw it up.. but Tommy has to know too. If he had just told us 3 hours ago before we made our decision. Jackson – I think that we both know that people are going to be coming for us and that it is naive to think that Gr8ful is going to last all the way til the final. I think we both know that if given the opportunity Nick and Bella would strike first. Jackson – I think we call him on his bluff. Jack – he doesn't have to use it though .. we could be on the block and he say sorry dude. Jackson – I would like to think that handshake means something. Jack – or we bring him back in here and tell him he has to use it on six. Jackson – how can we sell our alliance without telling them. Jackson – what if he doesn't use it on us. Jack – we are both going up if they win HOH. Jackson – I know, we have to. Jack – we have to tell the team. Jackson – we have to keep Ovi. There are no guarantees in this game and we have to fight for survival 1 week at a time. And right now we have week 2 in front of us. We can't think about weeks 3, 4, 5, and 6. We have to get through week 2 first. Right now we are guaranteed safety for week 2 and we have to f**king take it. Jack – so we're not 4 anymore .. we tell him that we're going to take it and then just send him off? Jackson – what other choice do we have? Jack – knowing that the power isn't f**king out there. And telling the team we sent them off. Jackson – if we're going to send him off we don't tell them about the power until after he is gone. Jack – f**k I want this power bad but its not the play. We got an offer on the table and we didn't take it. Jackson – are we going to look like the dumbest players that we had guaranteed safety and we didn't take it. Jackson – I think we need to talk to Holly and Sis before we talk to Christie and Tommy. Jack – I don't trust Holly .. she already ran her mouth that I tried to make an alliance outside the alliance. Cliff comes into the room and breaks up the conversation.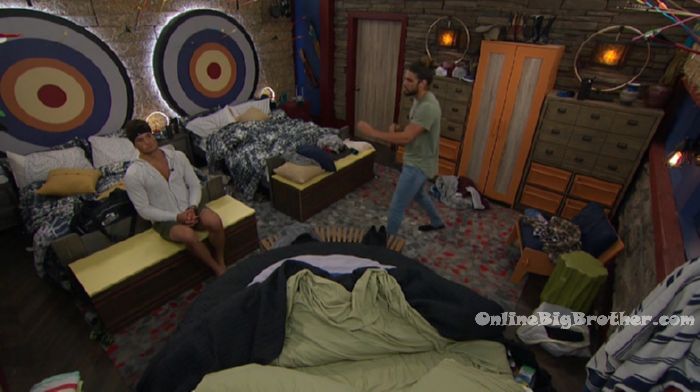 12:16am Boat room. Tommy, Jack, Jackson, Christie. Jackson – we've received news. Ovi has the power and he just shook both of our hands and swore on god that .. he told us that power and it is this .. he has the power to take two nominees off the block and force the HOH to make a panic renomination but it can only be for the two nominees, not after a veto. That's why he couldn't use it. It is available from weeks 1 – 6. He is on our side and will use it on us. Christie – he didn't tell me that and I'm HOH. That doesn't fly with me. It shows me that he would never use it on me because he didn't tell me about it. I don't feel comfortable with a power like this .. so get the f**k out! I'm sorry, I'm not changing my mind. Jack – we're going to tell him he got him. We take the deal and then we're going to vote him home. Jackson – we're going to bluff so that way he doesn't go to the other side. And here is the kicker .. if he comes back into this game .. that power comes with him. Christie – yeah but its 6 weeks.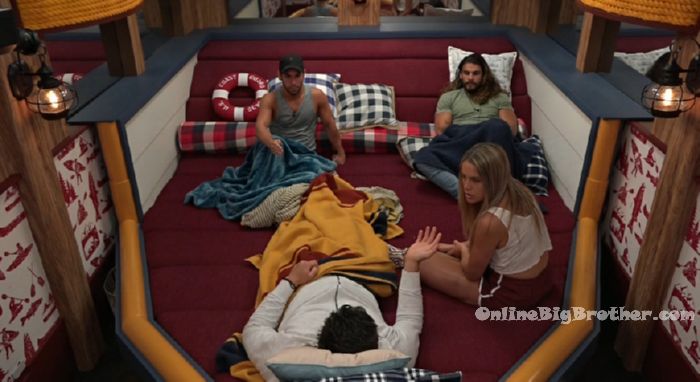 1:13am Kitchen. Jack, Jackson and Ovi. Jack tells Ovi that he has Christie's word that if its a tie break she will vote to keep him. Ovi – did you tell Christie. Jack – Christie is the only one, she is sacrificed for me in this agreement. Ovi – okay, if that's what you want. You have my word. Jack – she takes my place. Ovi – okay, if she is up. I will use it. Did you tell her about it. Jack nods. Your best bet is to play it like you're going home. Ovi – so I need to play it like I am going home tomorrow, okay.