Head of Household Winner – Tyler
Have nots – Bay, Janelle, Cody and Enzo
Nominations – Janelle & Kaysar
Power of Veto Players are -Janelle, Tyler, Kaysar, Cody, Bayleigh, Memphis
POV Host: Christmas
Power of Veto holder – Cody
Power of Veto Ceremony – Cody Doesn't use the power of veto Nominations stay the same.
Safety Suite – Enzo wins Christmas is his plus one.
Live feeds —-> Grab your Live feeds here. Try it free.
Rank the houseguests —-> Big Brother 22 Ranking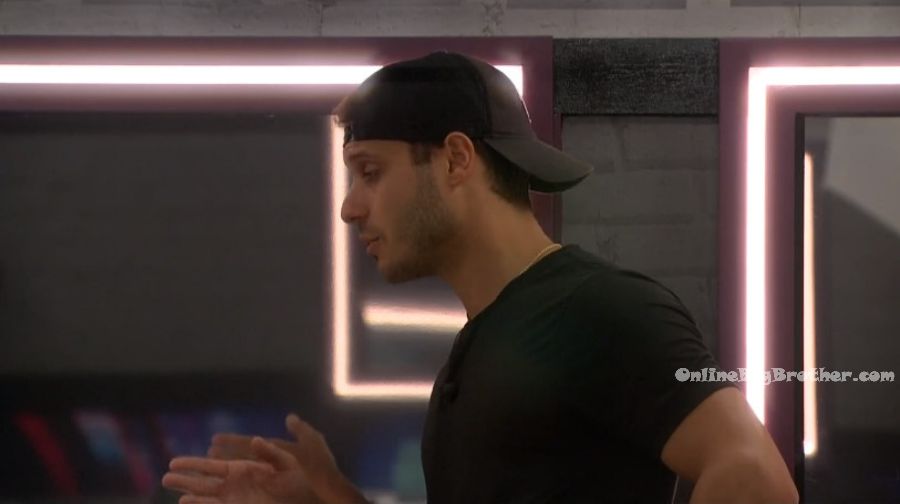 7pm Bedroom. Dani and Cody.
Dani – I am just trying to be fair which is stupid because Big Brother is not fair. But why are you going to target your own alliance? To weaken them as a havenot when you want to win HOH? All she does is talk about her own alliance which doesn't make sense. Cody – well that is what Day was doing in the beginning and now Bay is doing it too. As long as you're not going to do it and Christmas isn't going to do it.. now I know the information and now I know who I need to target. Like Bay and Day.. I don't think would be like oh I'm going to take the shot at me. And that is good for me to know. She thinks that Bay is trying to throw your name out to Christmas. Cody – yeah, but Christmas is in our alliance and I don't think she is going to break loyalty on that. Dani – no way.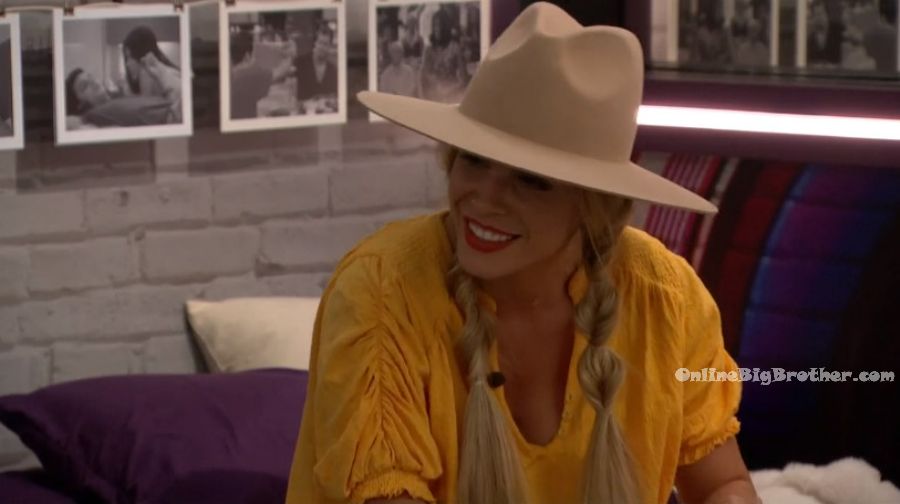 Cody – Now it makes it easier if we are in the fifth or sixth week I don't have a problem drawing the line in the sand because who is going to target me. I had a long conversation with David today. Dani – me too. He is desperate. Did he give you the I want to play with a group? Cody – no. Dani – what did you get? Cody – about the guy thing and people running around. I was like who do you think was running around .. it was Day. I was yeah bro it was. She was trying to flip votes on you. Dani – I hope that doesn't get back to her. Cody – no it won't. Dani – he is tight with her. Cody – she needs the numbers.. you need the numbers to send people home. Dani – but what if he says you said that. Cody – he was like things are going around and I was like yeah people are going to try and flip stuff this week too. But I was like Janelle is going home this week.. period! And he was like yeah that's what I think. Dani – I feel like he is kind of open with me but not.. like I am not going to tell you anything if you don't tell me anything. I feel like he is looking for a group because he feels like he is on the outside. Cody – I get that he likes her (Day) but he isn't going to turn on me. Dani – I am just saying be careful. Cody – there are always going to be people that will mention your name. Who is she going to go to and rally? NicoleF? Memphis? Christmas? You? Tyler? Dani – I am just saying be careful with her. Cody – I am not saying sh*t to her. Dani – that is her game. Cody – but if I say something to David and now he says it to her.. that's an easy nomination. You have to put a little bit out there so that they bring it. .. Or I don't trust you in the slightest. When you're telling me stuff.. I am telling everyone! Dani – you're such a piece of trash! You're rude. You're garbage! Literal garbage.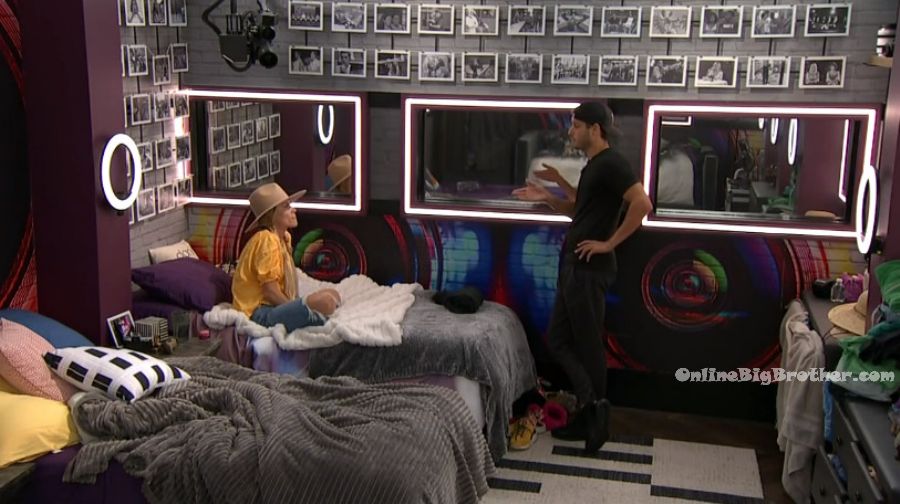 Cody – if he says stuff .. I am not putting Kevin up as a pawn .. you're (David) going up. Its literally those two.. who else is going to be a pawn? Dani – Kevin will be really mad. Cody – every time I see Bay and Day they're together. Dani – Nicole is pissed that they (Bay and Day) are trying to keep Janelle. She is like its a personal attack against me. Cody – its not a personal attack against her. Dani – its kind of like you're keeping someone that you know is going after her. If someone was doing that to you .. you would be pissed. Cody – right but are they working with Nicole? Dani – no. Cody – right so why would they care? Its good for them. F**k yeah! Hell Yeah! We just poke the bear. And if you poke Nicole too much she turns into a ferocious grizzly. Like I putting them BOTH UP! Dani – no she won't put up Day. Cody – I don't mind as we get further. I would rather send home Kevin. Cody – who are we not in an alliance with? Kevin, David and Kaysar?! Dani – isn't that crazy?! Like what kind of season is this?! I'm the Derrick and you're still the Cody!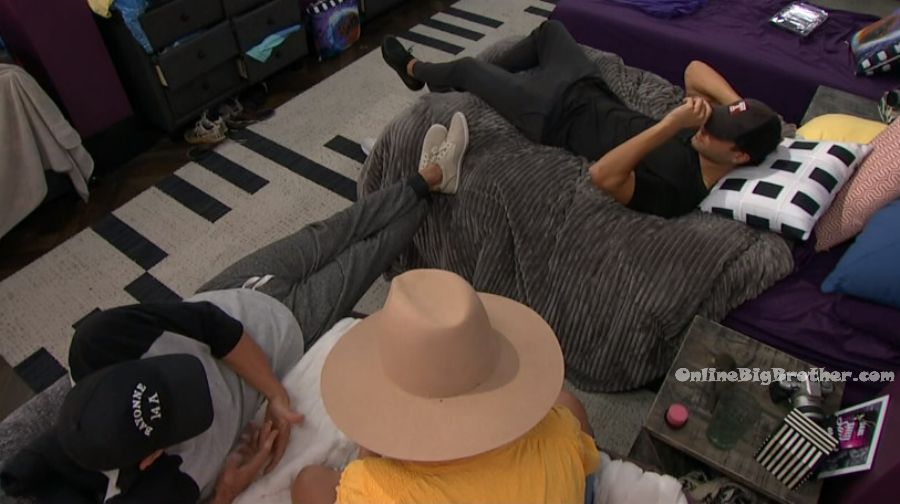 Havenot room. Janelle and Enzo.
Janelle – I feel like I am going home. Enzo – yeah and you don't know Tyler from a hole in the wall. Janelle – I get it. Easy for him. No blood on his hands. I am not going after Tyler. Enzo – I just hope people aren't bullsh*tting. Janelle – with the votes? Enzo – yeah. Now we have to go around and ask people but everything is closed. Janelle – everyone is going to say its 50/50 right now. Its dumb. Enzo – and I think Tyler doesn't care. Janelle – he doesn't. Enzo – I will go around and be like pros and cons. I would be straight up ..like the house is voting you out. I will tell you straight the f**k up. Janelle – yeah Dani said she would too. As an old player and out of respect.. just let me know. Enzo – I did the same thing to NicoleA. Janelle – she lost her ever loving mind! Enzo – there might be a battle back .. you never know. Janelle – and if I win a power next week. Enzo – I've thought about all this! I am going to go and talk around .. What the f**k are the pros and cons of keeping Janelle! I want to know. Enzo – I like you a lot!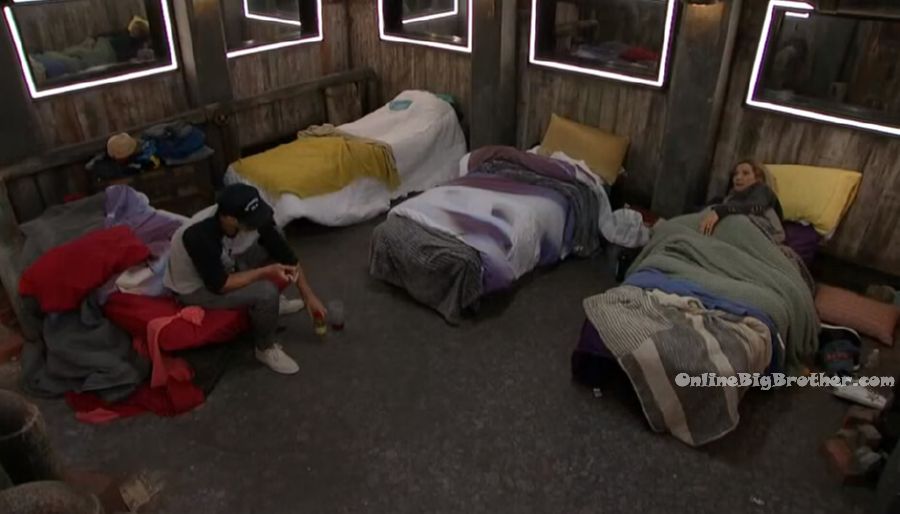 8:05pm – 8:35pm HOH room. Tyler and Christmas.
Christmas – if its a double eviction .. we have to slit Day and Bay. Tyler – Whoever wins and doesn't put Kaysar up .. that's like drawing a line in the sand. The house has pretty much said that next week Kaysar has to go. Christmas – Next week if Memphis wins he isn't going to put Kaysar up .. he is going to put two floaters up. Tyler – he might put Kaysar up. If we come together as a comity before my HOH is over. If that's what we need to do. Christmas – no matter what happens Memphis is still a big target for David. David can't get past that personal sh*t. Tyler – if Memphis had treated me like that I would have been coming for his a$$ too. Christmas – if I don't put up one of you guys I am outing myself to them anyway. Tyler – oh thats true. I don't know have they said they want me and Cody up? Christmas – no. I will ask them what we should do if there is a double eviction. I'll be like lets get a little bit ahead of this.. and what's the plan. Tyler – if they're not saying sh*t then worry about it.. and if they're saying me and Cody.. I don't want you climbing the list because I am already up there and before you know it .. they'll put us up together.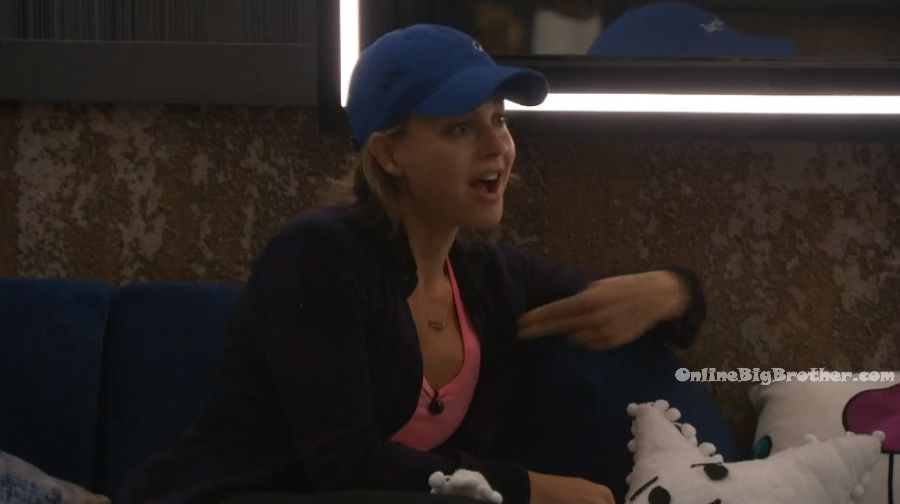 8:40pm – 9:45pm The house guests get alcohol… They start playing charades..
9:50pm – 10:05pm HOH room. Tyler, Dani and Nicole.
Dani – Kaysar hasn't said anything to me ..like anything.. I thought he was trying to get himself kicked out or something. Tyler – Janelle is already campaigning. Nicole for two days. Dani – Janelle has already got me twice and she said she is going to get me again by the end of the night.. What do you think I just have updated information for you by the hour?!! Nicole – she won't campaign to me! Dani – she was just like I'll be up on the block ..week after week after week so it will be easy for everybody! Stop it.. like you're just going to lay down and die!? Tyler – we have to get her out for your (Nicole) sake. Dani – yeah this is all for you! Appreciate us! Nicole – if she was able to get herself out of this .. that is crazy! Dani – I straight up told her it seems like an up hill battle for you. Nicole – she is going to say something crazy I think. Dani – she might say some crap to like Julie as she is walking out. Don't worry about it. Just uninvited her to your wedding in your goodbye message .. you have to.. like you have to! Think of a to say it that is funny and not rude. David joins them.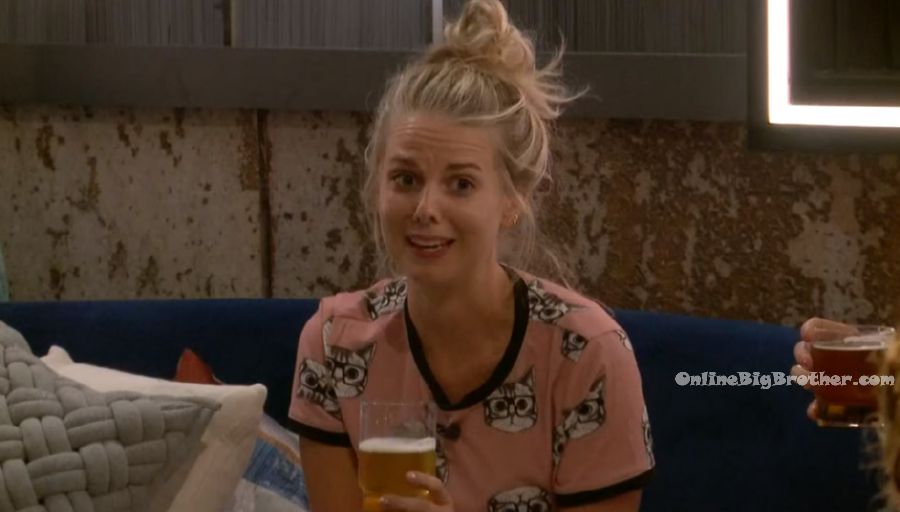 HOH room. Tyler, Dani, Nicole, David, Cody, Kaysar, Christmas, Bay. They're playing the price is right with the furniture and other items in the HOH room. Everything still has the price tags on them so the house guests guess what the price is without going over. The person that guesses the closest "gets to take it home".
Bathroom. Janelle and Kevin.
Janelle – David hates me. Kevin – was up there last night so he probably has something worked out too. Kaysar with Tyler. Janelle leans over to whisper in Kevin's ear "The alliance is real because its been in the DR with me several times." Kevin – who do you think it is? Janelle – Tyler, Cody, Dani and Nicole. Janelle – do you think it? Kevin – 100%! Janelle – I mean its just so obvious. It couldn't be more obvious to me.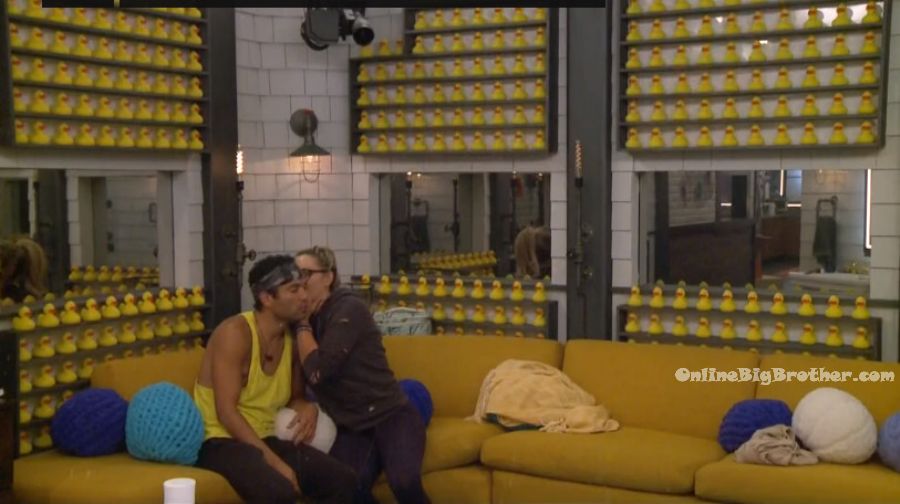 10:27pm – 11:05pm Lounge room. Bay, Day and David.
Day expresses her frustration with David. Day – do you have any idea how many people are going around talking about you and I being in a showmance because I went above and beyond to try and save you? David – and I recognized it. Day – so imagine how insulted I feel that you slightly believed it. you feel me!? Not much .. just a little bit. David – yup, yeah. Day – there has to be a level of trust. If we're not there .. lets work on it. Tyler is my friend and Cody is my friend. What do I do with that now that I know they're lying to me. That's the position I am in now .. so what do I do with that. Just bite it for your game? David – we can strategically work it out so that it neither of our games are at risk .. efforts can be made against those that are lying. But if you fact check right away .. it will shamble the house. I felt like I was okay to go to Bay because we were in an alliance. Bay – so where do we go from here.. because that's a lot. There is going to have to be an act of trust to build. David – This is what I can do.. I can fact check it.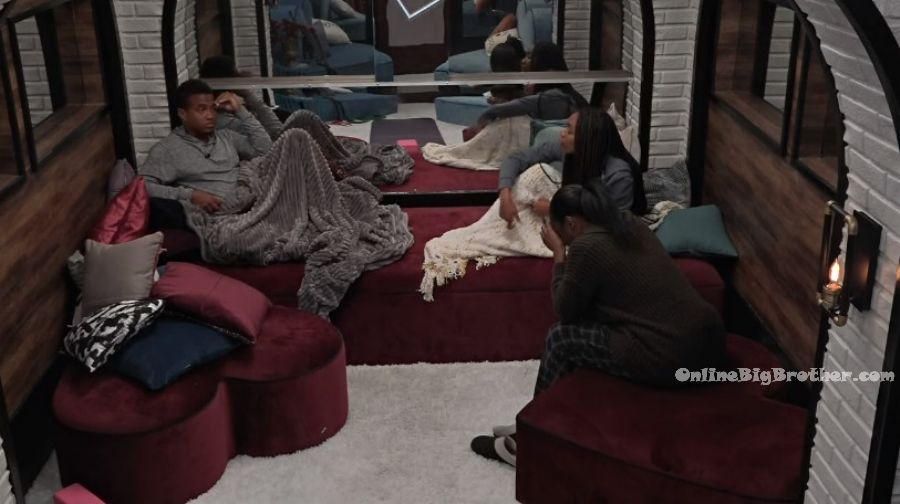 11:05pm Bathroom Bay and Day.
Bay – Today was the first time I heard that so don't even question that .. because I would tell you. And him (David) bringing up the Cody and Tyler thing that was a hypothetical in the future. And I was even like.. are you going to try and win HOH? And he didn't have an answer. But the whole Cody and Tyler thing .. you were the one that flipped the vote .. that was my first time hearing that. That is why I was like .. and now I feel kind of like .. what the f**k is going on!? Especially after the conversation we had with Tyler yesterday. Day – so what do I do with that?! I want to ask! Bay – then ask! Let me be completely frank .. because I already told him.. because you not telling us immediately has made us assume for the last few weeks. And then him being like Cody made me throw away my game. Pause, backspace, you're playing this game.. this is all stars. So if you really think you've got it tight in with them and they ask you to be in an alliance you don't even a game. Day – and I wanted to say that so bad but if I say anything else this man is never going to speak to me. Bay – there are so many things that we need to know. Day – that makes things so different. Bay – we have to sit on it and swallowed. It should be fact checked and asked. I am just as concerned about your game as mine because I can't do it without you. Day – that really bothers me!! It bothers me so much! Bay – yeah that is why I am shook. What if he is lying though!? Do you want to do it separately to see if the stories match up or do you want to do it together so they don't have time to get their stories straight!? Day – I feel like calling a f**king house meeting.. And sh*t like that makes sense for Tyler because that is how he played last season. Bay – where did it come from? Day – He said it came from them. Bay – right but where did they get it from. Did they just say Day or where did they get it from. Was it a decision to just say Day and they decided to throw your name under the bus? Or do they think that, that actually happened? Day – so to save him (David), how do I go to them and say hey did you two (Cody & Tyler) say that I.. Bay – you say it in .. Hey I was having a conversation with David and he was kind of like hey I don't know where we stand because last week I thought you were trying to flip the vote against me. And he said it was in conversation that your names came up. And then they can be like oh I said this and you can read that for what it is. Day – I don't know if I should address it or take note and move forward. Bay – okay you decide and let me know what your game plan is moving forward.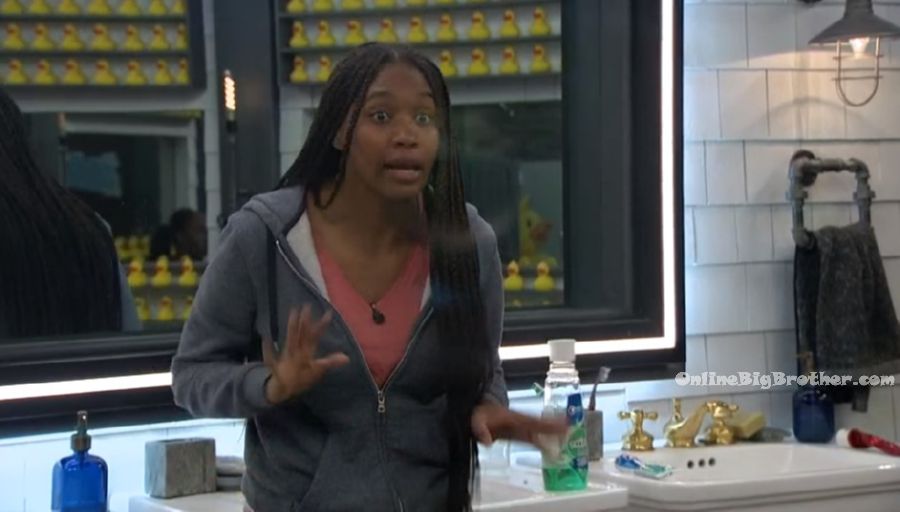 Kaysar and Janelle.
Janelle – you've got to win power on thursday and if not its going to be the same thing. Kaysar – and what its one person you take out? And then they get right back together and do the same old crap. Janelle – yeah. Its only week 3. Kaysar – and we thought Tylers season was a snooze fest. Janelle – yeah it was .. I mean it was a really good season. Kaysar – for those in power. Janelle – what is your game plan moving forward .. who are you going to work with? Ian? Kaysar – Ian and his ties to this .. is exactly what I didn't want. Some fragmented BS that we get picked off because its a numbers game. This is the worst. So we have to be an underdog. Christmas doesn't trust Day.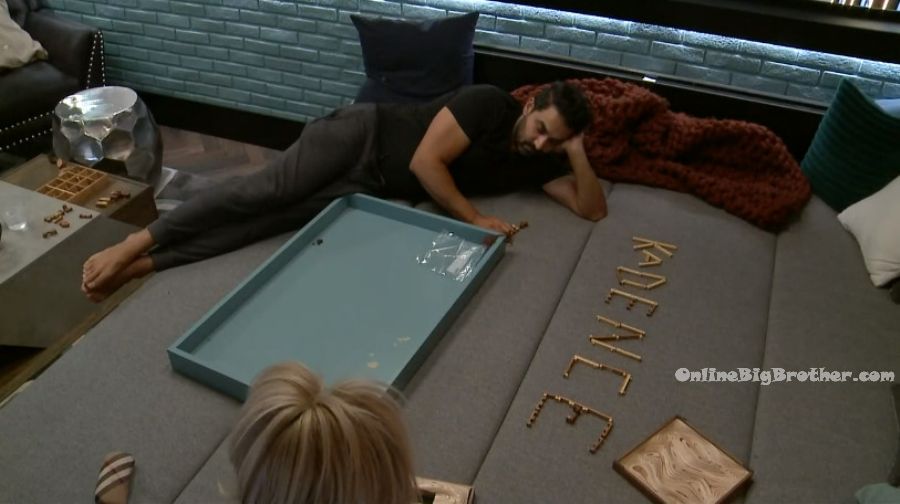 11:45pm Bathroom. Bay and Kevin.
Bay – I said here is the thing ..I want to fact check. And he (David) said if you do that then you blow up my game. But I was like you don't want to know why they would want to cause a rift between us? You're not a little bit curious? And he was like oh you're going to blow up my game. Kevin – with? Day – Cody and Tyler. And this is what pisses me off because after he still didn't believe me .. he came to you to triple check and confirm that I didn't do it. He still didn't believe me. Kevin – because he has three different sources. Bay – I want to ask Janelle.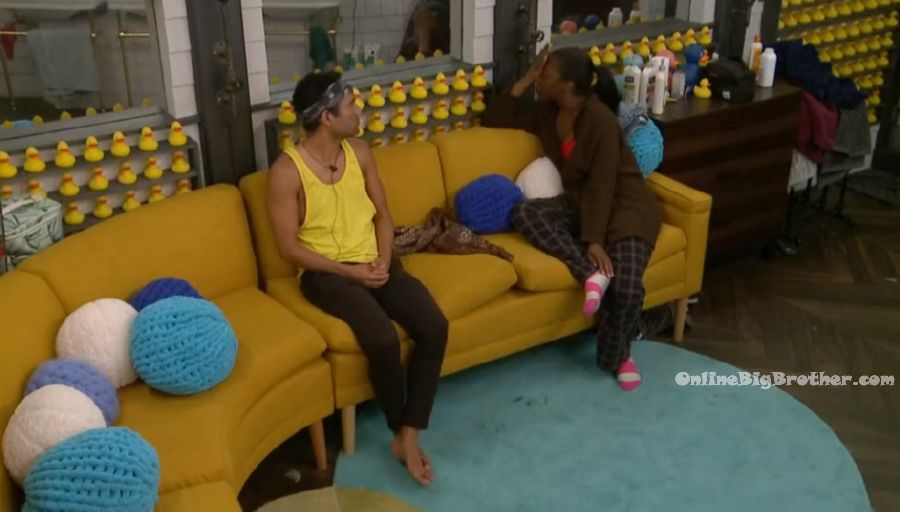 Lounge room. Day and Janelle.
Day – David came to me and told me that you said that I was going to vote against him last week. Janelle – noooo, no, no, no, nope! Didn't say it. Why would I say that!? How does that benefit me?! What the f**k!? Day – and this is why it didn't make sense to me because you want me to talk to him about saving you so why would you tell him that to try and cause a wedge between him and I?! Janelle – I wouldn't say that. Day – but that is what he just told me. Janelle – if anything I said I am working with two amazing women that I am hoping we can all work together. I said that people I talk to the most are Day, Bay and NicoleA. And he just f**king hates me. Janelle – Why would I give up all the juice on what we're trying to do!? NicoleA told him everything.. F**king everything. That is why that man hates me. She blew up my game. I didn't say it but maybe she did. Because everything that I said last week .. he knows about. And its got to be through NicoleA.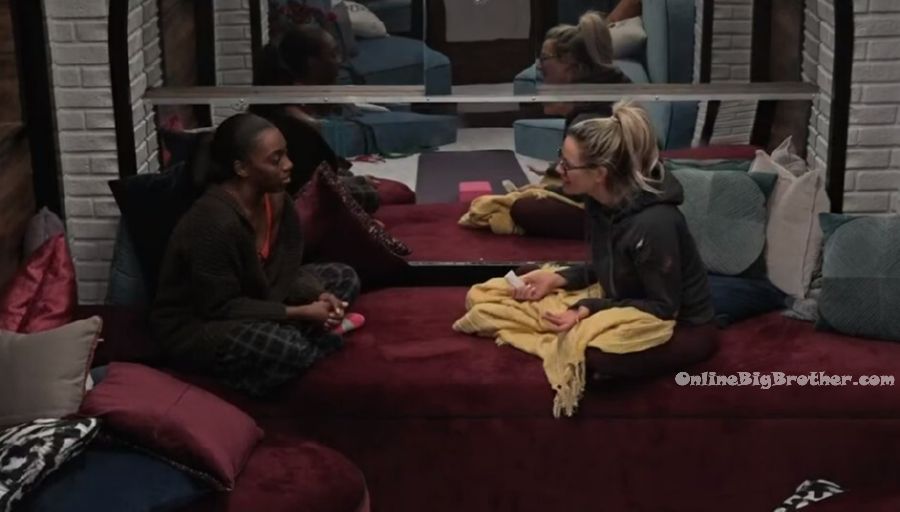 11:40pm HOH room. Tyler and David.
Tyler – did you tell DaVonne? David – yeah. Tyler – did you tell her that I said it? David – yeah. Tyler – bro!? What the f**k man!!? Why would you say that?! David – because .. Uhhh.. I figured out why. Tyler – Yo! I don't play next week. David – yeah but you're not even a target. This all comes from Kaysar. Kaysar is the source of all this sh*t. F**king Kaysar! When he tried to corral everyone and say I have Day, I've got this and I've got that. He would then go to Janelle, NicoleA and Kevin and be like I've got these people. That's how it came to you and how it came to me. Tyler – I trusted you and I wanted to let you know. David – I said I don't believe it. And it wasn't true. Tyler – and if it was true now Day is coming for me next week. David – she won't come for you. If she comes for me hard next week .. then you know it was true. David – I already went to her and told her that the source was kaysar. Tyler – but you said that I told you. And I never talked to her about that. But she never talked to me about it either. Dude! I literally said I am telling you this and if you f**king say it ..it blows my sh*t up! Come on MAN! David – I got corner.. I f**ked up! Tyler – how do you get cornered.. How do they even push you to say that?! David – I felt vulnerable. Tyler – i get that, that is why I want to be here for you dude. Its fine dude. We will figure this out. David – I f**ked up! I feel like I am in a dumb spot. Tyler – you're not in a dumb spot. How do we fix that?! I was in a good spot with Day where she finally trusted me. Day is never ever ever going to trust me. No matter what you or I say. And what if that sh*t was true.. you're going to feel dumb after this and I will too. I am F**Ked next week. You know how many numbers she has rallied around her?! David – I don't think that is the case. Tyler – this is just sloppy .. this is sloppy sh*t. I am the one that is going to get caught. Tyler – did you tell her the back source? You didn't say that I just heard it? Now that she's heard that she is going to think that I am trying to run sh*t and get me out. And what sketches me out is that I just ran into you.. otherwise I wouldn't have even know this. I am going to have to deal with the repercussions. I don't appreciate you f**king me over. David – I want to win HOH. Tyler – that isn't going to help me with DaVonne. I have bigger fish to fry but if she is coming after me for stupid sh*t ..just because I was trying to help you.. David – I have already told Bay twice that you're a competitor and we need you. She knows that and understands that. Tyler – we have to fix it. They know you're up here now talking to me. David – its early enough to where we can fix it. Tyler – you can say that f**king Kaysar was pitching to Christmas and saying that he had DaVonne and then Christmas told me because that is a true story.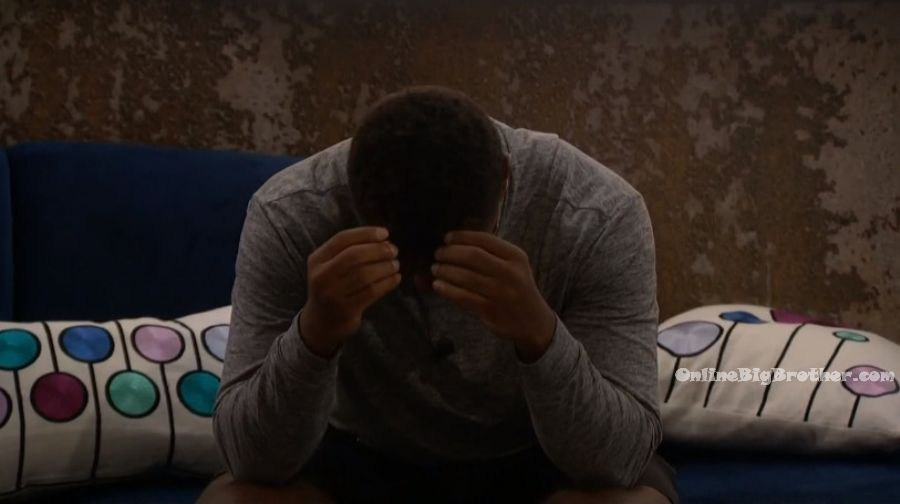 1:50am All the house guests are sleeping..
8:38 am Sleeping yo
Show your support by making a donation.
If you're enjoying our live feed updates this season, please consider donating.
Any amount is greatly appreciated! Your donations go directly to paying the fees required to run this site.