Head of Household Winner – ENZO YO!
Have nots – Dani, Tyler, Da'Vonne
Nominations –
Power of Veto Players are –
POV Host:
Power of Veto holder –
Power of Veto Ceremony –
Safety Suite –
Live feeds —-> Grab your Live feeds here. Try it free.
Rank the houseguests —-> Big Brother 22 Ranking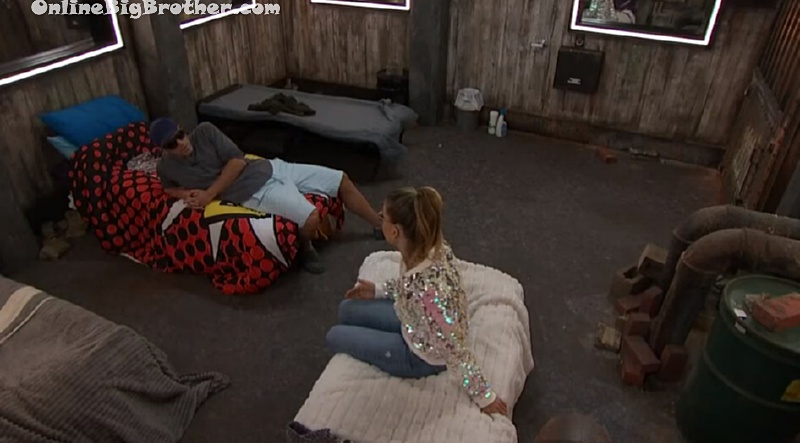 12:35 pm Christmas and Enzo
Christmas says there's a person in the house that is "emotionally" driven "that's not how I want to play that's first year sh1t"
Enzo says he hates the floaters "They're like leeches in the competitions when someone is ahead the pom poms come out
Christmas says the floaters are less threatening than the quiet couples. The couples can pull them in they don't have a team
Christmas says he should go for the couples in this HOH.
Christmas – people have to start taking shots at bigger game players versus these 'lower totem poles' otherwise at the end you're battling against these beasts.
Enzo – yeah it's harder .. it's just you and four of them and they're just monsters
Christmas mentions that on Cody's season they brought Victoria with them all the way to the end.
Christmas – she didn't win sh!t she was a vote
Enzo – yeah all the way that's it
Christmas and a shield .. and a pawn.. you need one of those
Enzo – just to keep using yeah..
Christmas talks about her season and how her team marched to final 3 (yeah her season was a real model for Big Brother gameplay)
Christmas – it's good to keep a couple of floaters especially ones you can pull in.
Christmas – right now you can pull in what you want. HOH has all the power
Enzo – yeah
Christmas says David is so unpredictable says Kevin gives too much information to Bayleigh and Da'Vonne.
Adds that Kevin is good with her on the side. She shook his hand the first week when he was nominated "He's been asking to work with me"
Enzo – that's a good floater that's a good floater for
Christmas – that's a good floater for us
Christmas – I didn't know if he was your target or anything
Enzo -No no no he's not the target. He's a good floater I like him as a floater YO.
Enzo says he'll tell Kevin about being a pawn. "Look yo you're straight every one loves you YO you're a floater that's it. You have to trust me .. I saved you week one I campaigned for you. I didn't use the POV on you but I gave you my vote and I campaigned for you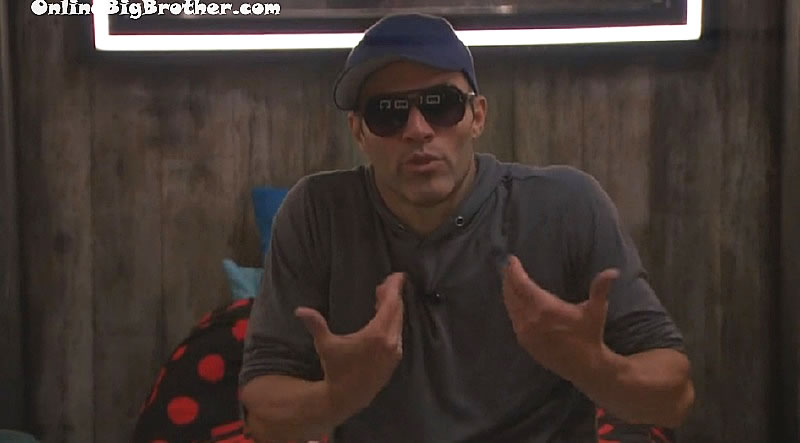 12:47 pm Ian and Enzo
Ian – I think one of them is pretty clear
Enzo – Like a pawn yo nothing crazy I respect you a lot I like you a lot.. You protect me I'll protect you yo
Ian – you're good .. that s cool
Enzo – you're not going up
Ian – Awesome
Enzo – you protect me and I'll protect you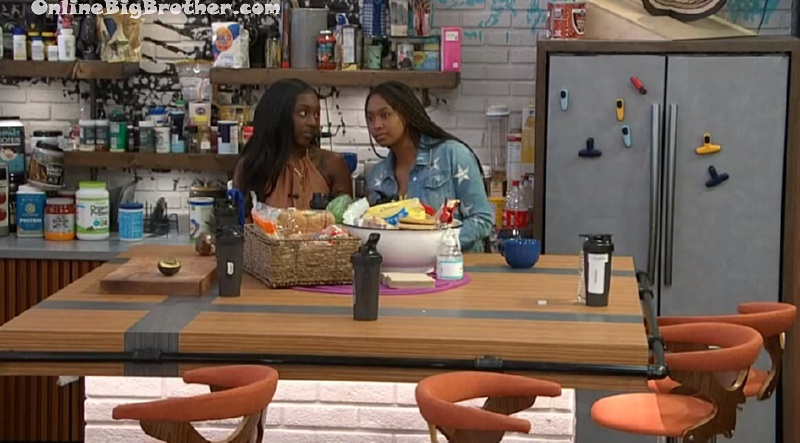 1:25 pm Bayleigh and Da'Vonne
Bayleigh – the perfect person won .. Anyone else I would have been.. ehhh (lol)
Da'Vonne – I told them that I never threw a shot at our girl. if you ever feel in danger let me know I'll pull the trigger
Bay – okay same.
Bay – it's not that she doesn't like me or I don't trust her .. she has too many ties.. She's not going after Cody, Ian, dani it's me.. I'm the only option
Da'Vonne – it's Kevin (pawn)
Bayleigh – there's going to be a meltdown
Da'Vonne – he'll be caught off guard
bay – so dave's not going up
Da'Vonne – girl.
They head to the heart room
Da'Vonne says Enzo is saying he doesn't want to get blood on his hands but on the flip side he kees p saying how the whole house is saying, David.
Da'Vonne thinks Enzo has side deals with David.
Da'Vonne – don't tell Enzo I told you about Kevin
They're getting excited that Enzo "brought up the four" (the connect) They think it's a legit alliance.
Bayleigh mentions again how Kevin will meltdown if he's the pawn. They want to tell Kevin to prevent the meltdown but they don't want Enzo to be pissed.
They go over the entire David drama from last week ..
Tyler comes up. Bayleigh goes on about how her and Tyler's beef is done. He told her he doesn't want Angela to get any hat when he's gone.
Da'Vonne – I want me and you to make it to the final 2. I know you would take me and I would take you but I'm not dumb enough Tyler wouldn't take me so it would be you and Tyler. At least, not both one of us gets there. Tyler gets you to two. I want to work Enzo to secure me to two.
Da'Vonne – we can work this thing out
Bayleigh – the final 4 us four
Da'Vonne – Let Tyler and Enzo take each other out. Who is a neutral person we can beat? Ian?
Bayleigh – we can't beat him
Da'Vonne – Physical we could
They continue to plan out how they will do the final HOH competitions. tactics on who to throw the first part to and who to take with them. (LOL)
Bayleigh wants it set up so in the second competition they only have to beat the third person "that way one of us is in the final no matter what.. and we can bring the other"
Da'vonne – no matter how close we think you are to Cody it always gonna be Nic and Dani
Bayleigh – yes because he's going to take Enzo, and Nicole and Danii
Bayleigh says Dani's "Snappieness" is getting to people now that she's a Have not. Adds that Enzo has been on to her since day one.
Da'Vonne – She snapped on David last night
Bayleigh – She snapped on Tyler.
They talk about how much they like Ian. Bayleigh says the conversations she has with him are so "Gentle" and "very sweet"
Bayleigh – this week will be interesting I don't know who out of the two will go out the door
Da'Vonne- Kevin
They agree the house thinks Kevin is a floater. Bayleigh says Kevin told Tyler everything about Kaysar and Janelle. Tyler told that back to Kaysar so he knows everything that Kevin was doing.
Da'Vonne – he hates Kaysar..
Bayleigh – Christmas loves Kasyar to a T, Memphis isn't going to vote him out ..
Da'Vonne – shit they already think I'm aligned with Kevin this is a set up for me.
Bayleigh says Kevin is athletic and "good at this stuff" adds if he survives this week it'll light a fire under his a$$ to compete.
Da'Vonne says she can't nominate Ian, Nicole or Kevin. Nicole only if she really really has to.
Bayleigh says she won't put up Ian, Christmas and based on her word Memphis (during his HOH)
Da'Vonne – ohh sh1t that week he was in power I said that to him (Memphis). ahh sh1t on a stick
They agree Da'Vonne will take out Christmas and Bayleigh will take out Nicole.
Da'Vonne can't understand what Dani was doing with Janelle because Janelle wanted a girl's alliance.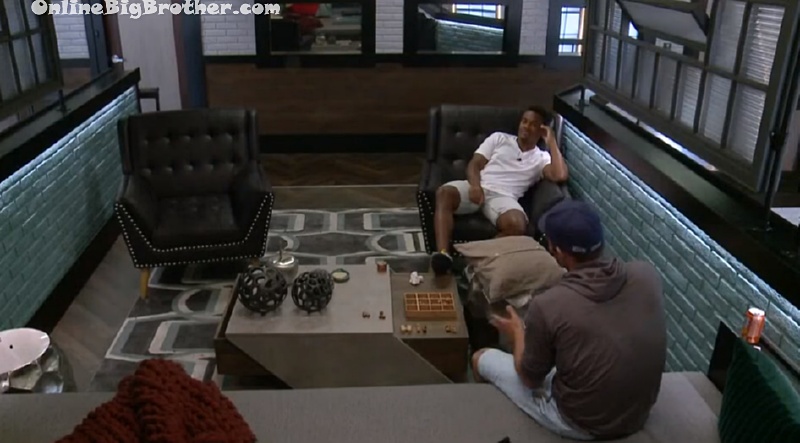 2:28 pm David and Enzo
Enzo whispers to David "No matter what you do you're going to rub people the wrong way That's it"
Enzo – They don't win sh1t you know what I'm saying Win something have some power
David – that's the game
Enzo – That's the game. Like YO all guys have won HOH's no girls, Like YO. Going with this all guys alliance we're winning everything. What are you talking about like. just because you can't win nothing you're going to us that to say there's this all guys alliance 3 girls went out. YO we have won everything. Only Christmas won that umm .. safety suite thing. Every POV every safety suite was guys. All guys
David – yeah. I want to play in the veto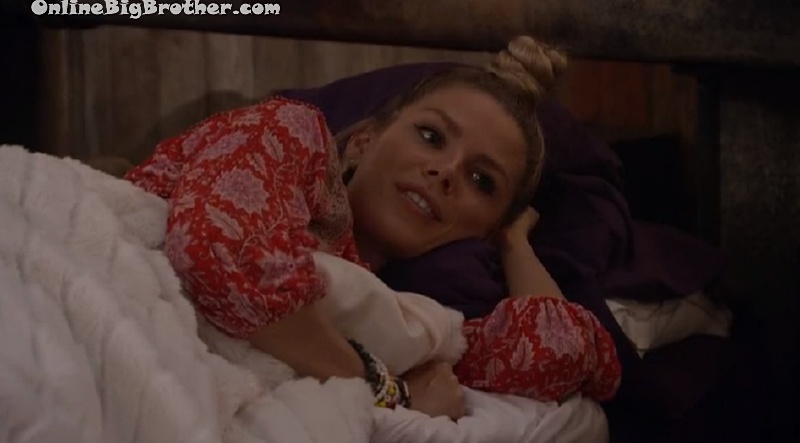 2:55 pm Dani and Da'Vonne
Christmas is with them before chit chat. She leaves.
Dani – what do you think of her
Da'Vonne – I don't know I was going to ask you the same thing
Dani – I feel come a few weeks from now I'm scared of her.
Da'Vonne – yeah
Dani – like VERY, I think when there are less people she's going to kick our butts in everything
Da'Vonne – yeah
Da'Vonne- I dunno I've been trying to feel her out she keeps her cards close
Dani – she really friendly with a lot of people
Da'Vonne- A lota males
Dani – a guys girl, Even her and Nicole are TIGHT
Dani – she's got a relationship with a lot of people in this house
Dani – I think she's close to Kayar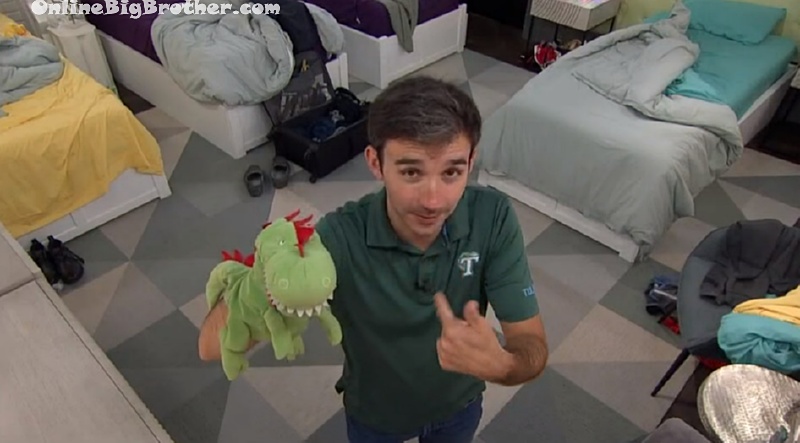 3:20 pm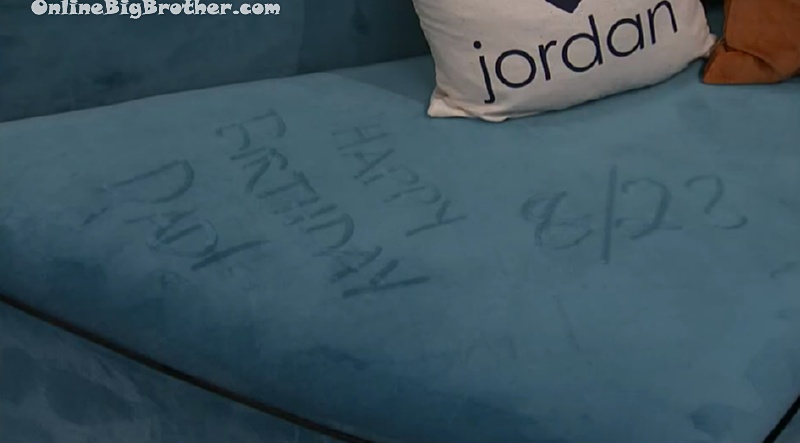 3:37 pm Ian with a message "Happy birthday dad"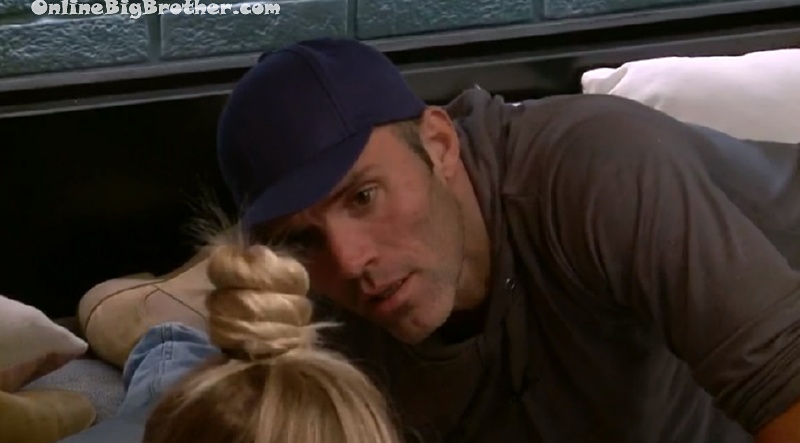 3:54 pm Cody, Enzo and Dani
Dani says Da'Vonne is "really mad" at Enzo she told her Enzo need to put David on the block
Enzo – win something I ain't getting my hands dirty
Cody – bro just wash them
Dani – wash them
They talk about "classic big brother lines"
Dani – my classic line was I want to bath in blood
Cody – you're savage
Cody says they want David to be nominated then next thing you know they're wanting David to go home
Dani – Da'Vonne was like he's coming after me and for Enzo to not care that just shows he only cares about himself
Enzo – win sh1t that's it.. she's so whack
Dani saying that Da'Vonne was mad that Enzo hasn't told her who is going up "she's like I thought we were in a group why aren't we talking about it"
Cody – so I should say I don't know either
Enzo – for someone that hasn't won something she sure is bossy
Dani notices Christmas coming changes the subject
Christmas Joins then all of a sudden
Christmas to Dani 'you looked guilty as f**"
after some chit chat Christmas leaves.
Dani says Kevin told her "Enzo made me feel safe"
Enzo says all he told him was "You're not the target"
Dani – did you see Bayleigh walking around in Janelle's jacket.. hilarious like hilarious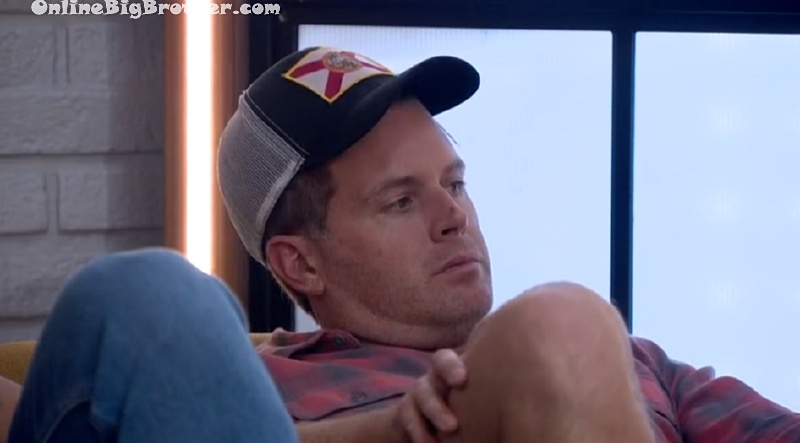 4:10 pm Memphis and Kaysar
Memphis – I need more sh1t to do Big Brother I'm going to lose my mind
Kaysar – yeah I need more sh1t to do. This is BB rehab you play bingo, have meetings.. what are you grateful for Memphis
Memphis – I don't give a f** I don't care I have zero interest.
They laugh
Memphis is pissed that he's not able "to do his schedule" he's waiting around for POV, Nominations it's days' like this he wants to walk out the door
Memphis adds he's not the type of person to sit around and do nothing
Kaysar – me too I feel like I'm wasting my brain here
Memphis – I feel like I'm wasting my time
Kaysar – start a business in the big brother house (Instagram fashion business? )
Memphis – if I had a pencil and paper
Kaysar – why can't we have a pencil and paper?
They hear Tyler talking about his vegan foot
Memphis – I can't listen to his menu of food. sounds so boring his food sounds so boring I lived with it for 3 years everything about being a vegan is so boring
Kaysar – have you ever done it
Memphis – no not on purpose. I don't believe in it. I have nothing against eating animals.
Memphis says large farming and fishing is bad but if he goes to Mexico and they cut the head off eat it yum "But at the same time the way the economy works.. imagine if we got rid of all the chicken farms how many people would be outta work"
4:18 pm Feeds go to puppies
Enzo is nominating Kaysar and Kevin. Kaysar sounds to be the target but Kevin, Ian, and David's name are all being tossed around
5:00 pm feeds down for Nominations