POV Holder:
Next POV
Aug 17th
POV Used
POV Ceremony
Aug 19th
HOH Winner:
Aaryn
Next HOH:
Aug 22nd
Original Nominations:
Elissa and Helen
Current Nominations:
Last Evicted Houseguest
David, Nick, Jeremy, Kaitlin, Howard, Candice, JUDD, Jessie
Have Nots (head cheese and habaneros)
GM, Amanda, Helen and Elissa
Elissa and Helen nominated
6:28pm Storage room Helen and MC
Helen says she's talked to Aaryn and her and Elisa are going up and if POV is played she will put up Spencer.
Helen says if it's Spencer against Helen Aaryn told her she wants Spencer gone and if it's Spencer vs Elissa she wants Elissa out.
Helen says either way they have to get rid of Spencer either way.
Helen warns McCrae that Amanda might want to "backdoor" her they have to make sure that doesn't happen. ( In this conversation Backdoor equals vote out)
6:33pm Cockpit Helen and Amanda
Helen says the same thing to Amanda that she just said to MC.
Helen stresses they need to get Spencer out this week.. Amanda: 'Ya I Agree.. 100%"
Helen: "This week is the final week we only need 3 votes.."
Amanda: "Ok… "
Helen says if Spencer stays him and Ginamarie have the votes next week. Helen adds that Ginamarie's birthday is coming up she is going to be fired up to win the HOH.
Helen says Aaryn might want Elissa out but the house wants Spencer out.
Amanda tells just nodes and says she agrees.
6:40pm HOH Andy and Aaryn
Aaryn says McCrae and Amanda have no idea they are allied.
Andy asks her if she thinks they will try and cut her before final 4. Aaryn sas no.
Aaryn says she doesn't want McCrae to f*** this all up. Andy: He won't .. he's smarter than that he's a lot smarter than people give him credit for"
Aaryn I know he's smart but I also know he's only looking after himself"
Andy: 'Ya"
Aaryn: 'He's looking out for us but at the end of the day.. "
Andy tells her not to act like that at this point.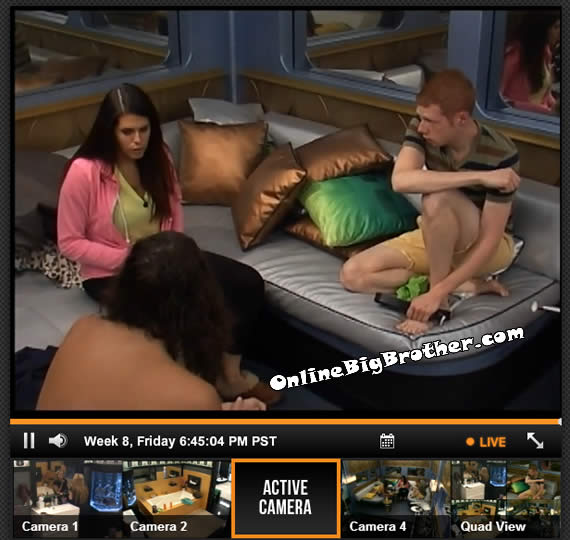 6:44pm Cockpit Andy, McCrae, Amanda
Comparing notes about Helen. Andy says Helen is never suppose to know she's the target. Amanda agrees, says he doesn't. They all conform Helen is the target but they are telling her Spencer is. If POV is used and Elissa is saved they will vote out Helen but will tell Helen that Spencer is the target.
MC: "I hope she doesn't throw that Veto to Elssa "
Spencer rolls in
Amanda says their one priority is to make sure Helen does not win POV. If elissa wins if then Spencer goes up and Helen goes home. Best case is if the POV is not used. Spencer says the best case is if he wins it..
Andy tells them if Elissa and Helen are out he is going to throw the POV he doesn't want to win it.
Amanda brings up how shitty it is that she has to eat head cheese for a week. "it smells like gamey butthole. "
7:46pm Kitchen Helen telling Elissa they have to win the veto and get Specner up or one of them is going home.
Elissa: "We have to win the veto like have to seriously"
Helen: "I've been telling you that"
Helen drags Andy into the cockpit. Andy says he's out of the loop right now.. he mentions that Aaryn wants Spencer out. Helen thinks Spencer is working with Aaryn after the HOH compeition yesterday. Helen is counting her votes she thinks she's safe, GM's vote depends on Aaryn and Helen thinks Aaryn wants Elissa out. Helen told McCrae he better get Amanda to vote to keep her. With Gm, Andy and McCrae's vote she's covered. Helen says Spencer has to go this week, "If Elissa or I leave this week we do not control the votes"
Helen: "Amanda and McCrae don't know math good enough to understand the vote count.. It's critical Spencer goes home this week critical "
(Helen doesn't know about the 3am alliance she assumes Aaryn, Spencer and GM are a team and her, Andy, Elissa are a team. Amanda is in the ether somewhere)
Andy says she'll start spreading the word that Spencer is dangerous. Helen says that Aaryn thinks Andy, McCrae and Spencer are a team.
McCrae comes in Helen tells them that Aaryn thinks McCrae, Andy and SPecner are working together.
Andy: "That could be incentive to get out Spencer"
Spencer joins them
8:17pm Cockpit MC, Spencer and Andy
Andy says that Helen is assuming he will use the POV on her. He's going to have to throw it. McCrae and Spencer are fine with that as long as Helen/Elissa doesn't win it.
They strategize about the competition if it's luxury/punishments. Andy says he's going to take luxuries, Spencer is going to take punishment. Andy makes it clear he will ensure Elissa and Helen won't win the POV before he starts taking luxuries and throwing comps.
Amanda comes in.. doesn't take Andy long to bring up he's going to throw the POV.
Andy: "after talking to Helen I cannot win the POV there is no fucking way". Andy adds that Helen will do whatever it takes to win the POV she'll take all the punishments he doesn't think Elissa will take punishments.
Amanda says she told Elissa the only way she will stay here is if she wins the veto. Amanda is going to say this to Helen later tonight. Amanda tells him Helen is going home. Andy says that for his game he cannot win the veto this week, he knows Helen is going home.
Amanda says she starting to get closer to Elissa. Andy has been playing dumb about the whole thing he's been telling Helen he could be the replacement nominee