POV Holder:
Next POV
Aug 17th
POV Used
POV Ceremony
Aug 19th
HOH Winner:
Aaryn
Next HOH:
Aug 22nd
Original Nominations:
Elissa and Helen
Current Nominations:
Last Evicted Houseguest
David, Nick, Jeremy, Kaitlin, Howard, Candice, JUDD, Jessie
Have Nots (head cheese and habaneros)
GM, Amanda, Helen and Elissa
8:34pm HOH Aaryn and GM
Aaryn: "Moving forward it is going to get harder and harder.. "
GM:"what with f** face down there" (Elissa)
Aaryn: "She was actually acting pretty nice"
GM: Ya"
Aaryn says Elissa's husband is 40 She points out if Elissa's husband was the father of her child that would mean she was 20 and he was 32. GM brings up that Elissa's husband has 3 kids that he had in his 20's she suspects his kids live with their mother because there is no way Elissa takes care of 4 children.
GM mentions that Helen was telling her Elissas daily schedule and it includes take her son to school, doing yoga for a couple hours then picking her son up and going home.
Aaryn: "have you noticed she wears heels when she's wearing athletic clothes and bathing suites.. I don't get it"
8:50pm HOh Helen and Aaryn
Aaryn says she'll pick GM to play in the veto. Gm hopes the players are Amanda and Andy.
Aaryn tells her they are good for three more weeks. Gm asks what the next HOH is. Aaryn thinks it will be endurance.
Aaryn says she's been loving big brother more every day points out that it's GM's birthday next week. .
Gm says she misses Nick, "I miss that fu***g kid"
GM says that Spencer is doing exactly what they all feared Howard would do. Aaryn agrees says that Elissa and Spencer cannot win HOH. If they win HOH Gm or Aaryn will go up at least as a pawn.
Gm asks who Spencer is talking with now she thought he was close to her but she's not sure now after the HOH competition yesterday. Aaryn says Spencer is in with McCrae and Andy .
GM: "Don't people know he's an a$$hole"
Aaryn says that Helen, Elissa and Spencer cannot know about their final 5 because they will panic.. "
Gm knows she's not saying anything.
Aaryn warns her that Helen is going to want to make a deal with GM. Aaryn recommends she just smiles and say OK . If Helen wins veto or doesn't leave they want to minimize how mad she is. Gm isn't planning on saying anything until after the veto competition.
Aaryn: 'Dude I do not trust McCrae.. He's getting sketcher"
Aaryn says that McCrae threw the HOH and at first he was denying it but after the wasn't because he wasn't because he wanted Amanda to feel better.
GM: "them two.. them two I dunno"
9:06pm Andy, McCrae and Spencer
Talking about s$x dreams..
Spencer: 'I told you about the first sex dream I ever had.. it was this girl named Beth who had huge T!ts and blonde hair"
Andy says he did hear this.
Spencer:"I was like messing with her P***Sy "
Andy: "Weren't you scratching at her "
Spencer: "It was like I was raking cottage cheese out of a sore" (WTF kinda s$x dream is that.. the image above shows the spencer raking with his hands)
Andy: "Eww eww ewww"
Spencer: "Gross"
Andy: "Eww eww ewww"
Andy : "I'm so happy i'll never encounter a vagina that way.. ugh gross"
9:31pm Cockpit Helen and Andy
Andy tells Helen it's going to come down to tomorrow.
Helen: "I'm fully aware of that.. just sucks"
Andy: 'Totally sucks"
Andy says no matter what happens Helen is not going this week. Helen says that the longer Elissa is in the game the better for their game. Andy: "if the worst thing that can possibly happen happens than Elissa is going"
Helen: "Spencer has to go.. he found that key so fast" (Spencer destroyed the have nots today)
Andy says if Helen wins the POV it will be Andy, MC and Gm voting out Spencer and if Elissa wins POV it will be the same people voting out Spencer.
Helen: "We need to keep Elissa for the buffer"
Helen is worried Aaryn will get Pandora's box this week and get a power she points out with all the wins Aaryn is getting in competitions she doesn't need a power.
Andy agrees they both laugh..
Helen says she is worried if She leaves Elissa will get chopped off easily. Helen tells Andy to keep spreading the word about how dangerous Spencer is.
Helen tells him she's worried if Spencer stays in the house and Elissa goes it will be her and Andy and Spencer will win HOH and put up her and Andy or Amanda and McCrae
Helen: "I wish JUDD didn't go berserk on us.. we could use the extra votes"
Andy thinks it will be a luxury punishment competition.
Helen: "Elissa is going to take everything I know it.. which will force me to take everything and I'm on the block because of her"
Andy: "Do you think she will.. she seems so prissy.. she won't give up her clothes"
9:56pm Bedroom Amanda, McCrae and Elissa
Amanda says they need to just wait until the veto is played then they will start talking about what the best move is.
Elissa says she loves big brother and is grateful for the experience of being on this is amazing show. She adds that she respects the network and the creative geniuses she has so much respect for the show and the opportunity she wants to make the most of it.
Elissa: 'I could go on and on for literally hours and hours about how much respect I have"
Elissa: 'However it doesn't make it any lighter to have found out last week like you're here and be like nervous that you are sitting in a jury house for week sand week.. and your… family life is… "
Amanda: "ya but don't think about that yet.. you are still here in the game don't think about Jury .. you are not under house arrest stop thinking about that think about you being here right now.. you cannot over think the veto until we see who wins the veto .. "
Amanda: "So… just relax"
10:00pm Bedroom McCrae and Amanda
MC says there is no way Elissa is making it to the final two she wants to walk she should just walk out now. Amanda tells him not to say anything to her. He points out how annoying Elissa was when she was talking to Amanda by saying she's not grateful when she's actually super ungrateful and doesn't give a shit about anyone in the house and anyone that works here. MC adds that they all have families that hey walked away from she acts like she the only one.
MC: "She's the most ungrateful b!tch ever"
Amanda says if Elissa stays here and get powered she will put up Aaryn. They do not want her to put up McCrae so he better be nice to her. Amanda points out how Elissa is already turning on Helen.
Amanda: "You know what Aaryn said to me the other day.. she wants to take me and you to the final 3 over Andy"
Amanda: "I found something out that you will not be happy about.. Andy has to go before final 4.. " Ginamarie walks in..
10:31pm Nail party HOH doesn't seem as exciting anymore… Helen, GM and Aaryn are participating Andy is listening to music and Elissa is sleeping.
10:40pm McCrae and Amanda
Amanda: "If I win or come in second place.. i want us to go on .. like a crazy vacation.. that we would never imagine doing just me and you.. "
McCrea: " you want to go to paris.. "
Amanda: I've already been"
MC: "Well la te da"
A: "I've never been to fiji or Thailand."
MC: Fuck that there's monsoons and shit"
A: "how about an Alaska cruise"
MC: " that would be cool"
Mc: "I want to go to Germany so bad"
A: "why"
MC: "I love everything about German culture.. "
A: "German food sucks"
MC: "Bullshit"
A: "It does"
Amanda says she is excited that he will meet her family, Sister brother and her dog: "my dog.. you are going to love baxter.. you are going to be baxters dad.. you want to be baxters dad"
Mc: "yeah.. I hate meetings families"
A: "you scared about moving away from home "
MC: "no"
A: "No at all:
MC:"no really"
Amanda: "I'll help you a lot even if I come in second.. because you coming to me is for me to.. i'll want to make it as easy for you as possible"
MC: "If I came in second i'll be pissed"
Amanda: "What you would be pissed whatever"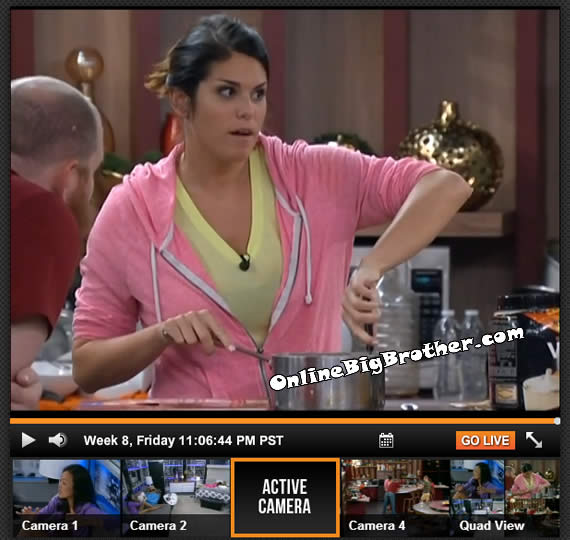 11:04pm Kitchen Amanda, Andy, Spencer and McCrae
Amanda and McCrae are filling Andy in about Elissa was telling them how much she respects the game,. loves the game and love the creative geniuses behind the game. McCrae points out Elissa still wishes she was evicted before Jury because she has a family at home and none of them do. .
Andy: 'Ya because none of us have loved ones"
Spencer mentions that Elissa probably makes more money than they do. Spencer: That bull sh!t"
Andy: "That ridiculous"
MC says it will make it easy on everyone right now if Elissa just walks out.
MC: "She loves the game and respects the game.. she just doesn't want to be in jury.. she respects the game so much"
Andy: "She can't stick it out for a month"
Amanda: "I want her to walk from Jury.. frees up America's vote. "
MC says if she just walks out right now she will not go to jury she can go straight home. "you're (alissa) better than to be evicted by scum.. why don't you just walk right out"
11:27pm HOH Helen and Aaryn
Helen says she really likes Nick
Aaryn: "I'm so legitimately concerned about finale.. with her"
H: "I'm really concerned about Finale for a lot of reasons and I hope that it doesn't ruin her night"
A: "I think it's going to"
H: "We can't let it .. you we are going to have to manage that.. " Helen suggest they tell Nick that this is an extremely special night and Gm's waited "umpteen" months to see him. Finale isn't the night he should tell GM that they are going to or not going to date. Helen doesn't want him to lead her on but they all now the second she sees him she's going to run to him and kiss him. Helen just doesn't want him to push her away.
Helen: 'We're going to have to pull him aside and be like hey dude for tonight just be as charming as can be to her and deal with it later.. otherwise she is going to mope around like a crazy woman around here and that is going to suck"
Helen: "Actually Elissa told me the party is not in the Back Yard.. it's off set. .. she said that families are not allowed in here. Feeds flip..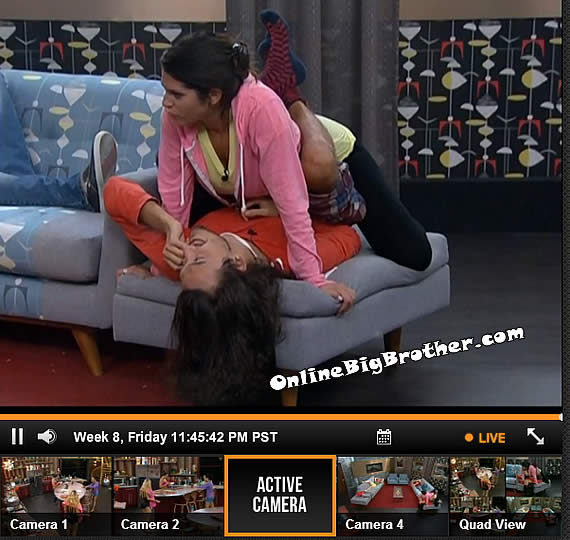 11:47pm .. Chit chat … Amanda claims her man.
MC: "I'm getting backdoored right now"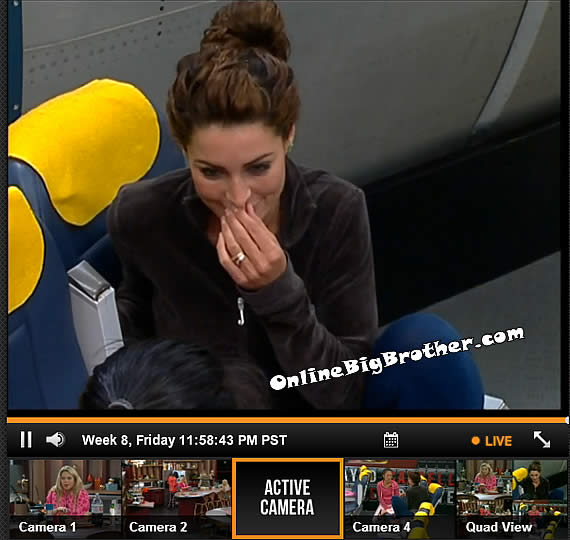 midnight Have nots Helen and Elissa.
Helen:" it's really important this week that we win this veto if we don't one of us is going home.."
Helen: "if Veto is used She doesn't care if spencer goes so we have to win the veto.. " Helen adds that Aaryn told her she won't use it And helen suspects other players in the house will do the same.
Elissa: "why does she want me gone"
Helen: "we're getting near the end of the game.. "
Elissa: "I know"
Helen: "she never says anything negative about you outside the game. "
Helen tells her she has to fight like hell for the veto they have to shave their heads if they have to.
H: "theres no if ands or but we have to win it tomorrow.. "
Elissa: "I know.. it's so crazy.. "
Helen: 'Spencer thinks he's so safe.. which is fine because maybe he won't try so hard to win the veto.."
Elissa: "Oh my gosh I cannot believe we have to sleep in her again" (the HOh room)
Helen: "this is my bedroom … this is our 8th week here and 1/2 the time we've been in have nots "
Helen says she had to get candice out of this game because Candice didn't know how to play the game..
Helen: "She was never onto JUDD who was the most vicious of them all.. she wasn't even on to him she had no idea what was going on in the game"
Helen brings up how Candice told her not to trust Andy but to trust JEssie, Helen thinks this is more proof that Candice was clueless.
Helen: "She had no idea what was going on in this game and so did McCrae.. they had no clue"
Elissa says she thinks Jessie and Candice had better character than some of the people left in the game.
Helen: "Look how Jessie trashed us.. she has no character"
Elissa says will not hold that against Jessie because she didn't say derogatory deep cutting slurs like GM and Aaryn.
Helen about Jessie: "She has no character.. I would not give her a job recommendation I would never give her a job.. for having such poor judgment like that.. it was like she was 12 years old having a temper tantrum.. she did that all on national TV.. she doesn't have good character she doesn't have good judgment." (keep in mind that it was Helen that was lying and throwing Jessie under the bus all Jessie was doing was calling Helen out.. )
12:18AM
Elissa explains how she gets so nervous in the fast paced competitions that she cannot think.
Helen asks her what can she do to not be so nervous
Elissa: "I could ask them for some anti anxiety medication.." Feed switch to the living room
(Downers Vs. Uppers tomorrow during the POV )
12:24AM
Spencer: "Genghis khan was one of my favorite people"
Spencer: "He fucked so many women 1/4 of all people in A asia are of genghis khan decent "
Spencer: "could you imagine a more awesome live.. "
Big Brother 15 N*de flashback times here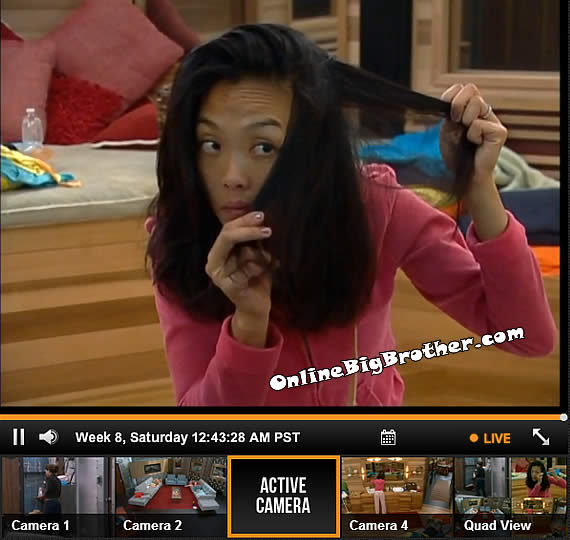 12:45AM looking for grey hairs