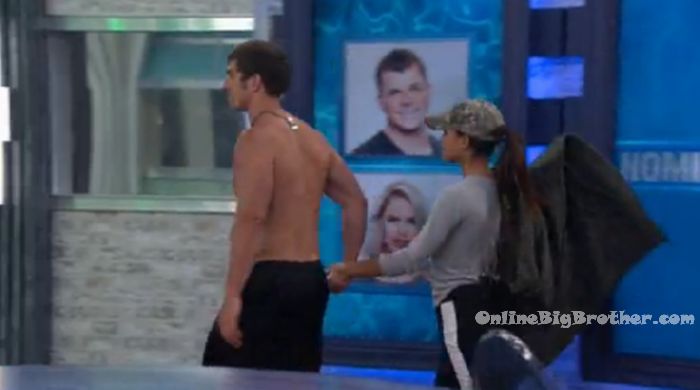 Check out our BB19 Ranking Grid. . rank your houseguests here
Josh Nominated: Mark & Elena
Mark, Elena & Jessica are on the block
9:10pm Big Brother blocks the live feeds for the Nomination Ceremony. When the live feeds return – Raven hugs Mark and asks him if he is okay. Mark – its just a game. Mark heads to the bathroom and hugs Jess and Cody – however this plays out, you know I love you. Jess and Cody head to the bedroom. Jessica – 6 grown men to take out a girl. I've never seen such pu$$ies before in my life!! Cody – I know, right!?
10:45pm Storage room – Paul, Josh, Raven and Matt.
Josh – I want her out. I want her out. She is trying to make me look like a crazy person. Cody – that's so great that he (Josh) couldn't even get out his speech. She dragged Pauls name. She said you were a strong competitor.


10:45pm Lounge room – Paul, Elena, Raven March and Elena.
Paul – what the f**k happened up stairs and why am I being tossed in the middle of it. Elena – you're being tossed in the middle of it because he couldn't make a decision on his own and he feels like he needs to consult you. That's the only reason. Paul – I didn't have a hand in his decision. I only came to get you and Mark because he asked me. If you think I had a hand in it then you can tell me. Elena – I don't think you had a hand in it, I think multiple people tossing my name around didn't help. Paul – you shouldn't have lashed at him. You know he goes weird with sh*t like that. Elena – I'm on the block either way. Paul – why so you think that I would throw you under the bus. Elena – I don't think that. Paul – the more you freak out the worse its going to be. Elena – I'm not freaking out. The clear objective is to get Jess and Cody out of the house. Paul – you have nothing to worry about. Don't f**k this up. So just kick it and relax. Jess is your competition

See what they can't show you on TV Try the live feeds for FREE!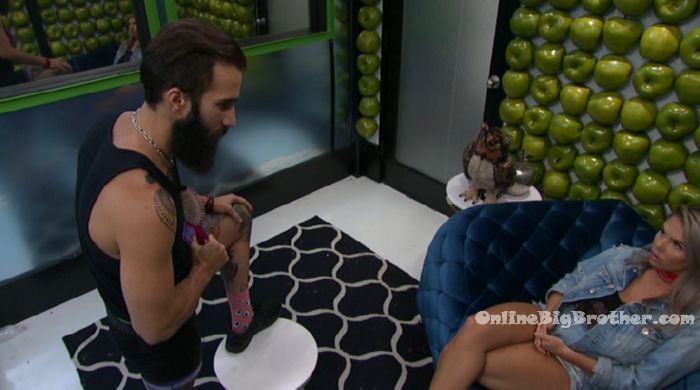 10:50pm Bathroom. Cody, Josh and Jessica.
Josh – you feeling good. Jessica – yeah. Cody – great speech Josh! Great speech. Josh – we can talk. Jessica – talk about what?! Cody – you just wanted the spotlight. Josh – can I sit down and talk to you? Jessica – you can down wherever you want. You're a grown man that has different mood swings. What mood are you in currently. Jessica – you harassed me during the day my father died. You need to pick a move and stay with it. You literally dumped trash on my on the day my father died. Cody – we don't need to talk any more.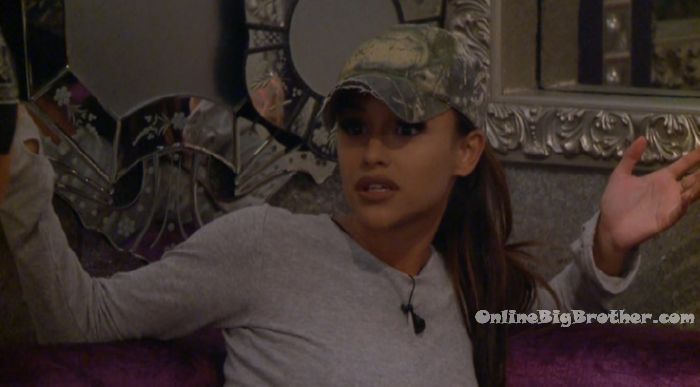 11pm – 11:25pm HOH room. Josh, Matt,
Josh – whatever you guys do, I do not want a repeat for day we went off. Nothing said to her, nothing said to him. She is rude as f**K, she interrupted me. As HOH, I don't want to attack them. Josh tells them about how Elena went off during the feed block. Paul – for once it was someone else going off. Josh tells them that he doesn't want anyone to go off on Jessica and Cody. Paul – if all three of them are still on the block .. one of them is going home. Josh – if anyone wins the veto, no one use it. Paul – you put her on the block she is emotional. Paul – we have the veto tomorrow, who is keeping her awake all night. We're going to send Jessica home and drive Cody crazy.
11pm Bedroom.
Jessica – I think we deserve to be here mo than anyone self. If I don't win the veto tomorrow I am not giving yup. Do you understand that if I win the veto tomorrow, Mark is going home. Cody agrees.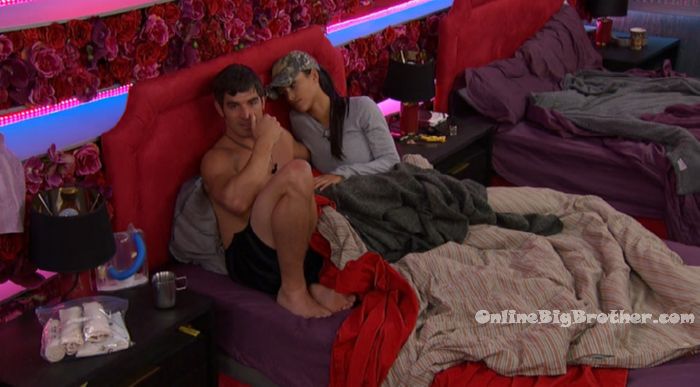 11:30pm – 12am HOH room.
Alex – what I am going to tell you is that I am so freaking proud of you. I do not like Jessica. She is using psychological warfare on you. Who tells you right before a competition that their dad died?! It actually makes me feel very uncomfortable. This is probably going to be the first time I car in this hose. The thing that bothers me so much about her is when she jams her fingers up people's butts, when she touches my v#gina. I don't her to do that. My cousin was r@ped and murdered. Big Brother switches the cameras to the kitchen. When the feeds come back – Alex – I could sit her she thinks this is funny for what she is doing?! My cousin was r@ped! Tortured for days. I want you to understand what I could do to her mentally. Big Brother switches back to the kitchen again. Alex – you fight them on their level. If I wanted to I could destroyer. There are battered women out there that don't want to watch that.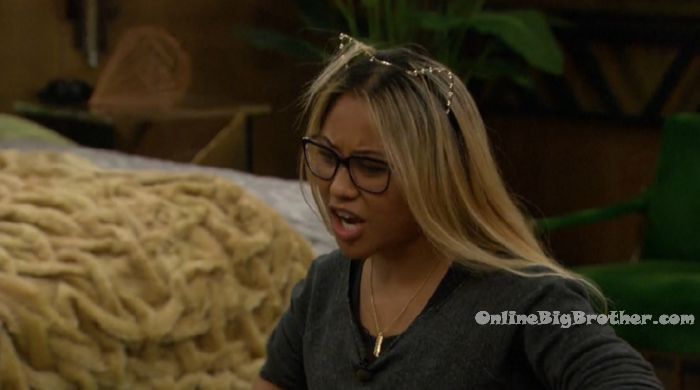 12:10am The havenots are in the kitchen making food.
12:50am Bedroom – Alex, Jason and Paul.
Alex – you know she is going to get herself kicked out just like Dominique. Paul – yeah, she's been going nuts. She's digging her own grave. Paul – next week I say we nominate Mark and Elena and backdoor Cody. Jason – what type of HOH do you think it will be? Paul – probably endurance.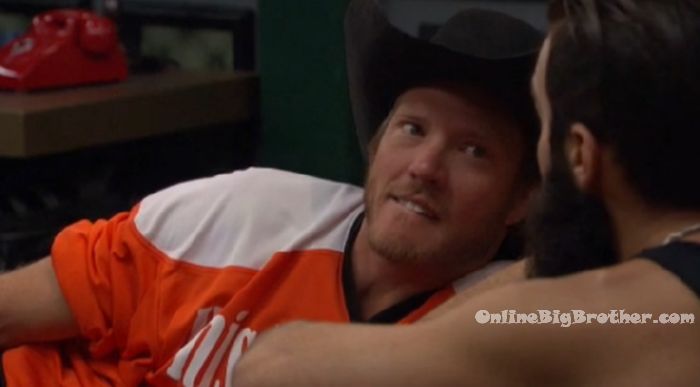 12:55am Bedroom – Jessica and Cody.
Jessica – I'm not going into this one feeling that good about it. Cody – you compete great under stress. You executed perfectly today.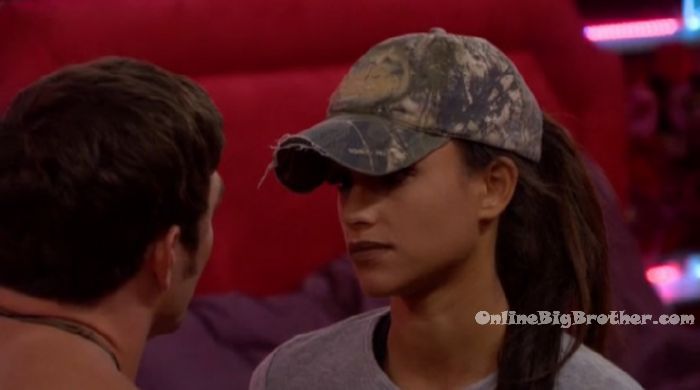 If you plan on buying anything from Amazon. Use this link Amazon home
Doesn't cost you anything and we get a small cut.
Links to the ranking system
Rank your house guests here
For those of you that like Statistics here are some expanded reports.