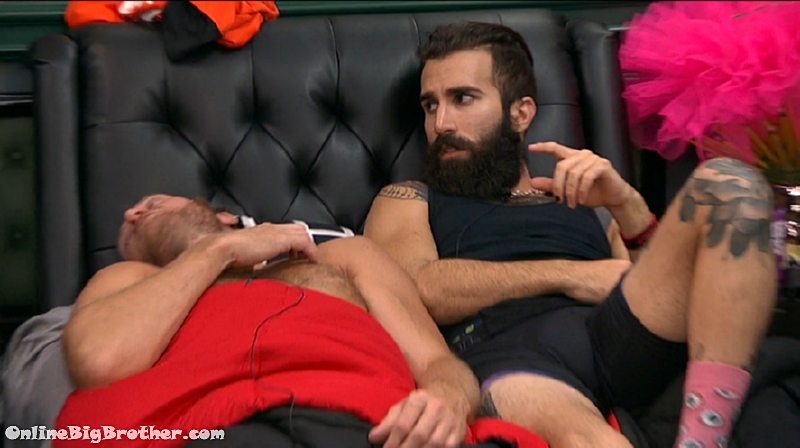 Feed subscription lets you go back and re-watch everything we post here CBS All Access Live Feeds with a FREE 7 DAY trial.

1:17am Paul, Jason, Kevin and Alex
Paul tells them it'll be next week when they have a double eviction.
Kevin – this week we get rid of Jessica?
Paul – if we can get Jessica this week Jessica goes.. If not then we get Elena
Alex says mark is really scared right now
Paul – He's scared sh1tless
Alex brings up Elena freaking out.
Alex wonders if it was game play saying Elena told her "You'll never see my emotions in this game"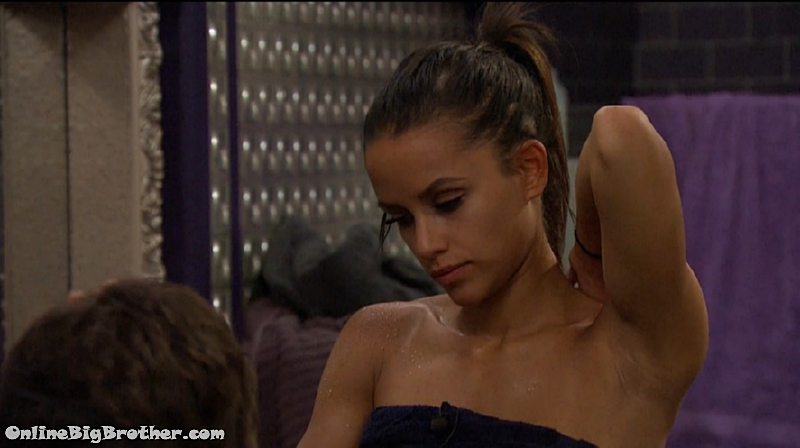 1:28am Jessica and Cody
Jessica says Christmas came to her and said she is going to find out if Jessica is really Josh's target.
Cody says that Josh has no more power it's not on who the HOH wants out it's what the house wants to vote.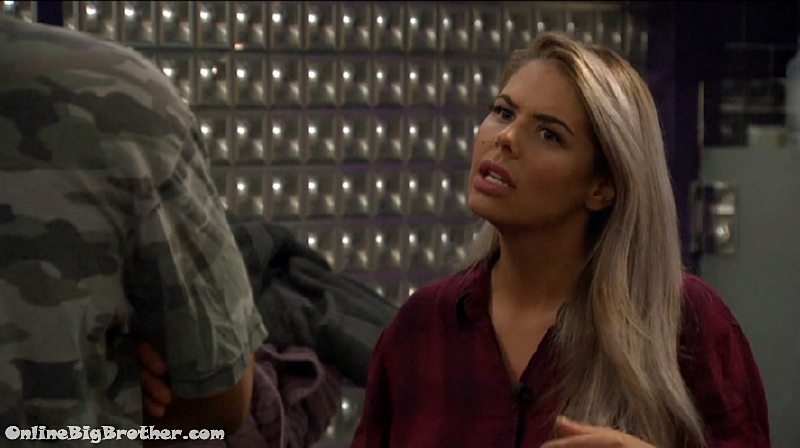 1:38am Josh and Elena Bathroom
Elena getting after Josh for saying that Elena was suggesting Paul be nominated as the pawn. She explains her reason was just based on competition performance.
Josh – I wasn't throwing you under the bus I said you said.. He's played the game he's a good competitor.. He offered himself..
Elena – the way you presented it made it sounds like to him.. The words you choose made it sound like I told you to put him up..
Elena – I said, you're the HOH I'm not going to tell you to put anybody up other than me I'm not more entitled to play this game. All i said was if we're going off competitions other people have outperformed me
Elena – I didn't want it to sound like to Alex or to Paul or to anyone that overheard that conversation or would hear about the conversation that I was throwing names under the bus.
Elena – Saying they deserve on the block more than me.. That's what I wanted to get very clear
Elena – so you saying that I suggested him over me was implying that rather saying he outperformed me.
Josh – I took what you said and was like OK she suggested .. Literally I repeated what you said, I don't know if my tone.. My voice.. What sounded wrong
Elena – I literally said to you I'M NOT TELLING you who to put up over me
Elena – when it pertains to people who outperformed me I can name some .. and yo mentioned people that haven't been on the block.. I can mention those people too.. I was never saying those people deserve to be off the block more than me
Elena says it's scarey to be on the block right now when people are doubting her.
Elena – people in this house are saying things about me.. I heard Alex came to you yesterday and said something..
Elena – if I go home I'm going home to nothing.. I don't have a job (she's saying she left her job to be on BB)
Elena – if I don't make Jury I financially cannot cover my bills.
Elena – the security of Jury is important to me.. I quit my job I can't afford my car bills.. That is why it's scary.. I would like to make it to the end
Josh – that's why we have Veto..
Elena – I'm in a point I'm scared.. I'm a haven ot I'm on the bloc…
Elena – I have survived worse.. I will survive I don't want anyone to feel sad to em..
Elena – I want to make it clear I wasn't throwing Alex or Paul under the bus..
Josh says he wanted Cody out so f*ing bad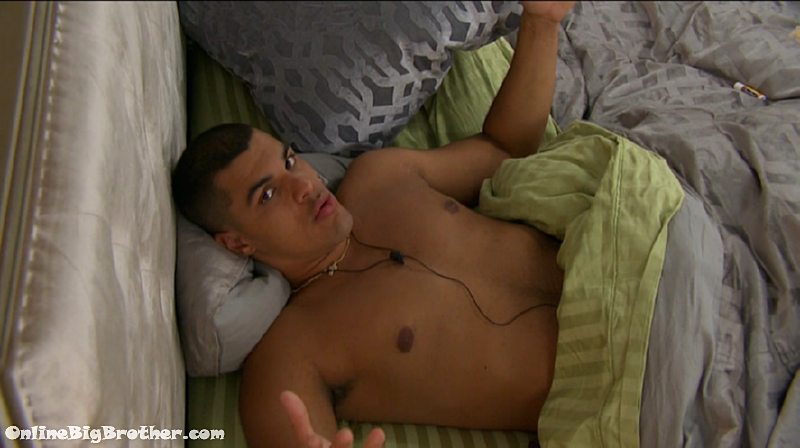 1:55am Josh meatball chat in the Head of household
J – Let's get on a serious note..
J – where do I start
J – Jess and Cody on a personal note I want both of them out. They gunned for me, They made this game personal, We've been gunning for each other for weeks..
J – not that I don't like Cody, we're just 2 different people there's a lot of things about his mannerisms.. There's things about his character that I don't respect that i don't like
J – I want him out, it's hard to live with Cody.. generally he boils my blood.
J – I like Jessica but when Jessica is with Cody she's a different person, she targeted me, she has to go.. That's personal
J – I want Jess and Cody out but also the house wants Jess and Cody out..
J – Jess and Cody are Paul's targets and the house targets
J – For my game my personal game and for the people that he's working for' game it's in my best interest to get rid of Elena.. Why?
J – Elena's playing the middle, I know where Jess and Cody stand. I know that they're on the other side they're gunning for me, I'm gunning for them..
J – Let's go head to head..
Josh says Cody and jessica will nominate him but they won't have the votes to get him out.
J – What I respect is they are coming for me straightforward, we don't like each other it's going down one of us is going home at the end of the day.. But Elena is playing the middle.. She wants to rub Cody's back then come rub my back..
J – She's friends with everybody and when it's convenient to her get rid of Mark, and when it's not convenient to her not talk to jess and Cody they've been close the whole game.
J – Those are traits of disloyalty those are traits of a shady person, those are traits of a flip flopper..
J – everyone knows I hate flop floppers .. everyone knows I don't like disloyalty
J – her cards are shown.. She showed her deck.. she's holding a deck of biullshit at this point and i'm f*ing over it..
J – she's a great competitor..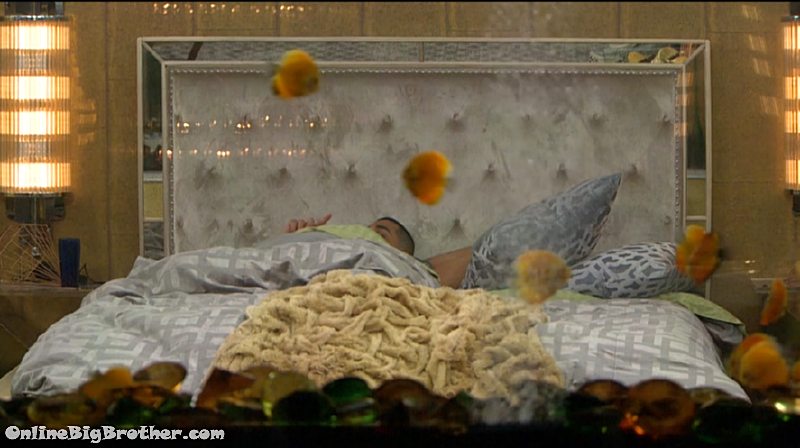 J – A lot of signs with her.. Where she screwed up is she rallied and did Jessica and Cody's dirty work.. She did all the campaigning for Ramses, trying to get your boy out. You played yourself Elena, you played yourself BIG TIME
J – the moment you say that I stayed you dropped your team and went with the majority.
J – You're shady, you went with the power I don't respect that…
J – You know what you should have done.. You know what I would have respected if you stuck by Jess and Cody
J – alright it's 4 against 8 let's go to war
J – Instead.. you flipped just like Mark flipped went with the power went with the numbers and I don't respect that.. You know it's funny a lot of people say I was a floater I was this, I was that..
Josh says he's been loyal to Jason and Kevin all along, points out he's been working with people from different sides. Josh adds that he's going final 6 with Kevin, Jason, Alex, Paul, and Christmas.
J – not only is Elena is manipulative and persuasive.. She's had to study law.. She can persuade you..
J – you (Elena) played yourself..
J – she comes up to my HOH and I put her as a pawn and She f*ing losses it.. She just goes off rambling.. She starts throwing Paul's name.. Alex's name.. All these crazy stuff..
J – she proves she unloyal.. She throws Paul's name out.. To save her a$$.. Shwe would do anything.. I feel bad she said she quit her job
J _ this game is gamble.. Sorry.. She;'s a target I hope I win the veto tomorrow shits gonna change..
J – I think Paul see what I've been seeing with Elena.. Does he want her out of this game,? No because he can control her but for my game I want her out because she's gunning for me. .
J – all i know if it's Jess and Elan up there I'll get those numbers to send her out..
J – I got so many targets and only 1 HOH.. Mark, Cody, Elena and Jessica.
Josh – I wake up every single morning I could never be so grateful to you and dad letting me live out my dream.. I'm in Jury mom.. That means I'm going all the way.. I have a chance if I get evicted to come back in the house.. I made it halfway in a few days..
Josh – all these people think I'm a dummy but they're playing themselves..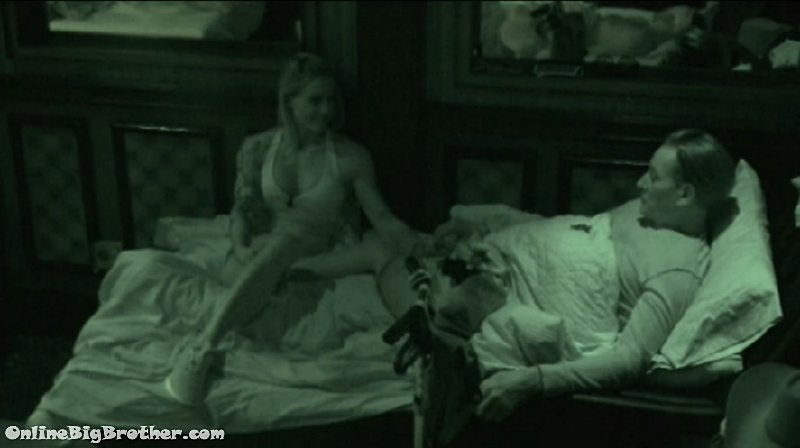 2:05am Christmas and Kevin
Kevin says there is going to be 4 people not voting..
Xmas – he knows where he stands with Jessica.. With elena..
Kevin – the person that complained the most was Paul .. that little bastard..
Christmas – he complained the most.. And he's done it before..
Kevin – he's a character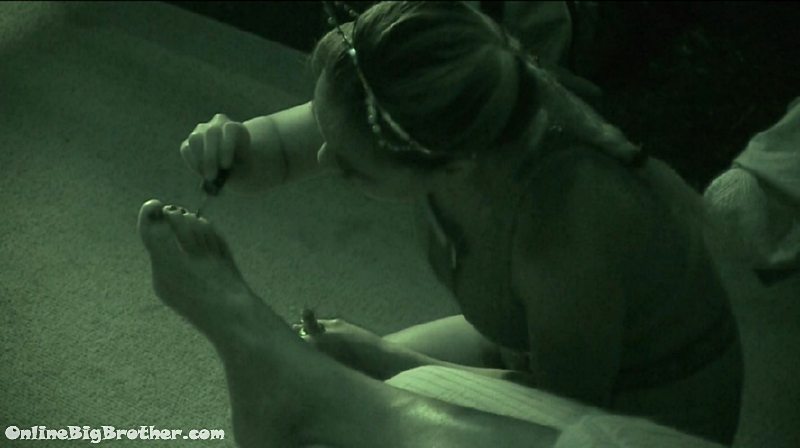 2:14am Alex paints Jason's toenails..
Kevin – why you doing that to him..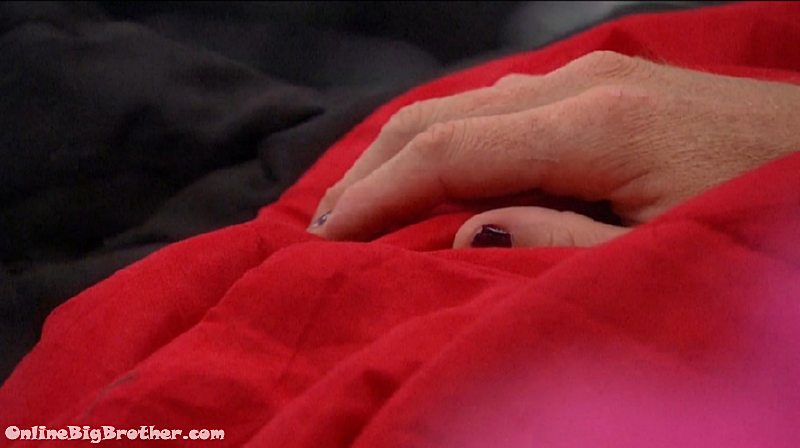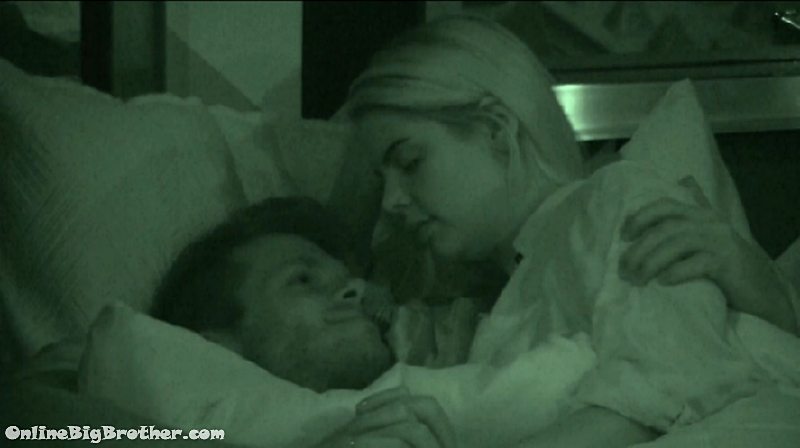 2:31am Mark and Elena
Mark wants to enjoy the cuddling for a minute "it's been so long"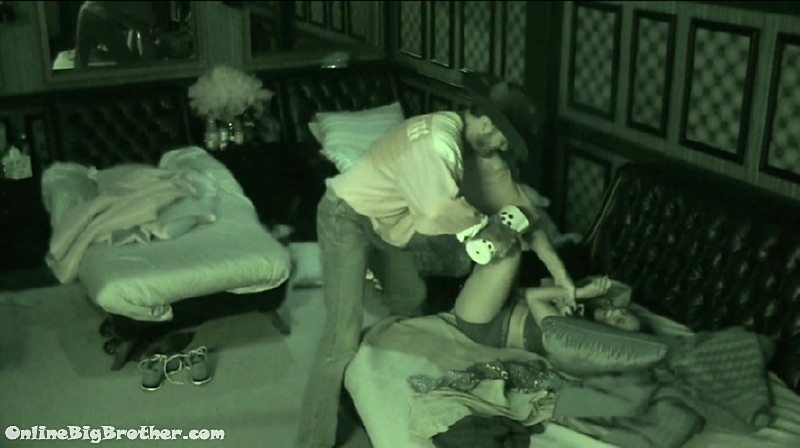 2:37am Whistle Nuts gets his revenge..
Jason gets called into teh Diary room where he discovers his nails were painted.
Jason gets his revenge for Alex painting his nails. #BB19 @DawgsBigBrother pic.twitter.com/IhagPrKmpm

— OnlineBigBrother.com (@bigbspoilers) August 5, 2017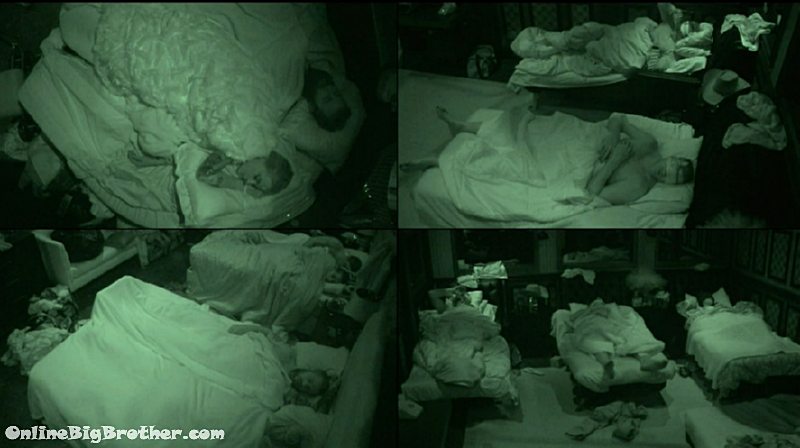 4:21am ZZZzzzzzzz
7:54am still all sleeping..
Matt's out to use the washroom he's wearing his orange shirt.
If you plan on buying anything from Amazon. Use this link Amazon home
Doesn't cost you anything and we get a small cut.
Links to the ranking system
Rank your house guests here
For those of you that like Statistics here are some expanded reports.