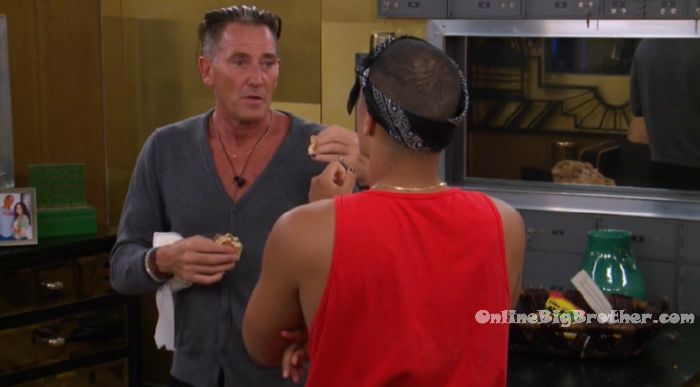 Feed subscription lets you go back and re-watch everything we post here CBS All Access Live Feeds with a FREE 7 DAY trial.

Cody won the Safety Temptation
Jessica is on the block
– Jess threw the safety temptation competition, therefore she is the third nominee.
– Josh plans to nominate Mark & Elena (with Elena as his target)
8:23pm The live feeds return. HOH room. Josh and Kevin.
Kevin – real quick you're putting up Mark and Elena.. Josh – Mark and Elena. Kevin – and then havenots tomorrow? Tell me who havenots are? Josh – I'm putting up Mark and Elena right. Havenots – Matt, Mark and Jessica. Kevin – and for me you're going to give me. Josh – you're going to host the veto ceremony (veto comp?) Josh – this week whatever happens, just have my back okay? Kevin – I had your back when you weren't the HOV (lol). Josh – you're good. Kevin leaves the room.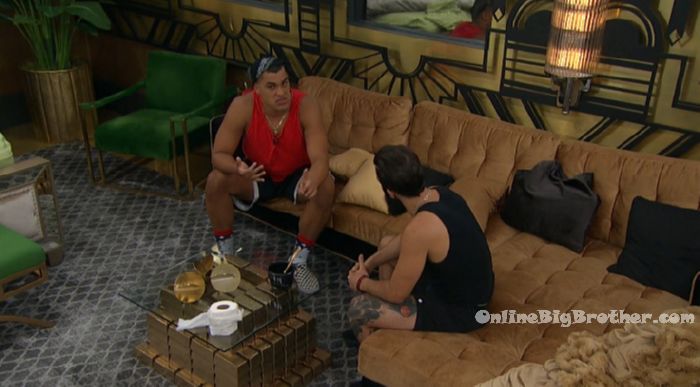 Paul joins Josh in the HOH room. Josh – Elena and Mark. Paul – Christmas told you about her thing right? (Veto Player swap temptation) Then she swaps in, f**k you. Josh – yeah. Paul – Jessica needs to not win veto. Jessica's the target. Josh – I'm not sure. Paul – 100% .. you know why right? If we get rid of Jessica she is really close to Elena right? You don't repeat this… If we get rid or Jessica, then Elena comes to our side. Mark and Cody maybe they get close but I doubt it. Mark is an f**king idiot. Especially after you make him mad. Josh – Can I tell you something about Elena? I want Jessica out but at this point Jess and Cody are a$$ out.. and we could get them (Cody & Jess) next week. Paul – no, no, no! I am telling you the game move is wrong. Josh – you know I f**king trust you and I have your back 1000% right? She at the drop of a dime switched on them. You don't think she would do the same to us? Paul – no, you know why because she doesn't have the numbers.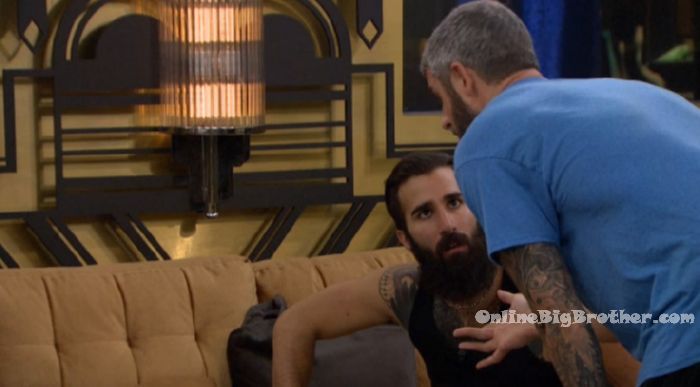 Matt comes in and asks – he's (Josh) putting up you (Paul) and Mark right? Paul – F**K YOU! Matt – no I'm serious. We need to win the veto. Paul – yeah I know but I ain't going up there. No if you put up Mark and Elena they're going to be gunning for it just as hard. Why risk. No need to risk. Matt leaves. Paul – Jessica and Cody are a power duo .. if Jess goes… Cody is clueless. He's lost. No one can control him anymore. If we send his girl out he is done.



Josh – I had a conversation with her (Elena) and it was her opportunity to say yes I was working with these two and I voted to evict you. Instead she spun it to persuade me into this whole act. She is a great liar and she is shaddy as f**k! Paul – she has been disassociating herself from Mark. She's ditching the fool. Right now if we have a chance to get Jessica out .. do you think she would vote for you? Josh – no. Paul – Elena might. You've got to worry about jury members. Josh – I am not looking out for myself, I am looking out for the house. Paul – Jess and Cody are better players than Mark and Elena.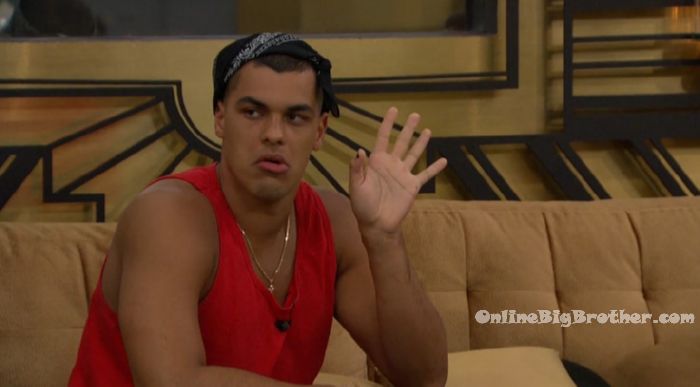 Josh – I want Elena next to Jessica on the block. I don't give 3 f**ks at this point. You voted me out and you're disloyal as f**k and you're shaddy as f**k around this house. Paul – Call Mark out too. Josh – I'm going to call them all out. Those 4 can suck .. you know what. Paul – right now is not the right time to declare war on Elena and Mark. Tell them they're pawns but that if they don't win the veto and Jessica wins… there is no saving you. Josh – I don't know if you see what I see with Elena.
8:45pm Paul tells Elena – That he thinks Josh will be putting her up. Paul – I tried to go to bat for you and it didn't work. Elena – wait you offered and he didn't take it? Paul – no. Elena – Such is life. Paul then tells Mark – AHhhhh It think he might be putting you and E up. Josh – she dropped Mark. Jess & Cody.

8:45pm Mark comes up to talk to Josh.
Mark – do you know what you're doing? Josh – yeah. Obviously we know that I wanted Cody out. Now Jess has to go. I'm going to put up as a pawn and f**king go for the veto. Mark – who are you putting up next to me? Josh – Elena, I'm putting Elena up as a pawn. You two are strong competitors. You guys, I never heard that you guys were gunning for me. Jess and Cody are gunning for me. I want Jess out. I had goose bumps, that's how bad I wanted Cody out. But Jess has to go this week. So I put you guys up, you guys are pawns. You know the deal. I'm going to throw the meatball thing at you… a little joke. Mark – just me and you, if I'm not a pawn just please tell me. Josh – you're a pawn. Mark – I'm just saying if it changes, let me know. Josh – you're going up as a pawn. Mark – I want to fight for this. Josh – I want Jess out because Cody without her is going to lose it. I was going to say f**k you meatball. Send Elena up here. Mark heads downstairs to get Elena. Josh says to himself – I don't know if putting up Mark is the best bet. I want someone up there .. I don't know if putting up Mark is the best bet. I want someone to win the veto and keep the noms the same. If Elena wins the veto and pulls herself off and Mark is up there next to Jess… Jess is going to go. If he is up there next to Elena.. I don't know I've got to see. I ain't playing anyone's game dog! I respected everyone's week. They've got to put some respect on my f**king week. If I want Elena gone. Elena is gonna go. I've just got to beat around the bush a little bit until Paul sees what I see. F**king Paul needs to see what I'm seeing. dude! This girl is lethal. Elena is playing the middle, she is the glue. She is in with Matt and Raven. She's in with Jess and Cody. She has Mark and Paul. I break Elena, she is a flip flopping shaddy person. Outside this house I would like to take Elena for spaghetti and meatballs but inside this house she has got to go!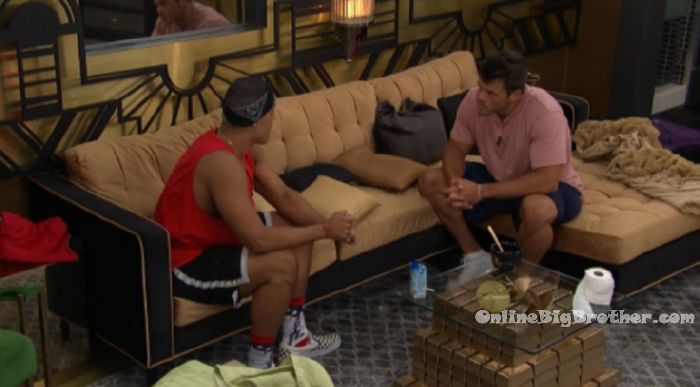 9pm Elena comes up to the HOH. Elena – so you want to put me up as a pawn? Josh – yes. Elena – but you told me like a million times yesterday that I was good. Josh – are you going to hear me out? You are a strong a$$ competitor. In order to ensure that she does not win the veto, you f**king win the veto. Elena – so you're reason for putting me up is because you think I'm a better competitor than other people. And Paul said he volunteered to be a pawn and you said no. So I would like to know what your real reason for putting me up .. is it the votes? I'm a straight shooter. I know I'm not being put up because I'm the best competitor in the house. Alex and Paul have competed better than me. So I would just like to know why I am going up as a pawn. You're the HOH, you can do what you want. I just don't want to look like an a$$hat. Josh – Paul offered and I said no because I don't want to risk it. I don't know where the house stands and they might vote him out. My thing is you're a strong competitor mentally and physically. I am gunning for Cody. It was the hardest thing to say congrats Cody (After Cody won the safety temptation competition.) Elena – my life in this house is in danger because if Jess wins the veto then I am in danger of going home. I left my job to be here.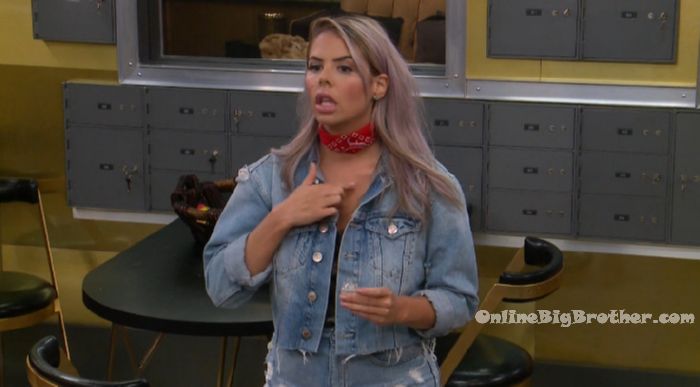 9:10pm – 9:50pm Big Brother blocks the feeds for the nominations..
10:20pm Still nothing..
10:40pm Nothing yet..
If you plan on buying anything from Amazon. Use this link Amazon home
Doesn't cost you anything and we get a small cut.
Links to the ranking system
Rank your house guests here
For those of you that like Statistics here are some expanded reports.