POV Holder:
?
Next POV
April 10
POV Used
?
POV Ceremony
April 12
HOH Winner
Bruno
Next HOH
April 15th
Nominations:
Johnny and Sarah
Have Nots
Brittnee, Pilar, Willow (Pickled Eggs & Chicken Feet)
POV Players
?
If you are outside Canada and want to watch the FREE Big Brother Canada Live feeds sign up for a VPN service here https://www.hidemyass.com/vpn/r16399/. It's safe to use, easy to set up, and cheap. Need to know more check out this post explaining how to set it up.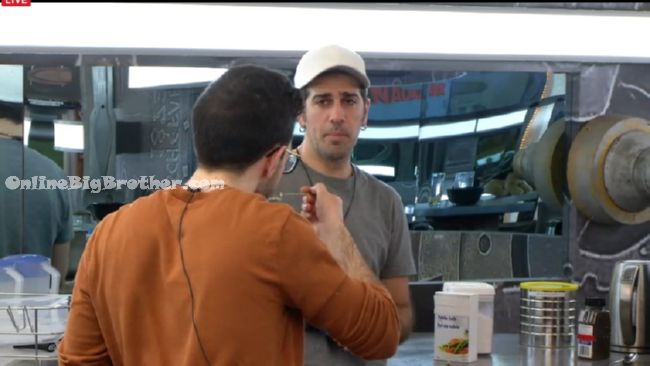 11:19pm Feeds are back
Jordan tells Bruno if he wins the Veto he'll keep the nominations the same because he owes him for not putting him up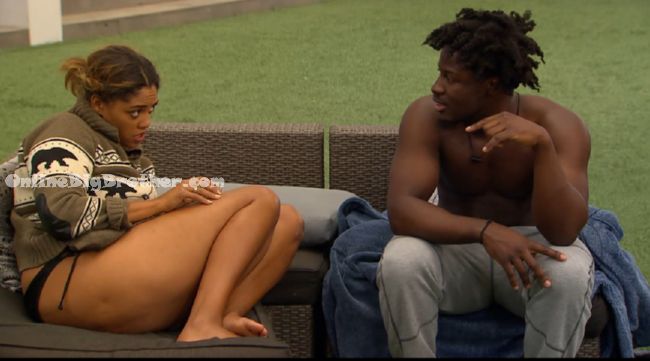 11:20pm BAckyard Godfrey,Sarah, Willow and Brittnee
Godfrey – I'm scared to get a prostate exam.
Sarah – promise me right now.. Scotts dad had prostate cancer
Godfrey says he tries to get clean but he really doesn't adds that being in the house is the best he's eaten in a while.
Sarah says every day she eats burgers or pizza says eating healthy doesn't fill her up and it's cheaper to go to the "Golden Arches"
Godfrey leaves.
They ask Willow what is wrong.
Willow – I'm tired.. I got rocked today.. I got Owned
Feeds cut .. When they come back Brittnee and Willow are in the backyard, Willow is still laid out.
11:36pm Backyard Bruno, Brittnee and Willow
Brittnee says he did a really good job with the nominations "Everyone respects you how you had did it"
Bruno – I didn't want them to be upset
Brittnee – I think they are OK about it.. it is what it is
They agree the nomination ceremony was a lot less dramatic than the last two weeks.
Bruno thinks the Have nots should be split up so its spread amongst the players.
Sarah joins them..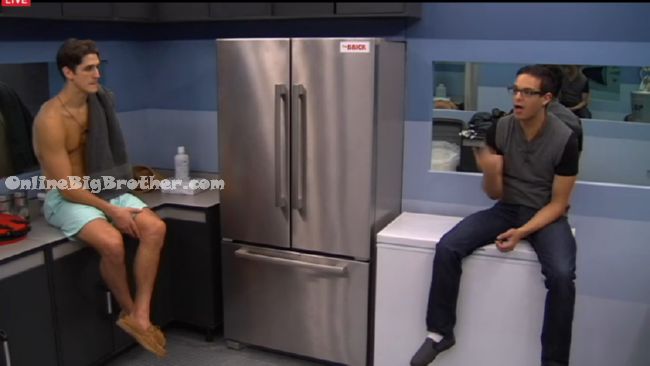 11:44pm in the storage room Zach and Johnny
Johnny – I don't want to go home.. I'm nervous if I stay up there I'll go home
Zach – you are in a tough spot
Johnny – I want that Veto
Zach – F***
Johnny – I'm going to fight.. b@lls to the walls tomorrow .. in other people's minds if I have a pitch to stay I'll continue to be the target if I'm here
Zach adds he needs to tell people they all know his target he's not hiding anything
Johnny – 5 votes (Is what he needs to stay)
Zach asks if there is a "Girl" thing in the house
Johnny doesn't know but says at this point they have to take it serious "There advantage it endurance competitions"
Zach – I heard through the grapevine that Willow mentions to those two girls a final 3
Zach – I can't trust WIllow at all not one sniff..
Johnny – her and bobby for sure fer sure fer sure (People he can't trust)
Zach – Even if you have me, JP, Pili
Zach says Ashleigh and Willow will vote Johnny out unless he can get in with Ashleigh "You have to win that POV"
Johnny – who is the replacement .. B? .. she's cut deals she has to have cut a deal.. she claims she took complete ownership over the G thing
Pilar comes in . they hug, giggle and she leaves
Zach – it might be a how bad do you want to
Johnny – I don't care I'll take everything I'll be on slop for the entire season I don't care.. Sarah will do the same thing
Zach – I don't think so
Zach tells him if he stays on the block it will be tough. Adds it'll be really hard for people to use the Veto on him it may blow up their game.
Johnny understands says he'll pick Kevin to play POV and he told kevin he'll understand if Kevin doesn't use it. He told kevin to throw the POV to him.
Zach – Pick Kevin or someone shitty that he can beat.. maybe B
Kevin comes in
Johnny says when Graig left the audience was cheering because they were happy he was gone.
Zach calls Tom Plant a DR Will compared to Graig.
Kevin – it would be hard to be worst
Zach says Graig played too hard too fast mentions how he use to tell Graig to "Calm down"
Johnny brings up Graig approaching Neaha and him saying they need to target the young people (Actually they approached him )
Kevin says he never said bye to Graig
Johnny – he wanted nothing to do with us
Zach – he thinks you wrecked his game.. he didn't realize I.. everyone wanted him out
Johnny says Bruno was hinting that leading up to the nominations everyone was telling him to put up Johnny. Adds that bruno said he trusts Johnny more than some of the people he is working with.
Zach thinks Bruno is just covering his a$$ in case Johnny wins the Veto, "He's smart enough to know you don't burn bridges before the veto"
Johnny – I'm not going to roll over and die if I don't win the veto
Kevin – have they mentioned replacement nominations
Zach – we have to talk to Bobby..
Zach mentions how Willow and Bruno were fighting for Bobby last week.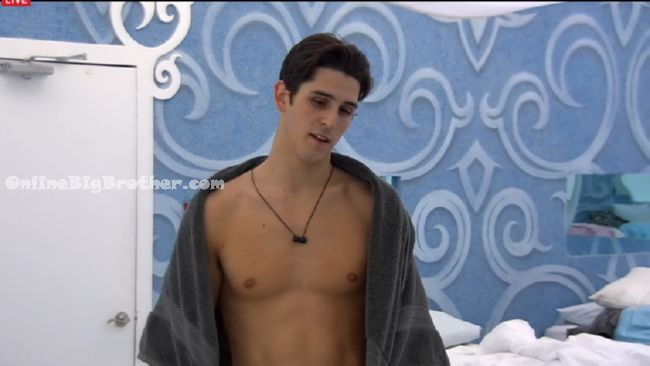 12:10am Zach and Kevin
Zach telling him they have to get Johnny out this week. If the veto is played it'll be Kevin's going up because Bobby really wants him out. "Its your life or his"
Zach – I don't know why Bobby wants you out so bad.. whats up with that..
Kevin – These next couple days i'm going to connect with him
Zach – F*** it just get rid of him
Zach tells Kevin they have the votes to keep him worst case Sarah is going home.
Johnny comes in They start talking about Willow.
Johnny says he cannot believe a 'Super Fan" like Willow would want someone like Godfrey and Bobby in the game. mentions how players like that will vote on emotion in the Jury not game play
Johnny – I hate to say it but I think her shenanigans are an act
Zach – Willow is in with Bobby and Bobby is best friends with Bruno
Zach says that group of three has their 'stringer" who they think they have votes.
Johnny says the girls realize theres only 5 of them left and those girls will not vote against themselves
Zach – so you have 4 votes against
Johnny – unless we can get Pili and Ashleigh.. those two come as a package unfortunately
Johnny doesn't know why Brittnee isn't on the block she was the one that put up G. says she's playing a really good game.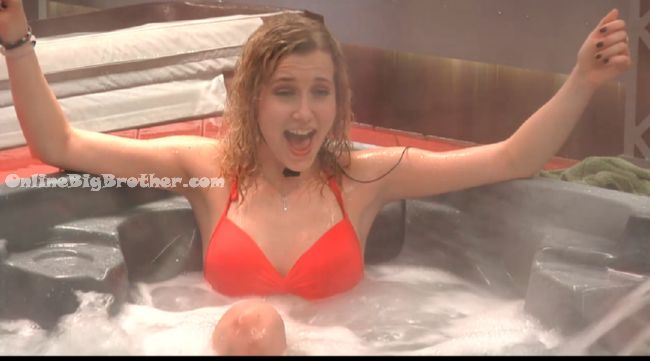 12:25am Hot tub time
Bobby throws off his shorts.. scares the girls
Right before the feeds go down there was a leak in the roof

1:32am Feeds come back.. Everyone poolside. Godfrey telling stories about Samual L Jackson not giving his dad a autograph.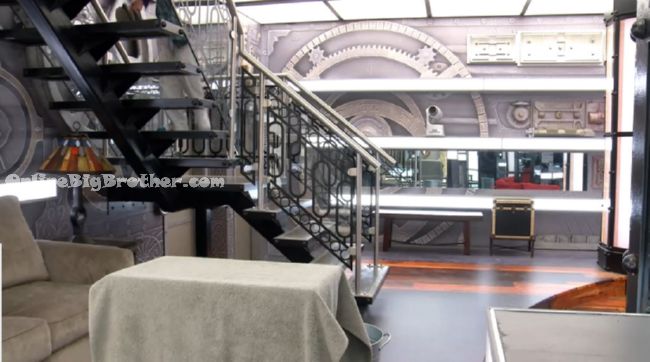 1:52am Zach and Jordan Storage room
Zach says he thinks Kevin will be the replacement nomination. They agree they have to keep Kevin.
Zach – can we swing the votes
jordan – ya.. then it will be war
Jordan says Kevin is so loyal to them they cannot lose him Sarah is expendable
Jordan – 100% Johnny cannot win the veto or we're f***d.
Zach – too good of a player
Jordan – the one thing that can f** us is if he sells us out
Zach – If Johnny gets houseguests choice he'll pick Kevin
Johnny comes in..
2:08am Kevin and Jordan
Talking about getting rid of Bobby next week. Jordan tells him if Kevin goes up it's war
Kevin – No way the triangle is leaving
Jordan says they'll whip out the diaper alliance if they need to
Jordan – "bobby is a idiot he probably thinks he has a chance with Pili if you go home.. jealousy
Kevin – short term goal make sure Johnny doesn't win the Veto.
Jordan – ya
Kevin – FORTRESS
2:40am Pilar and Kevin
(Do you think she's falling for him?)
[polldaddy poll=8790527]
[polldaddy poll=8786423]