POV Holder:
?
Next POV
April 10
POV Used
?
POV Ceremony
April 12
HOH Winner
Bruno
Next HOH
April 15th
Nominations:
Johnny and Sarah
Have Nots
Brittnee, Pilar, Willow (Pickled Eggs & Chicken Feet)
POV Players
Bruno, Sarah, Johnny, Bobby, Brittnee and Kevin
Zach is the POV host
If you are outside Canada and want to watch the FREE Big Brother Canada Live feeds sign up for a VPN service here https://www.hidemyass.com/vpn/r16399/. It's safe to use, easy to set up, and cheap. Need to know more check out this post explaining how to set it up.
8:20am Big Brother wakes up the house guests. Johnny tells Willow the POV Comp is on the screen. It's on today! I'm ready! The cameras switch to the bathroom – Bobby, Ash, Britt and Godfrey are getting ready for the day. Ashleigh tells Godfrey to stop. (From going to the bathroom before her) Britt weighs herself, 187 pounds. She says she's weighed herself more in the last 3 weeks than she's ever weighed herself. Pilar comes in and weighs herself, 110 pounds. Bobby explains that he and JP had a bed whether or not Ashleigh and Zach would sleep in the same bed or not since there was an open bed. Bobby says he lost so he has to jump in the pool naked today. Ashleigh asks naked? Bobby says well I added the naked part. No one wants to see me naked. Ashleigh says Willow has. Bobby says well she saw my balls. Bobby says I know Sarah said she would pick me as house guests choice and I don't know why? Because I wouldnt use it. Willow says because she's not the target.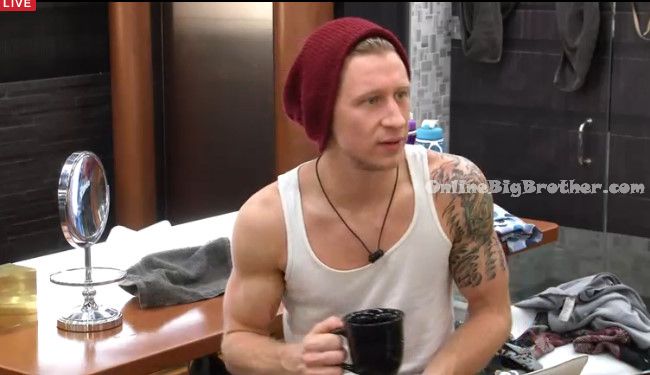 In the living room – The POV Competition is on the tv screen. Jordan, Johnny, Sarah and Bruno are sitting on the couch. Sarah is applying cream to her scraped knees. Sarah about the POV "I hope its nothing knee orientated" Jordan says or death orientated. Sarah says or throwing up orientated! I hope there are no buckets! Bruno says oh god yeah. Jordan says I think we're done with those. Bruno says when I was at home watching I would be like its easy! Sarah says get over it! Bruno says yeah get over it. They comment on how Bruno also won the 5G's in the HOH. Sarah says I keep forgetting about the 5G's Bruno says he forgot about it too. He says he was more concerned about the HOH letter and photos.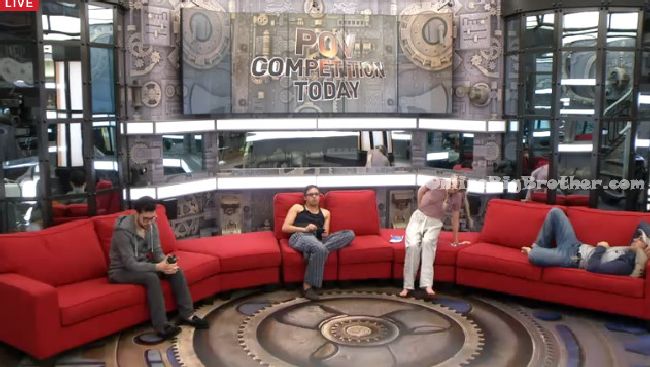 9:10am – 10:45am Big Brother blocks the live feeds. They are likely picking players for the Power Of Veto competition. We'll find out who was picked when the feeds return.
POV Players: Bruno, Sarah, Johnny, Bobby, Brittnee and Kevin
POV Host: Zach
When the live feeds return all the house guests are on an HOH lockdown. Big Brother tells them nap time is over. Pilar grabs the empty candy jar and smells it.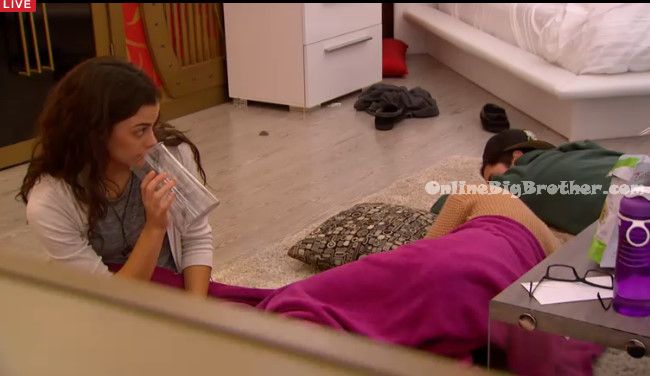 11:15am – 11:30am In the bedroom – Brittnee and Sarah are talking. Sarah talks about how Zach is more concerned about getting into bed with Ashleigh than talking game. Zach and Ash can't last. Brittnee says I honestly don't know if Kevin would use it. If he was smart he would just not use it. If he uses on Johnny and that's who Bruno put up that's sending a message to the house that he's with Johnny and puts a target on his back. Sarah says I am just going to win. Jordan joins them. Britt asks do you think Kevin would use the veto if he won? Jordan says no, he won't use it. I talked to him. Brittnee says great picks, great picks. Brittnee says I need to play my heart out for this. If Kevin wins, if Bobby wins that's okay. Kevin joins. Jordan says you know the drill. Kevin says yeah. Kevin confirms he won't use the veto if he wins it. Jordan says see Sarah you're okay. Jordan says we can't let Johnny know he's going or else he will sell us all out. Kevin says the one thing that scares me is the how bad do you want it competition. Sarah says I will do everything, I'll chicken George it! Britt says I'm sorry I am not going to cut my hair for you. Kevin says every time Bobby says something I lose more respect for him. It is literally like rubbing sandpaper on my brain.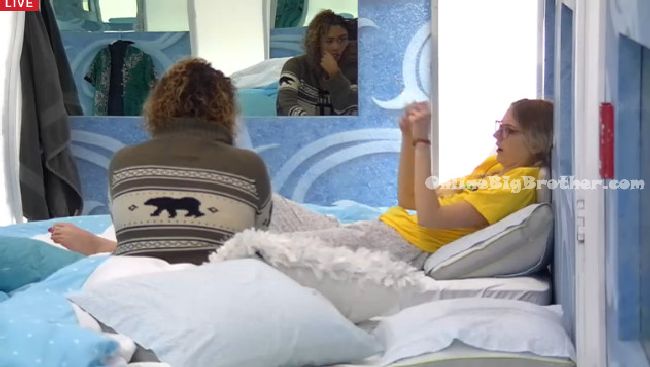 [polldaddy poll=8790527]
[polldaddy poll=8786423]
ALLIANCES IN THE HOUSE
Week One there's a lot of Alliance but we've tried to make sense of it all.. Read our alliance help guide
Support the site and purchase your Amazon goods through our link below. It doesn't cost you anything and we get a percentage of what you buy.
Amazon Canada
Amazon USA