POV Holder:
Christine
Next POV
March 5th
POV Used
No
POV Ceremony
March 7th
HOH Winner:
Jared
Next HOH:
March 10th
Original Nominations:
Loveita and Sharry
Current Nominations:
Loveita and Sharry
Last Evicted Houseguest
Paige
Have Nots
Loveita, Sharry, Joel, Cassandra
Use the Hide My Ass VPN and watch the live feeds on your mobile phones and tablets. One subscription pays for all. It works on any device. Including internet enabled TVs and games consoles. You can even use it on two devices at the same time. HideMyAss VPN
ALLIANCES IN THE HOUSE
There will likely be a lot of alliances during the season – keep track with our alliance help guide.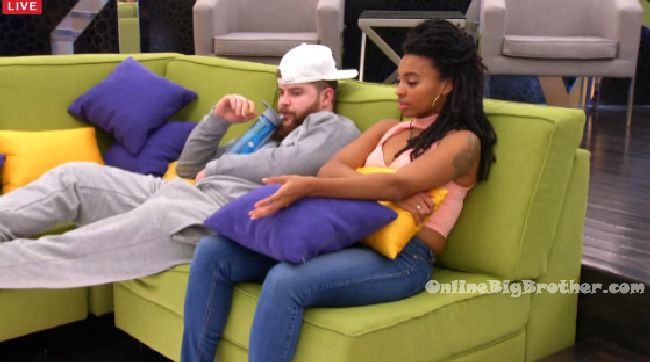 4:45pm Sharry is campaigning to Dallas. She says that she doesn't even understand why she's in this position. I should have just stay far away from Loveita. Worked with her but stayed away. Sharry says you have to be careful of who you're straight up with because they'll probably use it against you. Dallas agrees. Dallas says I am being f**king vocally honest about who I want out of this game. You know what I mean. Sharry says yeah. Maddy joins them.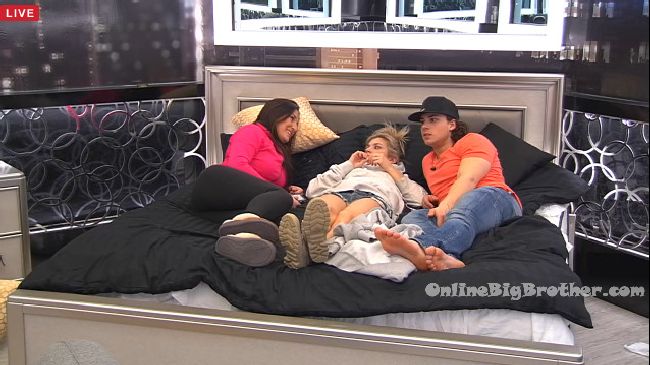 4:55pm HOH room – Cassandra, Kelsey and Jared are talking. Kelsey says I don't want to have anything to do with Loveita, I want her to get the f**k out of here!! Jared says we just need to keep Dallas close to us. Cassandra says that Dallas hates me. If you put Dallas on the block, he better go because he will come back with vengeance. Kelsey and Jared agree. Mitch and Raul join them. Cassandra says I'm voting Sharry out. Mitch says Sharry. Kelsey says okay you're right we need to get Sharry out. MItch thinks the brothers are pretty steady. They think at some point the brothers are going to be two people. Cassandra says we need to get them out before then. Cassandra tells Jared that he is a nice guy that always gives people the benefit of the doubt but he is bullsh*tting you.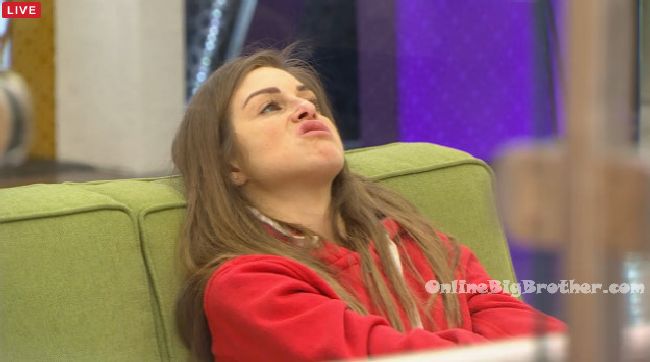 5:10pm Nikki tells Loveita and Sharry that if she won HOH she would 100% put up him (Dallas) and Raul. I f**king hate him. It would be him (Dallas) or Maddy. Nikki says that disgusting hyena! (Raul) I've never come across something quite like it. Nikki says that Jared is lovely but it's a shame he has trolls surrounding him!
Want to watch the Big Brother Canada 4 live feeds but live outside of Canada?
Bypass the geoblocking with HideMyAss VPN and be Canadian Anywhere: VPN Help Guide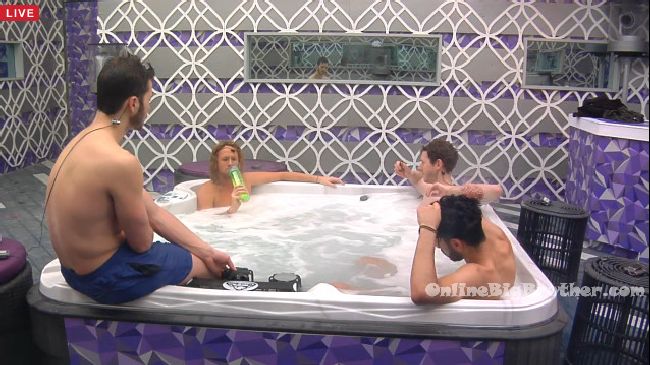 5:20pm Hot Tub talk – Tim tells Phil, Ramsey, and Joel that he is just being himself and that if he is up on the block next week he will be exactly the same. Tim says that he had a great conversation with Loveita this morning and that he really likes her. He says that Sharry hasn't come to talk to him. He asks is it up to the person or the nominee to start the conversation. They tell Tim that its up to the nominee.


5:35pm – 5:45pm In the kitchen –
Nikki, Tim and Phil talk about a strategy to get others to throw the HOH competition if Nikki told them if she won she would put up Raul, Dallas or Maddy. Phil says during the competition you tell everyone that you're putting up those people if you win. Then everyone drops out and you do what you want. That would be legendary! Tim says they won't believe it. Nikki says I'm not going home until I have really rocked the boat. Tim says yes, that's what we are here for as wildcards. Phil asks who Nikki would put up? Nikki says the hyena or Dallas. I don't trust Dallas for 1 second. I want to cause as much trouble before I go. Right now I am just ruffling peoples feathers, I want to F**K their game up!

6pm Kelsey and Jared are out in the hot tub room smoking. Jared tells Kelsey says if I smoked and you didn't, it would probably change a lot of things. Kelsey asks oh what if Maddy smoked? Would you go for her? Jared says I'm not attracted to her. Mind you I'm not attracted to you either. Kelsey says but you need me for your game.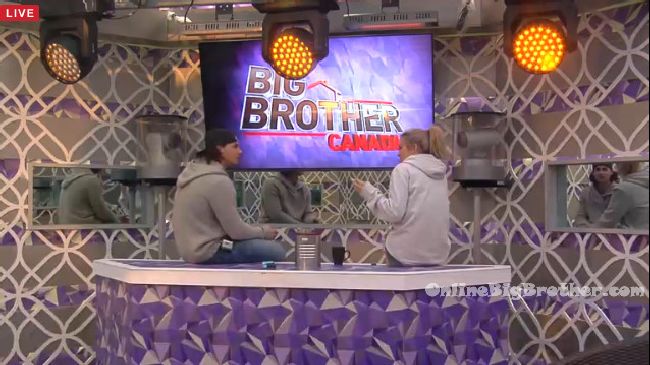 In the bathroom – Dallas threatens to throw the tongue at Phil in the shower. Dallas runs to get it and Phil chases after him before putting on his towel. (Here are a couple gifs of it Camera 1 and Camera 2) Phil ended up finding the tongue and taking it out to the hot tub room and putting it by production's entrance.
6:25pm – 6:50pm Bedroom – Ramsey is talking to Sharry about the pros and cons of keeping her versus keeping Loveita. Ramsey tells her that there are people that don't know where you stand. Joel, Mitch and the brothers don't know where you stand and I would start with them first.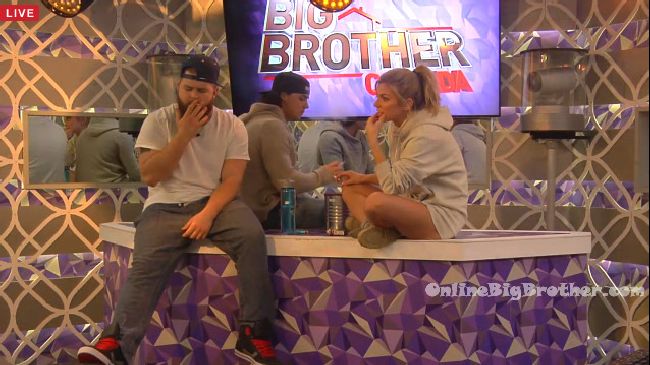 Want to watch the Big Brother Canada 4 live feeds but live outside of Canada?
Bypass the geoblocking with HideMyAss VPN and be Canadian Anywhere: VPN Help Guide
If you're using an Adblocker, you're making a kitten cry! PLEASE consider disabling it for www.onlinebigbrother.com by adding us to your whitelist.
This is very easy to do: simply load www.onlinebigbrother.com in your browser, left click the adblocker and click "disable for this site"
If don't want to but want to stop the kittens from crying, please consider making a donation.