POV Holder:
Christine
Next POV
March 5th
POV Used
No
POV Ceremony
March 7th
HOH Winner:
Jared
Next HOH:
March 10th
Original Nominations:
?
Current Nominations:
Loveita and Sharry
Last Evicted Houseguest
Paige
Have Nots
Loveita, Sharry, Joel, Cassandra
Want to watch the Big Brother Canada 4 live feeds but live outside of Canada?
Bypass the geoblocking with HideMyAss VPN and be Canadian Anywhere: VPN Help Guide
ALLIANCES IN THE HOUSE
There will likely be a lot of alliances during the season – keep track with our alliance help guide.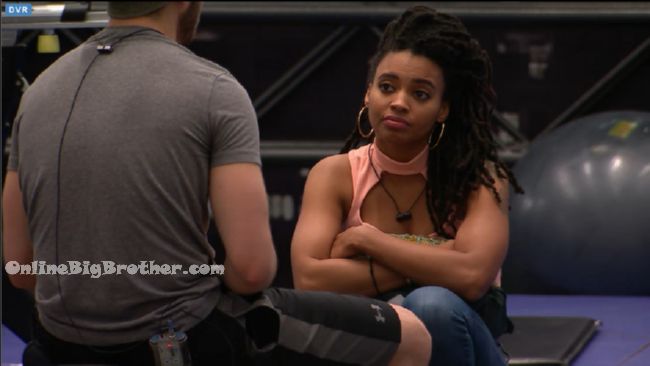 8:30pm Cam 1-2 Sharry and Phil backyard
She is campaigning tells him one of her targets is Christine because Christine hates her.
Sharry says if she stays in the game she can contribute her "A skills" with him.
Sharry offers him protection if she wins HOH and if she doesn't win she'll offer him her vote.
Phil – "Your vote is your vote"
Sharry – I want to be safe.. I offer my vote to be safe
Sharry asks him who is on his radar but he claims to not be targeting anyone.
Phil – I don't know…
Sharry – what if you win HOH
Phil – I don't think that far ahead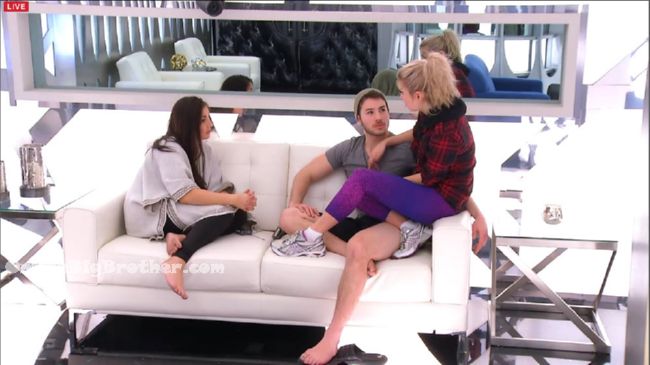 8:46pm Cam 3-4 Cassandra and Phil
Phil and Cassandra agreeing to vote out Sharry this week. Cassandra stressing how Sharry is a social player.
Kelsey joins them
They three of them agree Dallas needs to go next week.
Phil doesn't trust him, "He lies all the time"
Phil and Cassandra shake they trust each other "1 million percent"
Phil says they have the numbers, "Which is great"
The change to Joel and Tim. Tim is talking about not being so public about taking out Raul.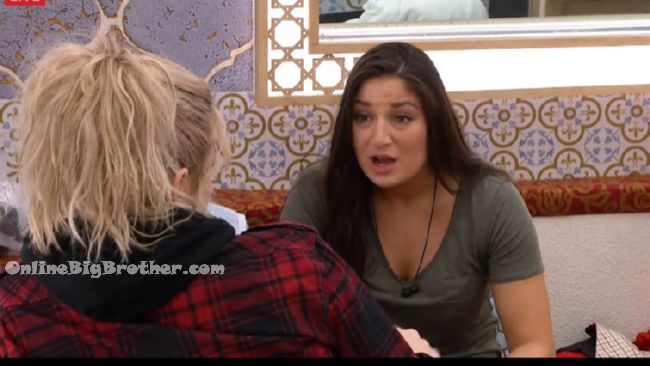 Kelsey and Cassandra bathroom
Cassandra tells her Maddy is gunning for HOH and plans on putting Raul up. She's stresses that Dallas is Definitely talking about putting up the brothers but you never know with im he could put up anybody
Cassandra brings up the double eviction and how they can get the brother out then. She wants to use Jared to do it. (lol a bit early to plan this all out)
Kelsey is voting Sharry out, Cassandra agrees "100 PERCENT"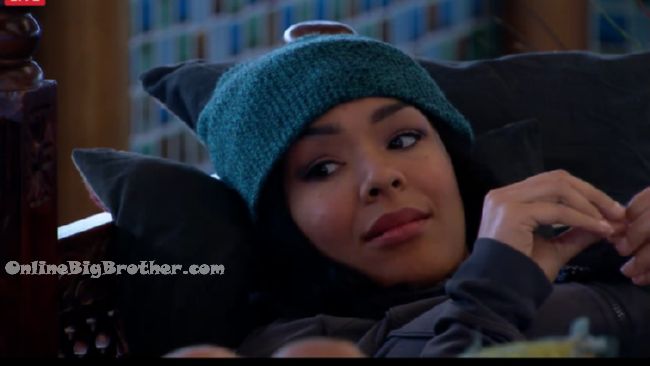 8:46pm Cam 1-2 Sharry and Loveita pool side
Talking about Christine hating them because she thinks they are fake.
Sharry – she thinks we're fake because we don't have potty mouths
Loveita – I'm speculating

9:10pm cam 3-4 Raul and Kelsey Talk about Maddy
Kelsey tells Raul that Maddy is going around saying she's putting him up if she wins HOH. Kelesy explains that means Ramsey and Lovieta will also put him up. She thinks she would go up along with Raul. Pointing out Maddy told this to Cassandra so that is why Kelsey's name was left out. They agree Dallas will also go along with MAddy.
Raul is pissed both Kelsey and raul want to put MAddy up if they win HOH, "I'll f*** go after he"
Raul – Should I tell Maddy
Kelsy – No! She'll know Cassandra said something
Kelsey suggest Maddy and Niki as nominees use Niki as the pawn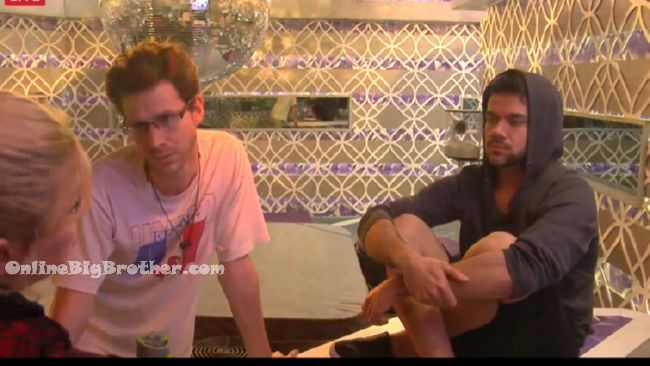 9:35pm Cam 1-2 Hot tub Raul, Joel and Kelsey
Sounds like Jared got miffed with her laying on top of Phil. They agree Jared is a bit of a jealous guy. Kelsey mentions how JAred would tell her to take a "Too too" off cause her bum was showing.. Kelsey " OK dad.. like.. "
Kelsey says the brother are cute but they're "21 year old boys… "
Joel tells Kelsy and Raul he would go after the drama causers. Joel questions who Dallas is with. Joel says he's targeting Maddy because she never talks game to him.
Kelsey is stressing that one of them three will be going up if the "other side' of the house wins power.
Kelsy – Dallas talks alot about getting the brothers out.. but why wouldn't he say that to us
Joel says He's lost count of the times Dallas has changed his story of whose he's targets
Joel – I don't want someone like that who is such a Xfactor"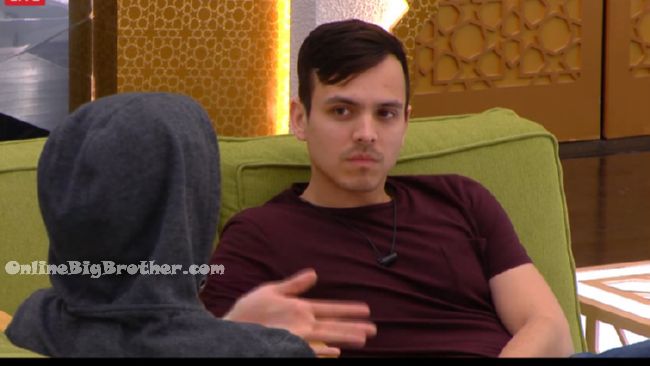 Mitch Raul and Kelsey
Raul fills him in on Maddy telling Cassandra she's targeting him. Raul thinks it's because he offended her last night during the party.
Raul – she's (Maddy) so dumb
Raul says he's going to win the HOH and rub it in Maddy's face.
Kelsey says Cassandra thinks theres a double coming up. Mitch doubts it pointing out how early it is.
Kelsey says Jared and her are targets
Raul – we have to get Maddy out
Kelsy – We have to get Maddy out… I don't know about Dallas
Mitch – I don't thin Dallas can be trusted/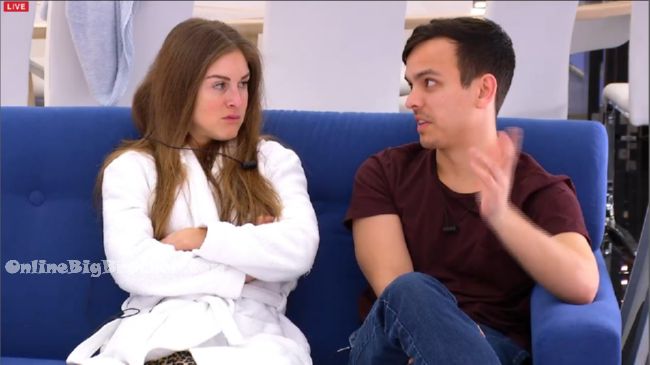 9:49pm CAm 3-4 Mitch, Niki and Phil
Mitch says Dallas and MAddy would be people he puts up because he never talks game with them.
Niki can't stand Maddy
Niki looks at Phil "and you"
Phil – Same thing
Niki asks him who would put her up
Mitch – maybe Raul
Niki – no sh1t
Mitch – Maybe MAddy.. maybe someone like Ramsey
Phil – Maybe Christine
Niki – ohh ha true
Mitch explains for a couple people putting Niki up is a easy out for them. Mitch adds a lot of people in the house won't put her up.
Mitch tells her the house believes Sharry is the bigger threat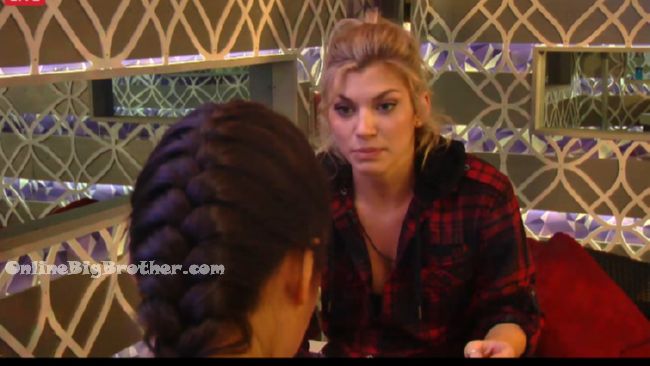 10:38pm Hot Tub Kelsey and Cassandra cam 1-2
Talking about keeping Sharry and getting Lovetia out. They want to cut a 1 week deal with Sharry.
Kelsey – F*** i hate making deals with her.. She's f**** being stupid
Kelsey says Tim told JAred they have to get Loveita out because "He thinks she is an alien"
Kelsey going on about Loveita having to go mentions how she's talked to the boys and they're all for it.
Kelsey says If Sharry stays next week she's on the block If Lovetia stays next week she's not on the block.
Cassandra – lets sleep on it
They agree to get Christine's "vibe"
Kelsey – She's smart
Cassandra – She's smart and she doesn't like them
They decide to go talk to Christine
Kelsey – I feel like I have to poo
Cassandra – Me to
Cam 3-4 Loveita and Cassandra
Cassandra says Sharry has allegiances with maddy and Dallas people see that.
Cassandra says she's talked to Joel and he's voting for her to stay, so are the brothers.
Cassandra – Kelsey and Raul are voting for you to stay… Sharry is scary she talks to everyone in the house
Loveita – I'm the next to go
Mitch and Jared Hot Tub
They are agreeing Nick is friendlier than Phil. Jared likes Nick more.
Mitch – Phil is running the show
Jared agrees.
Jared – What do we do about Dallas do we like him or not like him
Mitch doesn't like him
Jared agrees, "He's burnt too many bridges.. he's up ion the hit list"
Jared – He really doesn't like the brother at all
Mitch doesn't think the brothers like Dallas.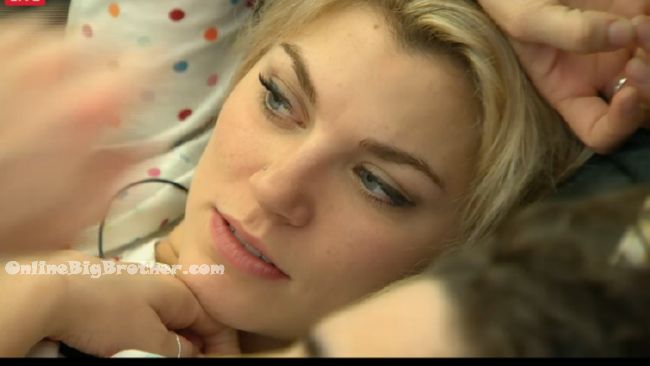 1:20am CAM 1-2 HOH Kelsey Raul and Jared
Kelsey and Raul tell JAred not to trust Dallas.
JAred brings up his "Good" conversation with mitch. Says Mitch is on the same page going after Dallas and MAddy ,
Kelsey – I think we need to get Loveita out..
Kelsey goes on about why they need to get Loveita out
Raul and JAred agree with her point that Sharry is a big target and keeping her in the house is a better play. Loveita will float around.
1:41am CAM 1-2 Joel and Loveita
Loveita wants to bring Mitch into their circle.
Joel agrees, "Mitch is the most level headed person in the game"
Joel says the wildcards want to ally with the "Good People" and not the "Bullies"
Loveita says Kelsey is a bully
Joel says Kelsey plays up how dumb she is about this game
Loveita agrees.
Joel says Kelsey is begin very flirtatious with a lot of the guys including him. "She's a very cute girls, She uses what she has"
Joel says Kelsey and Raul are worried they are on the "Chopping block" if Loveita wins HOH.
Loveita asks him what she should do is she wins HOH
Joel – if I was in your shoes.. something the whole house would understand.. would be to go after the people that went after you
Joel – There's other angles that could work to.. Kelsey going up is a no brainier the whole house would expect.. there's people like Maddy and Dallas could go up there.
Joel – there's someone like Jared.. I don't know if we even want to… do we want to give someone like that the chance to compete (in POV, b@ckdoor option)