POV Holder:
Dallas
Next POV
March 24th
POV Used
No
POV Ceremony
March 24th
HOH Winner:
JOEL
Next HOH:
March 24th
Original Nominations:
Kelsey and Raul
Current Nominations:
Kelsey and Raul
Last Evicted Houseguest
Paige, Sharry, Christine
Have Nots
Tim, Raul, Kelsey, Jared
Want to watch the Big Brother Canada 4 live feeds but live outside of Canada?
Bypass the geoblocking with HideMyAss VPN and be Canadian Anywhere: VPN Help Guide
ALLIANCES IN THE HOUSE
There will likely be a lot of alliances during the season – keep track with our alliance help guide.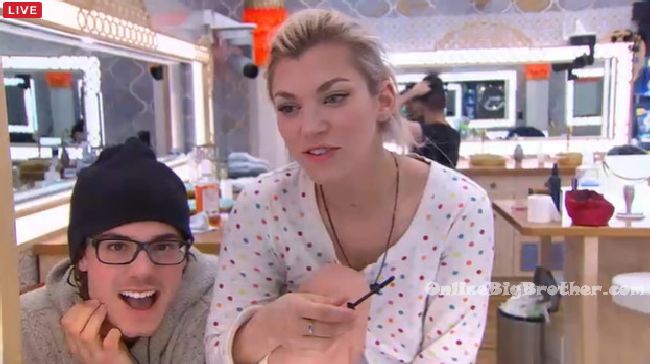 9am Big Brother wakes up the house guests. Cassandra, Tim and Raul are talking. Tim says I think when there's less and less people it will be easier. Tim says if its a double eviction we'll really notice the numbers. And if the brothers go it will be two for the price of 1 with three going. Cassandra says I don't know if what happened helped the brothers or not. Tim says I know, I know. They think it helped them. I think it just .. you know how it was like will they or won't they. It makes you not make a move. And now that you know, they're a known threat. Phil comes into the bathroom and leaves. Cassandra says I don't know why but I find him so annoying. Do you? Raul says he's just a little immature but he's cute.
9:50am Hot Tub room –
Kelsey asks do you think people are interested in us what we have to say and stuff? Jared asks like what out there? Or in here? Kelsey says both. Jared says more so out there than in here. Kelsey says I was thinking, I can't believe that Raul could be possibly leaving because he's so funny and tells the best stories. Jared says he's a character man. Kelsey says he makes me so happy. Jared says in my opinion from a tv stand point he's a terrible person to lose in this house. Kelsey says it makes me feel bad if I stay. Jared says he could go but no one knows. I don't want to give you false hope but it just seems that way. Kelsey says Its just going to be such a sausage fest if I go.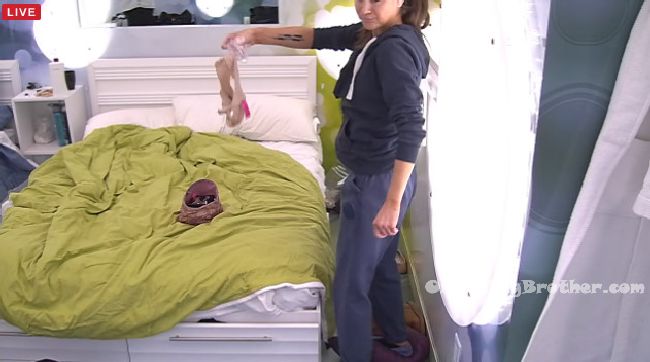 10:10am Nikki asks to show Tim something. It's the final straw. She tells Tim that she's not sharing a bed with Loveita any more. She tells Tim that she found Loveita's underwear by her makeup bag. Nikki points out there's period stains on the underwear. Nikki then uses a sandwich bag to pick it up and throw it on Loveita's bag. Nikki shows all the other ways Loveita is messy. She says she found Loveita's nail clippings all over the HOH room. Tim suggests because she's friends with Loveita she make a comment about keeping things more tidy. Nikki says I'm just going to say are these yours I found them on my bed?! Tim laughs. Nikki says I just can't believe it. I just want my bed back? Tim asks could Loveita maybe shack up with Cassandra? Nikki says they hate each other. Tim says its a love hate relationship. Nikki asks if Tim would share with her? Tim says I don't even have a bed for the next 3 nights.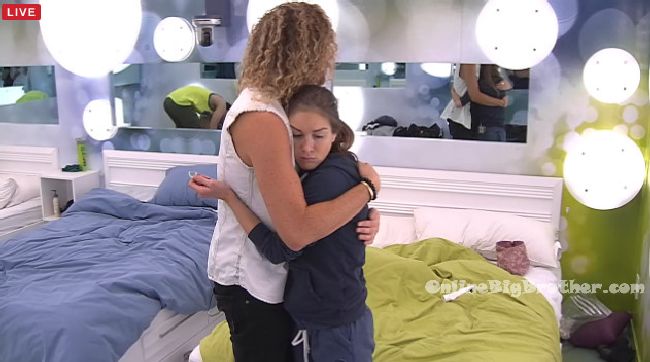 Hot Tub room – Tim, Cassandra, Phil, Nick and Mitch are hanging out. Phil comments on how everyone would like to take Tim to the end because he doesn't want to win it and would tell the jury to vote for the other person. Tim says if he was at the end with someone he would find it hard to rob them of the feeling he felt when he won his season. I don't want to crowns in my cabinet. Maybe I'm like Yoda and need my skywalker.
10:40am HOH room – Loveita tells Joel that I haven't said much to the brothers since last week and it seems like the other side knows everything we've spoken about. So just heads up.
High roller room – Nikki says the filth in this house is really getting to me. Loveita says we should just call a house meeting and get everyone to clean it. Nikki says I could clean the bathroom. Loveita says I could help you. We could get it done in an hour or so.
11:35am Backyard – Ramsey tells Maddy that he's going to go to be when she does so they can cuddle. Maddy says we have to start thinking about who we want in jury. We definitely don't want Kelsey in jury. Ramsey says or Cassandra. Maddy says Tim, Nikki, the brothers and Mitch would be good in jury. Maddy says I'm betting its 7-3 (vote). Ramsey asks who the three are? Maddy says Jared, The brothers and Cassandra. Ramsey says we need to take down another one of the three. They talk about putting up Loveita and Raul. Maddy says or maybe Raul and Tim. Maddy says Mitch thinks we're going after him. Someone's telling him that. Ramsey says f**K I want to know who told him that. Ramsey says it would be good if Loveita won HOH again and got out Cass. Maddy says it would be good but it would be bad if she won because if she keeps winning competitions its bad for us. She's won twice and we haven't won at all. Ramsey says Nikki does not want to sleep with her any more. Nikki is voting out Kelsey because she wants to sleep with Mitch.
Maddy says that hooking up with Nick was purely strategic. He's so annoying.
12:20pm Hot Tub room –
Dallas says you, Ram or myself need to win HOH. Its not best to win too many competitions though. Maddy says I'll be like please.. I'll give you a blow job… No I wouldn't do that. I would be like I won't put you up. Dallas asks would you put up Jared. Maddy says I was thinking we need to start thinking about who we want in jury. Dallas says we need to think about taking out more of the 3 headed monster. Maddy says if he was in Jury he would probably vote for you. We need to think about taking out Loveita. Maddy says my list in order of who I want out is Jared, Raul, Loveita and Cassandra. Maddy says if I'm HOH I'm doing whatever the f**k I want to do. All I know is I want those 4 out before I go. Dallas says that Mitch is with them. Maddy says he's not with them. Dallas says he's voting with them. Maddy says because he's scared. I don't know what happened to Tim. To be honest I'm sick of him. He is so funny but half his stories could be complete lies. We don't know anything about him. I have no patience with some of these people. Dallas says he isn't sure what he wants to do with the brothers yet. I kind of patched things up with them. Maddy tells Dallas that Mitch thinks we're targeting him. Dallas says I already told him my arms are wide open. Maddy says someone keeps telling him we're targeting him. Dallas says I'll have a talk with him and tell him if I win HOH he's not going up and if he wins get him to say I won't go up.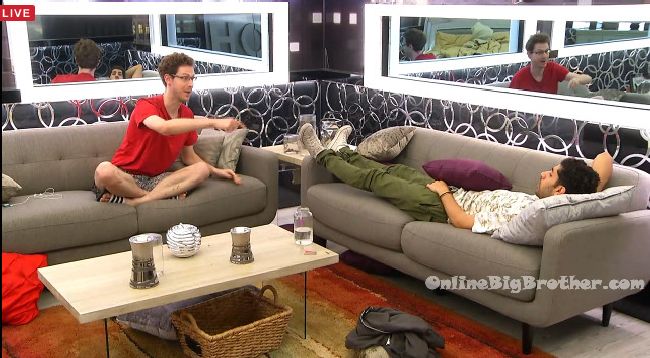 12:40pm – 1pm HOH room –
Joel asks Ramsey what is everyone doing? Is it split down the middle. Ramsey says at this point it seems like Kelsey. It doesn't look like you'll need to (Break the tie). I don't want you to have to do that. Ramsey says the people you're close to you don't need to spend a lot of time with. Joel says he knows that and is trying to not spend as much time with Loveita. Ramsey says oh you know that, that's good. You and me are good. I just want to make sure you and I are good. If I win HOH you can be rest assured you will not go up. Joel tells Ramsey they should have a plan in place just in case its a double eviction. Ramsey asks if double eviction happens what would be the worst case for you and me? Probably Raul. Joel says he wouldn't feel 100% safe with Raul winning. He might throw me up because I took a shot at him. Joel says the talk about the brothers splitting needs to stop. It doesn't change my opinion of them.