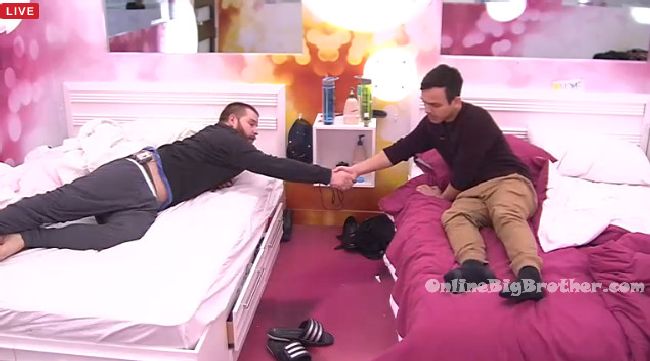 1:10pm – 1:20pm Bedroom –
Dallas tells Mitch if you give me your word I won't go on the block if you win HOH I won't put you up. Mitch says he won't put Dallas up. Dallas tells Mitch that he's not gunning for him. I've got bigger fish to fry. I should be checking up with you and other people more often I just have other things on my mind. You're not even in my top 5 – 10 targets. I'm trying to take out the top dogs. Mitch says I know you're a target and so that's incentive for me to want you in the game. I know people want you out but why would I do their dirty work. Dallas shakes Mitch's hand and tells him he will not go on the block if he wins HOH. And if you win HOH, just leave me out of it. Mitch says you are a much bigger target than me and that's why I don't want you to go home. Dallas says and I'll never try to influence you if you win HOH on who to put up. I've never said your name as being one of my targets. If I do win HOH and put up Jared and someone else you'll know that I've kept my word. Socially he's a great player and I'm intimidated by him. If we don't get him out in the next couple weeks we might as well sign the cheque over to him.
Kelsey "Maddy will do whatever it takes to win the 100K"@bigbspoilers #BBCAN4 pic.twitter.com/dJ7qM7n9Vm

— Dawg (@DawgsBigBrother) March 22, 2016

HELP keep the spoilers coming. Show your support by giving a tip :)
[polldaddy poll=9357323]
Share it YO!!
Tweet