POV Holder:
Dallas
Next POV
March 24th
POV Used
No
POV Ceremony
March 24th
HOH Winner:
JOEL
Next HOH:
March 24th
Original Nominations:
Kelsey and Raul
Current Nominations:
Kelsey and Raul
Last Evicted Houseguest
Paige, Sharry, Christine
Have Nots
Tim, Raul, Kelsey, Jared
Want to watch the Big Brother Canada 4 live feeds but live outside of Canada?
Bypass the geoblocking with HideMyAss VPN and be Canadian Anywhere: VPN Help Guide
ALLIANCES IN THE HOUSE
There will likely be a lot of alliances during the season – keep track with our alliance help guide.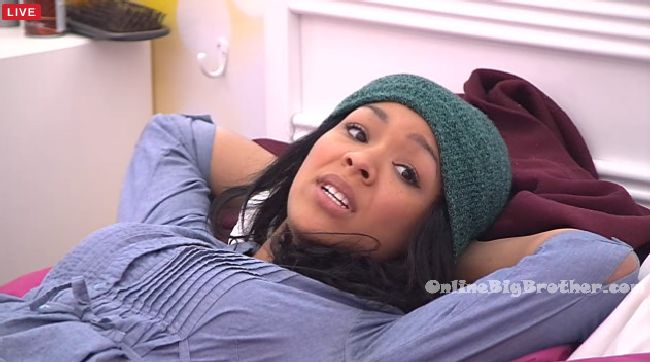 2:15pm – 2:45pm Bedroom – Loveita tells Nick that she cannot stand being around them. I've tried but I just can't. With Kelsey and Jared they can't even be in a room or they're like ehh.. I'm leaving. Nick says this is just like my high school. Everyone is gossipy and talking bad about everyone. Loveita says I don't like talking bad about people but Kelsey makes it so… The conversations eat away at me as a person. If I have to be in the house with her another week I will self-evict. I am losing myself in this game as a person. I don't want to have to play dirty and this game forces you to. Like a dirty needle. Have I been a villain in this game? Nick says no, you've been playing your game. You've been playing your way. Loveita says the surrounding Jared fans make me feel like I have. Nick says you haven't. You're good in our books. Loveita says I would never go against you guys. Like now I have to literally win. There's no in between. It gets to a point where you can only take so much. I'm scared too .. that if I win HOH again.. then I'm the villain. Nick says once you win you have to keep winning. Nick says people got suspect of Maddy and I .. and we never talked game. Loveita says I feel like I want to leave half the time. I feel like I just got the sh*tty end of the stick and people are upset with the choices I had to make. Loveita says its the high school hierarchy. Nick says its the cool kid club. I've never been one of the cool kids. Loveita says Kelsey makes me seem like I'm the devil. I've already had this conversation in the diary room that I want to get out. I don't want to be portrayed badly. I'm a committed person to my peeps! Loveita tells Nick that the Jared crew make fun of your brother afterwards.
3:30pm In the kitchen – Loveita is making a chocolate covered banana. Phil says you know what that looks like right?! Loveita asks are you talking about race or what? Phil says I should just stop talking.
By the pool – Kelsey starts talking about how she loves anything miniature. Nick says I've got something miniature you'll like! Kelsey says yeah you do!

3:50pm Joel gets the HOH camera. He takes a bunch of selfies. Joel says was told to take creative photos that play on depth perception. Joel keeps complaining that he doesn't understand it. Do people actually do this on a regular basis?! People actually do this and think that they're pretty cool!? What if I just put it down my pants? Phil shows Joel one of the photos. Joel says Oh my god I want to do this when I get home on a Saturday night .. like this so so ridiculously stupid. Joel asks Ramsey did you tell them to give me this assignment because you're all into it. Joel says this isn't f**king alright?! This isn't f**king alright! Is it innovative?! Is it cool? You guys are losers!
4:25pm
Joel says I'm going to do a funny one. I'm a puppy. It comes out of there right?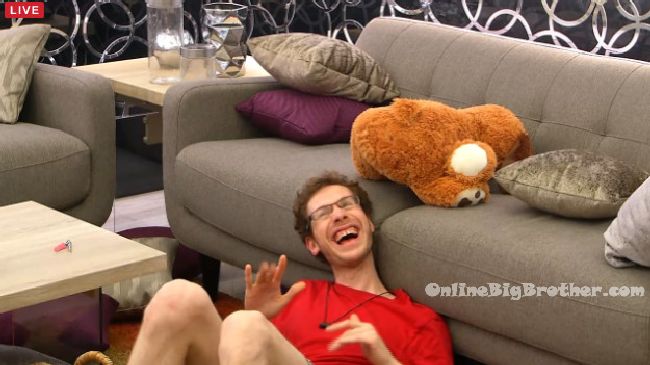 4:35pm – 4:45pm Bathroom – Maddy and Cassadra are talking about Loveita. Maddy says she always barks at me. She's f**ked. If its not you that puts her up, its going to be me. Cassandra says that Jared will probably put her up too. Maddy says she talks down to you. Cassandra says she just wants to be in the house with all these guys. Maddy asks why is she so mean!? Cassandra says I think she has a little thing for Tim. Maddy says Joel is getting sucked in. Cassandra says I think they have a final 2 deal.
5:35pm Hot Tub room – Phil tells Ramsey that Jared's crew doesn't hate him, they want to work with him. Ramsey says he doesn't know if aligning with them is a good idea. Phil asks so who do you not want in jury. If we match we can start working together. Ramsey says the people that I have the least relationship with. He says Cassandra and Raul. Phil tells Ramsey no one wants Dallas in jury. Ramsay says that it only benefits Maddy if Dallas makes it to jury. Phil says he doesn't dislike Cassandra. I find her a bit scary but doesn't think she'll nominate him. Phil says my strongest relationships are with you and Mitch. Ramsey asks even more than Dallas and Maddy? Phil says yes. Ramsey asks what about Joel. Phil says way more than Joel I haven't talked to him in a week and a half. Phil says I think I've cleaned up my game in the last little bit. I'm telling you with Jared's crew … especially Mitch and I .. you are people that we want. Phil says the targets for me on "our" side are Dallas & Loveita. If the POV is won, Maddy goes up. Ramsey says I guess the worst case scenario is Cass and Raul. Ramsey says he thinks Loveita and Cass are faking their fights. (They are). Phil says I think they're just so weird. Phil says its good we're talking so we know what to do if its a double. I just can't put up Cassandra because she's friends with all of them.
5:50pm Havenot room – Jared tells Kelsey that he feels like all the votes are going her way but kind of wants to throw my vote to Raul. Kelsey asks what if that's the vote that matters? You're playing with fate. I want you do to what you want to do. Jared says I don't know what I want to do. I wish I didn't have to play a role in any of this. Kelsey says but you do! Jared says I know. I had it in my head that the house is voting for you to stay and then I'd throw my vote to Raul. Kelsey says she thinks Mitch and the brothers want Raul to stay. Jared asks what do you want? Kelsey says I want it to just happen. Jared asks either you want to stay or you want to go.. what do you want? Kelsey says its not just that. Kelsey asks what do you say to people? Jared says I say that I might just split the vote with Mitch. Logically like you explained its probably better for Raul to stay but personally I want you to stay.
6:10pm – 6:30pm In the bedroom –
Cassandra says I trust Jared. Joel says I do too. Cassandra says I figured out we have some of the same friends back in Winnipeg. I have a good relationship with Kelsey. She's emotional so we always know where she stands. She's not mad at you either, she blames this whole week on Loveita. Joel says he wants Jared around for awhile. Cassandra tells Joel not to worry about anything. Cassandra says If I win HoH, I should put up Ramsey and Dallas or no, Ramsey and Maddy and then backdoor Dallas. Tim joins them and they ask for his advice.
6:40pm Cassandra tells Tim that if she wins HOH she might put him up as a pawn with Ramsey. Tim says you could put me up. Cassandra says I wouldn't put you up without talking to you. Tim says but would I have the numbers?
7:06pm The Jackpot goes off. No one cares about it any more.
HELP keep the spoilers coming. Show your support by giving a tip :)
[polldaddy poll=9357323]