POV Holder:
Chrsitne
Next POV
Aug 2nd
POV Used
?
POV Ceremony
Aug 4th
HOH Winner 1:
Donny
HOH Winner 2:
Nicole
Battle of the Block Winner
 Caleb/Victoria
Next HOH/ Next BOB
Aug 7/Aug 8
Original Nominations:
Donny's Noms (Victoria & Caleb) Nicole's Noms (Zach & Jocasta)
Final Nominations:
?
Have Nots
Frankie, Cody and Hayden
POV Players
Nicole, Christine, Jocasta, ZachAttack, Caleb, Victoria,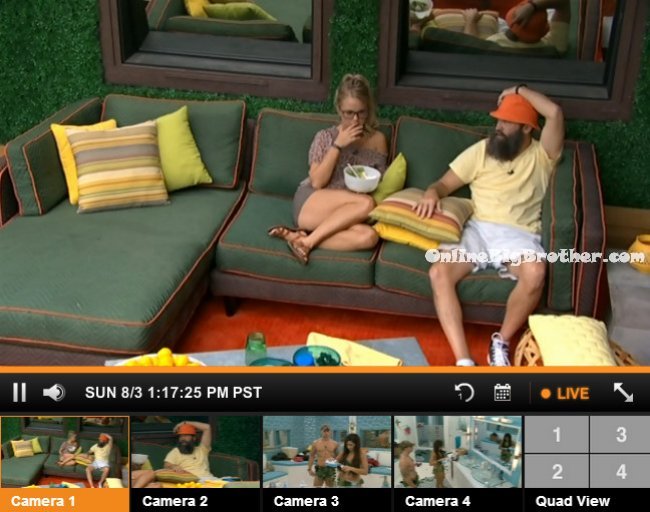 Take Advantage of the FREE 2 day Trial to watch all the drama!
1:15pm – 1:35pm Nicole comes out to join Donny on the backyard couch. Donny asks what's going on? Nicole says not much, I have no idea what Christine is going to do with the veto? IF she does use it I will not put you up. Donny asks what about the other plan? Nicole says to tell Christine that I am putting you up but then put up Frankie. That's a lot of blood Donny! Donny says I would be okay with that if you did it. Nicole says okay I'll think about it. Donny says you could leave it in her ball court. Nicole says I don't even want to talk to her about it. Donny says let her come to you. Nicole says I am secretly hoping that she thinks I think she won't use it and then she uses it .. I would then put up Frankie. Donny says that he called Christine out and asking her why she put me up against Jocasta in the buzzer competition. She says she was told to put us up. Nicole says Christine is pretending that Zach won't go home against Jocasta. She was wanting me to pull down Jocasta and put you up trying to make me think that Zach would go home over you. Nicole says I will let Christine come to me and it will be in her hands if he (Frankie) goes up. Donny says let her come to you and tell you about who she's working with. Nicole asks will you vote Zach out over Jocasta? Donny says let you, me and Hayden decide what's best and then we'll do it. I don't have an alliance with either one. I just don't think Jocasta would come after any of us. Caleb and Victoria join them and the conversation ends.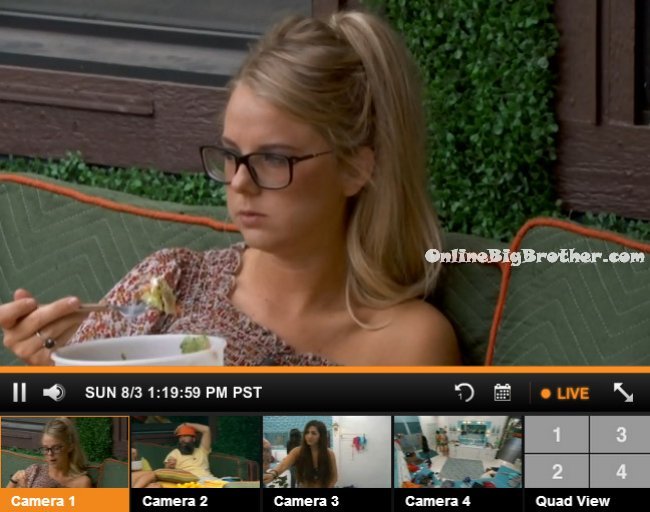 1:35pm – 1:50pm Caleb and Victoria head inside. Nicole and Donny continue their conversation. Donny says you know that if they've already talked to everybody, they know they have the votes to get me out. Nicole says that Christine is trying to tell me all these things about Hayden. It's making me mad at Haydeb. Donny says its all lies, she doesn't even hang out with Hayden. Nicole says she is saying that he wants to secretly keep Zach and that he and Victoria are making out. Donny says that's a friend for ya. Nicole says can you please stop referring to her as my friend. As of yesterday she's not my friend. Donny says alright, well you just leave it up to her if she is going to use it. Nicole says she keeps talking about how big of threat you are. Donny says I want you to know that you were the first person I was drawn to when I first came into the house because you looked so scared. Nicole tells him she won't put him up no matter what people try to say. Donny says I like Cody, but I don't trust him 100%. I like Hayden and I almost trust him 100%. I am willing to sacrifice me for the two of ya'll. Nicole says Hayden and I trust you. I don't get why Christine talks crap about Hayden to me ..doesn't she understand how close we are?! Caleb and Victoria come back out and the conversation ends again.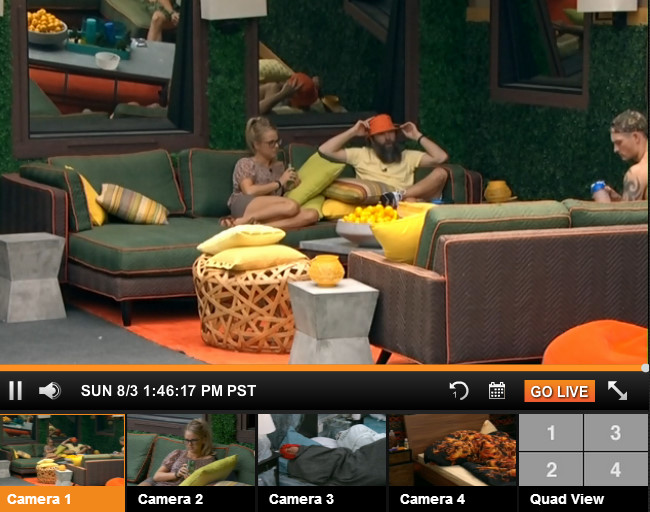 1:55pm – 2:25pm Hayden heads into the kitchen and comments to Nicole. Holy crap its 2 oclock?! Nicole says you sleep a lot!! They head up to the HOH room. Nicole says I didn't sleep that well with Adam and Eve. Hayden climbs on Nicole and lays on her. Hayden says look at you HOH ..two times! Nicole says I am the first girl to have this HOH room. Hayden says you're the boss! Nicole says I want to wait and see what information Christine gives me because that will tell me a lot. Hayden says it would be unreal if she surprise used it. Nicole says I know I was talking to Donny about how I hope she does that so that I can put up Frankie. Hayden says no matter what .. either Zach or Frankie will be going home! That's awesome! Me and Cody were talking about it yesterday and wondering how we can do it so that people don't know. Hayden says if its Jocasta and Zach up there we would have to pretend like Zach is staying. Thats mainly just for Frankie and Christine. Hayden brings up how he and Frankie were in the backyard … and Frankie asked me how we get Nicole to get Zach to stay.. I was like yeah that's a hard one. Nicole says I honestly don't want Zach in the house.. I want him gone. Hayden says I would rather Frankie is gone. Hayden says I love how Zach already came to me and told me his speech. I am 99% sure he threw that competition yesterday because he wants to put on a show and be up there for live eviction. He said he was going to throw it the other day. Nicole asks do you think he will go home for sure… you guys aren't going to flip are you. Hayden says no. Nicole asks what should I say if Christine asks what we were talking about? Hayden says that Jocasta has no alligence and that Zach isn't coming after us. Hayden says try and keep her on track of wanting Donny out. Hayden says hes thinking of bringing up to Cody asking if he really thinks I kissed someone and if he says Victoria. I will say are you f**king kidding me. Nicole says that Christine said it disgusts me a bunch of times. I thought Christine would be the one person I could trust but I can't and now I have to pretend. Hayden says I am going to call her Jonny apple seed because she's planting seeds all over the house. Hayden says I hope she surprises you with using the veto so that you can put up Frankie. Hayden tells her that her reasoning for putting up Frankie can be that he is all over the house and can't be trusted. Hayden tells Nicole she is the only person he has kissed, would kiss and will kiss. Hayden tries to tell Nicole about Zach's speech.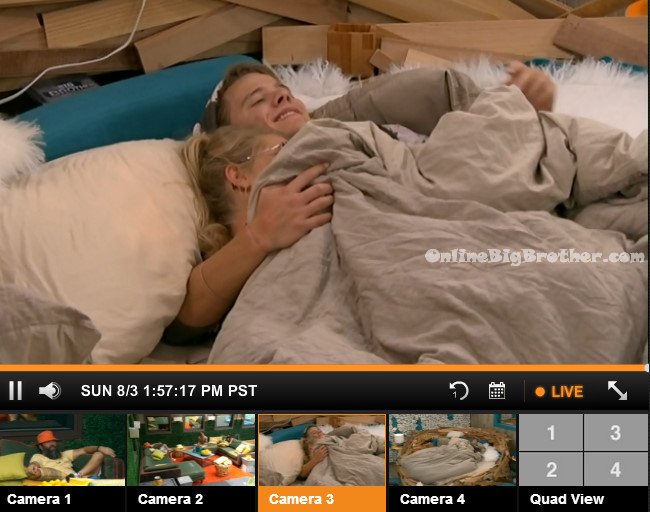 2:30pm Out in the backyard – Christine is talking to Donny and says I can't believe Victoria didn't even finish the puzzle last night. Unbelievable! Unbelievable!
Meanwhile up in the HOH room. Nicole asks Hayden do you think anyone is America's Player? Hayden says no there hasn't been any thing crazy happen. Nicole says whenever a bold move happens I think its America's Player. Hayden says if Christine was she would have already won $25G's. Hayden tells Nicole that she is doing really well at the game. Everyone loves you. Hayden starts kissing Nicole on her cheek and forehead. She tells him to stay away from her lips. I have to get to the bottom of these rumors. (Christine's rumor she's spreading that Hayden and Victoria kissed. Which they didn't.) Hayden asks if no one is in the photo booth can we kiss? Nicole says yes. Hayden says okay. Hayden gets ready to head down stairs .. what were we talking about. Nicole says about voting Zach out. Hayden heads downstairs.
NICOLE says "Stay away from my lips!" @bigbspoilers #bb16 "I have to get to the bottom of these rumors!" pic.twitter.com/yg4Un91SnE

— Dawg (@DawgsBigBrother) August 3, 2014
2:40pm – 2:50pm In the living room – Victoria tells Derrick that she can't wait to be detached. Like it would be fun with anyone else but him. Derrick says its good TV. Derrick says we need to talk after you're detached. Derrick tells Victoria that we need to talk this week after the veto meeting to see what we're going to do. Victoria tells Derrick that he's been distant from her. Derrick says yeah I have because I don't want Caleb to know how much we talk.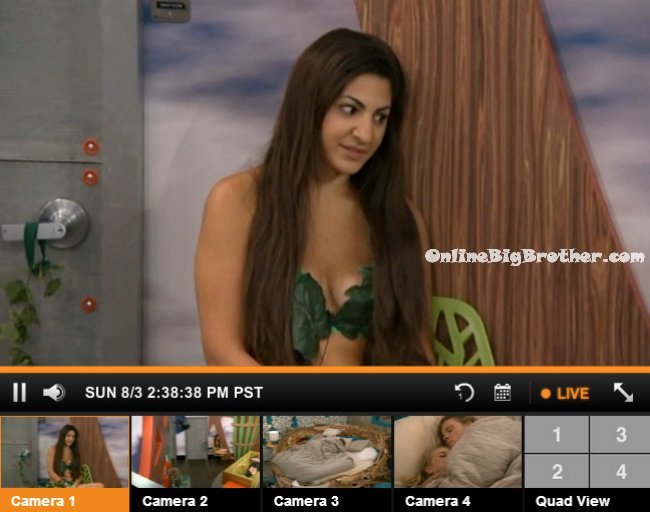 Big Brother says You're ONE day closer to 5 hundred thousand dollars!!
2:55pm – 3pm Jocasta talks to Christine in the hive room. I just wanted to talk to you because you have the power. You probably do or dont know what you're going to do.. Christine says I haven't talked to Nicole yet. Jocasta says I would want you to use it on me. I would respect your game no matter what you choose to do. If there is anything I can do for you .. you name it I'll do it. They talk about the POV competition. Christine tells Jocasta she did so well! Christine says I have to talk to Nicole because if I make her get more blood on her hands then she'll resent me …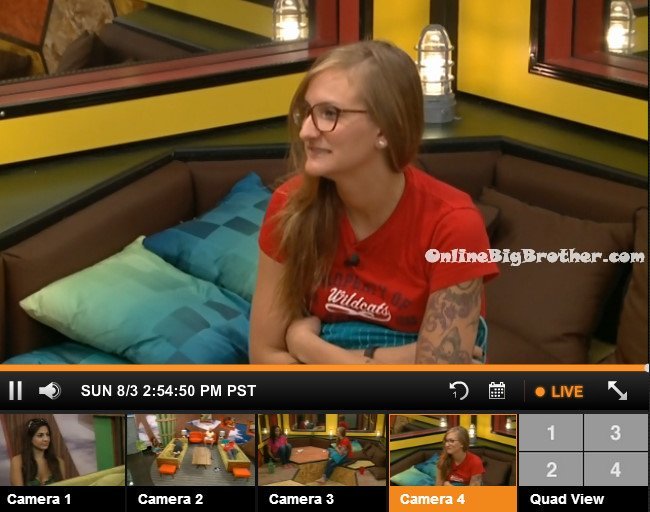 Alliances
Quad Squad = Nicole, Derrick, Hayden and Cody
Zankie = Frankie/Zach
The Detonators = Derrick, Frankie, Zach, Christine, Cody
"The HITMEN" – Cody & Derrick
Trilogy = Nicole, Christine & Hayden
Team America = Donny, Derrick, Frankie
Old timers = Jocasta/Donny
Nicotine = Christine/Nicole
bottomfeeders = Derrick and Nicole
More polls here https://www.onlinebigbrother.com/big-brother-compendium/big-brother-16-polls/
[polldaddy poll=8220599]