POV Holder:
Chrsitne
Next POV
Aug 2nd
POV Used
?
POV Ceremony
Aug 4th
HOH Winner 1:
Donny
HOH Winner 2:
Nicole
Battle of the Block Winner
 Caleb/Victoria
Next HOH/ Next BOB
Aug 7/Aug 8
Original Nominations:
Donny's Noms (Victoria & Caleb) Nicole's Noms (Zach & Jocasta)
Final Nominations:
?
Have Nots
Frankie, Cody and Hayden
POV Players
Nicole, Christine, Jocasta, ZachAttack, Caleb, Victoria,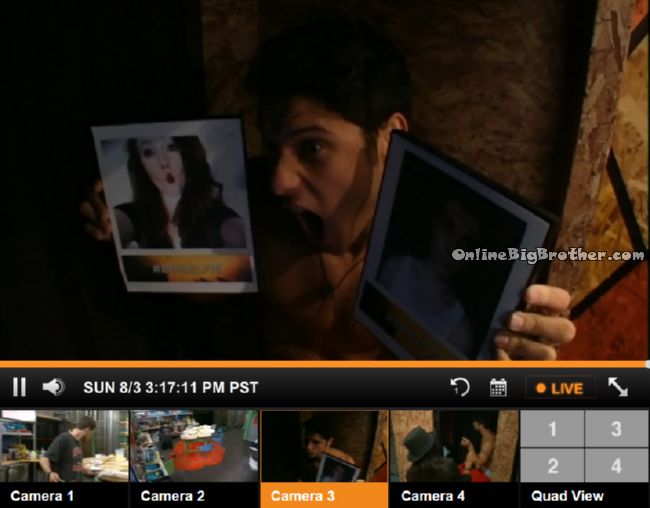 3:15pm BEEHIVE Picture time.. In the kitchen Frankie was complaining about the cold in the have nots room to Derrick. They agree getting outside and laying in the sun was the best after sleeping in the have nots.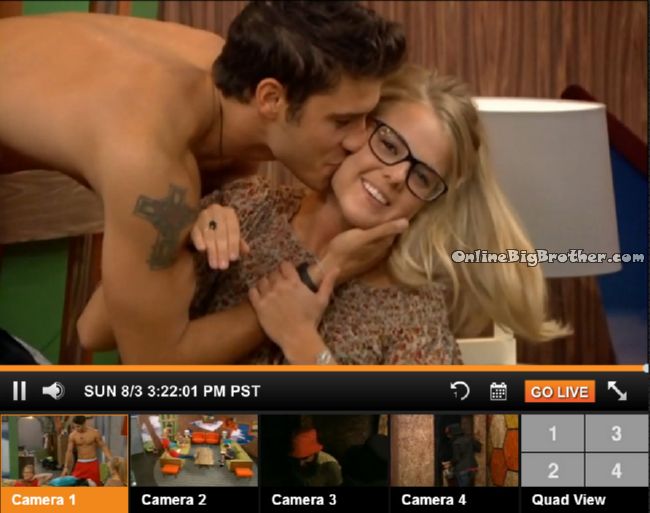 3:21pm Living room Derrick, Nicole and Christine.
Nicole point out that the Now Amber is gone the photo booth is now a fun casual fun thing
Christine says she can now take hideous pictures without Amber judging her
Feeds cut.. when we come back
Christine – I'm tired of her making me feel like crap. Cody comes by kisses the girls they giggle and blush..
Nicole says it's amazing how one person in the house leaving can make such a difference in how it feels.
Hayden comes by Starts joking around about how he looks cruising to the coffee shop with his shirt off on his long board.
(See images below)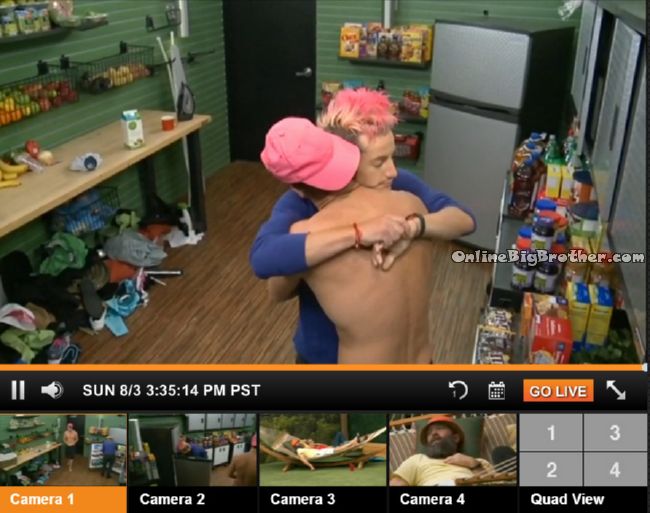 3:35pm Storage room Zach and Frankie
Zach saying this week worked out pretty good for them.
Frankie agree says it was the most important week so far
Zach – and we succeeded
Frankie – yes sir
Zach – At least I'm not on slop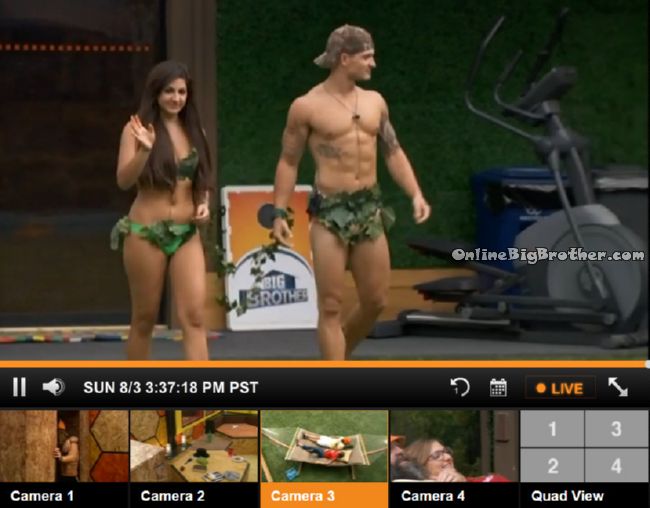 3:40pm Adam and Eve get their costumers off tonight.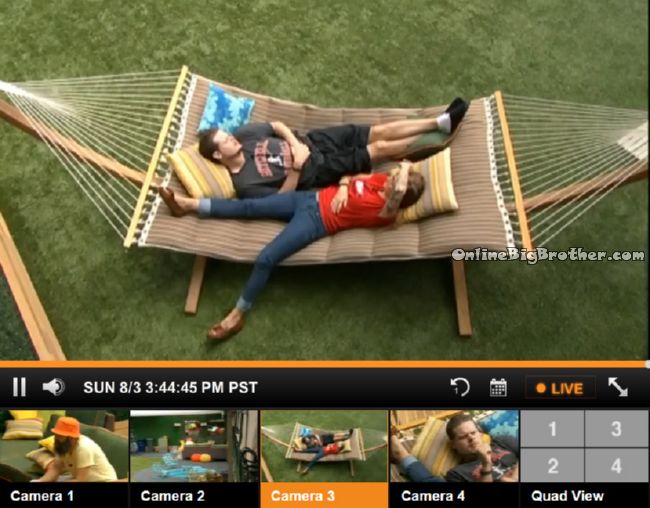 3:44pm Hammock Christine and Derrick
Derrick – you and Nicole have your talk yet..
Christine – Got to get her alone
Derrick – Good luck
Christine- I talked to Jocasta..
Derrick says it's good that she came to you shows it's not obvious where you are in the game. For her to think she has a chance to get your to use the POV.
Christine – she told me .. I'm so proud of you.. Thanks JOcasta
Derrick is pretty sure Nicole wants Zach to go home this week
Christine – That is not going to be good
Derrick – nope
Christine – got to convince her otherwise..
Derrick – If you can't convince her what are we going to do..
Christine doesn't know
Derrick asks her if it's a huge determinant if Zach go home mathematically speaking
Christine doesn't think so Mathematically they will be fine.. she will respect everyone wishes
Derrick – If he's in jury none of us have his vote
Christine -but if he has no choice..
Christine -do many pros and cons to everything. ghosh
Derrick -you are in a tough spot this week
Christine – Ya I know goddamnit.. he is a really good target to keep in the house
Frankie joins them "Did you talk to Nicole"
Christine no.. i'll pull her aside really soon .. I'm going to be like HEY not using it.. see ya..
I'm Going to tell her he's not coming after her and he's a target to keep in the house
Derrick and Frankie say they have more than enough votes to keep Zach. Christine says she wants the vote really close. Frankie thinks HAyden wants Zach to stay..
Christine is sacred Nicole is going to be suspicious of her if she pushes for Zach to stay too hard.
With a live feed subscription you can go back and watch any event that has been shown.
Use our site as an index and watch only the parts worth watching.
Try It Free! Subscribe now to the official BB16 Live Feeds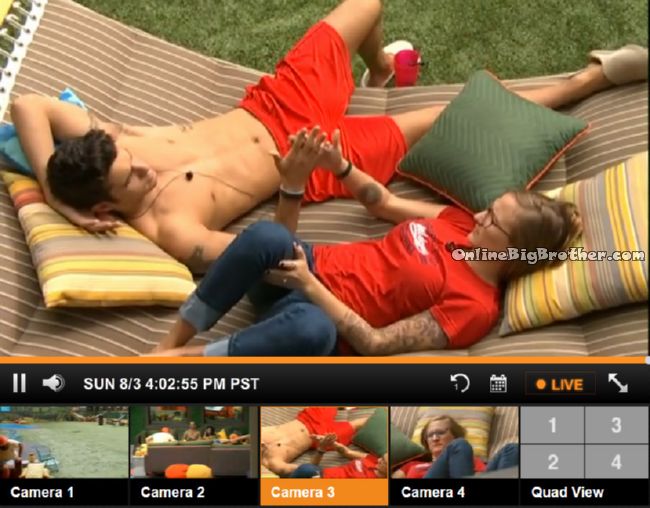 4:00pm Hammock Christine and Cody (While this conversation takes place Hayden is walking around on his hands .. look at images below)
Christine is going to tell Nicole hey I'm not using it so there's no blood on Nicole's and her hands. Cody says he feels Christine is always around Frankie .
Frankie comes by.. they talk how awesome it is they can play 4 days straight of pool. He leaves
Christine says she can never get away from Frankie. Cody whimpers that he felt apart from Christine and it upset him.
Cody whimpers – I love my Christine
Christine – Aww I love you Cody you are my guy don't feel that way
Christine warns him about what he's telling to Zach, "He's not good with his words and he's staring to scare Frankie with what he says bout you.. don't tell Zach I told you this"
"He was like well Frankie you are really well liked people are worried about it." Frankie wanted to know whose worried about it. Eventfully after 15 minutes Zach told Frankie that Cody is worried how much Frankie is close to everyone.
Cody – He's such a clown.. Frankie better watch what he says to Zach
Christine -I know
Cody – Apparently Frankie has been saying he want me out first
Cody says Zach is playing the game way too hard it's going to put a target on everyone else.. I think Zach it trying to stir sh1t up. Christine was wondering they maybe should get rid of Zach this week because he causes so much drama.
Christine bring sup Derrick asking her if they need Zach as a number and honestly she doesn't think they do need him.
Christine tells him Frankie has been extra paranoid, she gets the feeling that Frankie has been saying thing about her to Derrick that are not true. Christine says if Zach leaves they lose a number but they become a "Silent Alliance"
Zach joins them.. Christine tells them Jocasta told her she's proud of her. Zach says you got to give her credit for trying.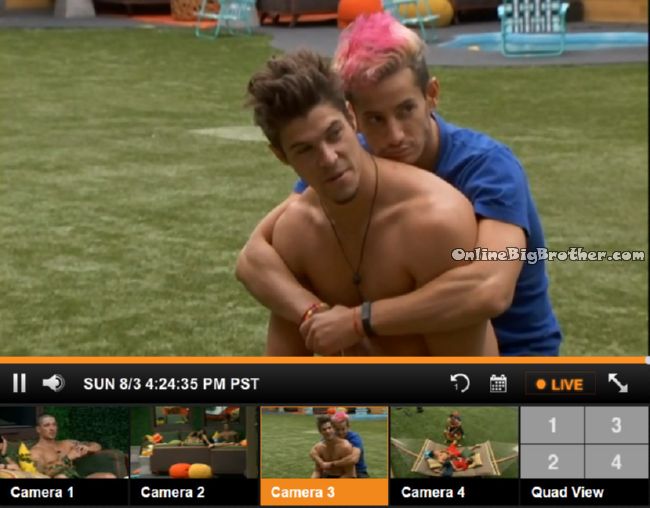 4:25pm Frankie, Zach, Christine and Cody
Zach says he never broke the camera when he freaked out during the Power of Veto
Zach – They are totally bringing me back for another season
Frankie – YA when it's villains and a$$ holes.. your the villain i'm the a$$hole
Frankie massages Zach's back and picks a couple pimples.. Frankie starts rubbing Zach's Nipple teasing him, Christine tells him to stop it's making her uncomfortable.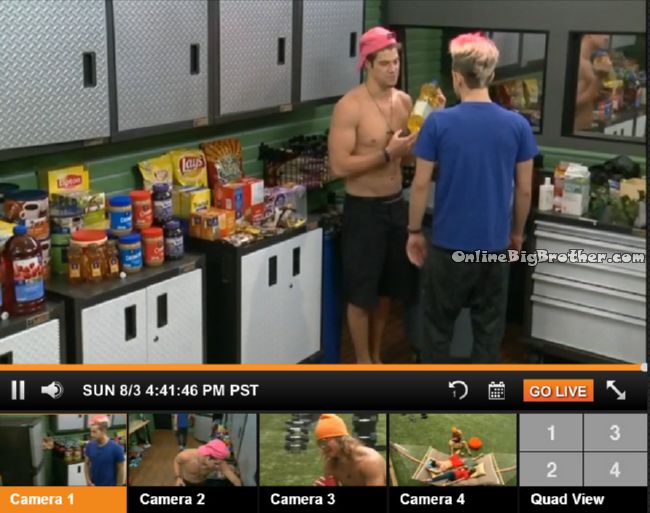 4:42pm Storage room Zach and Frankie
They do and new handshake that involves pulling their pants down..
Frankie – Chrsitne still hasn't talk to Nicole.
Zach that conversation is going to be simple.. you going to use it.. nope.. OKAY..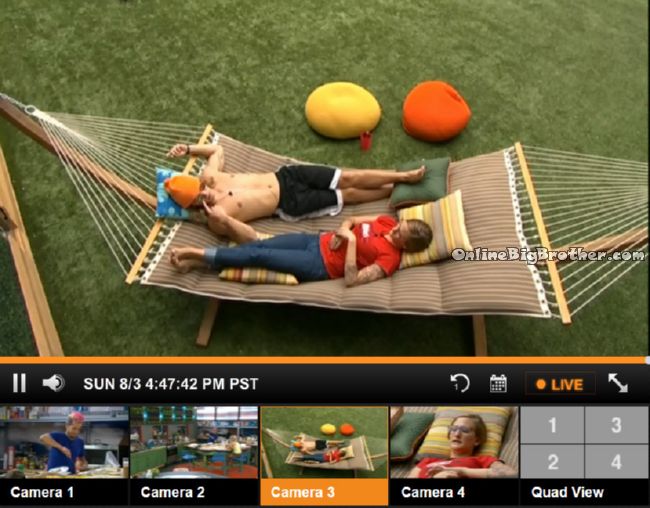 4:48pm hammock Christine and Hayden
Christine tells him she will not use the veto she doesn't want to put any blood on her hands or Nicole's
Hayden says he feels like they should keep Zach if he's targeting Victoria like Christine says.
Christine is going to try and convince Nicole that Zach isn't coming after her.
Hayden – That is the biggest thing right now if he's not coming after us.. i don't think he's coming after me but I don't want him coming after you guys either.
Hayden says Nicole will be happy with the POV not being played.
Alliances
Quad Squad = Nicole, Derrick, Hayden and Cody
Zankie = Frankie/Zach
The Detonators = Derrick, Frankie, Zach, Christine, Cody
"The HITMEN" – Cody & Derrick
Trilogy = Nicole, Christine & Hayden
Team America = Donny, Derrick, Frankie
Old timers = Jocasta/Donny
Nicotine = Christine/Nicole
bottomfeeders = Derrick and Nicole
More polls here https://www.onlinebigbrother.com/big-brother-compendium/big-brother-16-polls/
[polldaddy poll=8220599]