POV Holder:
Zach
Next POV
Aug 16th
POV Used
Yes
POV Ceremony
Aug 11th
HOH Winner 1:
Nicole
HOH Winner 2:
Christine
Battle of the Block Winner
 Frankie/Caleb
Next HOH
Aug 15th
Original Nominations:
Nicole's Noms (Caleb & Frankie) Christine's Noms (Zach & Donny)
Final Nominations:
Donny & Nicole
Have Nots
Donny and Zach
POV Players
Christine, Zach, Donny, Nicole, Caleb, Derrick
Take Advantage of the FREE 2 day Trial to watch all the drama!
12:45pm Nicole joins the others outside by the pool table. and watches from the side. She then heads inside and starts to cry. Victoria hugs her. Victoria and Nicole head into the havenot room to talk. Nicole says I am trying to be strong its just hard. Victoria asks do you want to talk to Christine? Nicole says I don't even know what Christine is talking about. Victoria wonders if its what she said on Thursday. Nicole says the only thing I can think of is that she thinks I tried to get Caleb to throw the BOB but it wasn't my idea. I am too scared to ask to talk to her after the way she looked at me. There is not point in talking to her, she was one of my closest friends in this whole experience and clearly she didn't even want to talk to me first about it.. Nicole says I started to think that Cody and Christine were secretly married by how much they touch each other. Victoria says I was shocked because of how close you two were. You should talk to her. Nicole says I don't even see the point. Victoria says but she could switch things around. Nicole says I was fine until I got called into the diary room and asked about it. When I went outside they all acted like nothing happened. I have no respect for her at all! Nicole starts crying. Zach joins them and Victoria and Nicole leave. Nicole goes and ask Christine .. I know that you want me to go home but can we just clear the air. Christine says yeah absolutely.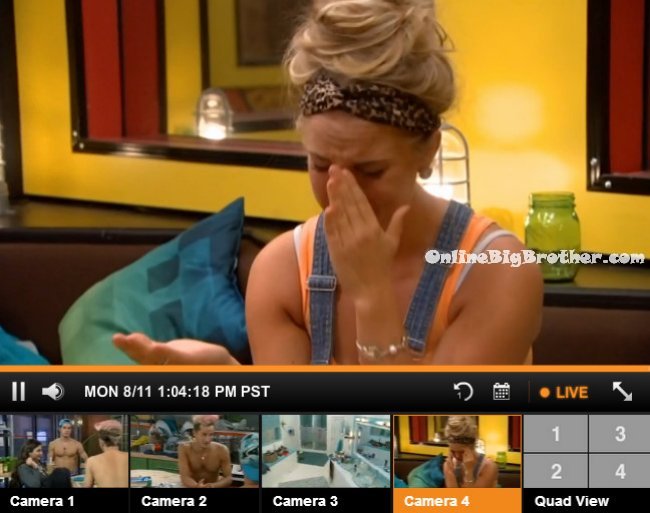 1pm – 1:22pm Nicole and Christine head into the bee hive room. Nicole says I am not pissed I am just hurt. I know that we have had out ups and downs. Consistently my DR's have been about you. It hurts that you didn't come talk to me first. Christine says the only reason why I didn't was because I was told that if I didn't I was told I would be going home next week. Nicole says I just think I deserve to know why. Christine says I was told that there was a plan for Caleb to throw the BOB. Nicole says that's what I thought it was .. Christine says I told you that I wasn't going to backdo*r you and I literally wasn't going to until I was told that I would be backdo*red next week. Nicole says that Zach came up with the plan to throw the BOB but I said you wanted to put up Zach so Caleb said he would do it. I don't feel bad now because at least the viewers know that I wasn't going to actually backd*or you. And you will see that when you get out of here. Christine says that Zach said to me that if you do not put up Nicole then we will all know what the deal is ..that you are working with her and you will go home next week. And Caleb said the same thing. Nicole says this freaking sucks. Nicole starts crying. I am literally in this position because of telling the truth to the wrong person. There is nothing I can do because no one is going to change their mind. Christine says it broke my heart when you came out and told me you know I want you to go home. I love you as a person. Christine says trust me America is going to hate me. Nicole says I should have just stuck with my original plan. Christine says that's just it they would have terrorized you. Nicole says I have post traumatic stress disorder from that day (Hayden getting blind sided and evicted) and can't even sleep. I don't get why you wouldn't give me a chance to defend myself… and then talk about a knife being in your back that was never in your back!! Christine says I felt like it was.. Nicole says I like Donny and he is one of the only people I would want to vote for in the end. Christine says the thing that hit the nail on the head was Caleb telling me. Nicole says but it was his plan. Christine says it was that you went along with it and told them not to tell anyone and how the other plan was to backdo*r me. I am just emotionally numb in this game and it makes me sick. Christine tells Nicole she still wants to hang out with her. They hug. Christine tells her not to give up.
Big Brother 16 Live Feed FREE TRIAL – Use the FLASHBACK feature to watch everything you've missed!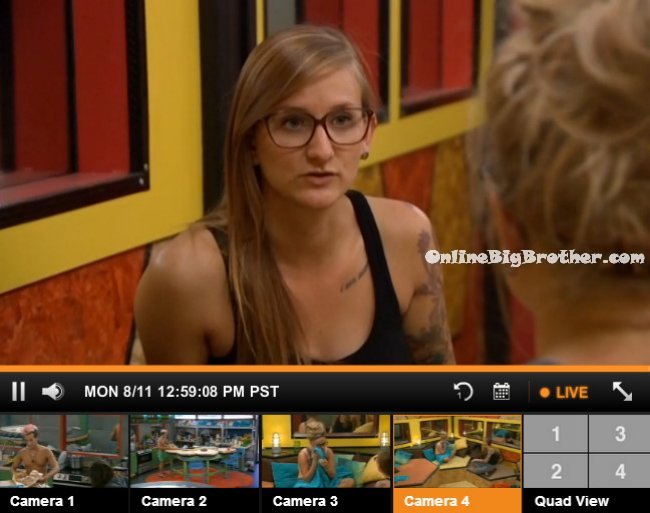 1:30pm Nicole is in bed alone in the fire room crying. Derrick comes in and asks her if she wants to talk. She says no. He tells her he's around if she needs anything.
In the kitchen – Cody says she will probably try and come to us an tell us things. Christine tells Cody, Derrick and Frankie that Nicole has nothing she can say to turn us against each other.
1:35pm – 1:50pm Out in the backyard – Caleb talks to Victoria about how Nicole threw Christine under the bus and wanted me to throw the BOB and if Frankie won the veto then the plan was to backdo*r Christine. The camera's switch to Donny and Cody on the backyard couch talking. Donny says I think this is the best case scenario for me staying. I think if I just keep my mouth shut, I'll be fine.
In the kitchen – Frankie says the first time he faced homophobia was on social media. People telling me to go kill myself that that I'm a f**. On instagram I literally get people commenting like that on every photo I post. People get into fights on my photos. Christine says that's why I hope Tim is monitoring my twitter say that I don't see all the negative comment. Frankie says Cyber bullying it is real.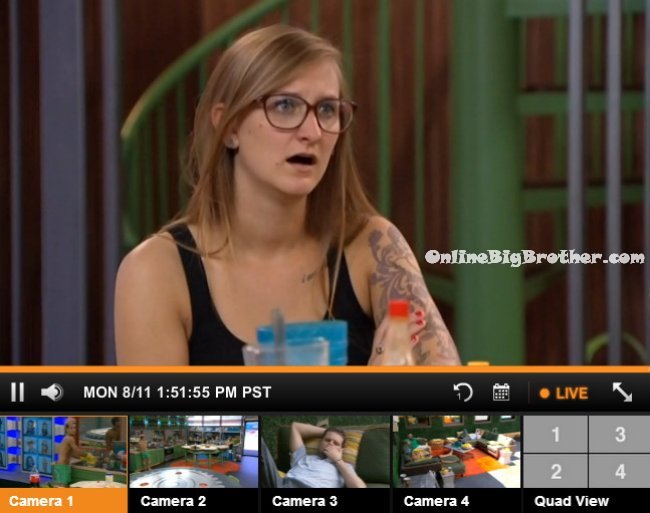 2pm On the backyard couch. Cody asks why people always rag on him. Christine tells Cody you are very attractive and good at things so that makes it easy to rag on you. You're very attractive and easy to rag on and you exude confidence. Donny explains how even kids are biased. When they are shown a photo of a not so attractive person and an attractive person and asked who is smarter .. 9 times out of 10 they would pick the attractive person.
Donny says no one wants to cuddle with me because I'm ugly. Nicole says Donny you have a girl friend you can't cuddle. Christine says yeah! Donny says I don't want to cuddle, I am saving up for cuddling.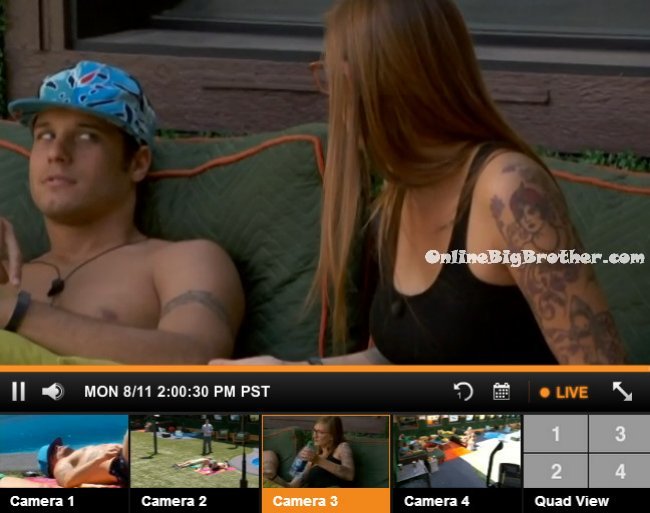 2:05pm Over by the pool Caleb tells Derrick and Frankie – I think I will get asked to do survivor. Caleb tells Frankie you and I should try out for Amazing race.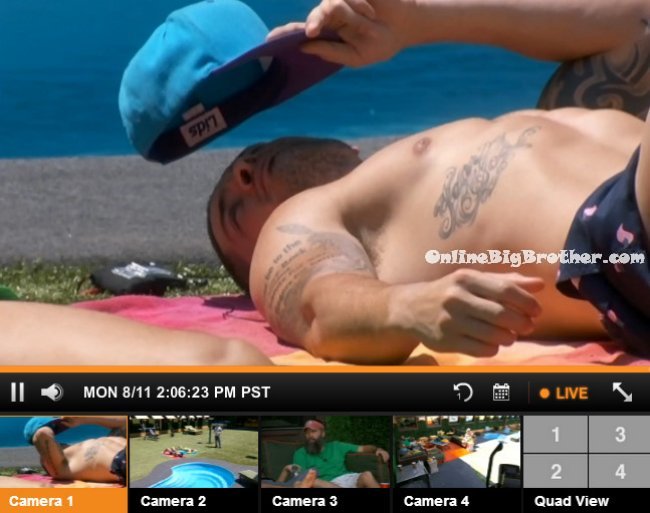 2:15pm – 2:30pm Donny, Nicole, Victoria, Derrick, Cody and Christine are hanging out on the backyard couch talking about past house guests. Derrick talks about how Amanda having s*x in the house and McCrae denying it. Victoria says that Amanda and McCrae broke up because he cheated on her and she found out in a letter. Everyone heads inside but Donny and Derrick. Derrick talks about wanting to start memorizing the days like Hayden did.
2:40pm – 3pm In the kitchen – Victoria asks if Christine explained why she put you up? Nicole says yeah because of Frankie and Caleb telling her a whole lot of crap that isn't true like me trying to backdo*r her. Nicole asks Victoria to grab her salsa and coffee drink out of the HOH room fridge. Victoria tells her I will always be here for you Nicole! Nicole makes a wrap and says I'm eating like a cow again. Nicole says some people feel guilty about their actions and others don't. Nicole gives shout outs to her family and friends. I'm sitting on the block because I'm such a physical beast! Thank god I have Victoria here. Nicole says Hayden is going to be so mad. Victoria says nothing is for sure so stop! Nicole says I hope they bring me back to host. I can't believe I never got to host a comp. Victoria says I hope no one tells me off like that. I couldn't handle it. Nicole says thanks, I've been though a lot outside this show. Nicole says I don't want to talk about it too early because its usually the last person that get the word in. Nicole tells Victoria she better frigging fight to win HOH this week. Victoria says I was so close this week. Derrick comes through and talks about being bored. Victoria says they probably hate us because we're so boring.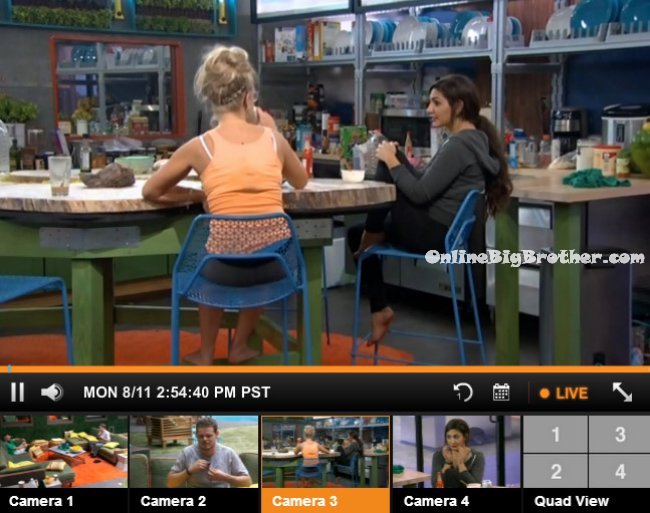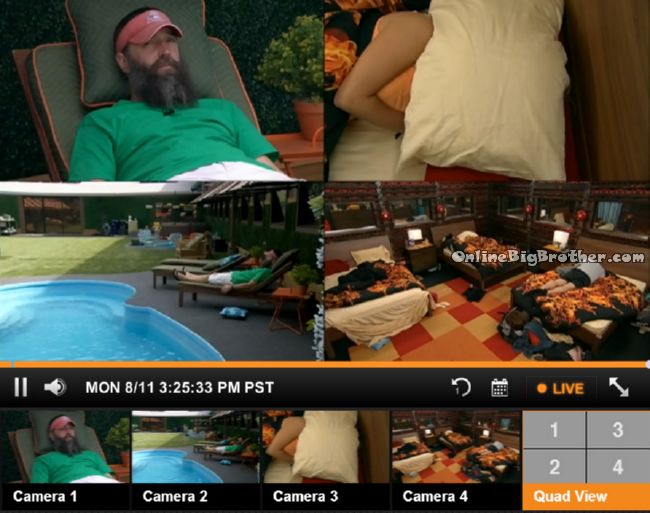 3:30pm Last 30 minutes nothing to report..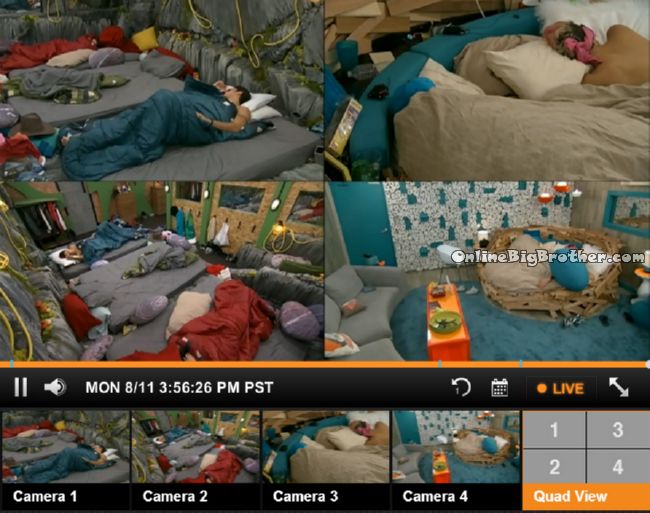 4:00pm Indoor lockdown everyone sleeping but Donny and Victoria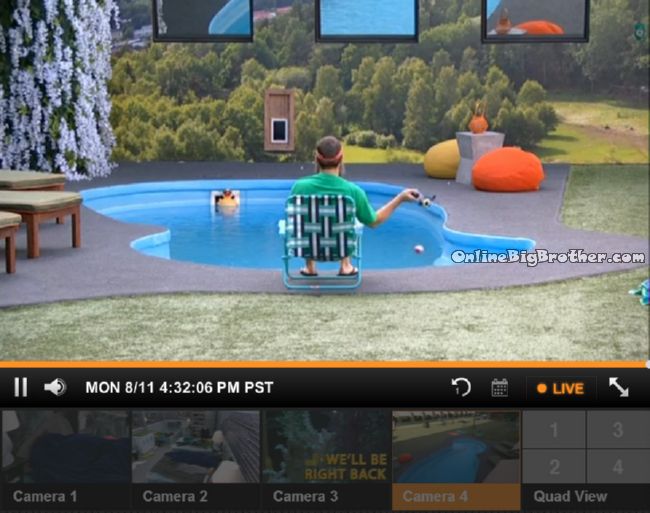 4:30 it's quiet
Alliances
The new bomb squad – Caleb, Zach, Derrick, Frankie, Cody, Christine
"The HITMEN" – Cody & Derrick
Team America = Donny, Derrick, Frankie
More polls here https://www.onlinebigbrother.com/big-brother-compendium/big-brother-16-polls/
[polldaddy poll=8233586]