POV Holder:
Zach
Next POV
Aug 16th
POV Used
Yes
POV Ceremony
Aug 11th
HOH Winner 1:
Nicole
HOH Winner 2:
Christine
Battle of the Block Winner
 Frankie/Caleb
Next HOH
Aug 15th
Original Nominations:
Nicole's Noms (Caleb & Frankie) Christine's Noms (Zach & Donny)
Final Nominations:
Donny & Nicole
Have Nots
Donny and Zach
POV Players
Christine, Zach, Donny, Nicole, Caleb, Derrick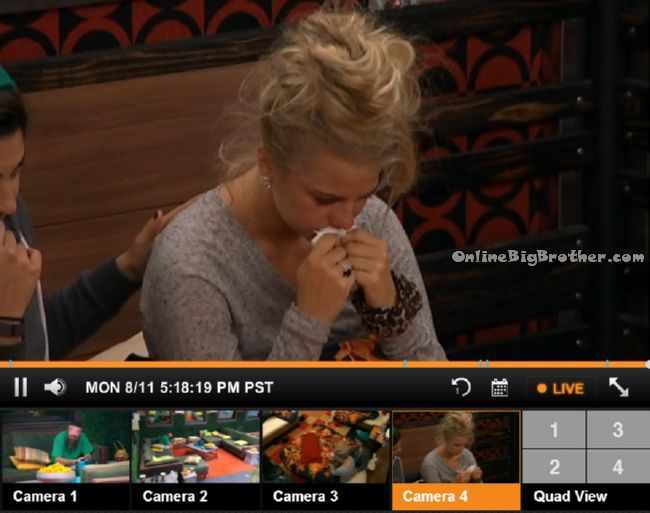 5:16pm
Nicole crying Victoria tries to comfort her.
Nicole – I feel so terrible..
Nicole feels betrayed "I Feel so emotional with everything.."
Nicole says she was always the one that would have to get the blood on her hands. Nicole about CHristine – SHe' literally here for the money she'll do anything.. It makes sense but at the same time I did NOT expect that from her"
Nicole says Christine has some type of deal BIG TIME with Cody and Someone else.. " Frankie, Caleb, Zach"
Nicole says all the information Christine use to tell her Christine said Zach said..
Nicole – She told me to put up Cody as the replacement nominee when I was HOH.. isn't that weird she's supposed to be really good friends with cody.. she's playing so dirty
Victoria she playing hard
Nicole – The way she hangs off Cody ..it freaks me out kinda if you're married I would never act the way she acts"
Victoria is nodding.
Nicole – She talks Dirty to him, She's always on top of him cuddling him or whatever and they're always talking about Sexual jokes"
Nicole says her and Victoria are different than the other girls "I'm not even married and I wouldn't do that"
Victoria thinks what Christine is doing is strictly game she will do whatever it takes to get ahead.
Victoria wants Nicole to stay
Nicole is going to try and get Derrick's and Cody's vote. She needs to work on Christine because the best she can hope for is a tie. She doesn't think she has a chance with to convince Frankie, Zach and Caleb.
Nicole wonders if they are going to have a twist because all thye've had was the Battle on the block
5:23pm Hammock Derrick and Christine
Talking about Frankie's money and charity. They both believe Frankie is who he says he is
Derrick says Frankie will use some of the money for charity like he said but how much he actually gives "You'll never know"
Christine says Victoria winning would have been like an Andy winning. Derrick defends Andy says he played a game doesn't think Victoria is up to Andy level
Derrick says they've only lost 2 out of their original bomb squad 8. "I didn't see that happening"
Christine – That is so cool knowing we made it have way"
Derrick – if we stay loyal and nothing goes wrong we're guaranteed 2 -3 more weeks"
Christine says at one point Nicole told her she can be one of her bridesmaids if she married HAyden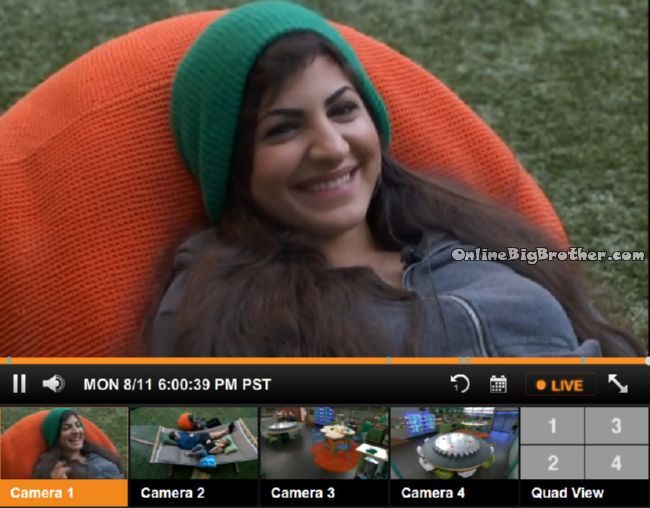 6:00pm Hammock, Derrick, Victoria and Christine (Mostly chit chat)
talking about last season and the Zing Bot
Victoria is nervous about seeing Zing Bot because of what he might say. Derrick can't wait.
Christine – He says some mean stuff..
Victoria – THe one with the restraining order.. (GM zing last year)
Cody starts working out.. the conversation moves to meridians on the roads where they live..
Derrick says Nicole graduated top of her class and finished 1 year early, 'She's really smart… she's the real deal.. the school she went to is known for nursing"
Christine – WOW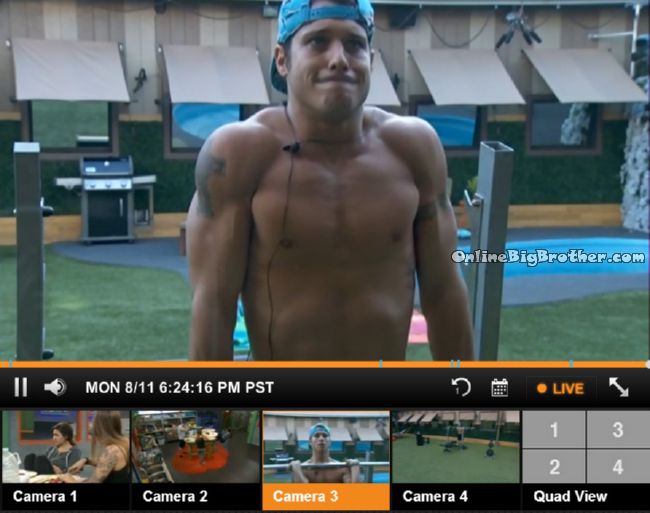 6:24pm COdy working out.
The Live Feeds are archived. You can go back and watch everything that happens
Try It Free! Subscribe now to the official BB16 Live Feeds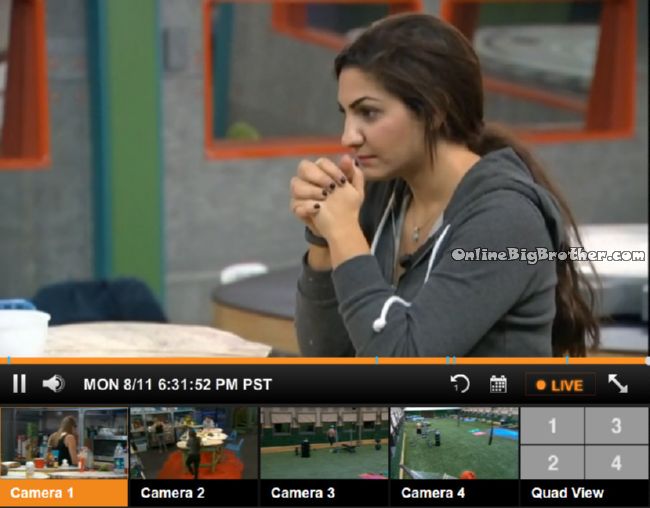 6:29pm Kitchen Christine and Victoria preparing food
Victoria – I'm allergic to literally everything
Victoria asks her how things are with Frankie
Christine better but she's still terribly annoyed. She can't act the way she wants around Frankie she has to be cordial.
Derrick joins them.. CHit Chat. Christine goes to the storage room to get something. Victoria tells Derrick Nicole thinks she has a chance of staying.
Derrick – it's fine there's no chance of her staying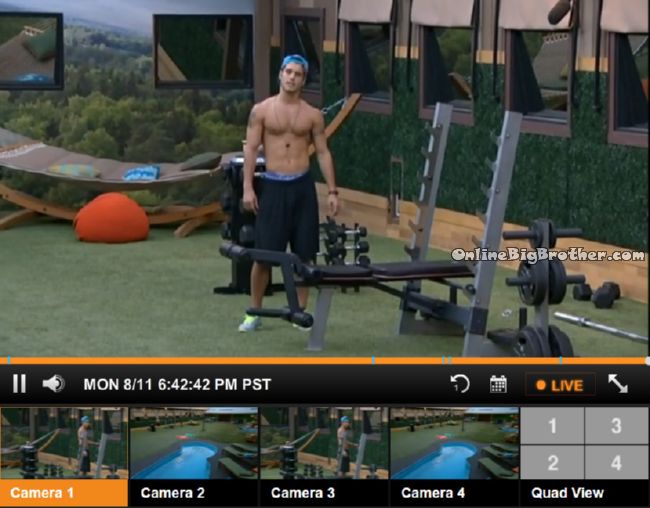 6:42pm Backyard Cody and Donny
Cody talking about his first impressions of the house guests thought Donny was going to have a deep voice and be ex military or he lives in the woods.
Cody adds when he first saw Derrick he thought "who wears earrings what a loser cause he had two studs in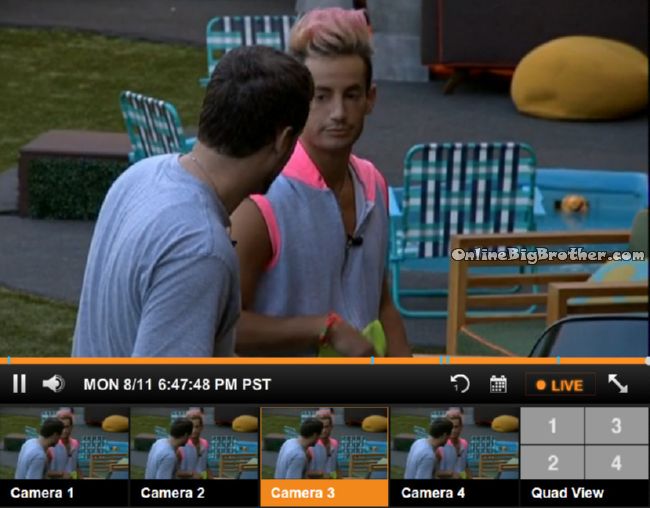 6:47pm Derrick and Frankie
Frankie – Is everything good
Derrick everything is great.. I think we're good we're friggin golden this weeks in the books"
Frankie – I agree
Alliances
The new bomb squad – Caleb, Zach, Derrick, Frankie, Cody, Christine
"The HITMEN" – Cody & Derrick
Team America = Donny, Derrick, Frankie
More polls here https://www.onlinebigbrother.com/big-brother-compendium/big-brother-16-polls/
[polldaddy poll=8233586]
Share it YO!!
Tweet