POV Holder:
Zach
Next POV
Aug 16th
POV Used
?
POV Ceremony
Aug 11th
HOH Winner 1:
Nicole
HOH Winner 2:
Christine
Battle of the Block Winner
 Frankie/Ca;eb
Next HOH
Aug 15th
Original Nominations:
Nicole's Noms (Caleb & Frankie) Christine's Noms (Zach & Donny)
Final Nominations:
?
Have Nots
Donny and Zach
POV Players
Christine, Zach, Donny, Nicole, Caleb, Derrick
Take Advantage of the FREE 2 day Trial to watch all the drama!
2am Derrick and Cody are playing pool while Christine is watching. Derrick says its good for you if though because if she did pull a rabbit out of a hat and wins one, you would be safe. Derrick tells Christine that if she (Victoria) won one she would probably put up Frankie and Zach. She don't trust Frankie and Zach's been mean to her everyday. Caleb plays Derrick next. Victoria comes out and asks Caleb if they're off slop on Wednesday. Derrick says no if you went on it on a Friday then you get off on Friday. Victoria says ohh.. Derrick says Victoria was probably conjuring up that for the last hour and now is sad she's wrong. Derrick and Victoira head inside. Victoria comments that she (Nicole) thinks Christine is pissed at her. Derrick says it doesn't matter. Victoria asks if this week will be a double eviction. Derrick says I don't think so since we just had one. Caleb opens the backyard door and tells them that Cody and him made a bet that if I beat him at pool, he'll jump in the pool n@ked. Derrick talks to Victoria about his past when he used to have checkered past (fake story). Back outside Christine says I just remembered another conversation I had with Nicole before the BOB that makes her sound so paranoid.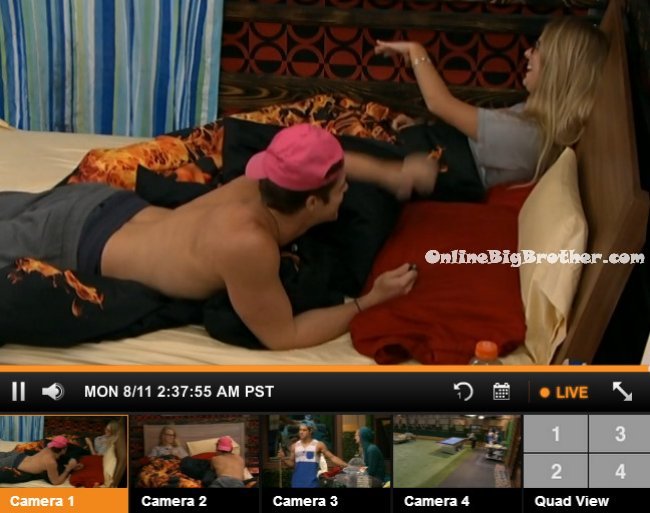 2am – 3am In the fire room – Zach tells Victoria you're not going to go home. It's scary sitting in those chairs but you'll be alright. VIctoira asks did Christine tell you who would go up? Zach says we made up but she didn't tell me anything. Did she tell you who she is putting up. Victoria says she said that she felt bad and if I really wanted to backdoor you then I wouldn't tell you. But that I did talk to people and you wouldnt go home. Zach says you definitely won't go home. Victoria says people have been told that and then they go home. It just sucks because I didnt get to play in BOB or POV. Victoria wonders when she will be off slop. Zach starts practicing his veto meeting lines. Victoria heads out to the backyard. Zach asks Nicole what she will do when she gets out. Nicole says I will probably lock myself in a room. Nicole says at home she cries at everything but not in here. Zach says I am voting for Derrick if he makes it to the final 2. He has played a great game. Nicole agrees. Zach asks Nicole did you like Hayden like that? Nicole says I don't know, things are so different outside this house. Nicole tells Zach that she would never ever want to go out with someone like him after what he said today. That it wouldn't be cheating if she didn't find out.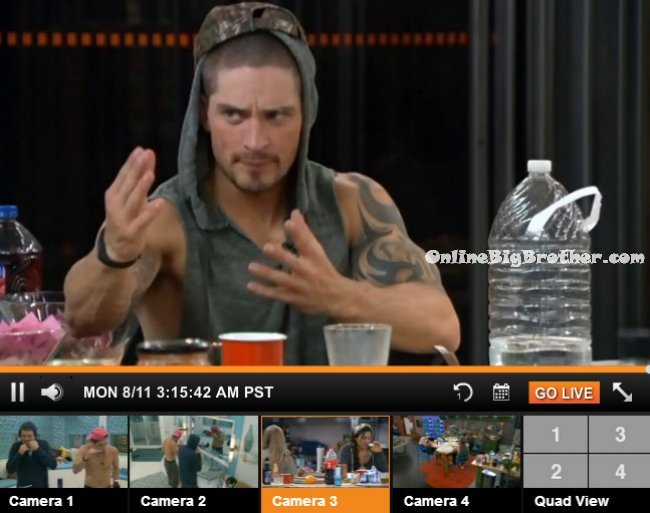 In the kitchen – Caleb comments that if I had a girlfriend and she ate a pickle I wouldn't kiss her all day long. Christine laughs and says I don't think you would still taste it 3 hours later. Christine heads to bed. Caleb asks Nicole did you smoked a joint? You are eating like crazy! Are you pregnant or something?! You're eating like a cow tonight! Cody says you're not hitting your lines tonight. Nicole says I am just eating getting ready for bed.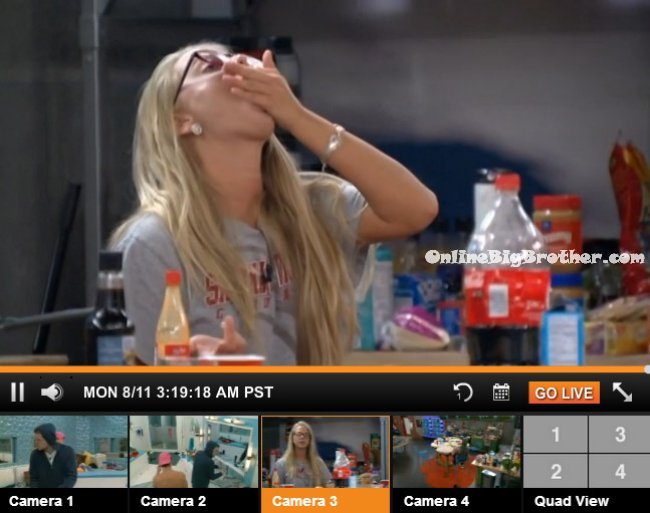 3:25am In the earth room – Cody, Christine and Caleb climb into bed.
3:30am – 4:15amZach and Nicole heads outside to play a game of pool. It doesn't last long and they head inside to go to bed. In the fire room – Victoria asks Derrick if his wife was 9 years younger then him and was 21 years old would he still date her? Derrick says he thinks it would be hard given him being in a different stage of his life at 30 years old. Nicole and Victoria says they would want to not move in with someone until they got married. Derrick thinks theres too much you don't know about the other person without living with them first. Derrick says there are a lot of things you can do without having s*x. Victoria asks like or@l s*x? Derrick says yes, thanks for stating the obvious. Who calls it that?! Nicole laughs. Derrick tells them about the Reality Rally were reality stars compete in groups for charity. Victoria says well no one would want to be on my team because obviously I suck at competitions. Derrick and Nicole laugh.
Alliances
The new bomb squad – Caleb, Zach, Derrick, Frankie, Cody, Christine
"The HITMEN" – Cody & Derrick
Team America = Donny, Derrick, Frankie
More polls here https://www.onlinebigbrother.com/big-brother-compendium/big-brother-16-polls/
[polldaddy poll=8233586]