POV Holder:
Zach
Next POV
Aug 16th
POV Used
Yes
POV Ceremony
Aug 11th
HOH Winner 1:
Nicole
HOH Winner 2:
Christine
Battle of the Block Winner
 Frankie/Ca;eb
Next HOH
Aug 15th
Original Nominations:
Nicole's Noms (Caleb & Frankie) Christine's Noms (Zach & Donny)
Final Nominations:
Donny & Nicole
Have Nots
Donny and Zach
POV Players
Christine, Zach, Donny, Nicole, Caleb, Derrick
Take Advantage of the FREE 2 day Trial to watch all the drama!
11:10am – 11:45am Big Brother blocks the live feeds for the power of veto ceremony to take place. When the live feeds return – we learn that as the power of veto holder Zach took himself off the block. As the head of household Christine nominated Nicole as the replacement nominee.
Up in the HOH room – Cody is hugging Christine. She says that was so awkward! Christine says I don't know what to say to her. Cody says honestly you could just say to her that you found out that she tried to backdoor you. Christine says thank you so much for coming up here with me! That was a rough one huh?! Caleb gave me the thumbs up though. Cody asks does it even matter if people know that we're working together? Christine says no. Not until it gets down to just the bomb squad then they might come after us. Frankie joins them and tells Christine she did so good. Your speech was so good. She's going to be all over you like a wet slithery cond*m! They talk about how if someone is coming back they have to seed Donny home next week because he would beat the others to come back.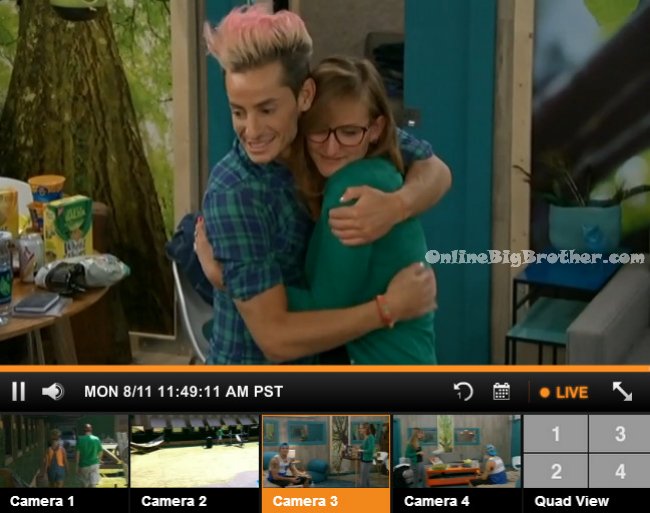 11:50am – 11:56am Out in the backyard –
Nicole walks with Donny. Nicole says I noticed how Cody was acting ..it was the same as when Hayden went home. This game isn't fun any more. Nicole says if it comes down to it being where people have to do this then I will just go. She told me last night so many times that she wouldn't put me up. Nicole says it would have been stupid for her not to put me up. Donny says its not over yet. Donny says I didn't get the opportunity to give a speech. Nicole agrees you didn't. Donny says I could have convinced Zach to save me. Nicole says I'm not even going to talk to her ever again. I don't even care what she means by knife in her back.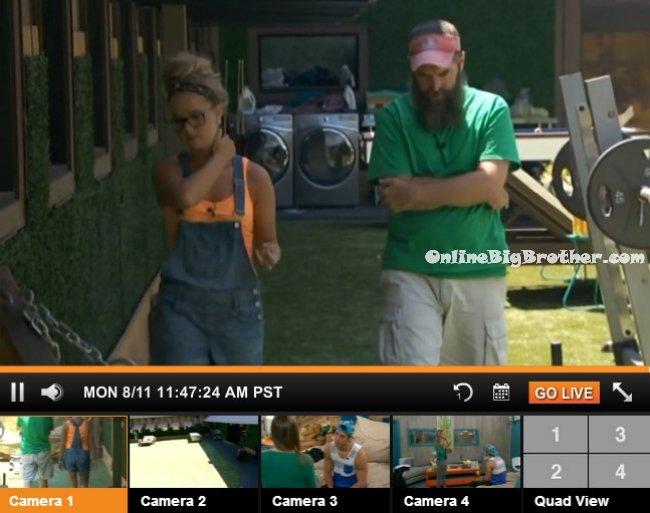 Caleb joins them up in the HOH room. Caleb jumps on Cody and starts riding him. Frankie joins in and climbs on Cody. Christine says I toughed you so that you didn't feel so bad having two guys riding you. Caleb talks to Frankie and Cody about how it was ether telling Christine that Nicole wanted her out. We have to get Nicole out because if someone comes back we don't want Hayden to come back and have them both here. Cody says that's the same reason why we need Donny out.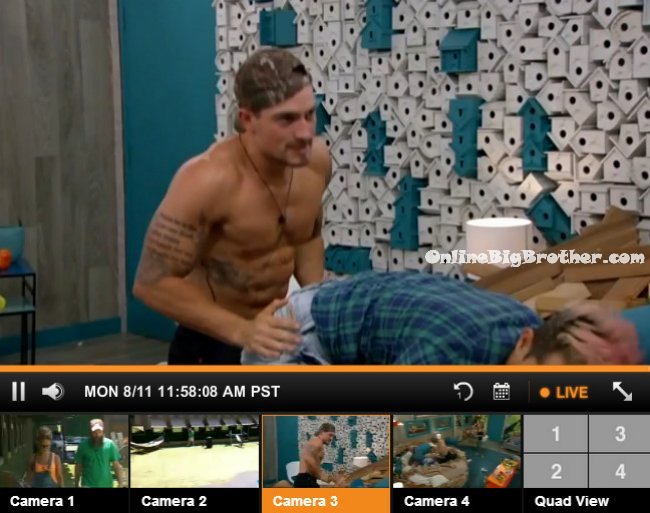 12:10pm – 12:20pm In the kitchen – Derrick comments that Donny and Nicole have been talking for 20 minutes now. Nicole heads inside and then comes back out and says to Donny they're all in there pretending like nothing happened. Donny says the sooner you can go in there and act normal the better you will feel today. Nicole says its just hard when they're acting like nothing happened. Donny says its hard when they act like your friends. Nicole says I can read Derrick like a book! Donny says I just wish you could have read him a lot sooner like I did. When I warned Hayden about things he told me not to worry about it and I wish I hadn't listened to him.
In the kitchen – Christine comments that she just hates when things are uncomfortable. Everyone leaves the kitchen but Christine and Victoria. Christine tells Victoria that I legitimately love Nicole as a person and I would like to hang out with her outside of here but I just couldn't risk it.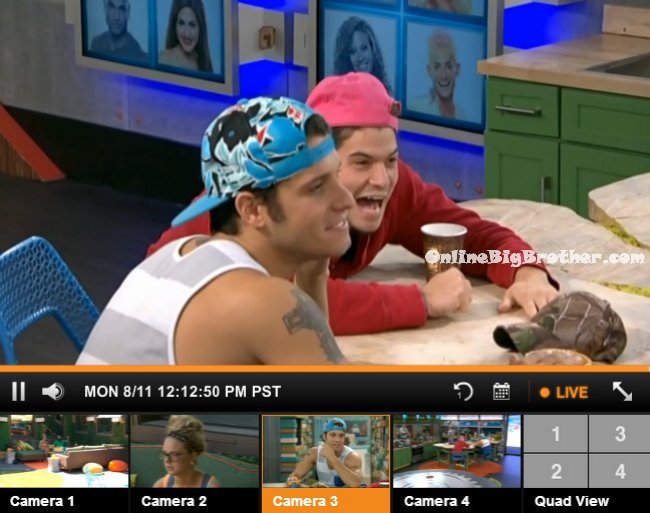 See what they can't show you on TV! -Try the Big Brother 16 live feeds for FREE!
12:25pm – 12:35pm In the fire room – Victoria is talking to Derrick. Victoria says that Christine told me she loves me. Derrick says yeah I told her to talk to you so that you wouldn't put her up if you won HOH. Victoria says that Nicole was so red, red like a tomato! Derrick says you and I will probably go up next week. It all comes down to luck now. We need to win competitions or we're going to go home. Derrick says the worst case if we went to jury on day 63 then we would only be in jury for 25 days. Which is fine because otherwise I would go crazy. Victoria says you're not getting evicted on day 63. Victoria smiles and says oh my god yes! Victoria says oh my gosh! Wow! Oh my god, oh I love you! DO you think Hayden hates me? Derrick says no, you had nothing to do with that. Victoria asks do you think Nicole hates me? Derrick says no, you didn't know she was going up. Victoria says Zach has been really lucky! Derrick and Victoria take a nap.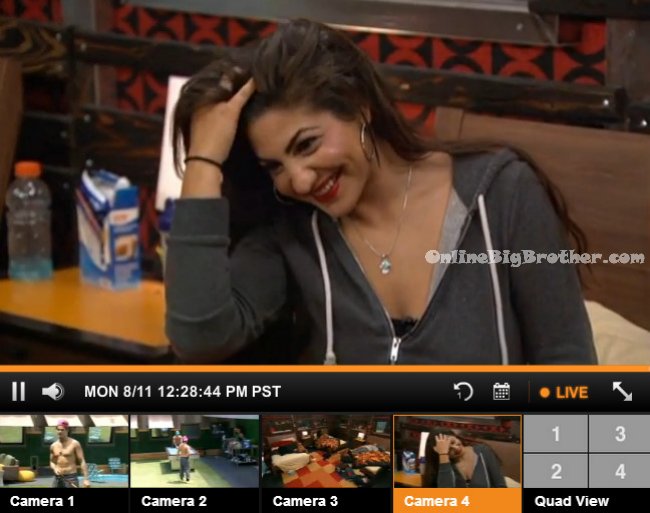 12:45pm Out in the backyard – Frankie and Caleb are suntanning talking about it being a double eviction or not again this week. Cody and Zach are playing pool while Christine and Donny watch. Christine says Cody I can't believe you did an underwear shoot with underwear like that! Frankie says Cody is an exhib!tion!st.
Alliances
The new bomb squad – Caleb, Zach, Derrick, Frankie, Cody, Christine
"The HITMEN" – Cody & Derrick
Team America = Donny, Derrick, Frankie
More polls here https://www.onlinebigbrother.com/big-brother-compendium/big-brother-16-polls/
[polldaddy poll=8233586]