POV Holder:
Victoria
Next POV
July 19th
POV Used
?
POV Ceremony
July 26th
HOH Winner 1:
Frankie
HOH Winner 2:
 Cody
Battle of the Block Winner
Jocasta/Amber
Next HOH/ Next BOB
July 24/July 25
Original Nominations:
Brittany/Victoria(Cody) Jocasta/Amber (Frankie)
Final Nominations:
?
Have Nots
?
POV Players
Cody, Brittany, Victoria, Caleb, Nicole, Zach
3am Out on the backyard couch – Derrick, Brittany, Christine, Hayden and Nicole are talking. Derrick says that he is going to get his balls snipped after having 2 kids. He says that the daycare is what kills you. He pays a $1000 a month in daycare costs. Derrick tells Hayden about how life is so simple when you're in college without a family. Nicole tells Derrick not to scare him. Derrick says obviously I would never trade my life now. Frankie and Zach finish their pool game and join them on the couch. Victoria comes out and sits on the couch. The conversation turns to talking about Andy and Ginamarie from last season. Zach says Andy was the definition of a floater. Derrick disagrees. Christine says that Ginamarie was so embarrassing. That was a tough season to watch. Derrick says they probably think that about our season too. Zach says my favorite moment was when Donny beat Devin in the veto. Derrick says goodnight. Big Brother says Brittany 17 hours to go. Zach tells Nicole you're working that Germ-itard! Can you put on a show for us?! Nicole says maybe tomorrow. Frankie teaches Nicole how to say in German I want to have an@l s*x with you. They talk about Joey running through the house n@ked. Hadyen says her a$$ was giggling. Frankie says that he thinks Joey was going through severe alcohol addiction withdrawals. Hayden says as a person she was cool as f**k. Zach agrees. Hayden reenacts Joey as Alex lifting weights. Zach asks who would you rather come back Pow or Joey? Hayden says Joey. Zach asks Pow or Alex. Hayden says Alex.
Watch the ENTIRE SEASON of Big Brother 16 for ONLY $26.99 – TRY it For FREE!
3:20pm – 3:30am In the earth room – Derrick is talking to Victoria. Derrick says obviously Brittany is upset but you have to do what is good for you. You're good this week. Victoria says I'm worried about it being a double eviction. Derrick says if it was a double eviction they would only put up two people an there are bigger targets than you. You're just a pawn. The fact that you keep winning people are going to be more scared to put you up. Victoria says exactly. Derrick says I don't know who Cody is going to put up. Its sucks having to put up someone else but no matter what that person isn't going home. Victoria says that Cody wasn't even happy for me. Derrick says he is just concerned about having to nominate another person. Derrick tells her that she's handling it right. Derrick says even if it is a double eviction you have a chance to play for HOH and the POV right after. Derrick says my fate is in my own hands. Victoria says I am done being nice. I am done thinking about everyone else. Derrick says you have to think about yourself. Victoria heads to her bed and they go to sleep.
3:45am Hayden tells Nicole that he actually feels like he knows her really well. Hayden says I feel like you don't really know me. Nicole says I feel like I know a lot about you that I don't want to know. It can only get better from here. They talk about how Cody has been in the diary room for 2 hours. Christine, Zach and Frankie head to bed.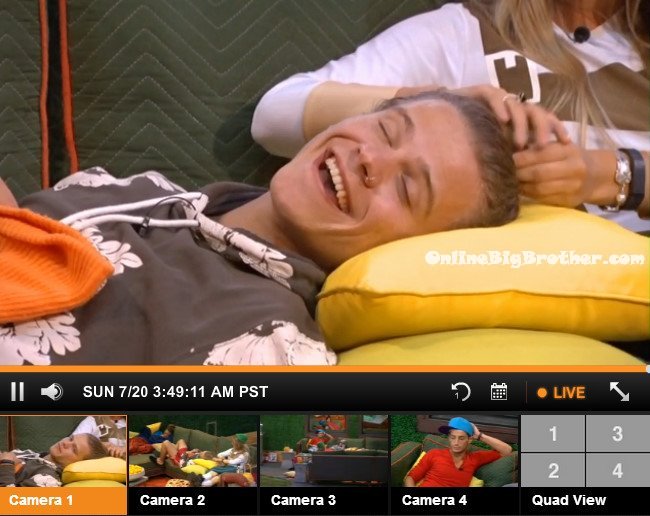 3:55am In the bathroom – Christine, Zach and Frankie get ready for bed. They laugh about how Caleb wants to trade Zach the 5G's for the Germany trip because he wants to take Amber. Zach says it would be so awkward. Christine says she would never go. Zach says I think she would go. Christine says no like she would say she would go but never go.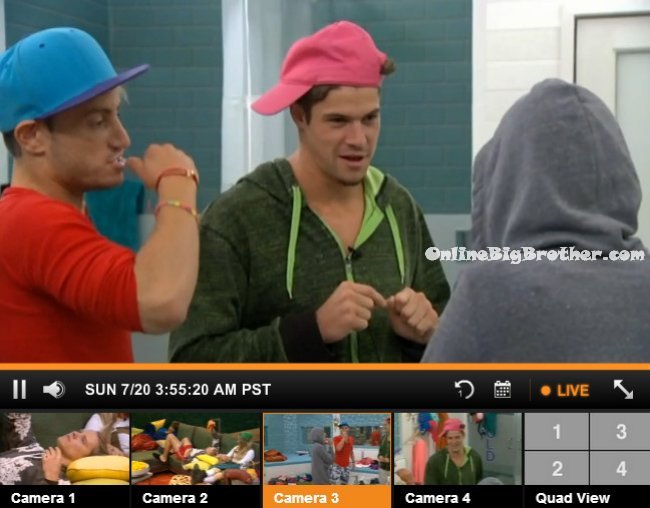 4am – 4:50am Zach and Frankie head up to the HOH room to go to bed. Zach asks Frankie on a scale of 1 – 10 how well do you think your game is going right now. Frankie says a 7. Zach says I feel like I am a 7 too. Frankie says I will never say I am higher than a 7. Zach says the only person that is coming after us is Jocasta. Frankie says after Brittany is gone I will feel better, I'll be at a 9. Frankie says Victoria will never come after me. Zach says so much has happened since we made our final 2 deal! Frankie says we made that on day 4. Frankie says Derrick and Cody have no idea. Zach says they know I like you but they have no idea. Frankie says they think they need me to a certain point. Zach says we're definitely making it to final 5. Frankie talks about how asinine Caleb was this morning with his "He says" (They add he says at the end of everything they say) thing he does at Lowes job. Zach says all he does is talk about himself. All he talks about is his muscles. Zach says I feel bad Donny has to go up on the block. Zach asks if we win HOH who would we put up? Frankie says Jocasta, Victoria, Donny and Amber. Frankie says we could probably get Caleb to volunteer to go up again for Amber. Zach asks what does she do to him to make him so obsessed with her? They start studying the events of the house. Frankie says there is something uncomfortable about my relationship with Jocasta. I feel like I don't love myself as much when I'm around her. Zach says but you love who you are. Frankie says oh yeah! Zach says I love who you are, I could literally follow you around everywhere! Zach says I think you choose your s*x preference. Frankie says no, I think I could choose to not act on my homos*xual urges but I couldn't be straight. I just couldn't touch it. Zach asks how great was it when you first had s*x with a guy. Frankie says it was terrifying but I loved it. Zach says the gay community is just getting stronger and stronger.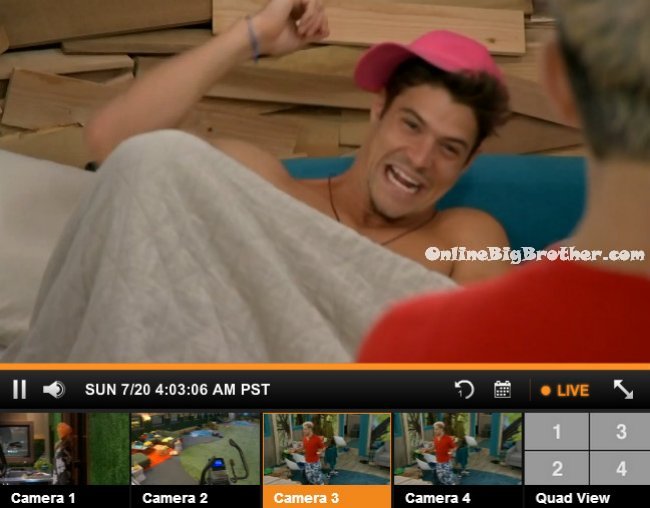 4am – 4:45am In the bathroom – Hayden and Nicole pound about both being on the same page about girls underwear. Hayden says he doesn't like thongs. Nicole says she doesn't wear them, she wears booty shorts. Hayden and Nicole start quizzing themselves on random facts. They talk about high school / Hayden lists off all the jobs he's had. Cody joins them and comments on how its raining outside and he just covered Brittany up. Hayden gets called to the diary room.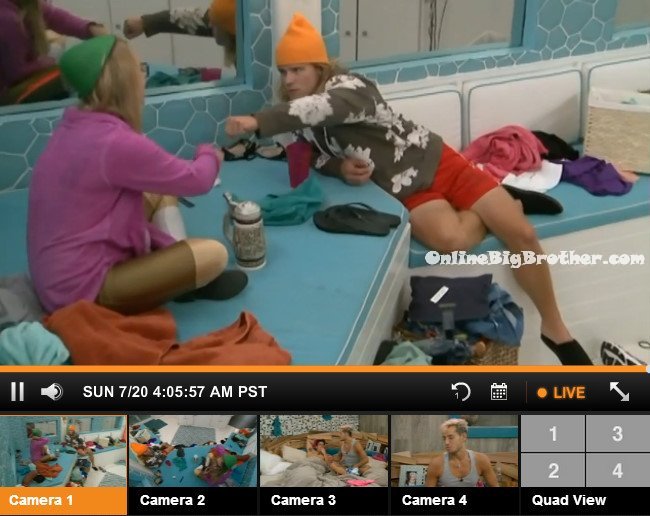 4:50am – 5am Cody and Brittany out in the backyard sleeping.. Big Brother tells Cody he can't sleep outside so he heads up to the HOH room. He tells Frankie and Zach that he is beat and is going to try and sleep for 20 minutes before the alarm goes off for his butt kicking.
5:03am The alarm sounds for Cody's butt kicking. He comes downstairs and Hayden follows him outside. Hayden laughs and takes a seat to watch. Hayden then heads to bed.
5:24am Cody heads up to the HOH room. As soon as he lays down the alarm goes off. Frankie heads down with him. Cody says I feel like I am being punished like I am being spanked in front of millions of people. Cody keeps commenting on how he hates that Brittany has to be outside alone. What if that was your sister? Frankie says but she's not my sister and she's not yours either. Cody and Frankie head back to bed in the HOH room.
8am All the house guests are still sleeping..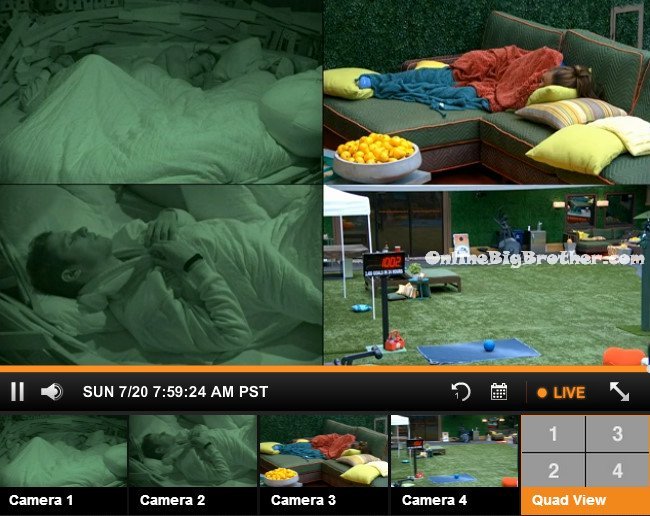 Alliances (Some Of these are dead)
Zankie = Frankie/Zach
Bomb squad = Caleb, Amber, Frankie, Derrick, Cody, Christine, Zach, Hayden
Team America = Donny, Derrick, Frankie
Nicotine = Christine/Nicole
Not a showmance= Hayden/Nicole
Los Tres Amigos = Derrick, Cody, Zach
The bottom Feeders = Derrick/Nicole
We hate Devin = Christine and Zach
Outsiders = Brittany, Victoria, Jocasta, Donny
Old timers = Jocasta/Donny
Stalker = Caleb/Amber
Quad Kings = Derrick, Zach, Cody and Hayden (still being built)
Trilogy = Nicole, Christine & Hayden
The Detonators = Derrick, Frankie, Zach, Christine, Cody
Final 2 Deal "The HITMEN" – Cody & Derrick
[polldaddy poll=8194643]
[polldaddy poll=8192326]